Never miss a bite! Sign up here to receive new recipes and reviews straight to your inbox.
Celebrate the Festival of Lights with Potato Latkes — crispy on the outside and filled with a generous helping of thick, fluffy shredded potatoes.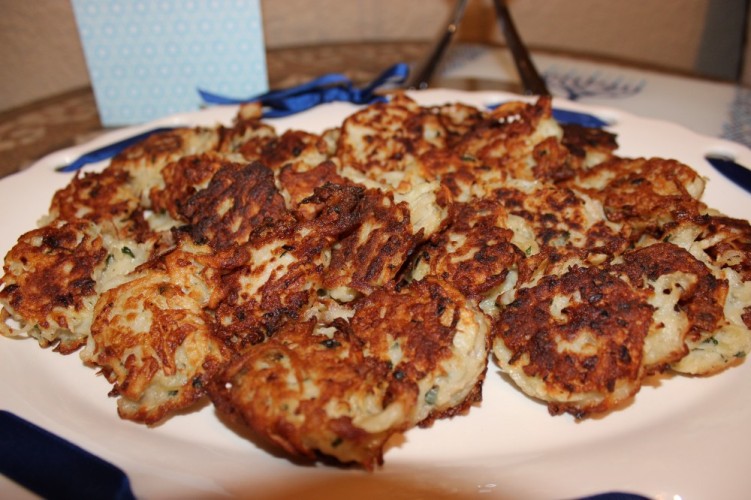 Happy Chanukah! In true Chanukah tradition, potato latkes are a MUST, especially on the first night. The Festival of Lights began on Tuesday evening, and I spent the day dodging oil splatters as I dropped scoops of potatoes into a hot skillet. Seriously — that oil can jump high! I managed to finish the batch unscathed, and ended up with a gorgeous plate full of latkes. Thick and fluffy clouds of potato on the inside and perfectly crispy on the outside — these are just as delicious (if not even better) then I remember when making them with my dad. He may be the Latke King, but I think I might be stealing the throne…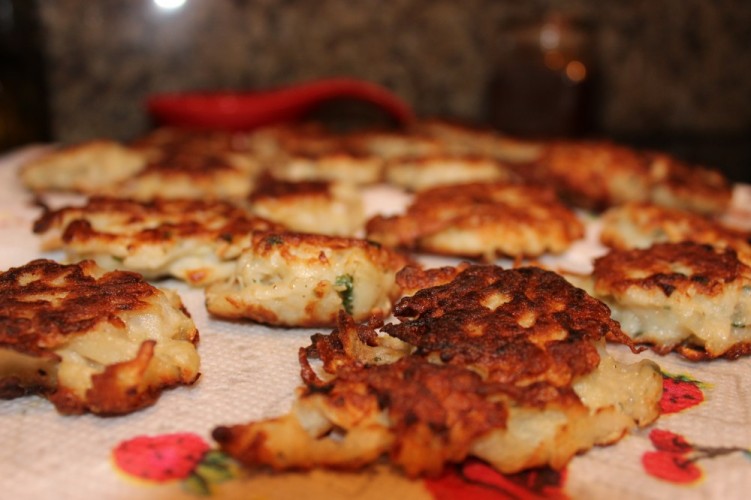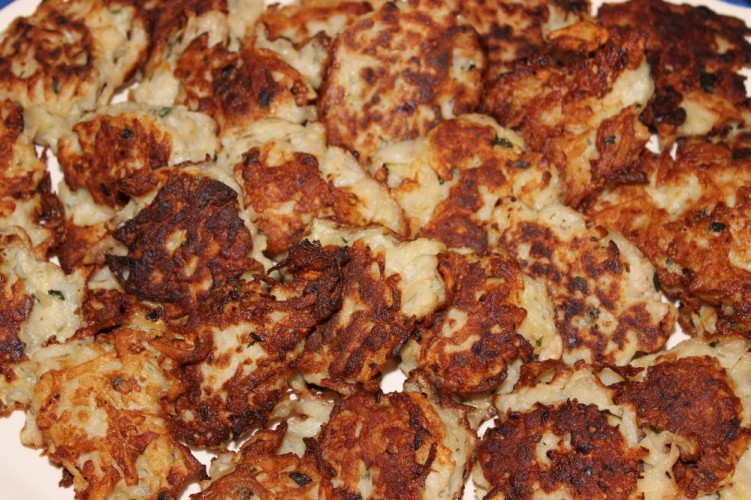 Potato Latkes are a Chanukah tradition. Everyone has their preference — thin and super crispy or thick and pancake-like. My dad used to make his extra thin, and they were almost like biting into a potato chip. They were yummy, but over the years he has started to make them a bit thicker and we've all liked them a lot better. I made mine even thicker than he has in the past and it's been my favorite version thus far. My Potato Latkes are itty bitty, which makes them perfect for dipping! Tomorrow I'll show you exactly what I dipped them in…you're in for quite a boozy treat!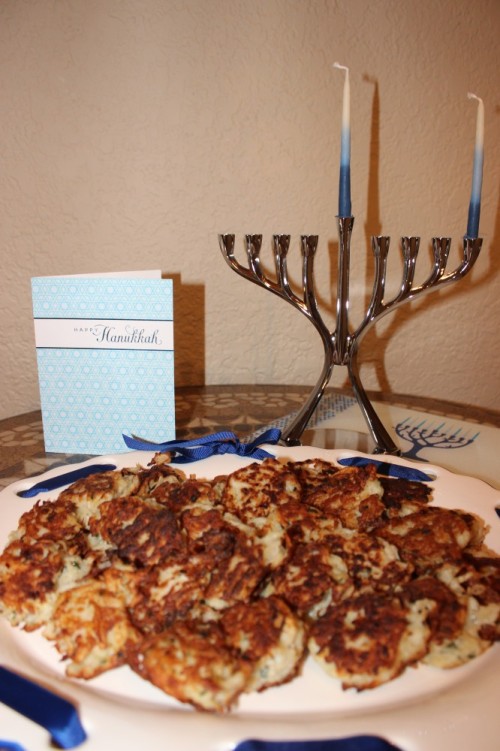 I followed my dad's recipe, but decided to go one step further in the flavor department and add one of my all time favorite products — Gourmet Garden! Potatoes and onions can look rather blah — so much boring white! These latkes needed a pop of color and Gourmet Garden's new Lightly Dried Parsley was the perfect ingredient. Have you tried the new Lightly Dried product line? It comes in basil, chili pepper, ginger, cilantro and parsley — and they come in the cutest little reusable bowls that snap together! I love using Gourmet Garden products in my cooking — they are super easy (no chopping!) and so versatile! The parsley added a little extra oomph to the batter for these latkes, and the pop of green among all that white didn't hurt either!
Holidays are all about traditions, and making Potato Latkes with my dad is one of my most memorable Chanukah traditions. Although I didn't get to make this batch with him, I'm happy to carry on the tradition of making latkes from scratch for the first night of Chanukah. I hope he isn't mad I changed it up a bit with the parsley!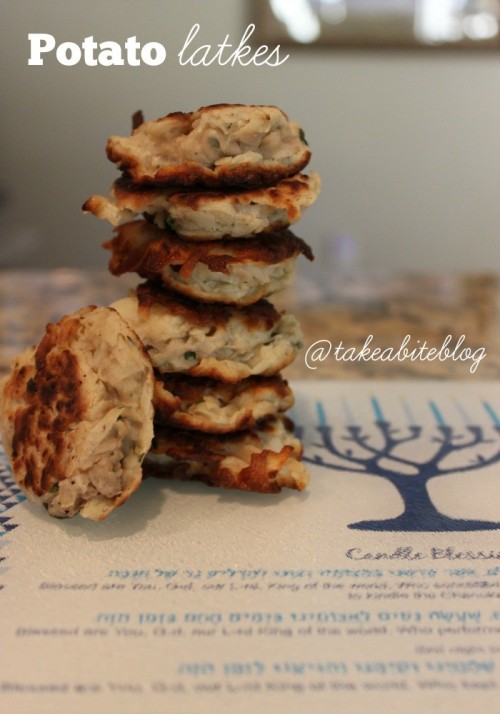 Chanukah Favorites: Potato Latkes
Recipe Type
:
Side Dish/Appetizer
Author:
Celebrate the Festival of Lights with Potato Latkes — crispy on the outside and filled with a generous helping of thick, fluffy grated potatoes.
Ingredients
2 large russet potatoes, peeled and cut into quarters
1 small yellow onion, peeled and quartered
1/4 cup ap flour, plus more
1 egg, beaten
2 tsp Gourmet Garden Lightly Dried Parsley
salt
grapeseed oil for frying
Instructions
Using a food processor with the medium grating attachment, add your onion quarters and grate on low. Immediately transfer to a fine mesh sieve and use the back of spatula to squeeze out as much liquid as you can.
Place the grated onions into a large bowl.
Repeat the same steps with your potato.
Add the flour and toss until coated. Add egg, Gourmet Garden Lightly Dried Parsley and salt and mix well. The mixture should be thick. If it is watery, add flour a little at a time to thicken it up.
Fill sauté pan with just enough oil to cover the bottom and heat over medium-high heat.
Once the oil is hot, use a cookie scoop to portion out latkes on the pan. Be careful now to crowd them. Let the potato mixture cook for 1-2 minutes on each side or until they are browned and crispy.
Add a little more oil between each batch.
Take the latkes out of the pan and arrange on top of a paper towel-lined cooling rack. Blot away any excess oil.
Disclaimer: This is a sponsored post by Gourmet Garden. As always, all opinions are 100% my own.