Never miss a bite! Sign up here to receive new recipes and reviews straight to your inbox.
Happy National Blueberry Cheesecake Day! Food holidays make me laugh — who comes up with them?! What a fun job! Today we're celebrating one of my favorite desserts — cheesecake! Adding in juicy little blueberries makes it extra special. Did you know that blueberries are packed with antioxidants, fiber and vitamins. They are a nutritious and delicious addition to any cheesecake!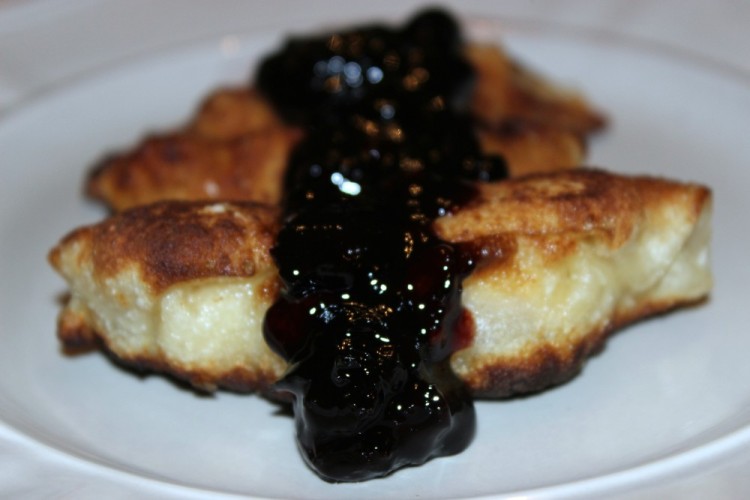 Driscoll's invited me to celebrate today's wonderful holiday with them. I decided to go a little out of the box and stayed away from a traditional cheesecake. There's a local restaurant that serves these killer cheesecake spring rolls for dessert, but they pair it with a caramel dipping sauce. I thought it would be fun to recreate this crispy, sweet dessert with a blueberry sauce instead!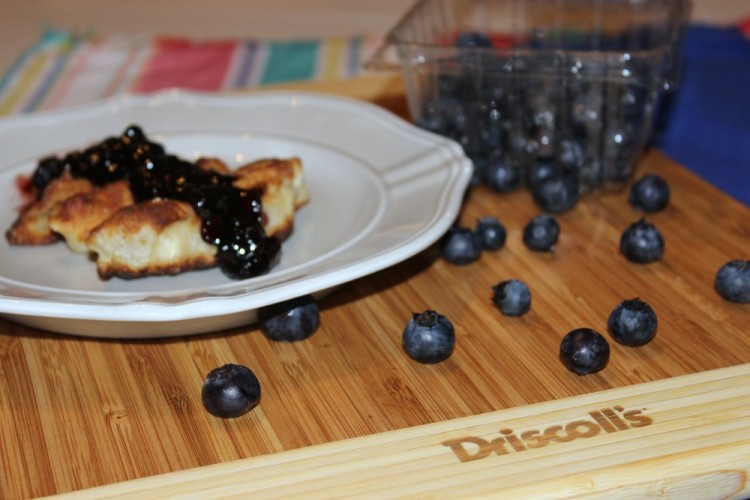 Have you ever had a cheesecake spring roll? Imagine a smooth and creamy filling enveloped in a fried won top wrapper. There is such an extreme contrast in textures that makes each bite as satisfying as the last, and makes you just a little bit sad when you reach the end. I made my spring rolls on the smaller side, so having more than one is totally okay! A simple blueberry compote is the icing on the cheesecake! All you need are some fresh Driscoll's blueberries, a little lemon juice, sugar and cornstarch to make the sauce. Pour it over your spring rolls and dessert is served!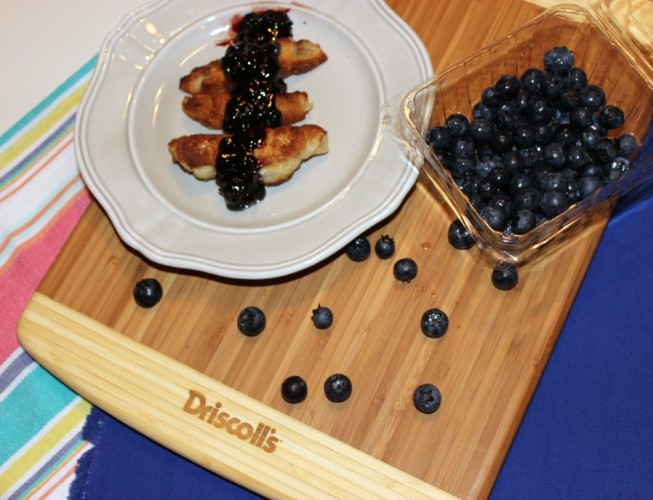 Will you be celebrating National Blueberry Cheesecake Day? There are so many variations on cheesecake you can try — cheesecake truffles, cheesecake trifle, cheesecake ice cream, cheesecake dip, and of course, actual cheesecake. I'll take one of each, and I hope you will too!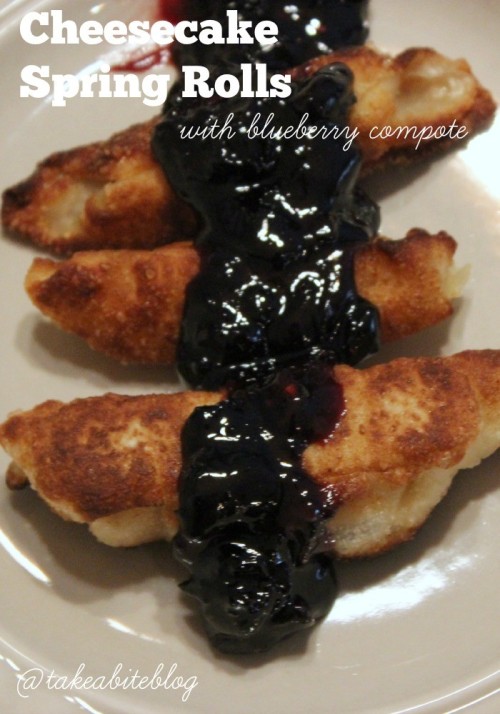 Cheesecake Spring Rolls with Blueberry Compote
Author:
Celebration National Blueberry Cheesecake Day with an untraditional version of the classic dessert — Cheesecake Spring Rolls with Blueberry Compote!
Ingredients
Won ton wrappers (can be found in the produce refrigerated section at your grocery store)
Canola oil
1 egg white
For the filling:
8 oz. reduced fat cream cheese
1/4 cup plain non fat Greek yogurt
1 tsp vanilla bean paste
1 tbsp coconut sugar
zest of half a lemon
1 package cheesecake pudding mix
For the blueberry compote:
1 pint fresh blueberries
s tbsp cornstarch
1/2 cup granulated sugar
1/2 cup water
Instructions
Beat together cream cheese, yogurt, vanilla bean paste, coconut sugar and lemon zest in a large bowl until well combined.
Fold in the pudding mix until fully incorporated.
Lay out won ton wrappers on a flat surface and place a teaspoon of the cheesecake filling close to the top of the wrapper.
Brush the sides of the wrappers with the egg white to help them stick together.
Fold the two sides of each wrapper toward the center and then continue to roll it down like a burrito.
Continue with each wrapper until you have used all of the filling.
Heat oil in a large, deep skillet and drop in each roll very carefully, trying not to splash any of the hot oil.
Watch very closely and as soon as you see the side faced down start to brown, use a spatula to flip i over. Once the entire roll has browned, remove it from the oil and place on a cooling rack lined with paper towels.
In a small sauce pot, combine blueberries, cornstarch, sugar and water and allow to come to a boil. Reduce to a simmer and let cook, covered, until the blueberries have released their juices and have broken down into an almost liquid-state.
Cook until you have a thick consistency.
Allow to cool slightly before pouring over the spring rolls.
Serve immediately.
Disclosure: This is a sponsored post by Driscoll's. I was compensated with a gift card and product coupons in order to create this recipe. As always, all opinions are 100% my own.