Never miss a bite! Sign up here to receive new recipes and reviews straight to your inbox.
Cheesy Baked Arancini is healthy and delicious. It's finger food at its finest — perfect for your game day spread.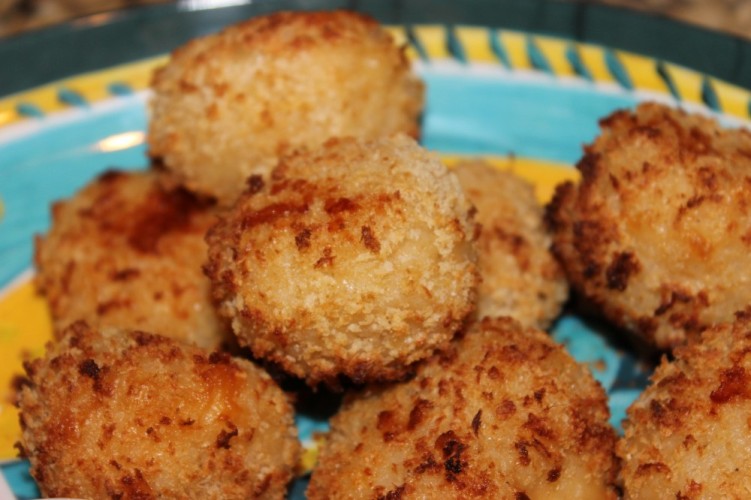 It's almost time for the big game. As exciting as it is, everyone knows that no football party is complete without an array of delicious finger foods, snacks, desserts and drinks to keep your mouth busy while you're watching huge men run around throwing balls at each other. (Cue the football-lovers glare…) I know, I know, it's fun to get all hyped up about the game — maybe I'd be more into it if my favorite team were playing. If you're like me and the rest of my #SundaySupper friends, we are a little more zealous about the food. And the wine. Especially if it's our favorite wines from Gallo Family Vineyards.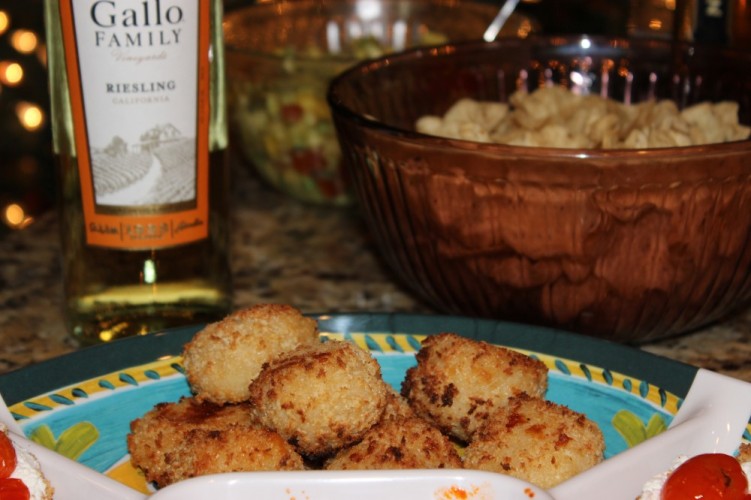 Yep, you guessed it. #SundaySupper is teaming up yet again with Gallo to bring you our favorite "Supper Bowl" appetizers! We're sharing our tastiest finger food and appetizer recipes that every football fan will enjoy. And for everyone who's dragged along to the football parties but really knows nothing about the game and is just going because well, what else is there to do, you've come to the right place. You can totally impress everyone at the party by making one of our recipes to bring — they won't care if you don't know the difference between a touchdown and a fumble.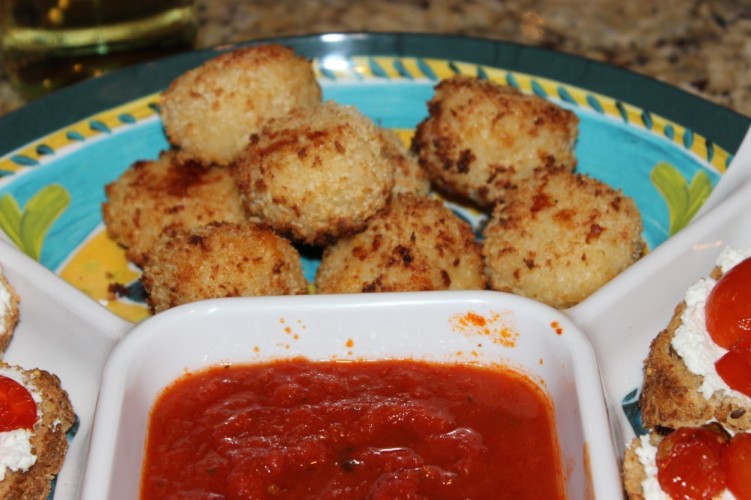 I like food that I can pick up with two fingers, pop in my mouth, and then go back for more without ever having to get a plate or a fork. At football parties, this is totally the norm. At nice fancy restaurants? Not so much. Nice-fancy-restaurant food is hardly ever seen at football parties — where messy food is always the star. Pizza, nachos, chili, chips and dips galore, chicken wings with sauce oozing all over the place — this is the kind of food you see at a football party.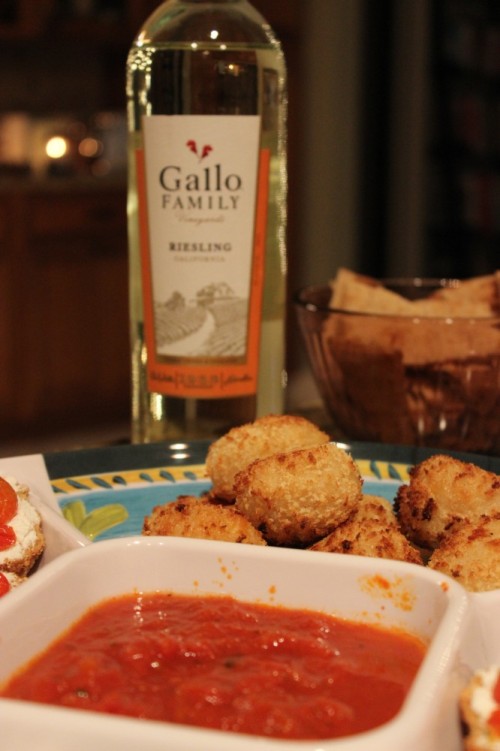 But if I were to host a party to watch next week's big game, I'd want to serve my guests only the best. One of my favorite nice-fancy-restaurant dishes is risotto, especially paired with a crisp white wine (like my favorite Gallo Family Riesling!). How do I "football-i-fy" risotto? By making arancini! Arancini is basically a ball of rice and lots of cheese, fried until golden brown on the outside and creamy on the inside. Not only did I make something fancy for this football celebration, but I made it a bit healthier too by baking the rice balls instead of frying them.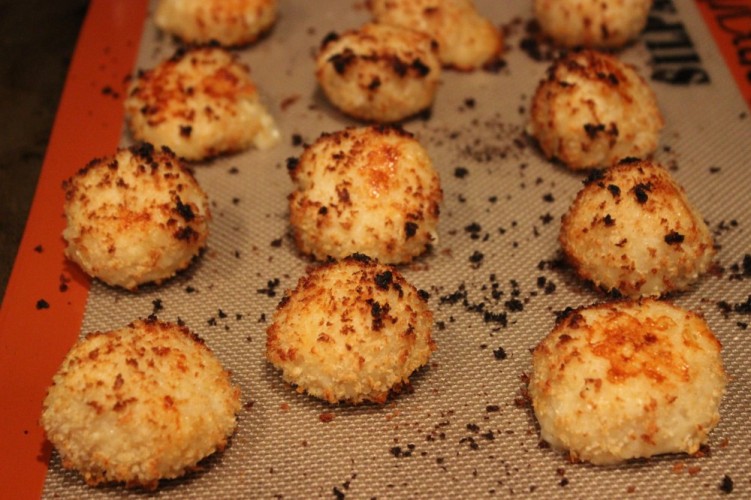 I used Gallo Family Riesling when cooking the rice. You know how it goes — a little bit for the pot, a little bit in my wine glass… 🙂 A combination of parmesan, mozzarella and fontina cheeses went into these little balls of deliciousness and with a panko-crusted coating, they came out perfectly crisp. I served my Cheesy Baked Arancini with a simple marinara sauce, but you could certainly choose to whip up something else. Truthfully, I didn't even feel the need to dip them in anything! Warm, cheesy, crispy, crunchy rice balls… It's fancy finger food at its finest! Sounds like game day food to me!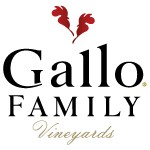 Are you having your own party for the big game next weekend? Gallo Family has some great hosting tips, and if you're having trouble figuring out just how to pair food and wine, they've got you covered! Follow Gallo Family Vineyards on Facebook, Twitter, Instagram, and YouTube. Not sure where to find Gallo Family wine? Check out the store locator.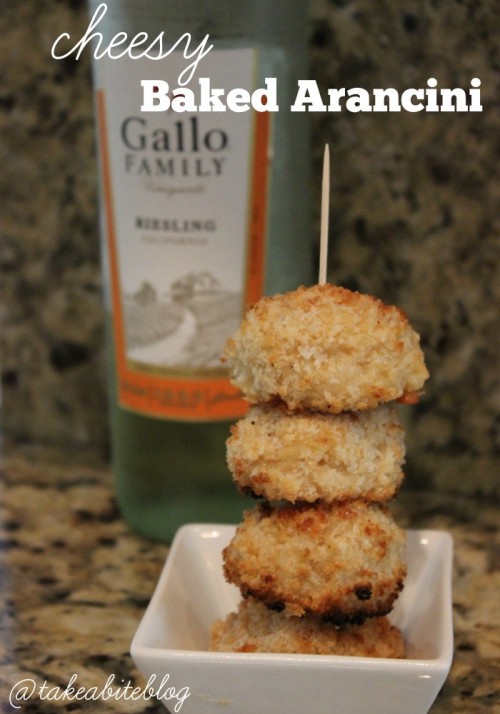 Cheesy Baked Arancini
Author:
Cheesy Baked Arancini is healthy and delicious. It's finger food at its finest — perfect for your game day spread.
Ingredients
½ cup brown rice
1 cup water
1/4 cup Gallo Family Vineyards Riesling
1/2 cup parmesan cheese, grated
freshly ground black pepper
1 cup shredded mozzarella
¼ cup white whole wheat flour
2 large egg whites
1 cup panko bread crumbs
Instructions
Preheat the oven to 375º.
Place rice in a food processor and pulse on and off until it is broken up into smaller pieces.
Fill a large sauce pot with water and wine and bring to a simmer. Add the rice and cook on medium heat, covered, until all of the liquid as been absorbed.
Once the rice is cooked, mix in the parmesan and mozzarella cheese and season with salt and pepper. Keep in the freezer to cool for about 5 minutes.
Remove the mixture from the freezer and form the rice into 12 equal-sized balls. Immediately place the rice balls back in the freezer for another 2 or 3 minutes.
While the rice balls are in the freezer, set up your breading station with 3 shallow bowls.
Fill one with flour, one with egg whites and one with panko bread crumbs.
Coat the balls, one at a time, starting with the flour. The dip them in the egg whites and coat evenly, then roll the ball in panko.
Place each finished ball onto a baking sheet lined with parchment paper or a silicone baking mat.
Bake for about 10 minutes. Use a spatula to turn each ball onto its other side and continue baking another 5-6 minutes or until they are crisp.
If they have not reached your desired level or brownness, place under the broiler for 2-3 minutes. But make sure to watch carefully so they do not burn!
Serve warm.
Notes
Inspired by Rocco DiSpirito's Unfried Rice Balls: http://www.people.com/people/article/0,,20668216,00.html
Wouldn't it be awesome if all of the #SundaySupper members could get together and share our Supper Bowl recipes with one another on game day? Eh, at least we have the recipes… And here they are!
Join the #SundaySupper conversation on twitter on Sunday! We tweet throughout the day and share recipes from all over the world. Our weekly chat starts at 7:00 pm ET. Follow the #SundaySupper hashtag and remember to include it in your tweets to join in the chat. To get more great Sunday Supper Recipes, visit our website or check out our Pinterest board.
Would you like to join the Sunday Supper Movement? It's easy. You can sign up by clicking here: Sunday Supper Movement.
Disclaimer: Compensation was provided by Gallo Family Vineyards via Sunday Supper, LLC. The opinions expressed herein are those of the author, and are not indicative of the opinions or positions of Gallo Family Vineyards.