Never miss a bite! Sign up here to receive new recipes and reviews straight to your inbox.
Polenta is a weird food. It can be smooth and creamy, almost resembling cream of wheat or porridge, or it can be grilled, roasted, made into "fries" or little cakes. It's pretty versatile — and the flavor profiles can be all over the place depending on what herbs, spices and cheese you decide to use. Or you may choose not to use cheese at all. I've had it prepared in a casserole dish and over the stove, but I've never made my own.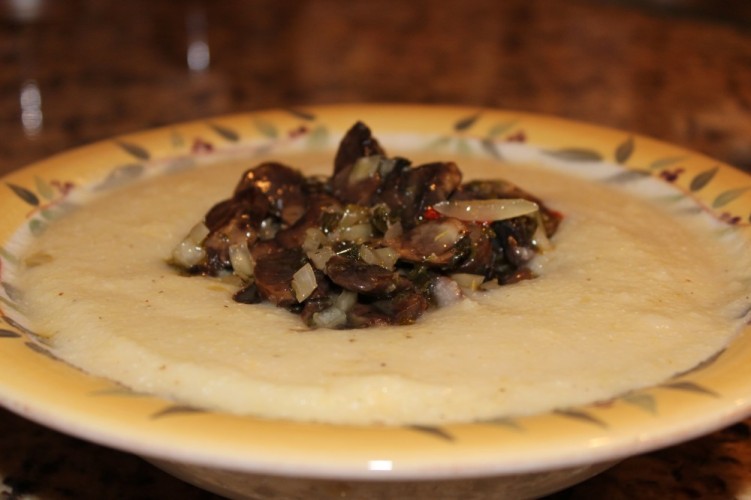 Sure, I could have taken a short cut and bought that instant polenta from the grocery store and then amped it up with other flavors, but nope. I wanted to really make my own. The ingredients are minimal — water (does that even count as an ingredient?) yellow cornmeal, salt and pepper (more non-ingredient ingredients…) and cheese. I used a combination of grated parmesan and fontina because that's what I had in the refrigerator. I think next time I'll use goat cheese — I bet that would make it SO much creamier than this version.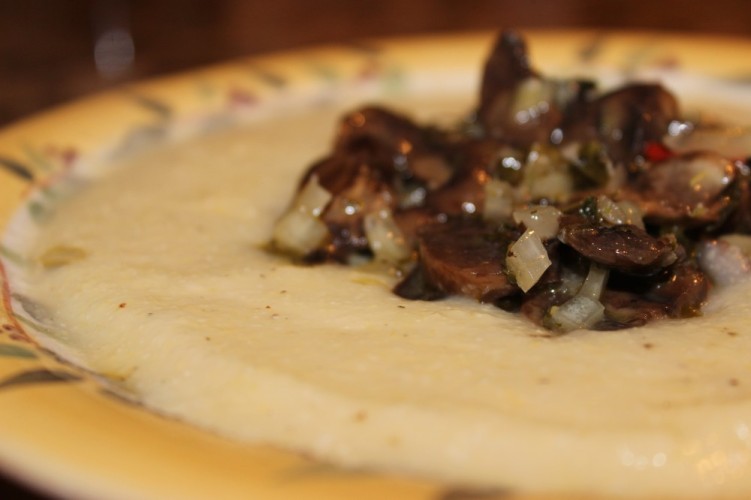 The polenta had a very subtle flavor and I definitely could not eat it by itself. So I grabbed the Herb-Marinated Mushrooms I made for Wine Pairing Weekend. This was a perfect flavor match! The strong taste of vinegar and herbs in the mushrooms married well with the understated flavors of the polenta. There was SO much polenta though, so I've got plenty of leftovers. I'm looking forward to making more polenta dishes soon!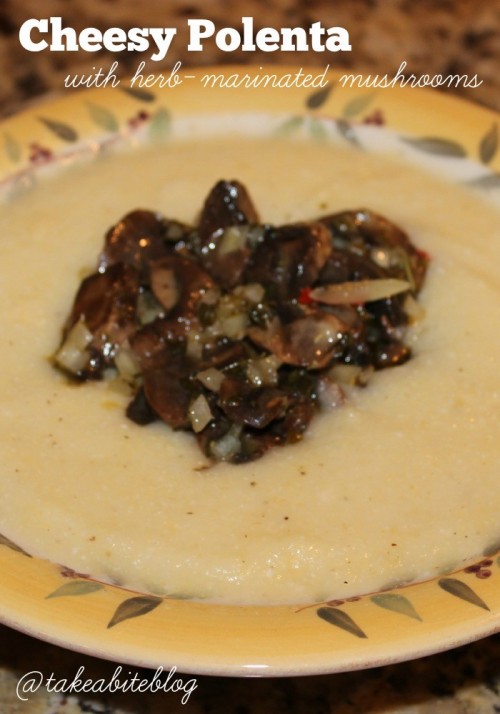 Cheesy Polenta with Herb-Marinated Mushrooms
Author:
A smooth and creamy polenta topped with herb-marinated mushrooms is a quick and easy side dish.
Ingredients
2 cups water
1/2 cup yellow cornmeal
1/2 cup grated parmesan cheese
1/2 cup grated fontina
salt and pepper
1/2 cup Herb-Marinated Mushrooms (recipe: https://takeabiteoutofboca.com/2015/01/herb-marinated-mushrooms-winepw.html)
Instructions
Bring water to a boil over high heat.
Whisk in cornmeal to the boiling water.
Reduce heat to low and cook, covered, for 30 minutes, stirring every 10 minutes or so.
Cook longer for a thicker consistency.
Season with salt and pepper and top with marinated mushrooms.