Today, the #SundaySupper team is saying "Thank You" with dishes perfect for Thanksgiving or Hanukkah (which fall on the same day for the first time in like, a bagillion years, and won't happen again for another bagillion years).

We all have a lot to be thankful for and sometimes we forget to say these things out loud. We take advantage and just assume people know we are grateful; we assume that life's little pleasures will always be around so it's okay to just flow through each day without really stopping and showing how much you care.



I am thankful for a lot of things. Today, however, I am going to talk about something that is semi-new to my life. Yoga. I have been practicing yoga off and on for years, taking classes at all of the gyms in which I've worked, and even took classes at the recreation center while I was at Rutgers. It helps my mental, physical and emotional health and has also been socially rewarding. I've met so many amazing people at the various studios I've been to. I've also been able to introduce a few of my friends to the practice and they've become just as in love with it as I have . One of my best friends is an instructor, and I started going to all of her classes a few months back and have been absolutely hooked. If there is such a thing as a good addiction, yoga is it. I take a class on Monday nights that is focused on stretching, deep breathing and relaxation. It is the most rewarding experience and the perfect way to start out my week. So, I am thankful to all of the amazing instructors that I have met that have pushed me to new limits, all of my fellow yogis who get the same high as I do after a class, and all of the asanas that give me strength, flexibility and a sense of purpose and direction – all things that we learn from yoga that have a place in our everyday life.

For today's #SundaySupper, I'm sharing Cheesy Scalloped Potatoes: a comforting side dish that is the perfect way to say "Thank You." We all associate food with emotion and a lot of us use cooking and baking as a way to show our loved ones how much we care. So when you're in need of an easy and delicious recipe to serve to your family and friends, these Cheesy Scalloped Potatoes are the way to go. Speaking of thank you, a shout out to Paula of Vintage Kitchen for hosting today's event!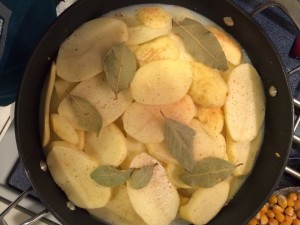 Check out what the rest of the #SundaySupper team is thankful for, and all of their tasty Thanksgiving/Hanukkah recipes!



FIRST COURSE / APPETIZERS
SAVORY BREADS + STUFFING
MAIN DISHES
SIDE DISHES
DESSERTS + SWEET BREADS
All American Wine Pairing Guide for Being Thankful #SundaySupper from Martin at ENOFYLZ Wine Blog

Posted with Blogsy