Never miss a bite! Sign up here to receive new recipes and reviews straight to your inbox.
NOTE: This restaurant has since closed.
Disclosure: I was invited to dine as a guest of the restaurant. No monetary compensation has been received for this post. As always, all opinions are 100% my own.
The Renzo's of Boca you've known for years has entered a new era — one spearheaded by Chef Angelo Romano, the chef behind the successful Lake Worth Italian restaurant, Paradiso Ristorante. Chef Angelo swept in and saved Renzo's from its financial distress. He's hoping that Boca residents will come back and rediscover just what it is they love so much about this neighborhood gem. But Chef Angelo isn't alone in this endeavor — he has Marco Turano with him, who hails from Milan, Italy, and definitely knows what he's talking about when it comes to Italian food and wine.
They've revamped the menu, but of course kept some dishes that are unique to Renzo's, like their ever-so-popular Polpette di Vitello con Ricotta, or, in English, Veal Meatball. This was just one of the delicious items highlighted during a recent media dinner to preview the new menu. I've been to Renzo's many times and have always enjoyed it so I was excited to see what the new chef/owner had in store for us!
We were welcomed by Chef Angelo and his staff with open arms. Renzo's has not changed in decor — it's still just as warm and inviting as ever, especially now as we enter holiday season. The main dining room is quiet and intimate, nice for those who like to dine without distraction. Our dinner was held in the lounge, where you'll find a fully-stocked bar and a pianist dazzling the crowd with classics. While show tunes played in the background and we all exchanged hellos, three holiday-inspired speciality martinis were on display for us to try: Eggnog, White Cranberry, and Pomegranate. I tried the Pomegranate Martini — the flavor was nice, but it was a bit too sweet for me.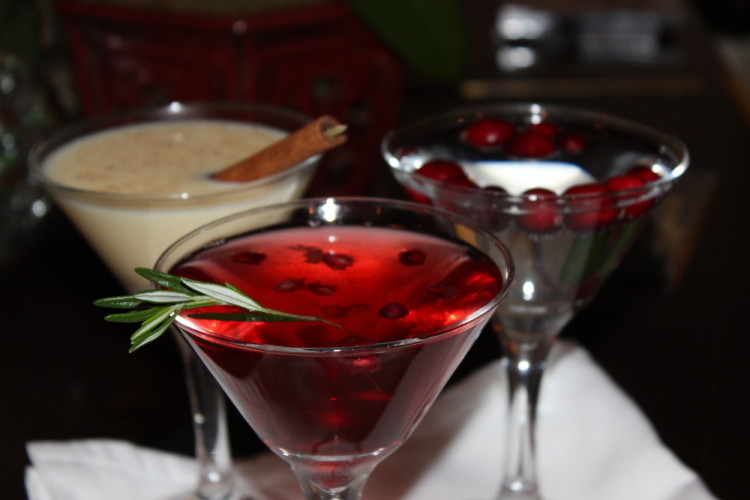 Our first course of the evening was a quartet of antipasti items — calamari salad, tuna carpaccio, beet and apple salad, and the creamiest, most delicious burrata I've ever tasted, topped with pickled eggplant. That was easily my favorite out of the four, although you'd never know it since I totally polished off each of them. Pickled eggplant was new to me, and it complemented the burrata perfectly. We were given tasting-sized portions since we had lots of food ahead of us to try, but I could easily make a meal out of that burrata with Renzo's yummy bread (it's seriously addicting!).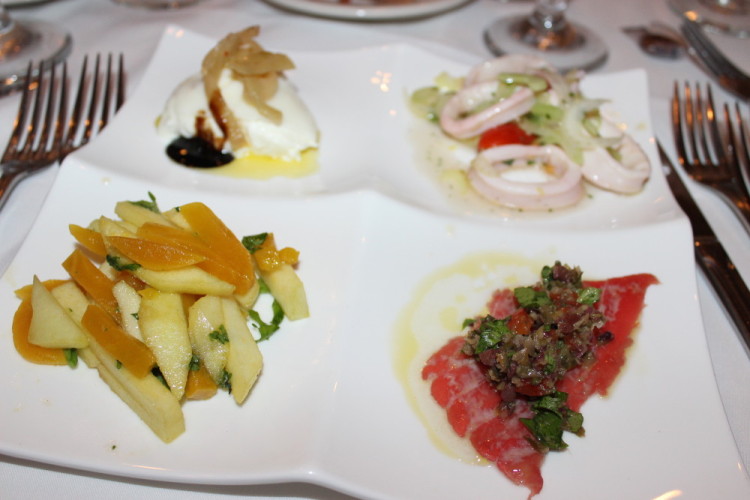 Next course? Pasta! We were presented with three very different pasta dishes — Fiocchetti con Pera, pear-stuffed pasta with a gorgonzola and walnut cream sauce so velvety smooth you'll want to dive right in, pillow-soft Ricotta Gnocchi in a vodka sauce, and Risotto Frutti di Mare with clams, mussels, shrimp and scallops. Each was delicious in its own right, bursting with flavors and wonderful textures. The risotto had a bite to it and wasn't as thick and creamy as you sometimes find — I normally love a rich, cheesy risotto, but when paired with seafood, this lighter al dente version was just what was needed.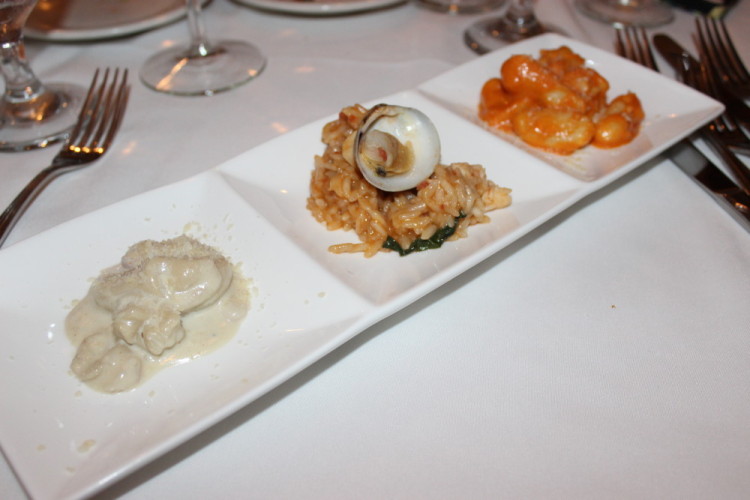 Next up was our fish course, complete with Pistachio-encrusted Branzino and Shrimp Zingara, a light red sauce filled with onions, mushrooms, and peppers. The texture of the crushed pistachio was the perfect complement to the buttery-soft, flaky Branzino. I loved this dish. The shrimp was good, but that Branzino was definitely the star.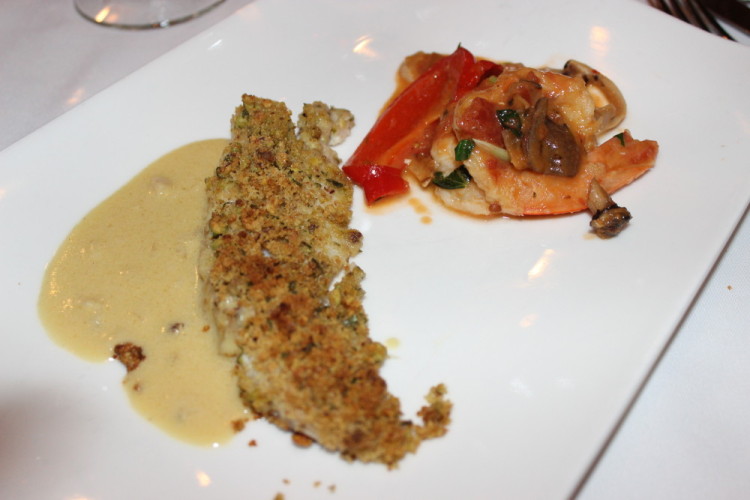 The Veal Meatball, mentioned above, was served next. It's served over sheep's milk ricotta cheese (of which I stole a little taste) that is just to-die-for! Don't worry, I wasn't left out of this course — I got to try the Eggplant Rollatini, another Renzo's classic.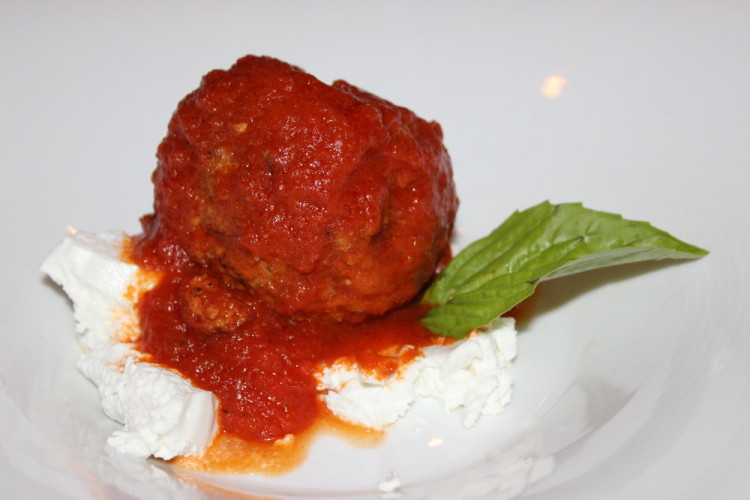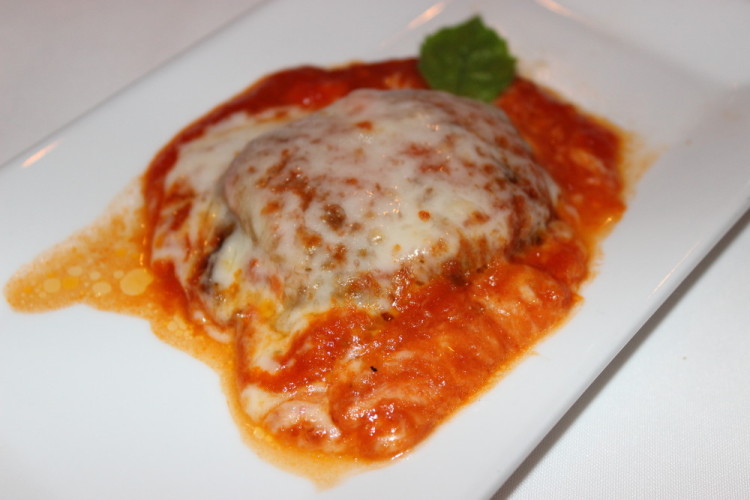 Now you know dinner isn't over until we've had a little something sweet! Dessert was Ricotta Cheesecake made with marscapone and ricotta cheeses. I've had ricotta cheesecake in the past and wasn't too crazy about it, but this? Whoa! If it's possible for something to be light and airy and creamy and decadent at the same time, this is it!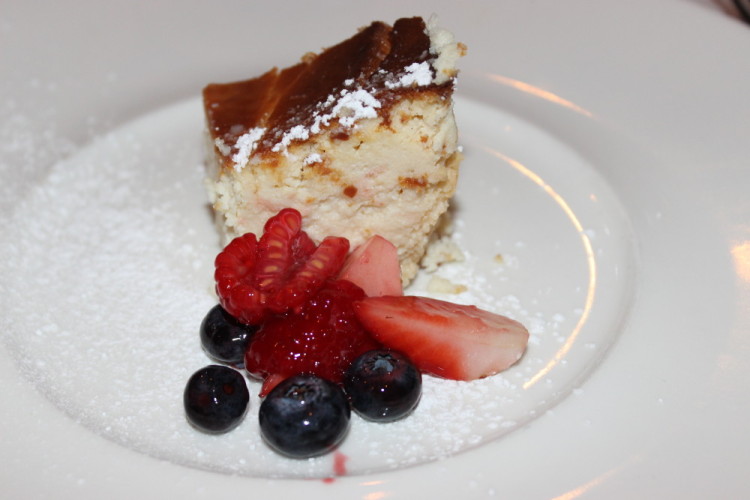 It was yet another memorable evening wining and dining with some of my favorite local bloggers. If you loved Renzo's before, you'll certainly love it now. Renzo's of Boca is located at 5999 North Federal Highway in Boca Raton.