Sometimes I really surprise myself. I'll throw a bunch of things together and not have any idea how it's going to turn out, but when I taste it, it blows my mind. When did I become so domestic?! Seriously, I think I'm going to make a pretty good wife one day. At least when it comes to food. The other housework? Ehh, not so much. I may be too organized for my own good and a little OCD about it, but cleaning is the biggest chore for me. It takes some serious motivation for me to get up and check off all the things on my cleaning checklist every week. It gets done, but it drains all of my energy and then I'm useless for the rest of the day. Blah. I wish I had a robot to do all that for me. Not a maid. A robot.
Anywhoooo — I wanted to make cupcakes for my friend Lauren's birthday a few weeks ago and I needed some kind of frosting. I didn't want to cop out and get the store-bought kind. If I was going to make the cupcakes from scratch, I was going to make the frosting from scratch as well. Shannon was having us all over her place for the birthday celebration dinner. Lauren's biggest requirement for the night was that there be lots of chocolate. We don't skimp when it comes to chocolate — there was plenty. Shannon didn't know I'd be making cupcakes so she bought a huge chocolate cake with chocolate icing and strawberries and whipped cream too! So when I showed up with my cupcakes we knew we would not be disappointing the birthday girl. These cupcakes are extremely moist and chocolately and the homemade frosting was basically chocolate fudge — chocolate NUTELLA fudge! Yes, you heard right. Nutella. Fudge. Frosting.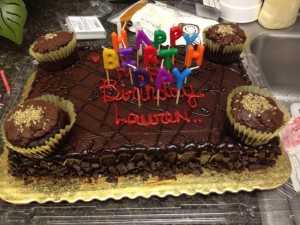 After using the frosting on the cupcakes, I stored the rest in a container in the refrigerator. The next day, I opened the container and realized I had actually made fudge. I moved the container to the freezer so it would stay that consistency and tried a piece later on. Yeah, I definitely made my own Nutella fudge and didn't even know it. This is exactly what I meant when I said I surprise myself.
Chocolate banana cupcakes
1/2 cup unsweetened cocoa powder
1 cup granulated white sugar
1 1/2 teaspoons vanilla extract
Preheat the oven to 375 degrees. Line a cupcake pan with 12 liners. Combine the flour, cocoa, sugar, baking soda and salt in a blender. Add in the water, oil, egg and vanilla and blend again until a very silky, smooth batter forms. Pour the batter into the cupcake liners and bake for 25 minutes. Cool the cupcakes completely before adding the frosting.
Nutella Fudge Frosting (or just plain old Nutella Fudge!)
1 1/4 cups powdered sugar
2 tbsp unsweetented cocoa powder
1 1/2 tablespoons almond milk
1 teaspoon vanilla extract
In a medium bowl using a hand mixer, combine all ingredients. It will form a very thick fudge-like consistency that will be hard to spread onto the cupcake. Think of this more of a fudge "topping" rather than an icing. Store in an airtight container in the freezer overnight and now you've got fudge!