Never miss a bite! Sign up here to receive new recipes and reviews straight to your inbox.
Put down your wine glass — I know, I can't believe I said it either — and bare with me with for a moment while we discuss something a little…more potent: Rum. Specifically, Diplomatico Rum. Now, go put on your stretchiest yoga pants because we're combining that rum with velvety smooth chocolate and some of the most inviting spices of the season.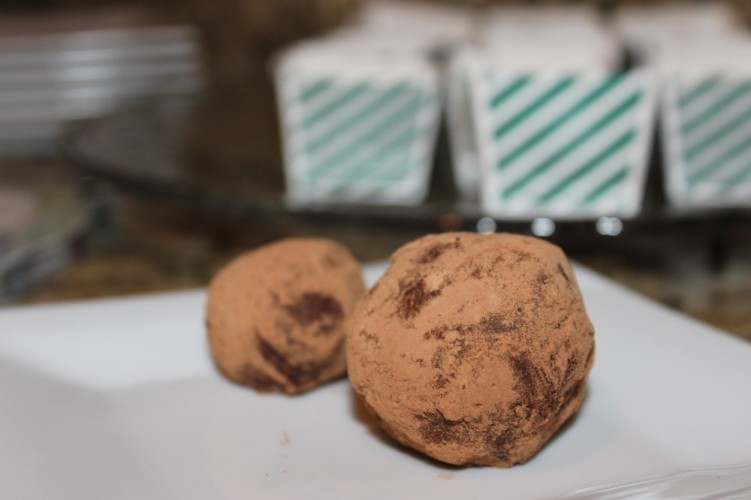 We're making truffles! Can you believe I've never made truffles before? I've made ganache many times, which is pretty similar to a truffle, but it's just not the same. Biting into a truffle is like biting into pure heaven. Chocolate, butter, heavy cream and — in the case of these #boozytruffles — rum. A chocolate truffle is a little ball of chocolate ganache coated in some kind of sugar, icing, nut or powder. The ganache filling can be amped up with different kinds spices and liquids. I had no idea how many different kinds of truffles there are, each inspired by different cultures. There are American Truffles made from a mix of chocolate and butterfat, European Truffles made with syrup, French Truffles made with fresh cream and chocolate, Belgian Truffles with buttercream or nut pastries, Swiss Truffles made from adding chocolate to a boiling mix of cream and butter and even the Canadian-inspired Harvey Truffle, which includes graham cracker crumbs and peanut butter in the filling.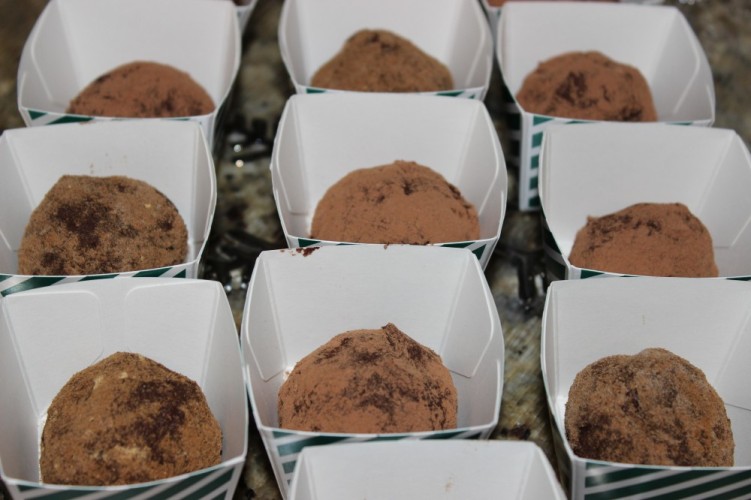 Mine seem closest to the Swiss Truffle. I used a recipe from Food Network Magazine, which instructed me to boil butter and heavy cream, pour over chopped chocolate and allow to sit until melted. Then I added the Diplomatico Rum, vanilla extract and cardamom from Frontier Co-Op's Simply Organic line of spices, cinnamon and nutmeg and stirred, stirred, stirred until it all came together into one gorgeous chocolatey sight that gets put into the fridge for at least three hours to set. I wish I had truffle molds to use, but alas, I do not. So I had to use my hands to roll these babies into little balls, and let me tell you — that was messy! But these Chocolate Chai Rum Truffles were so worth the mess.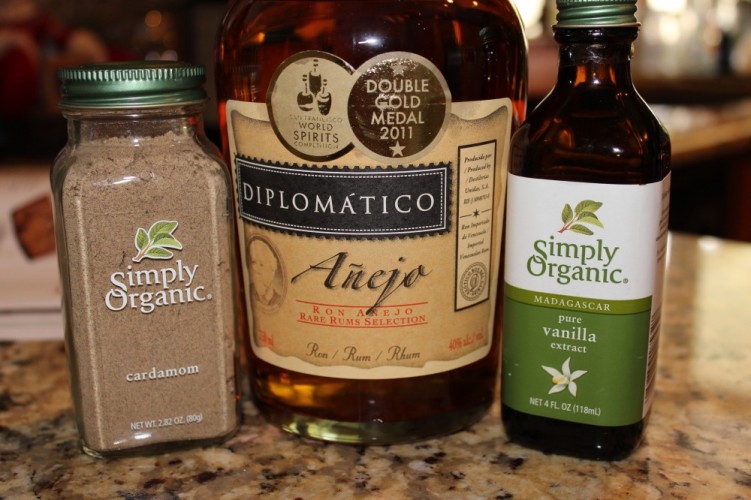 After shaping them into little spheres of decadence, I rolled them in a combination of the same spices I used in the mixture. Cardamom exploded all over the place. Figuratively speaking of course. The intense smell of cardamom seriously took over the entire kitchen. It was beautiful. Almost like someone spilled chai tea all over the place and didn't bother cleaning it up. I'd be okay with that spill. It would smell gooooood.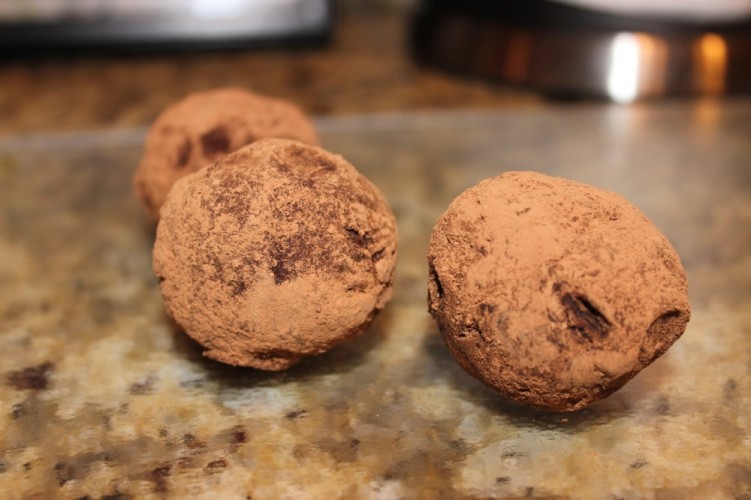 Truffles are the perfect dessert to set out for your holiday parties this season. People like bite-size desserts — especially when they can pick it up and eat it with their hands. It's hard to hold a glass of wine or cocktail in one hand and use a fork or spoon to dig in to your dessert. Truffles don't need silverware! Chocolate Chai Rum Truffles combine all the flavors of chai with deep, dark chocolate and sweet Diplomatico Añejo rum. Whether your hosting the party or have been tasked with bringing dessert, everyone you serve these truffles to will instantly fall to their knees and worship the ground you walk on.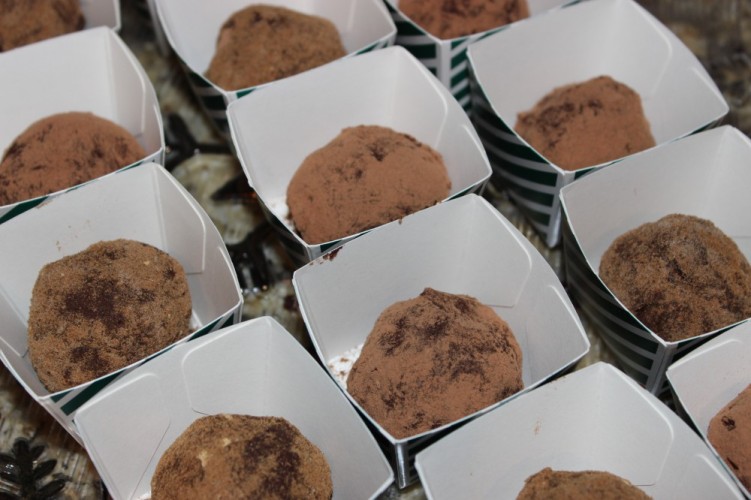 Gosh, I'm so dramatic.
They will freaking love you though.
PS — Merry Christmas Eve! Have a wonderful holiday filled with lots of family, friends and food! 🙂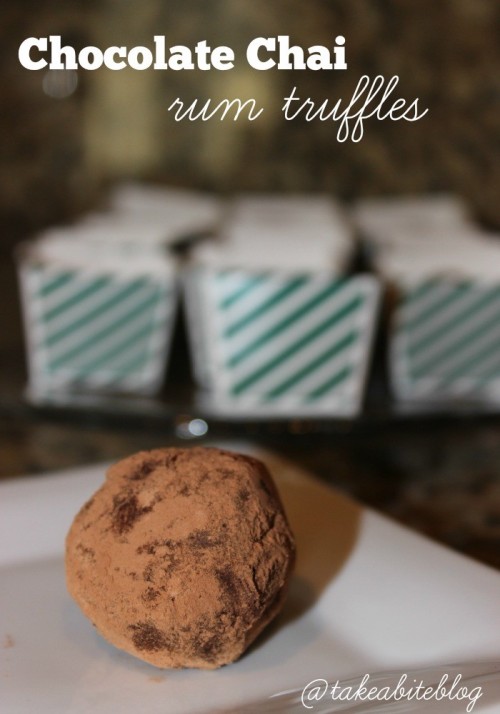 Chocolate Chai Rum Truffles #BoozyTruffles
Author:
Chocolate Chai Rum Truffles combine all the flavors of chai with deep, dark chocolate and sweet Diplomatico Añejo rum.
Ingredients
1 tbsp butter
1 cup heavy cream
12 oz. bittersweet chocolate bars
1/4 cup Diplomatico Añejo rum
1 tsp Simply Organic vanilla extract
1 tsp Simply Organic cardamom, plus more or coating
1 tsp cinnamon, plus more or coating
1 tsp ginger, plus more or coating
1/2 tsp nutmeg, plus more for coating
Instructions
Break chocolate into pieces and place in a heat proof bowl.
Heat butter and heavy cream on the stop until it starts to simmer. Pour over top of the chocolate and let sit for 3-4 minutes or until chocolate has melted.
Add rum, vanilla and spices and stir until smooth.
Pour mixture into a shallow baking dish and refrigerate for at least 3 hours.
In a small dish, combine the spices and mix well.
Scoop out spoonfuls of the chocolate mix and roll into 1 1/2-inch balls.
Roll the balls in the spice mix until completely coated and place onto another dish.
Once all the balls have been rolled and coated, refrigerate for at least 1 hour before serving.
Notes
Inspired by Food Network Magazine Mocha Truffles http://www.foodnetwork.com/recipes/food-network-kitchens/mocha-truffles.html
Disclaimer: This is a sponsored post by Diplomatico Rum and Frontier Co-Op through The Baddish Group. I received compensation and product for this post. As always, all opinions are 100% my own.