I like to try to keep my baked desserts on the lighter side, but sometimes you just can't skimp on certain ingredients when there's a texture or taste you're aiming for. Remember Bubby's Cookie Cake? I highly, highly doubt that would have been anywhere near as delicious if you didn't use the 2 (yes, 2!) sticks of butter that the recipe calls for. I'm sorry, but I had to do it. I can't alter a Bubby recipe. That would be a sin! I can, however, add things to it and make it better. Like these Chocolate Chip Cookies and Cream Bars. I still had a bag of Hershey's Cookies and Cream Drops left over from my Cookies and Cream Chocolate Layer Cake, so I threw what was left into my mini Cuisinart food processor and crushed them into pieces. I stirred the crumbles into the cookie dough along with a bunch of chocolate chips and turned Bubby's Cookie Cake into Chocolate Chip Cookies and Cream Bars!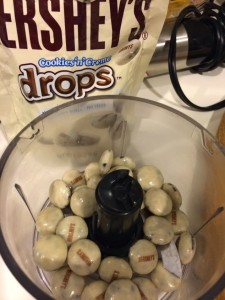 Cookie bars are so much easier to make than cookies. No dough scooping and less dishes! Cookies usually require more than one baking sheet, but these cookie bars bake in just one dish. They are super dense and moist and remind me very much of a blondie (a "blonde" brownie for those not familiar with the term). I personally like blondies much more than I like brownies. Something about that molasses-y taste you get from the brown sugar just makes me all warm and happy inside.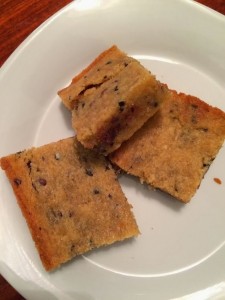 Did I seriously just say I like something more than chocolate? Eek…What has gotten into me?
Well, I guess you'd understand too if you were eating these Chocolate Chip Cookies and Cream Bars. They are so good they'll make you say crazy things!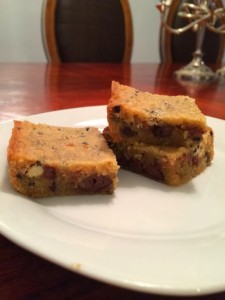 Chocolate Chip Cookies and Cream Bars
Makes 16 bars

2 sticks unsalted butter, softened
1 cup brown sugar
1 large egg, beaten
1 tsp vanilla
2 cups all-purpose flour
½ tsp salt
1 cup chocolate chips
1 cup crushed Hershey's Cookies and Cream Drops

Preheat the oven to 350 degrees. Grease an 8-inch baking dish and set aside.

In the bowl of a stand mixer, beat together the butter and brown sugar. Add the beaten egg and vanilla and mix on low. Gradually add in the flour and salt. Add the chocolate chips and crushed Hershey's Cookies and Cream Drops and mix until combined.

Stir by hand to make sure the chocolate chips and cookies and cream crumbles have been evenly dispersed throughout the dough. Spoon the dough into your prepared baking dish and spread evenly. Bake for 25 minutes or until the edges just start to brown.