Never miss a bite! Sign up here to receive new recipes and reviews straight to your inbox.
Put the ooey gooey sweetness back in your life with these Chocolate Chip M&M Gooey Bars!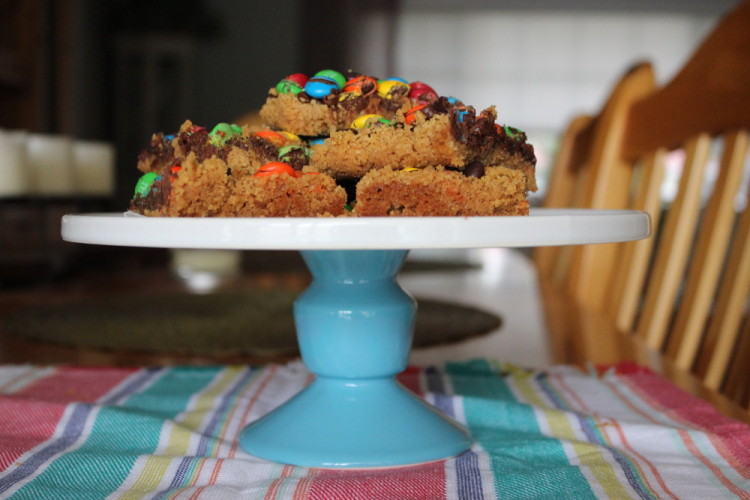 Oh my god. You guys, I don't think I've baked anything since before I left for Chicago and had to make goodies for the Eat Write Retreat Food Swap. That's over a month ago. How is that even possible?! Baking is one of the most relaxing, soothing and comforting things I do — not to mention, the smell of something baking in the oven overwhelms me with joy. It felt really good to get back in the kitchen and whip up something sweet for you all to enjoy.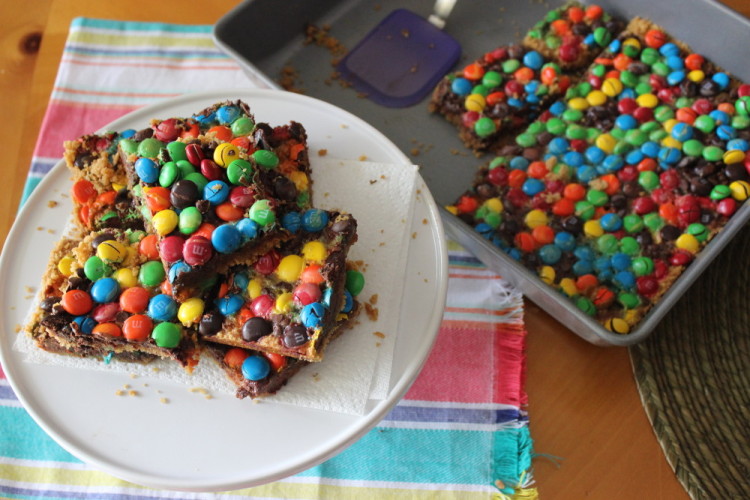 Had it not been for the #LeftoversClub, I may not have found the time to make these Chocolate Chip M&M Gooey Bars. I knew deadline was approaching fast, and I had to get these bad boys out in the mail ASAP if I wanted them to get to my partner in time. Speaking of which, my partner for this month's swap is Kim from Feed Me, Seymour. Kim and I have both been part of the #LeftoversClub for quite some time now and have never been partners! I'm super excited to send her these Chocolate Chip M&M Gooey Bars and even more excited to see what she's sending me! All of her recipes are impressive, and she takes beautiful photos. You should definitely hop on over to her site and see what she's got cookin'. But first, stick around — you don't want to miss out on these Chocolate Chip M&M Gooey Bars.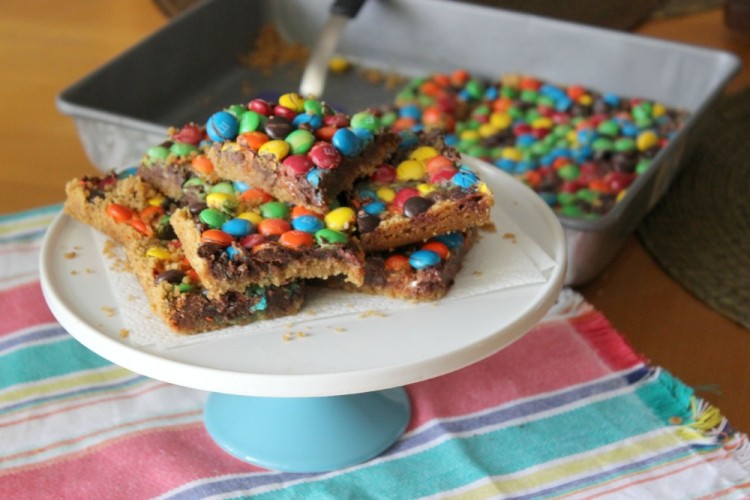 What makes a gooey bar? Sweetened condensed milk is the main ingredient here. Everything else can be swapped out depending on your preference. I used graham cracker crumbs for the base, but you could crumble up Oreos or another kind of cookie too. I used mini chocolate chips and milk chocolate M&M's, but again — you could use any kind of candy mix-ins you want! Peanut butter chips, white chocolate chips, nuts, shredded coconut, chopped candy bars… Seriously, anything can work here, as long as it's relatively small (or can be chopped small). It's the sweetened condensed milk that brings everything together and gives that ooey gooey, irresistible texture.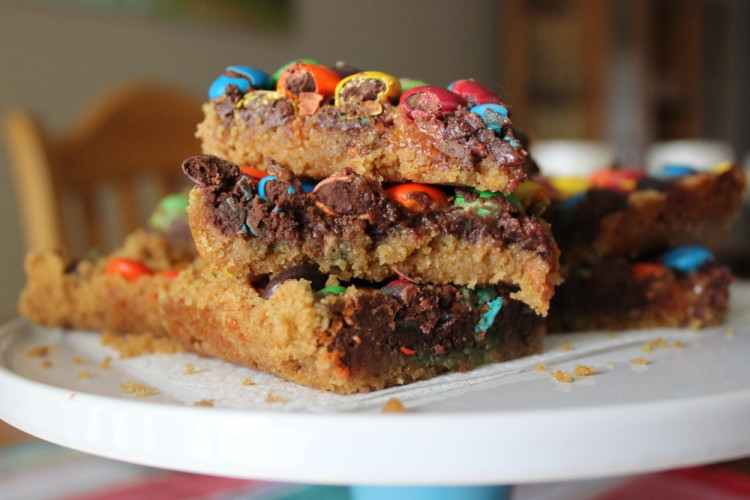 Yeah, I think Kim is going to be very happy with her #LeftoversClub goodies this month.
And I think you will be very happy with these Chocolate Chip M&M Gooey Bars too!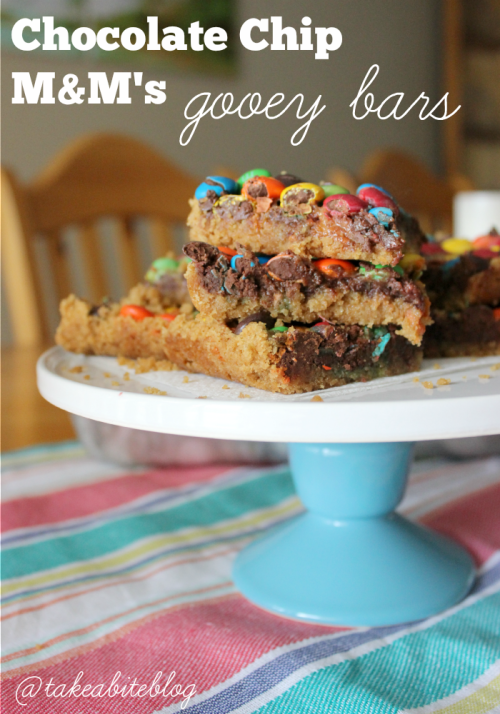 Chocolate Chip M&M's Gooey Bars
Author:
Put the ooey gooey sweetness back in your life with these Chocolate Chip M&M Gooey Bars!
Ingredients
2 cups graham cracker crumbs
3/4 cup melted butter
1 14 oz. can sweetened condensed milk (I used fat free)
1 cup mini chocolate chips
1 1/2 cups milk chocolate M&M's
Instructions
Preheat the oven to 350 degrees. Grease a 9×13 pan and set aside.
Add graham cracker crumbs and butter to a bowl and mix well, until the crumbs just appear moist.
Press the mixture firmly into the bottom of the pan.
Spread a little over half of the sweetened condensed milk evenly over the graham cracker crust.
Arrange chocolate chips and M&M's over the entire surface.
Top with remaining sweetened condensed milk.
Bake for 30 minutes.
Notes
Inspired by Cupcakes and Kale Chips Butter Pecan M&M's Magic Bars: http://cupcakesandkalechips.com/butter-pecan-mms-magic-bars/
Let's see what the rest of the #LeftoversClub is sending out: