I've never been a fan of those store-bought macaroons everyone gets around Passover. They feel dense, and I don't think they taste that great either. My family seems to enjoy them, but that's probably because they haven't tasted a real, true, homemade macaroon. And now that they have, I doubt they'll ever be able to eat a store-bought macaroon ever again.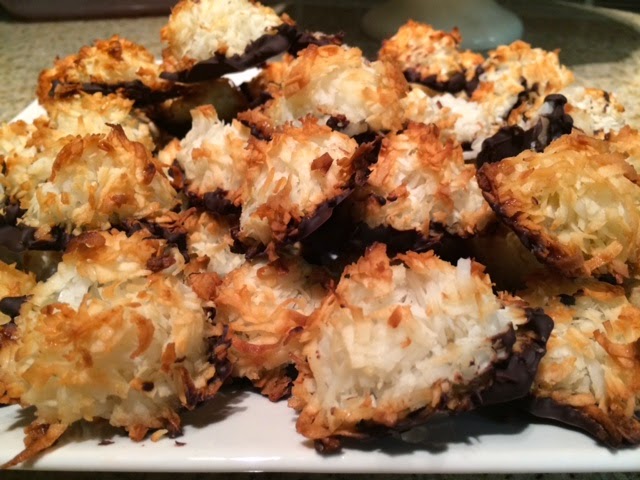 The recipe is so simple, it's a wonder I've never made them before. Egg whites, sugar, vanilla and coconut get mixed together and scooped onto a cookie sheet to bake until brown. Of course, there's nothing better than chocolate coconut macaroons, so I melted a bar of Ghirardelli dark chocolate and dipped the bottoms. Well, I didn't. My nieces did! Dani and Jess were such great little helpers and loved being in charge of making the dessert.


Unlike the store-bought with who knows what else in it, these macaroons really highlight the coconut. It's basically the only ingredient. Coconut and chocolate are a perfect match — almost as good as chocolate and peanut butter or chocolate and mint. Come to think of it, chocolate is good with just about everything. When there's melted dark chocolate involved, you really can't go wrong.


Chocolate-Dipped Coconut MacaroonsMakes 3 dozen macaroons
3 egg whites
1/2 cup sugar
1 tsp vanilla extract
1 14 oz. bag sweetened shredded coconut
2 bars Ghirardelli dark chocolate

Preheat the oven to 325 degrees. Whisk the egg whites, sugar and vanilla in a bowl until fluffy. Stir in the coconut until well combined. Use a small cookie scoop to portion out the cookies onto a baking sheet lined with parchment paper or a silicone baking mat.

Bake for about 25 minutes, turning the sheet at the halfway mark, or until the tops are browned.

While the macaroons are cooling, melt the chocolate. Dip each macaroon into the chocolate and place on another baking sheet lined with wax paper. Keep in the refrigerator until ready to serve.