Never miss a bite! Sign up here to receive new recipes and reviews straight to your inbox.
Disclosure: Thank you to Stonyfield and Justin's for sponsoring this post. As always, all opinions are 100% my own. 
When your breakfast can double as dessert, you know it's gotta be good. Enjoy these Chocolate Hazelnut and Banana Muffins any time of day!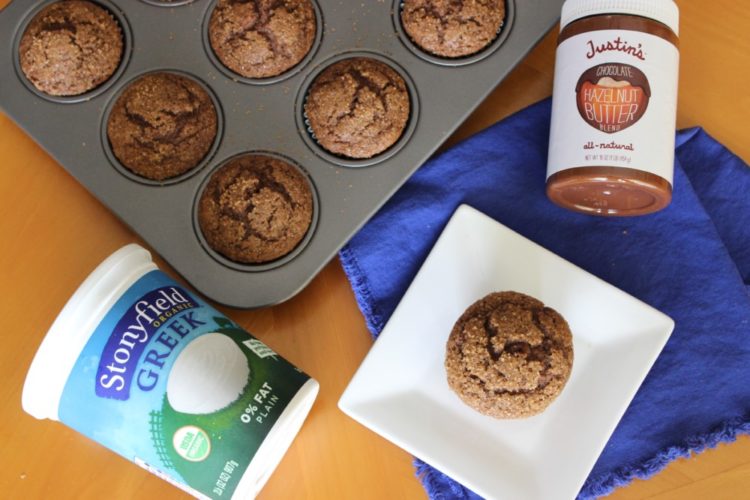 I'll never get bored with banana-flavored baked goods. They're always super moist, rich in flavor, and totally confused about their identity. Is it breakfast? A snack? Dessert? I don't know, and I don't care — I'll eat banana-flavored anything whenever I want! These Chocolate Hazelnut and Banana Muffins are definitely confused. There's no chocolate chips, glaze, or any additional white sugar added to the mix. They're not overly sweet, nor are they fudgy like a brownie or chewy like a cookie — yet they could one thousand percent be enjoyed for dessert. The secret? Justin's Chocolate Hazelnut Butter. It has half as much sugar as its competition, but still tastes rich and decadent. It's the perfect addition to these muffins to give that little extra oomph. Give me all the banana-flavored baked goods — and then add chocolate. You've got me for life! Is there really anything better than a little banana and chocolate pairing?
Actually, yes, there is. Banana, chocolate and nut butter pairing. Any kind. And here we're going nuts for hazelnut.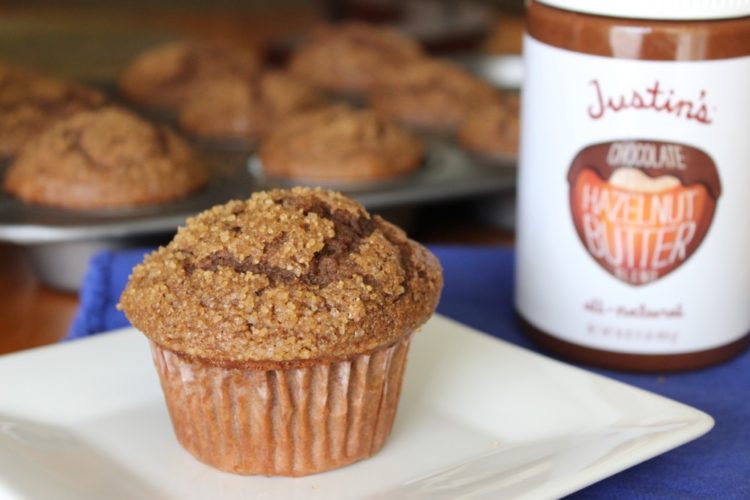 But wait, there's more yumminess in these Chocolate Hazelnut and Banana Muffins. Nope, it's not butter. It's not coconut oil or olive oil, or any kind of fat at all for that matter. It's Stonyfield Organic Greek Yogurt! I use Stonyfield's plain nonfat Greek yogurt in baking all the time. It's a healthy alternative to fat and gives baked goods a wonderfully moist and tender crumb. There's no denying that using Justin's Chocolate Hazelnut Butter and Stonyfield Greek Yogurt in this muffin batter is a genius idea. You could use any variety of Justin's nut butters and go crazy with different flavor muffins.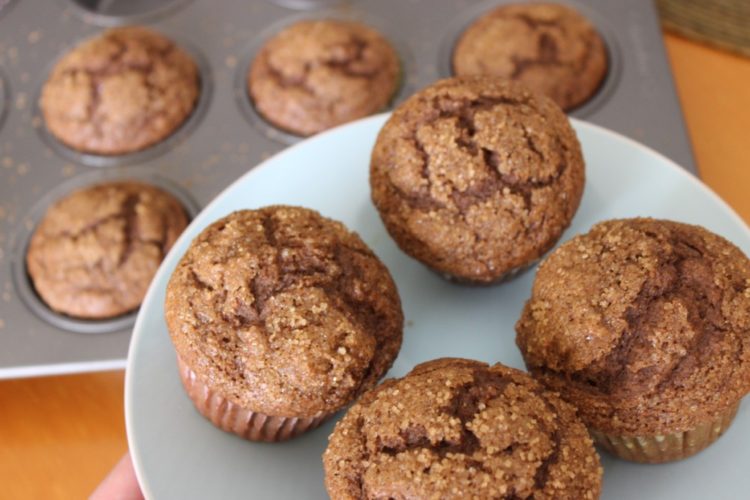 Run, don't walk, to your nearest grocery store. Pick up some Stonyfield Greek Yogurt and it's probably smart to grab one of every single Justin's flavor while you're there. You're going to want to make many, many batches of muffins.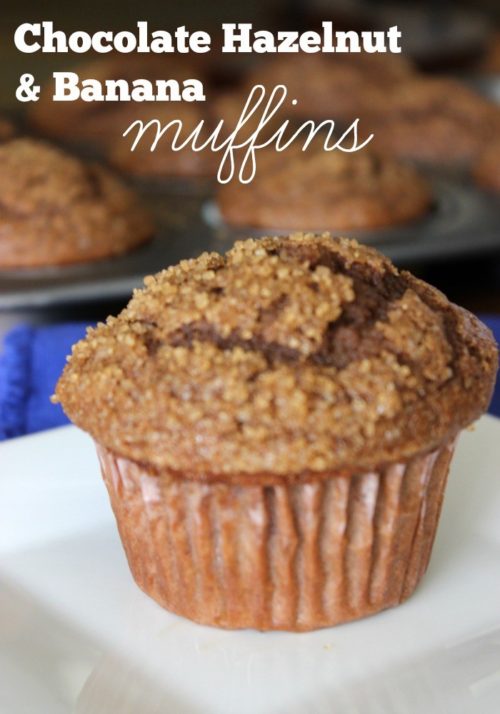 Chocolate Hazelnut and Banana Muffins
Author:
Cook time:
Total time:
When your breakfast can double as dessert, you know it's gotta be good. Enjoy these Chocolate Hazelnut and Banana Muffins any time of day.
Ingredients
2 large, ripe bananas, mashed
1/4 cup honey
1/4 cup packed dark brown sugar
1/2 cup plain, nonfat Stonyfield Greek Yogurt
1 large egg
1/3 cup unsweetened cashew milk (or your preferred milk)
1/2 cup Justin's Chocolate Hazenut Butter
2 tsp vanilla extract
1 and 3/4 cups white whole wheat flour
1 tsp ground cinnamon
1 tsp baking soda
1 tsp baking powder
1/4 tsp salt
Topping: raw turbinado sugar
Instructions
Preheat the oven to 425F degrees. Add liners to a 12-count muffin pan and set aside.
Combine mashed bananas, honey, dark brown sugar, Greek yogurt, egg and milk together in a medium bowl.
Whisk in the chocolate hazelnut butter and vanilla extract until smooth.
Mix together the flour, cinnamon, baking soda, baking powder and salt in a larger bowl.
Add the wet ingredients to the dry ingredients and mix until just combined.
Sprinkle a generous amount of raw turbinado sugar on the top of each muffin.
Scoop batter into the lined muffin tin, just about to the top of each liner.
Bake at 425 degrees for 5 minutes. Do not remove the muffins, but adjust the oven temperature down to 350 degrees.
Continue to bake for another 12 minutes or until a toothpick inserted into the center comes out clean.
Notes
Adapted from Sally's Baking Addiction's Skinny Peanut Butter Banana Muffins: http://sallysbakingaddiction.com/2013/09/18/skinny-peanut-butter-banana-muffins/