Alright kids, its #SundaySupper time again! This week is all about the CRUNCH! Crunchy Goodness in all its glory. Granolas, snack mixes, nachos, nuts…I'm sure there will be lots of crunch for you to munch on. As obvious as some of the above ideas are, I was having a hard time coming up with a good recipe for this week's theme. Thankfully, my co-workers are always full of good ideas.

These Chocolate Peanut Butter Pretzel Cookies are inspired by Publix, in more ways than one. We've all been snacking away on the insanely addictive peanut butter-filled pretzels that were on sale last week. BOGOs are dangerous, I tell you! Especially when there is peanut butter and pretzels involved! These things are really hard to stop eating once you've started. To the point where your stomach hurts because you've eaten way too many. That is never fun, but until the moment when you kind of wish you could take back every bite, you've never been happier popping these into your mouth one by one. We actually still have a lot left, which is a good sign since it means we didn't go completely overboard and devour two entire containers in one week. But in an attempt to get rid of them before we do overindulge, Rey came up with a seriously great idea. Bake them into cookies! So inspiration from my Publix co-workers, as well as those dangerously addictive pretzels has morphed into these Chocolate Peanut Butter Pretzel Cookies, with all the crunchy goodness needed for today's #SundaySupper.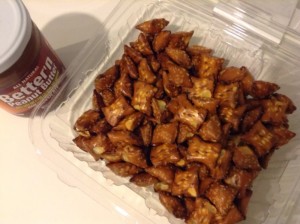 I used the same basic peanut butter cookie recipe from the Reese's Peanut Butter Cookies I made a month or so ago, with a few changes. I used chocolate peanut butter, and instead of Reese's cups and chocolate chips, I used the peanut butter filled pretzels, half crushed and half whole.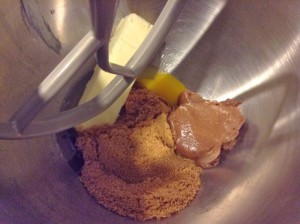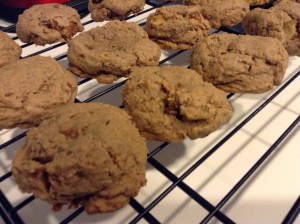 I think these qualify me for a raise, whaddaya think? 😉

Chocolate Peanut Butter Pretzel Cookies
Makes 3 dozen cookies

1 large egg
1 cup brown sugar
¾ cup Better'n Peanut Butter Chocolate Peanut Butter
½ cup (1 stick) unsalted butter, softened
1 tbsp vanilla extract
1 ¾ cup all-purpose flour
¾ tsp baking soda
2 cups Publix peanut butter pretzels, divided
Preheat the oven to 350 degrees.
In the bowl of a stand mixer, cream together the egg, brown sugar, chocolate peanut butter, butter, and vanilla. Add in the flour and baking soda. Mix until well combined.
Place half of the pretzels in a food processor and pulse until most of them are crushed. Pour into the cookie batter and continue to mix.
Release the bowl from the stand mix and add the remaining whole pretzels. Fold into the batter by hand.
Scoop the cookies onto a silicon baking mat using a cookie scoop. Flatten the tops slightly with the back of a spoon. Bake for 10 minutes.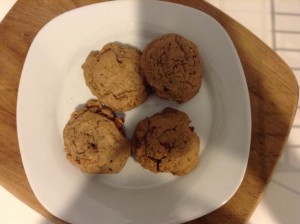 Here is some more Crunchy Goodness for you to enjoy! Make sure to check out all of the other bloggers participating in this week's #SundaySupper!
Crispy Appetizers:
Bitterballen
from The Urban Mrs.
Caprese Wontons
from Jane's Adventure in Dinner
Crispy Broccoli Cheddar Bites
from Curious Cuisiniere
Waldorf Salad
from Noshing With The Nolands
Crunchy Entrees and Sides:
Crunchy Baked Chicken with Homemade Shake and Bake
from Growing Up Gabel
Crunchy Crusted Chicken Strips with Chipotle Honey Mustard
from A Kitchen Hoor's Adventure
Flautas de Rajas con Queso (Cheesy Poblano Pepper Taquitos)
from La Cocina de Leslie
Penny's Taco Salad
from Webicurean
Popcorn Chowder
from The ROXX Box
Rosemary Garlic Croutons on layered Savoy Cabbage Soup
from The Not So Cheesy Kitchen
Strawberry and Mozzarella Flatbread
from Family Foodie
Munch on Snacks:
Crunchy & Chewy Chocolate Hazelnut Granola
from Cupcakes & Kale Chips
Crunchy Granola Bars (Better than Nature Valley)
from Shockingly Delicious
Crunchy Pumpkin Pie Spice Roasted Chickpeas
from Daily Dish Recipes
Duck Fat Chex Mix
from The Texan New Yorker
Easy Vegan Granola
from Killer Bunnies, Inc
Fried Veg Momos with Cheese Recipe
from Masala Herb
How to Make Homemade Sweet and Salty Trail Mix
from Neighborfood
Orange Spiced Cashews
from Hip Foodie Mom
Peanut and Pretzel Popcorn Balls
from Peanut Butter and Peppers
Roasted Pumpkin Seeds
from Hezzi-D's Cooks and Books
Slow Cooker Bar-B-Q Party Mix
from Hot Mamma's Kitchen Chaos
Sourdough Grissini
from girlichef
Spicy Lentil Crackers
from Cindy's Recipes and Writings
Sweet and Spicy Roasted Pepitas
from Alida's Kitchen
Sweet Potato Chips
from Kudos Kitchen By Renee
Unbaked Healthy Oatmeal Sesame Bars
from My Trials In The Kitchen
Vanilla Almonds
from That Skinny Chick Can Bake
Crisp Dessert:
Boo Berry Cereal Treats
from Pies and Plots
Choco-Caramel Squares
from Basic N Delicious
Chocolate Covered Potato Chip Rice Krispie Treats
from The Girl In The Little Red Kitchen
Chocolate Pecan Biscotti
from The Food Army Wife
Cookie Brittle
from Juanita's Cocina
Double Banana Pie Krispie Treats
from What Smells So Good?
Honeycomb Crunch Candy
from Food Lust People Love
Momofuku Chocolate Chip Cornflakes Cookies
from Ninja Baking
Nutty Wedges with Brown Sugar Whipped Cream
from Magnolia Days
Salted Caramel Cashew Cookies
from Mess Makes Food
Chocolate Peanut Butter Pretzel Cookies
from Take A Bite Out of Boca
Join the #SundaySupper conversation on twitter on Sunday!
We tweet throughout the day and share recipes from all over the world. Our weekly chat starts at 7:00 pm EST. Follow the #SundaySupper hashtag and remember to include it in your tweets to join in the chat. Check out our
#SundaySupper Pinterest board
for more fabulous recipes and food photos.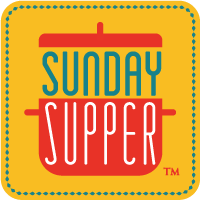 Would you like to join the Sunday Supper Movement?
It's easy.

Posted with Blogsy