Are you going crazy trying to get everything ready for tonight's Christmas Eve celebration? Most likely, your answer is yes. You're probably still wrapping presents, menu planning, cooking, baking, making phone calls to confirm party or dinner reservations and sending your warm holiday wishes to friends and family. The last place you want to go anywhere near is the mall or a grocery store. But you still have one last little dessert you need to make and you can't for the life of you figure out something simple enough to whip up that doesn't require anything more than what you've already got on hand. Am I right? Of course. So, being that I don't celebrate Christmas and I'm not running around with a million things to do, I'm giving you all a really great Christmas gift: a quick and easy cookie recipe that will be a hit with everyone you're entertaining for the holidays.
I absolutely love cake mix cookies, don't you? I first got the idea from Sally's Baking Addiction and I've been making them ever since. Strawberry, Devil's Food, Yellow, White, Red Velvet — any cake mix will do the trick. Avid bakers and food bloggers always have cake mix in their pantry. It really should be a staple for everyone. So should sprinkles. Especially during the holidays. If you don't have these two things, shame on you! And that sucks, because now you do have to go to the grocery store…

These Christmas Cake Mix Cookies are perfect for setting out on the dessert table of any holiday party. Of course you can switch up the colors of the sprinkles for whatever holiday you're baking for, but these are my Christmas gift to all of you celebrating today and tomorrow, so red and green it is! I even went a little overboard and put sprinkles inside AND outside!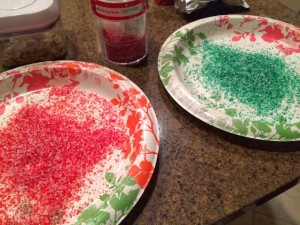 These cookies are so soft and chewy, it's hard to eat just one. Try to leave at least a few for Santa; he deserves to have some Christmas Cake Mix Cookies, too!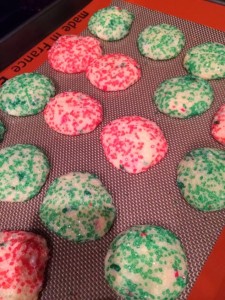 Christmas Cake Mix Cookies
Adapted from Sally's Baking Addictions Confetti Cake Batter Cookies
1/3 cup coconut oil (vegetable or canola oil will work too if you don't have coconut)
Red and green sprinkles (for mixing into the dough AND rolling the dough balls in)
Preheat the oven to 350 degrees.
Mix together the cake mix and baking powder in a medium bowl. In a smaller bowl, whisk the eggs, coconut oil and vanilla. Add the wet ingredients to the dry and stir until it becomes thick and looks a little sticky. Make sure all of the dry cake mix has been mixed in. Now add your sprinkles, stirring until well combined.
Use a spoon to scoop out small round balls and use your hands to shape each ball into a sphere. Pour the sprinkles (preferably non pareils or anything very fine) onto a plate and roll each ball of dough until it is completely covered. Bake for 9 minutes. They will appear very soft when you remove them from the oven, but don't worry. Let them cool completely and they'll firm up.