Never miss a bite! Sign up here to receive new recipes and reviews straight to your inbox.
Disclosure: I was invited to dine as a guest of City Cellar Wine Bar & Grill and received a complimentary meal in exchange for this post. As always, all opinions are 100% my own.
City Cellar Wine Bar & Grill has been a staple in Downtown West Palm Beach since 1999, featuring an award-winning wine list and a enticing menu filled with dry-aged steaks, fresh pasta and seafood, pizzas, and a build-your-own cheese and charcuterie option with hard-to-find artisanal cheeses.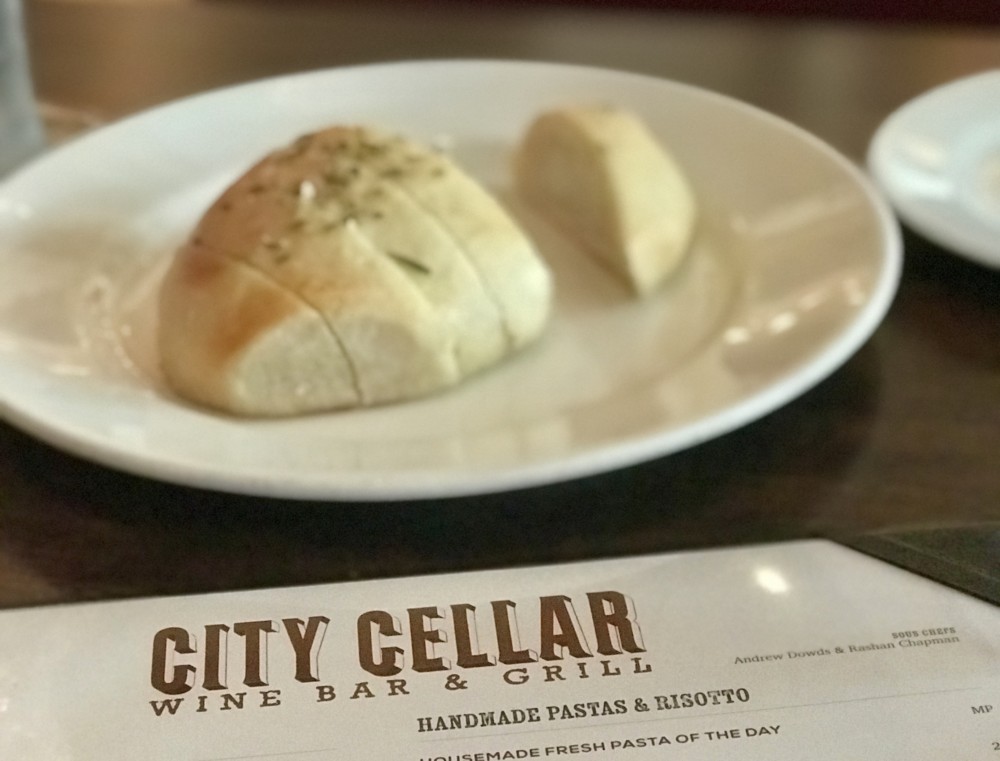 There is so much to do and see in Downtown West Palm — I need to make it a point to head up that way much more often. On this particular night, I not only had reservations at City Cellar, but dinner was to be followed up by the 20th Anniversary Tour performance of Rent at the Kravis Center and an overnight stay at the Hilton West Palm Beach. All three locations are located within short walking distance of each other, so it made for a really fun (and convenient) girls night out for me and my fellow food-and-Rent lover Jill.
Talk about a great mid-week staycation…
But back to the food! I have been wanting to visit City Cellar for a while, but as I said, I don't get up to WPB as much as I would like to. That's definitely going to change though! The restaurant was really busy for early evening on a Wednesday — my guess is a lot of after-work happy hours and early dinners since it was a weeknight. It was a lively scene, which is always a good sign.
The menu at City Cellar has a little something for everyone, including hearth baked pizza, dry aged steaks, fresh pasta and seafood. A small-plates menu is offered featuring a daily flatbread, lobster mac 'n cheese and other daily specials. A rotating menu of hard to find artisanal cheeses is available as well.
I was very excited to see that there were quite a few goat cheese options to choose from to create our own cheese and charcuterie platter. (In case you're new here, I can't have cow's milk dairy, but I can have anything made from goat's milk.)
Everyone loves a good cheese and charcuterie platter, especially if you're meeting up with a couple friends for a drink after work. You can choose between a three- or five-piece platter, and add on extra accompaniments like white truffle honey, roasted marcona almonds, pickled vegetables, mixed Italian olives and house-made jam.
We didn't mess around with our platter… I chose the Truffle Tremor, a soft, tangy and creamy goat cheese with subtle summer truffle flavor from Cypress Grove, CA, and the fruity, sweet and smooth Drunken Goat from Murcia, Spain, that is aged and soaked in wine. Jill opted for one cow's milk cheese, the Mimolette from Lille, France, that had a sweet, smooth, caramel fudge-like finish. Together, we picked a domestic-style prosciutto from Iowa, and the smoked waygu salame from Salumeria Biellese, NY.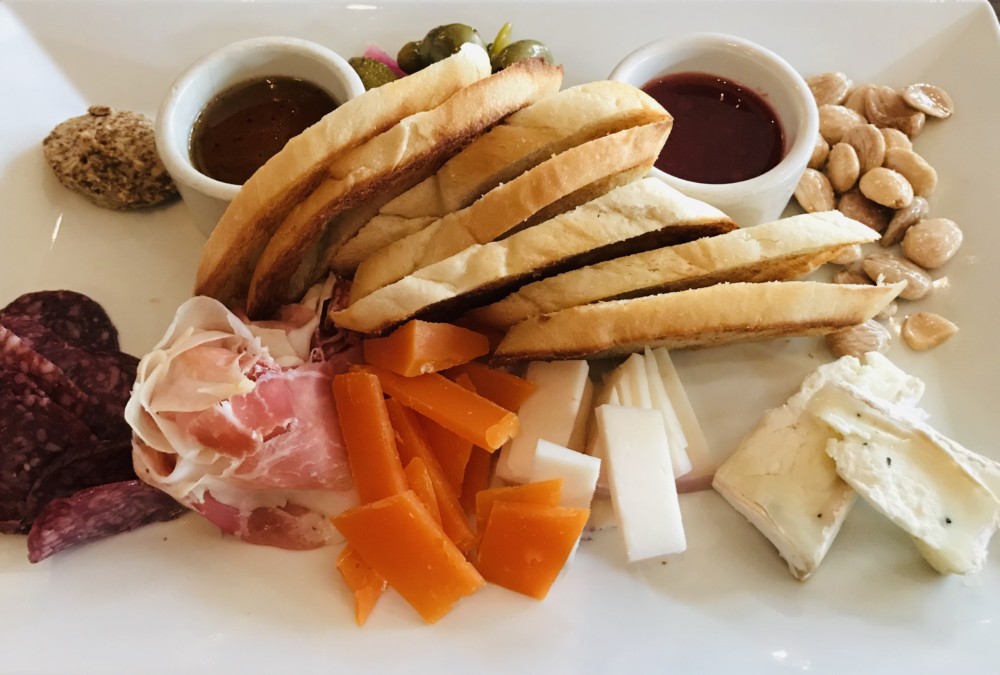 It was an epic cheese and charcuterie platter to start off an epic evening.
All that meat and cheese made us crave something a little on lighter side — and the pear salad sounded like exactly what we needed. The salad consists of pears (duh), arugula, frisée, radicchio, Danish blue cheese (I asked to have this on the side), candied pecans and a spiced pear vinaigrette. There was such a great balance of texture and flavor going on, although it felt very fall-ish to me — and we're in the thick of spring. This is definitely the kind of salad I could see being part of a Thanksgiving or holiday dinner, but nonetheless, I loved every single bite of it.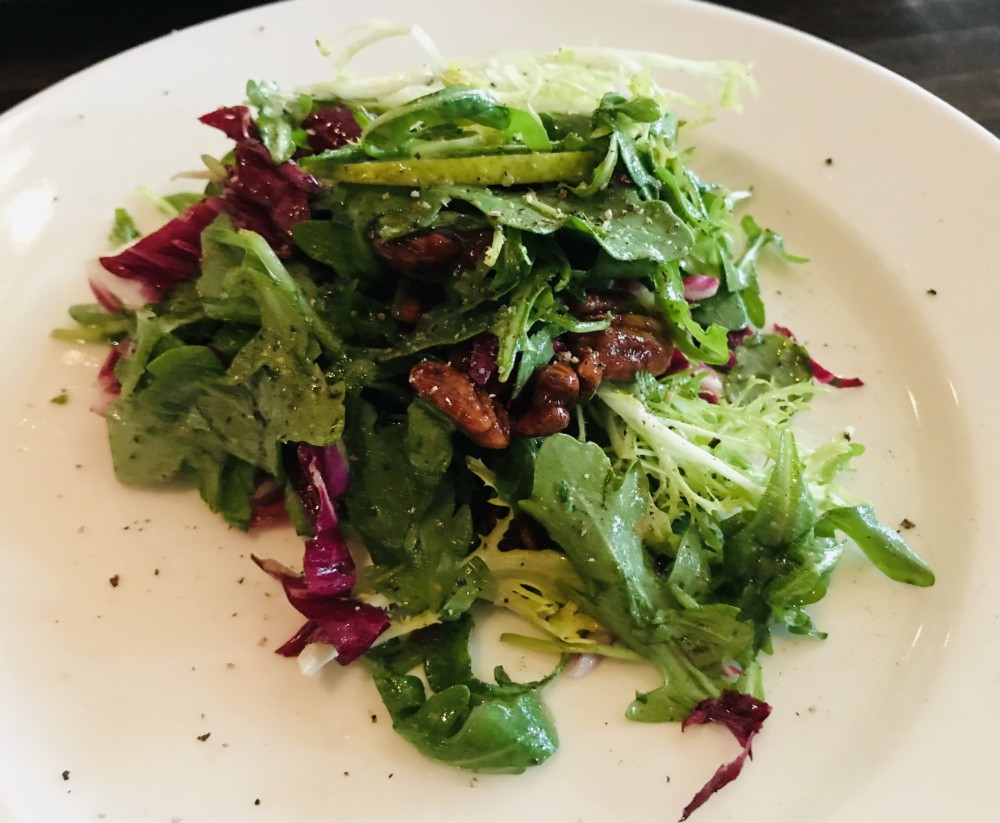 City Cellar has a wide variety of entrée options that appeal to everyone — burgers and salads, handmade pasta and risotto, hearth-baked pizzas, chicken, lamb, beef, fish and even a couple vegetarian options. There are usually two main dish specials, one seafood and meat. We went with the grilled skirt steak special of the night, which came out looking absolutely breath-taking.
Perfect grill marks, a saucy glaze, and a bed of yummy roasted veggies and sautéed spinach underneath. We had definitely made the right choice. Word to the wise: never say no to Chef Andris Salmanis's special house dry-aged selection if it's available!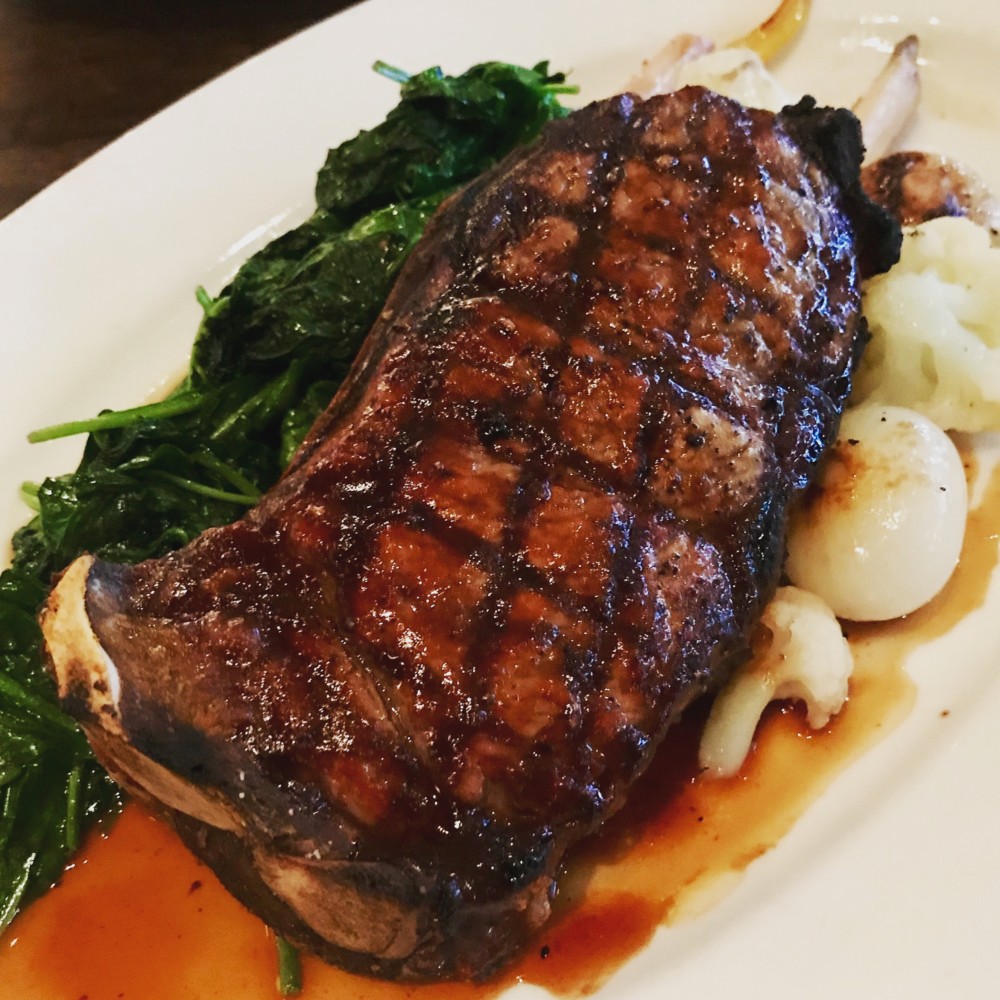 To balance things out, we also ordered the vegetarian and gluten-free vegetable pad Thai with baby bok choy, shiitake mushrooms, zucchini noodles, carrots, savoy cabbage, scallions, cilantro and peanuts. I loved this dish. The veggies were so fresh, and the sauce was super flavorful. Pad Thai is one of my favorite dishes to get at Asian restaurants, but I was pleasantly surprised at how well done it was at City Cellar.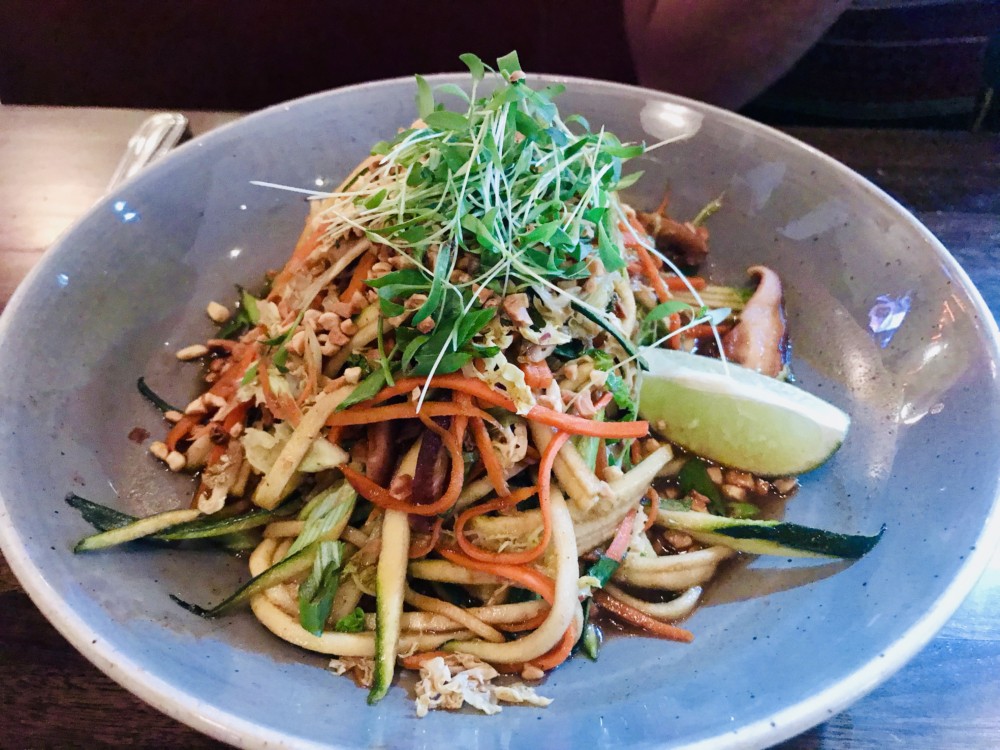 There is still plenty left on the menu at City Cellar that I'd love to try — blue crab-crusted sea bass, Waygu short rib and the tuna crudo, just to name a few — so I know I'll be back.
City Cellar Wine Bar & Grill is located inside CityPlace (soon to be reimagined as Rosemary Square) at 700 S. Rosemary Avenue in West Palm Beach. The restaurant is open for lunch Monday through Friday from 11:30am-2:30pm, with a midday menu also available from 2:30-5pm. Dinner service is available Sunday through Thursday from 5-10pm, and Friday and Saturday from 5-10:30pm.
Brunch is served on Saturday and Sunday from 11am-3pm, featuring $14 unlimited Bloody Marys and mimosas with the purchase of an entree. There is a midday menu available on those days as well, from 3-5pm. Happy hour is every day from 4-7pm and includes half-priced drinks, pizzas and appetizers. There is also a Wine Down Monday special, offering half-price bottles of wine on the menu under $75 with the purchase of an entree.