Never miss a bite! Sign up here to receive new recipes and reviews straight to your inbox.
Disclosure: This is a sponsored post by DERMA E. As always, all opinions are 100% my own. All health-related information about the skincare products has been provided by the sponsor.
Cruelty-Free, Clean Skincare: DERMA E
For skincare that's 100% vegan, GMO and cruelty free, with zero parabens, sulfates, petrolatum, mineral oil, phthalates, or sodium lauryl sulfate, DERMA E is going to become your new favorite line of products.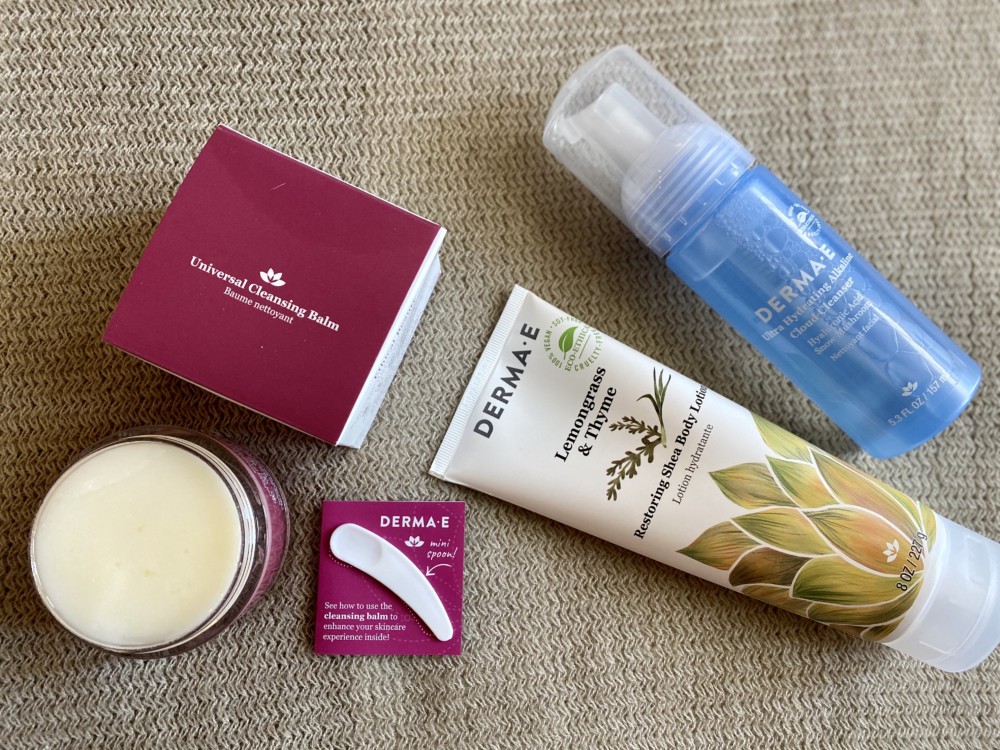 I am a huge advocate for natural skincare products — and for skincare in general. This means taking care of your body both inside and out, because what you put in your body affects your skin just as much as what you put on your body. Eating well and taking the right vitamins and supplements to support gut health plays a large role in keeping your skin healthy and vibrant, and so does having a good skincare regimen.
One thing that I've perfected over the last few months is my facial skincare routine. I'm one of those people who thrive on routines and organization, especially when it comes to exercise and work habits. Within the last year, and even more so during quarantine, it has expanded to self-care as well.
What Is Self-Care?
To me, self-care refers to absolutely anything that makes YOU feel good. Everyone has their own version of self-care. It truly is important for our overall well-being, especially right now when things are a little bizarre out there in the real world. Practicing self-care can help decrease any stress you might be feeling due to current events by simply making you feel good, making you feel happy. If everyone made self-care a priority and felt happy all the time, maybe we'd be in a way different scenario right now.
But that's beside the point. Let's talk about one of the ways I practice self-care. I spend a lot of time pampering myself after I get out of the shower. I take my time applying various skincare products, and at least once a week, I apply some type of face mask. I got facials regularly before COVID-19, but since that's not really something I feel comfortable doing right now, I've taken my facial skincare into my own hands.
There is one major non-negotiable for me when it comes to choosing my skincare products: they must be completely natural and free of all chemicals. I suffered from intense eczema a little over a year ago, and found out that it was mainly brought on by certain chemicals, which is why I will only use all natural, chemical-free products on my face and body.
DERMA E Passes The Test
The natural skincare line, DERMA E, stood out to me because it 100% fits my skincare requirements. There is also a new line of CBD-infused products, including:
Skin De-Stress Calming CBD Cleanser is a CBD oil-infused cleanser that gently lifts away impurities, and leaves the skin feeling ultra-moisturized, calm, and stress-free.

Skin De-Stress Calming CBD Serum helps promote a healthy, hydrated skin barrier function, improving overall skin health. 

Skin De-Stress Calming CBD Moisturizer is a fragrance-free, broad-spectrum CBD cream that moisturizes and calms dry, irritated, and acne-prone skin.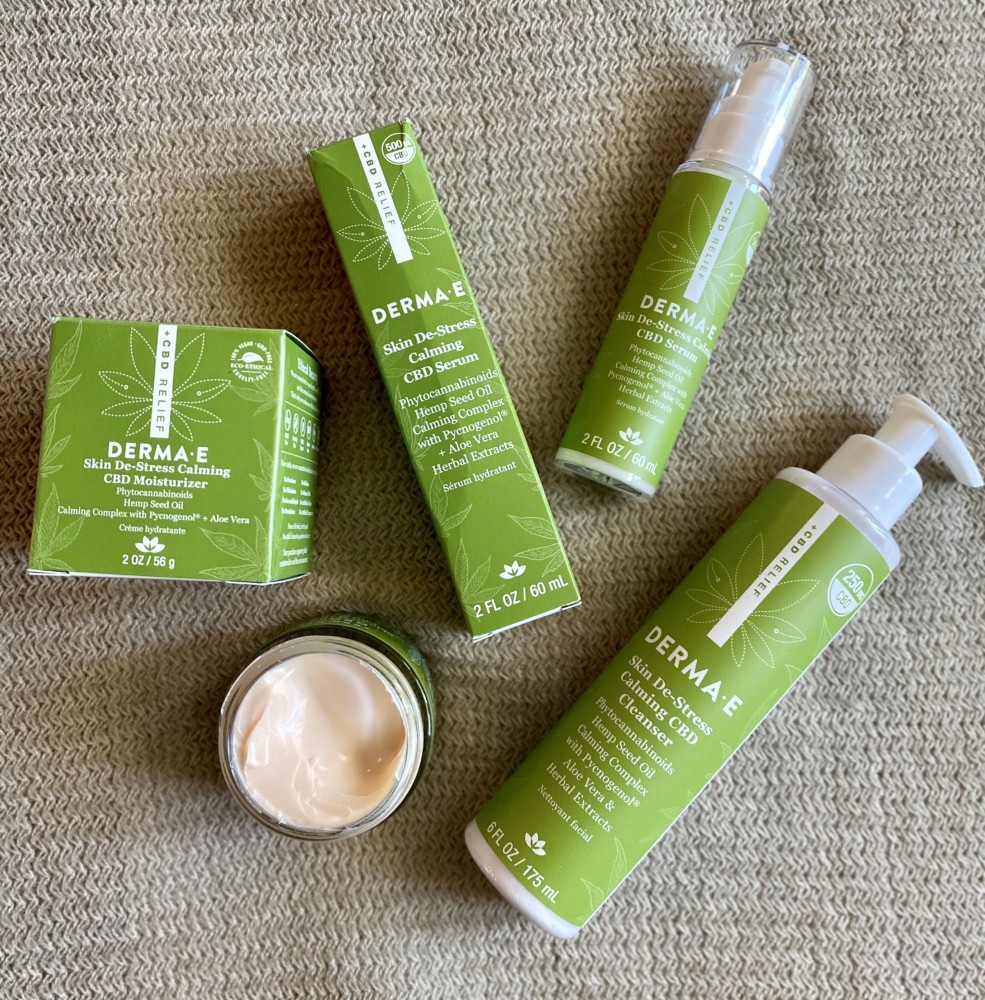 Oh, and just in case a skincare routine like this is something new to you, that's the order in which you should use the products — cleanser, serum, moisturizer. You can also add in toner, which would be applied before the serum. The purpose of a toner is to rebalance the skin's pH levels after cleansing, tighten and tone, and prepare the skin for the next step: moisturizing with serums and creams.
A couple other DERMA E products I like are the Lemongrass & Thyme Lotion Restoring Shea Body Lotion. It's super lightweight yet still provides rich moisture to the skin, and it smells absolutely amazing. The Vitamin C Instant Radiance Citrus Facial Peel is another great one — especially right now when everyone wants an extra boost of vitamin C. Its main purpose is to reduce the appearance of fine lines and wrinkles, and make skin more radiant and smooth.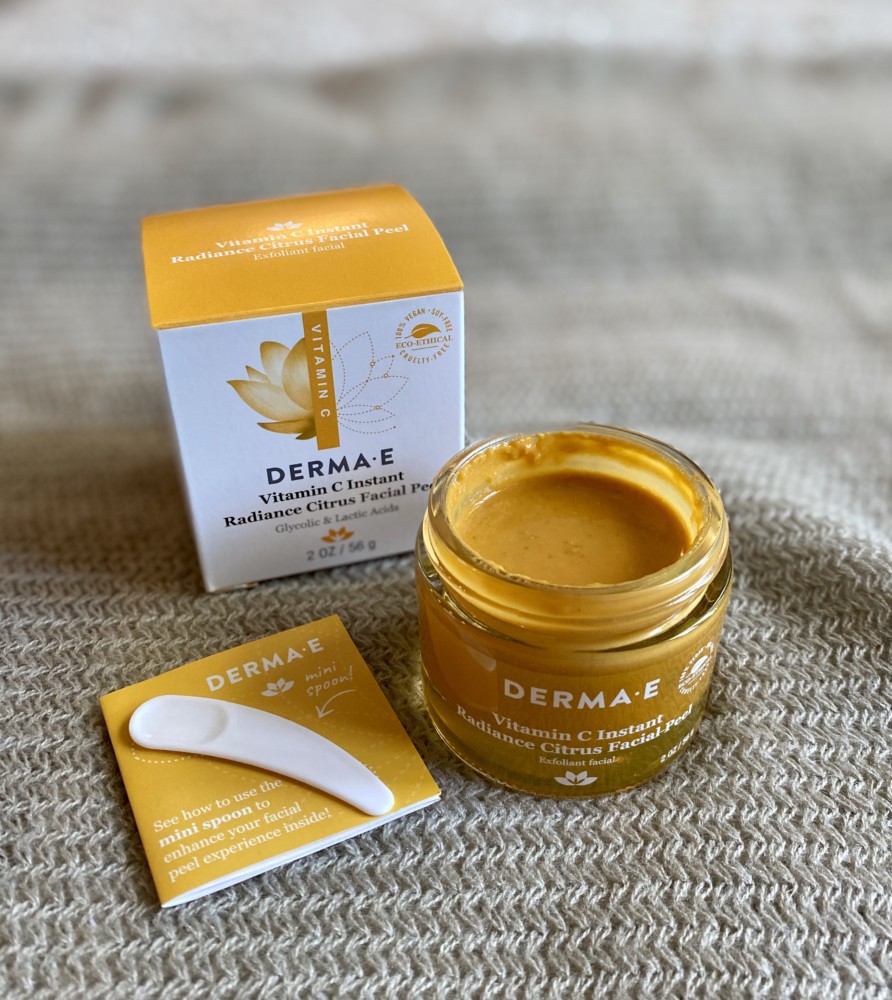 Create Your Own Skincare Routine
If you haven't yet developed a skincare routine that works for you, it's well worth it to take the time to do so — especially if you're young. I'm 32, and have never once had fillers or injections in my face, and I've had doctors tell me I don't need it at all, as well as aestheticians telling me over and over again how good my skin looks. If you knew me a year and a half ago during my huge eczema outbreak, you know how meaningful that is to me.
Check out DERMA E for cruelty-free, clean skincare options. If you do, drop me a comment here and let me know what you think!