Never miss a bite! Sign up here to receive new recipes and reviews straight to your inbox.
I did it. I completed my first three-day juice cleanse. I don't know how I managed to find 3 days with no scheduled restaurant reviews, but I planned ahead and was able to square away a block of days to dedicate to detoxifying and cleansing my body. Every so often, you have to let your body reset — especially when you eat out often. Not that I'm necessarily eating anything bad for me, but night after night filled with four or five course chef-driven meals can get exhausting!
And so, I decided it was time to try my hand at three days of juicing. I've done one-day cleanses in the past and felt amazing the next morning. I knew I'd be okay on Day 1 — it was Days 2 and 3 I was a bit apprehensive about.
I met Jacquelyn from Swami Juice at a local event at the Wyndham Hotel here in Boca. I sampled a few of her company's juices and liked them a lot. The Ginger-Pineapple Energy Shot was a little too spicy for my liking, but the other two juices — add juice descriptions — left a very happy taste in my mouth, for both the product and the company. I decided right then and there I wanted to try my first three-day cleanse with Jacquelyn and Swami Juice. Swami Juice has locations in both Boca Raton and Tampa, FL.
During your Swami Juice cleanse, you have six juices to consume and two energy shots. Like I mentioned, those energy shots are just way too much for me, so I did not drink them. Swami does note that if you start to feel famished during your cleanse, you can supplement your juice with a handful of nuts such as almonds, and black coffee is okay if you need an extra jolt of caffeine. Out of the six juices, there were two that I really enjoyed — Sunscreen and Beet It Kook.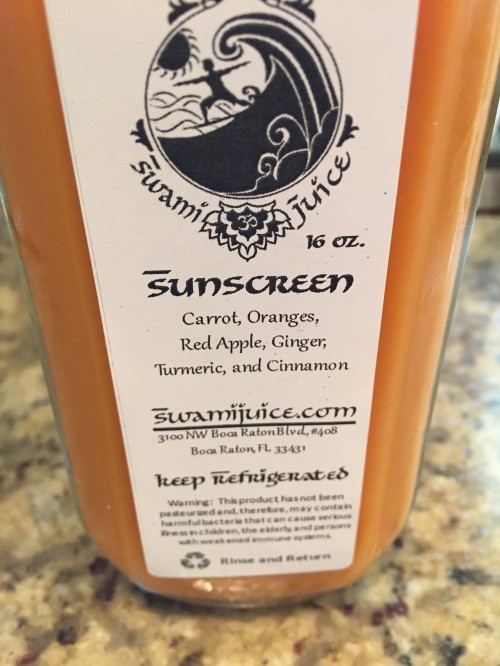 Sunscreen is the first juice you consume. It's bright orange color makes it totally appropriate for being number one and waking you up. It's made with carrot, orange, red apple, ginger, turmeric and cinnamon, and tastes just as amazing as it looks. The ginger shines through just enough without being too spicy. I loved the hint of citrus and sweetness. This juice is full of Pro-vitamin A, Vitamin C, carotenes, flavonoids and anti-oxidants that both protect and hydrate your skin. Carrots also regulate blood sugar, cleanse the liver and promote youthfulness — plus lots more! I would be more than willing to start my day with this juice even if I wasn't on a cleanse.
Beet It Kook has beets, carrots, pineapple, turmeric and ginger — another juice I would drink any day, whether cleansing or not. I love that added zing from the ginger. But it's also fruity and sweet. You'd have no idea you're drinking veggies! There are tons of nutritional benefits to all of the ingredients in this juice. Beets lower cholesterol, relieve bloating, cleanse your blood and so much more.
Here are the other juices that are part of the Swami Juice Cleanse:
Bush Doctor — green apple, chard, cucumber, parsley and lime. This is a very basic green juice. It restores your body back to the optimal alkalized state, which helps it to fight off illnesses and cancers. This is the type of juice that just makes you feel good as you drink it. It's refreshing and subtle in flavor. Green apples have always been my favorite for their tart flavor and crispness, but I had no idea they were so chock-full of health benefits too. These heart-healthy fruits also help with digestion, protect against Parkinson's and decrease the risk of Diabetes. They are full of anti-oxidents and even help clean teeth t0o!
Yo Greens is made with sprouts, kale, chard, cucumber, celery, ginger, parsley and lemon. Kale is a total super food — it detoxifies the liver, boosts metabolism, oxidizes the blood, hydrates the body… I could go on and on with all its health benefits. Those who are worried about not getting enough protein during a juice cleanse will appreciate that this one is high in protein. Experienced juicers won't mind the taste of this one, but it may be a little less appealing in flavor to someone just starting out.
Swami Ade is made with pineapple, celery, chard, cucumber and wheatgrass. This one was not my favorite — it was a bit too grassy for me, but the sweetness from the pineapple definitely helped. Plus pineapple is FULL of health benefits. I love knowing that one of my favorite fruits improves bone health and blood circulation, facilitates digestion, boosts your immune system, and more. Not a bad way to introduce your body to green juice if you aren't used to them.
Carotene Crush was my least favorite of the bunch. Mostly because it has tomato. I love actual tomatoes — fresh, roasted, sautéed, whatever — but as a juice? No, thank you. There is also carrot, celery, spinach, lemon, garlic, cayenne and parsley in the juice, but I still could not get over the tomato flavor. Even the kick of spice from the garlic and cayenne couldn't hide it from my palette! It full of beta-carotene, calcium, iron and potassium — but even Swami mentions that this juice is totally for people who love V8 juice. Sadly, I'm not one of those people.
Three days of just juice sounds scary to most people — and I'm not going to lie, I am one of them. But I just had to push those fears out of my mind and continue on as if there would be no change in my daily routine. I didn't stop going to the gym. In fact, I didn't even change up my routine. I still felt just as energetic as ever and was able to do my cardio and weight lifting with no problem. So fear #1 was thwarted — my energy and strength levels did not drop.
Day 1 was a breeze. I got through the day unscathed, and found myself with no hunger pangs or cravings. But I'd done this before, so it was no surprise. When I woke up on Day 2, I still felt great; however, as the day went on, my stomach had a few things to say. I have never heard my tummy rumble the way it did that afternoon. It was SO loud and wouldn't stop!! I didn't feel hungry, but it was like my stomach was mad that it had no solid food and it was basically yelling at me. Sorry, stomach, you've still got another day of this! Quit your whining!
Day 3 started out amazing. I really felt great — bright eyed and ready to start my day. I was full of energy, my head was clear and I did not feel deprived at all. My body was still getting its nutrients from all of the fresh and beneficial ingredients in each of the juices.
But things took a little bit of a turn as the afternoon went on. I started to get that nauseous I-need-food feeling. The juice I was drinking at that moment was one of my least favorites, so it was even harder to get down. I followed each sip of juice with a gulp of water, making sure to finish an entire 16 oz. water bottle. I felt better after that. It's totally a mental thing — you may start to feel as though you can't make it to the end, but if you tell yourself the feeling will pass, it will. I was able to push past the nausea and made it through the rest of the night.
You'd think that the first thing I'd do after waking up the next morning would be to run to the kitchen and scarf down anything in sight. No — that is NOT what you do after cleansing your body for three days. You have to gradually ease your body back to its regular routine with smoothies, liquid or broth-based soups, maybe another juice, or if going for solid foods, something light and healthy. You don't want to undo all of the hard work you did over the past three days. So I opted for a juice for breakfast, some fruit and nuts later on in the day, and a super tasty Tomato-Basil Soup loaded with veggies for dinner.
I felt great on the days following my cleanse, however I'm not sure I'll continue doing three-day cleanses. I do, however, want to make it a habit of doing one-day cleanses every so often.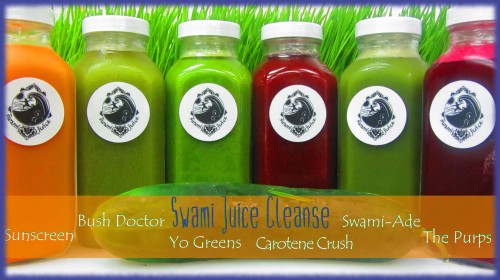 Have you ever tried a three-day cleanse? Did you find it hard? I'd love to hear about your experience.
Visit Swami Juice to find out more about their juice cleanses and other flavors available. Also, be sure to follow Swami on Facebook, Twitter, Pinterest and Instagram!
Disclaimer: Swami Juice provided me with three days worth of juices free of charge so I could complete a three-day cleanse. No monetary compensation was received for this review. All nutrition facts have been provided by Swami Juice. As always, all opinions are 100% my own.