Never miss a bite! Sign up here to receive new recipes and reviews straight to your inbox.
Disclosure: I was invited to dine as a guest of the restaurant. No monetary compensation has been received for this post. As always, all opinions are 100% my own. 
"Italian with an edgy, gastro pub twist." That's how Ciao Cucina & Bar describes themselves, and I have to agree. The menu is definitely influenced by classic Italian preparations with fresh ingredients and the idea of shared, family-style dining, but there are some distinct characteristics that give it that gastro pub status — like having pork belly mac and cheese, grilled octopus and fried Brussels sprouts on the menu, just to name a few.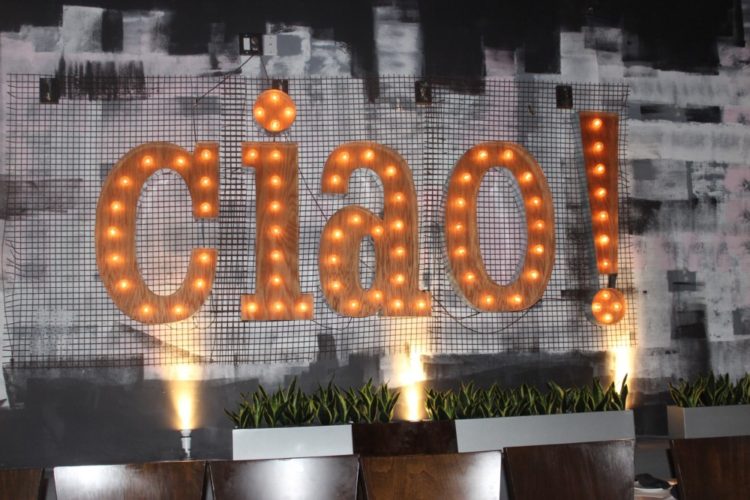 Of course seeing octopus on the menu made me all giddy inside and I couldn't wait to check this place out. Ciao Cucina & Bar opened early last March in the Coconut Creek Promenade, an area I have never been to before. It reminded me of a bigger version of the Delray Marketplace in West Delray, with lots of shops and restaurants. All in all, a great outdoor area to walk around and take in the fresh air while shopping and stopping for a bite to eat. I was surprised to see how huge Ciao is when I walked inside. It'd be a great spot for company parties, birthday celebrations, or happy hour gatherings. The decor is very rustic with cool artwork and a comfortable, inviting atmosphere.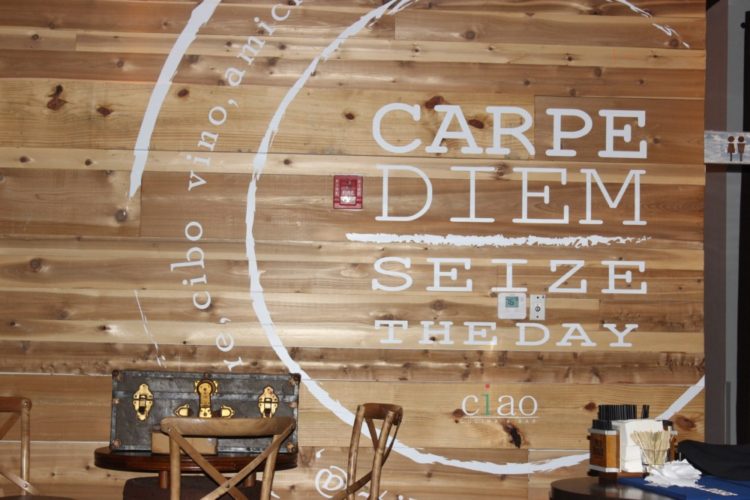 Our server brought us fresh sourdough bread and olive oil for dipping — a very traditional (and deliciously genius) way to start an Italian meal. But the rest was not very traditional at all. I'm a sucker for a good bread basket, and the smell of sourdough just does me in. It was so good, I had to push the basket to the other end of the table so I wouldn't ruin my appetite!
To start, my friend Megan and I decided on a couple appetizers — the grilled octopus (but I'm sure you already knew that), the eggplant caponata crostini, and the parmesan polenta fries. The octopus was presented beautifully on the plate — a perfectly curled tentacle sitting on top of two colorful sauces — a bright green, herbaceous parsley and a smokey, deep red peppadew. Though I loved the taste of the octopus, it was a tiny bit chewy and could have used a bit more crispness to the skin. But the sauces? Oh my God. Phenomenal. Both sauces were bursting with so much flavor and totally made up for the textural issue I was having with the octopus. I even snuck another piece of bread to schmear some sauce on because it was that good. Oh, and I dipped the polenta fries in it too. Seriously, I'm a sauce-a-holic — if I like a sauce on the table, everything is getting slathered in it.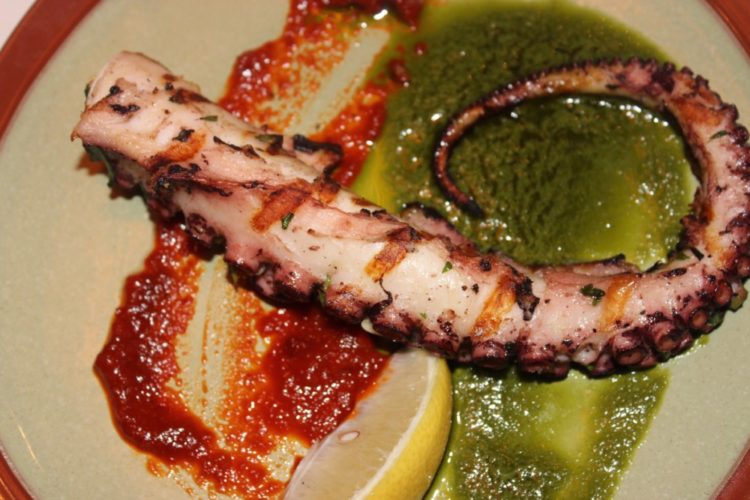 But let's go back to why I dipped the polenta fries in the de-freaking-licious sauces that came with the octopus. These parmesan polenta fries (another favorite of mine, as seen here and here) were delish. Super smooth and creamy on the inside with a crispy crust and lots of umami flavor from the parmesan coating. But it's accompaniment was truffle mayonnaise, and as much as the word truffle excites me, mayonnaise does not. And this was just way too mayonnaise-y for me. The essence of truffle was there, and I breathed it all in, but I couldn't get past the fact that it really was just mayonnaise with a little truffle oil mixed it.  And so, I married the delicious flavors of parmesan polenta fries, parsley sauce and peppadew sauce, and it was a match made in heaven. Moral of the story — if you like the texture of mayonnaise, you'll love the truffle sauce. If not, ask for more parsley and peppadew sauce.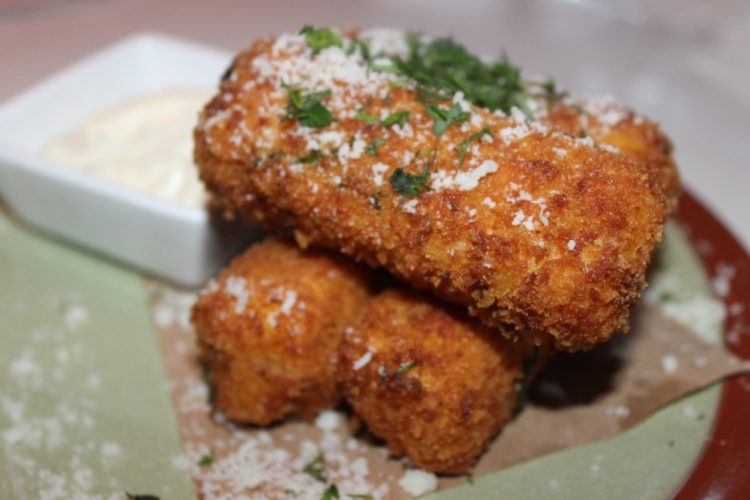 Now let's get to the last of the three appetizers, which happened to be my favorite — crispy, crunchy crostini topped with perfectly cooked eggplant, fresh tomatoes, mozzarella, and basil. The dish comes with three very large pieces of crostini, generously loaded with the toppings. I secretly wanted to hoard all three for myself, but sharing is caring — and I did want to try a few other things. I'd get this again in a heartbeat. There are a few other appetizers I'm eager to try, namely the Brussels sprouts and cannellini bean dip, so I will be returning — and ordering the eggplant crostini again when I do.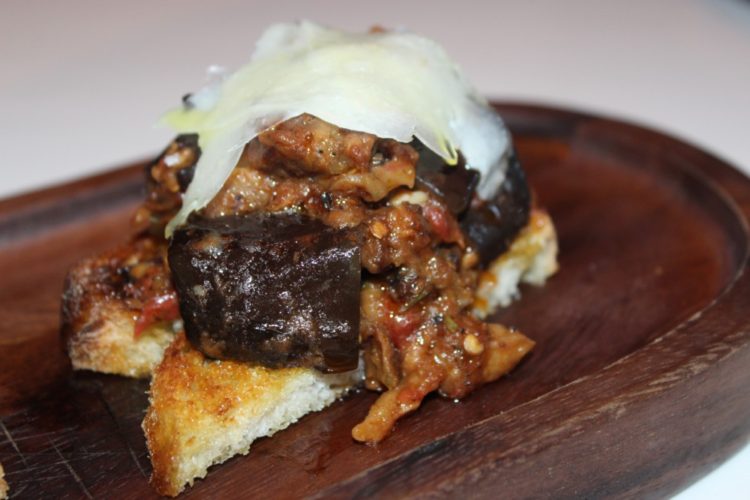 Another dish I'd definitely go back for is the slow cooked beet salad. Red and yellow beets tossed with mixed greens, roasted onions (although it tasted more like pickled to me), walnuts and lemon vinaigrette sat on top of a layer of thick, creamy ricotta. All of the components of this salad were perfect for each other. The walnuts added crunch and texture — but they weren't candied or even toasted, just simply mixed in, which worked really nicely. I loved the sweetness of the beets, the tanginess of the onions, and the ricotta just tied everything together. Megan and I agreed this was our favorite dish of the night. I almost wish we had each ordered our own instead of sharing.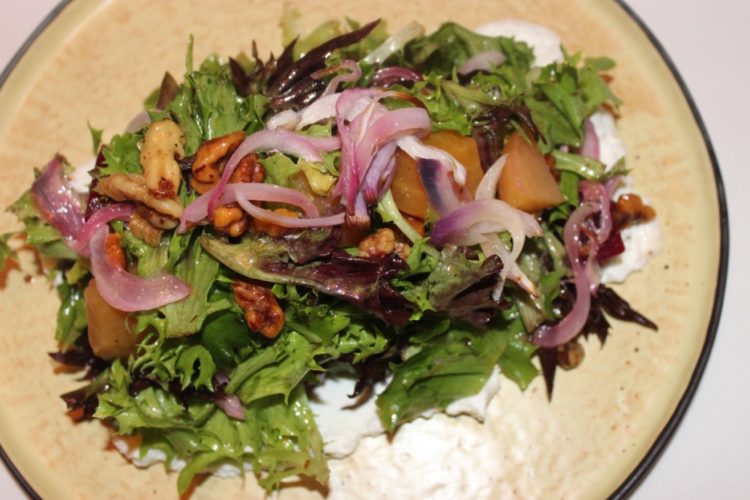 Now, you can't go out for Italian — whether traditional or not — without getting pasta. We're both huge fans of the classic cacio e pepe (pasta with cheese and pepper) style pasta dish, so when we saw the pappardelle 'cacio e pepe' on the menu, it was a no brainer. The dish comes with English peas, parmesan cheese and pepper, and you have the option to have chicken if you'd like. Unlike traditional cacio e pepe, this dish had a much thicker, creamier consistency because it was made with a béchamel and used parmesan rather can pecorino. This made its taste and texture very similar to fettuccine Alfredo rather than cacio e pepe. Ciao does make all of their pasta from scratch right in house. You can always taste the difference between freshly made and store-bought pasta, and this dish was no exception. The pasta itself was exceptional. They also make a linguine al frutti di mare, a vegetable fusilli and tagliatelle diavolo with shrimp. I'd love to try any of those!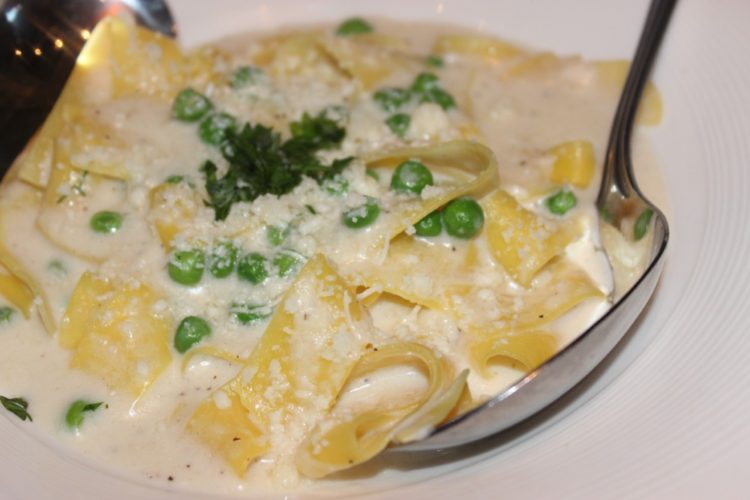 Dessert was a winner. Ciao's desserts are all made in-house. As we were having dinner, the General Manager was actually in the back working on her Nutella cheesecake. Unfortunately, it has to set up overnight so we weren't able to try that one — but we did get a taste of the key lime cheesecake instead. The graham cracker crust was incredible, made with honey-flavor graham crackers. The raspberry coulis drizzled on the plate was just the right amount of pizazz to spruce things up. Next time, I'll have to call ahead and see if the Nutella cheesecake will be there!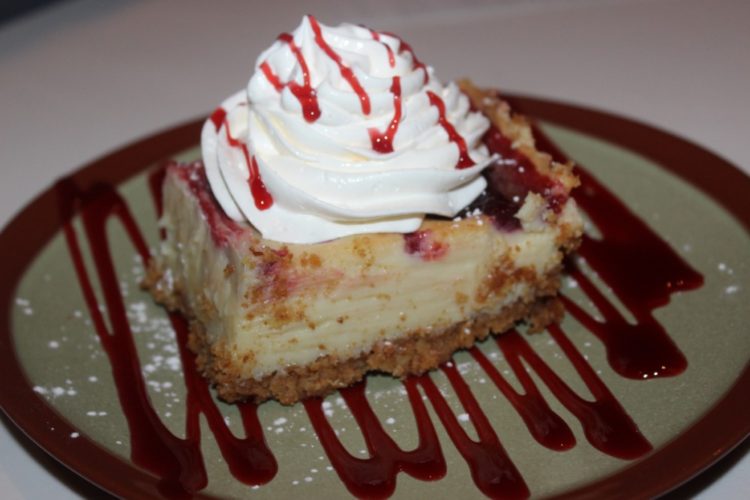 I enjoyed my experience, but there are definitely some additional things on the menu I would have liked to try. And well, I guess that means I must go back for more!
Ciao Cucina & Bar is located at 4443 Lyons Road in Coconut Creek.