Never miss a bite! Sign up here to receive new recipes and reviews straight to your inbox.
Disclosure: I was invited to dine as a guest of Henry's. No monetary compensation has been received for this post. As always, all opinions are 100% my own.
As the seasons change, so does the menu at Henry's. Executive Chef Dan Moore's creative cooking skills have helped him to create new menu items for the lunch, dinner and bar bites menu at this popular spot for American comfort food.
Henry's has a been a go-to dining destination for Boca and Delray locals since 2000, when it was opened as part of the iconic Rapoport Restaurant Group. It's been a multi-year winner of the Reader's Choice Award from Boca Raton Magazine for Best American Cuisine and Best Service as well as numerous Openable Diner's Choice recognitions. Although it's clientele is made up mostly of those from, um, well, an older generation, I absolutely love Henry's, whether I'm grabbing a bite to eat at the bar or enjoying a meal outside on the patio. Don't overlook this establishment because it's reputation. I promise you — the food is fabulous and you will feel right at home once the servers learn your name, know your drink of choice by heart, and seat you in your favorite booth every time you visit.
Executive Chef Dan Moore has an extensive background in Asian cuisine. He was born in Bangkok, Thailand, and spent a large part of his childhood living overseas, which has definitely influenced his cooking style. This is great for me, because I really enjoy Asian flavors. If you do too, you must try the new Prince Edward Island mussels, prepared with white wine, garlic, sweet pepper jam, jalapeño, edamame, Thai basil, and butter and served with a chili-rubbed baguette. This is like combining two of the best appetizers into one delicious dish — briny mussels plus sweet and salty edamame and just the right amount of spiciness from the jalapeño and Thai basil. The intense aromas rise out of the bowl and smack you square in the face — you will not be mad about it. I thoroughly enjoyed everything about this combination of ingredients, although I have one minor gripe. It would be a little bit better if the edamame were de-shelled so I could just shove a forkful of everything into my mouth without any extra steps. But like I said, that's minor. It was still delicious, still super unique, and still completely devoured.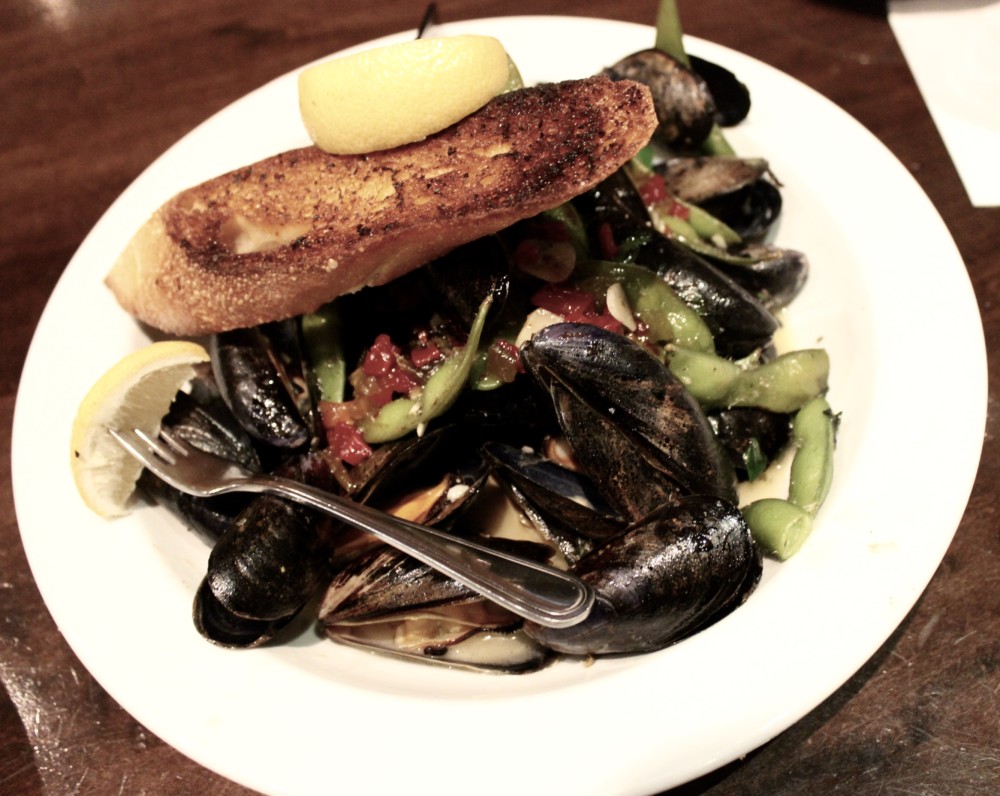 I've always been a huge fan of Henry's Mediterranean salad, so it was hard for me to bypass this and order the new beet salad instead — but I'm so glad I did! The presentation was a beautiful mix of brightly colored ingredients including roasted golden and red beets, flowering kale, arugula, red and yellow cherry tomatoes, radish and frisée, tossed in a lemon-oregano vinaigrette and topped with crispy taleggio cheese "croutons." There is also jamón serrano (dry-cured Spanish ham), but I had this placed on the side. There are so many incredible flavors and textures in this salad. It was super refreshing and the crispy cheese was the perfect topping.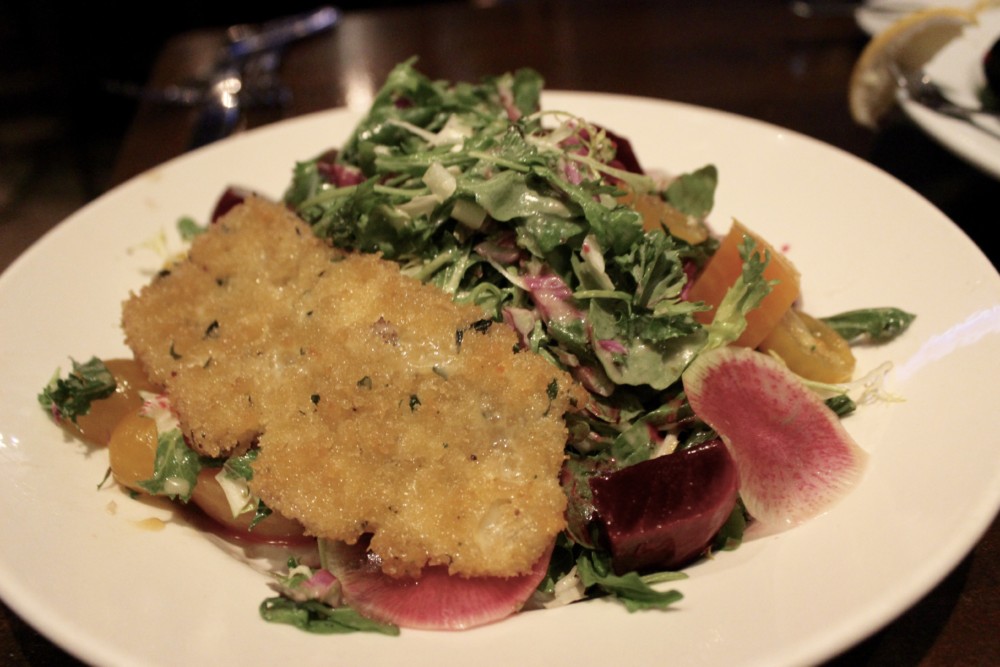 I have never been disappointed by the seafood at Henry's, and the new pan-roasted branzino was no exception. When there's a perfectly cooked piece of fish on my plate, the sides better be equally as tasty. I couldn't believe how much flavor was present in a simple mélange of grilled seasonal vegetables, quinoa and baby arugula. This lemon-caper vinaigrette was a burst of intense bright, saltiness that elevated this somewhat simple side dish to an entirely new level. It almost made me forget how good the fish was… Almost.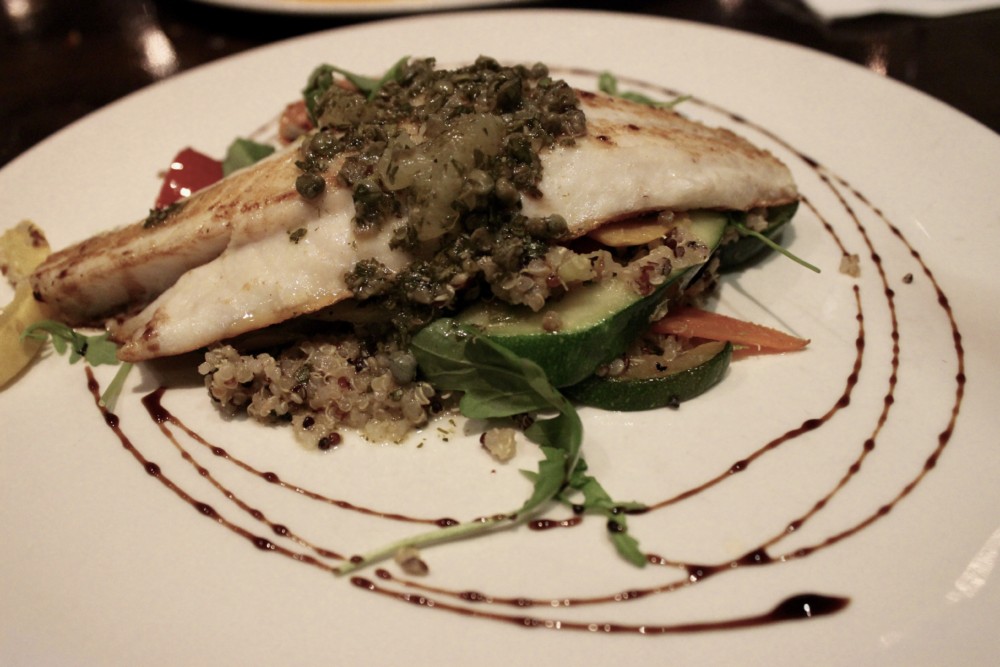 Another Rapoport's restaurant, Deck 84, recently added its crab cake back to the menu, so it's fitting that Henry's has done so as well. Two generously proportioned cakes are filled with lump crab meat and pan-fried to give them the most delicious crispy, crunchy topping. The smoked paprika and caper aioli is insanely addicting and delicious — not only did I smother it all over the crab cakes, but I used it as a dip for the side of roasted cauliflower as well. I would gladly have eaten it with a fork too, if that were ladylike…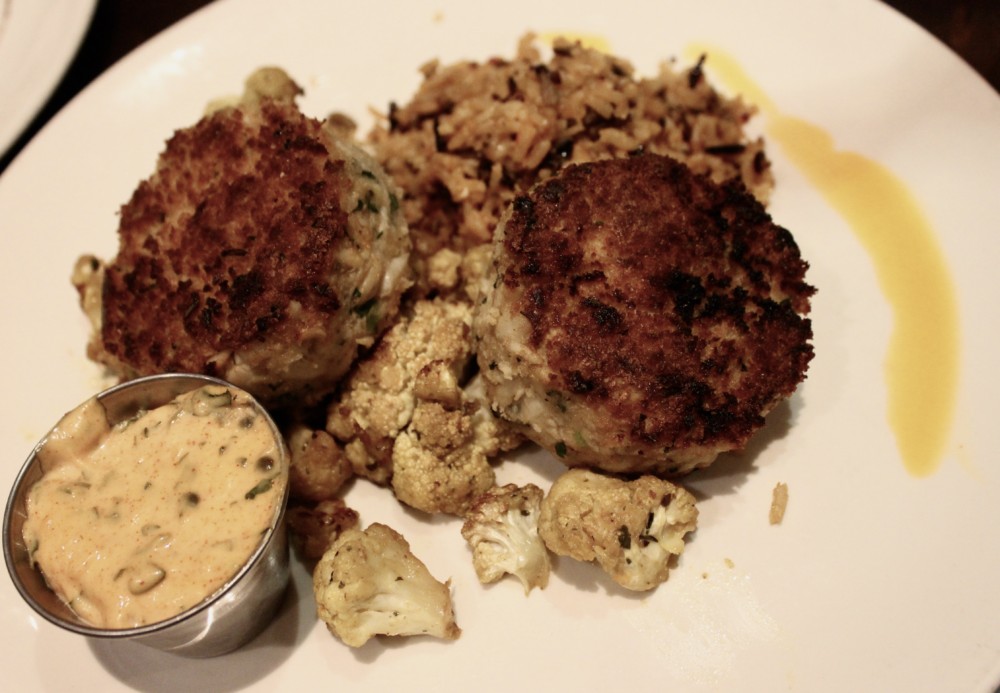 There aren't any new desserts on the menu, but I couldn't resist ordering the sugar-free New York-style cheesecake. Yes, in Boca, having a sugar-free dessert option is just as important as offering wine. The cheesecake was still sweet, without going over the top. With so many sugar alternatives on the market now, there is really no excuse as to why every restaurant doesn't offer something like this. For people who need to cut down their sugar intake or can't have it at all, it's nice to see on the menu. The cheesecake was incredibly rich and creamy, smooth as can be, and just dripping with flavor. I loved everything about it, right down to the vanilla cream and fresh berries. The crust was super thin and almost unnoticeable — it doesn't run up the side like most cheesecake crusts do. But once you've gotten a bite of it, you'll be glad it's there. This cheesecake lover was certainly impressed!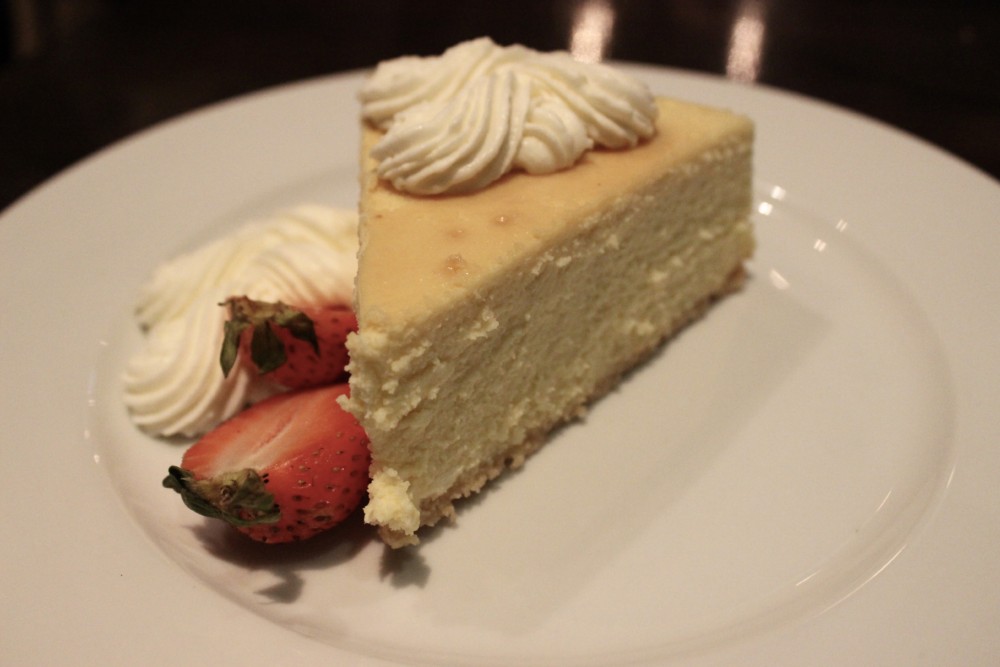 If you're a fan of happy hour, you could easily make a meal out of the bar bites options — now featuring 'Everything' Pigs-In-A-Blanket with a mustard dipping sauce and a new macaroni and cheese with brandy, shallots, aged cheddar, parmesan, Danish blue, cream and mezze rigatoni, among other appetizers good for sharing. There are also new cocktails available, including the iced frappuccino with iced coffee, Rumchata, whipped cream and a chocolate drizzle, and the blood orange cosmo with Grey Goose vodka, Solerno blood orange liqueur and fresh lime juice, both of which would be half off during happy hour. If saving money is your MO, you'll definitely want to check out Henry's early dining special, available for the season. Make a reservation for the 5 or 5:15pm seatings and receive half off your second entree. (Note that the second entree must be of equal or lesser value; not valid for take out, with other promotions or on holidays.)
Henry's is open Monday through Friday for lunch from 11:30am-2:30pm and dinner daily starting at 5pm. Brunch is served Saturday and Sunday from 11:30am-2:30pm. Happy Hour is offered from 11:30am-2:30pm at the bar or in the dining room, at the bar only from 4:30-6pm, and in the dining room from 5:30-6pm. Henry's is located at 16850 Jog Rd., in Delray Beach.