I don't make cakes often. Probably because I'm not a huge cake person. I like soft, chewy cookies and rich, fudgy brownies so much more than fluffy or spongy cakes. But when you're in charge of dessert for a dinner party, a beautiful cake is usually the first thing that comes to mind. Specifically, a layer cake. I have never made a layer cake before, but when given the challenge, I was totally ready for it.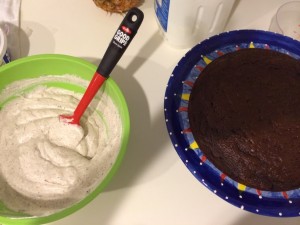 Last weekend, we had a big Hanukkah celebration at our house. Emma and I were put in charge of the desserts. Naturally, we decided on my Cheesecake Stuffed Strawberries – a favorite for any occasion. Then adventurous little Emma said that we should also make a chocolate layer cake. This cake idea went through a few recipe drafts before we reached the final decision, which, by the way, did not happen until the two cake tiers were already baked and I was rummaging through the cabinets for the frosting ingredients. First we said we'd do a Nutella filling and simple chocolate frosting. Then it changed to Nutella filling
and
frosting. Then I remembered I had a couple of those Duncan Hines frosting flavor packets and thought mixing one of those with some Cool Whip would be a cool idea. I could have sworn I had the caramel flavor, but it was cinnamon roll and that didn't really sound like it should go with chocolate cake. This realization did not occur until the cakes were baked. So as I was going through all my baking goods, I find all of the pudding mixes including OREO PUDDING MIX. Cookies and cream frosting goes perfect with chocolate cake!!!! And that is how I found my new favorite go-to frosting recipe that I will now use for every cake I ever make.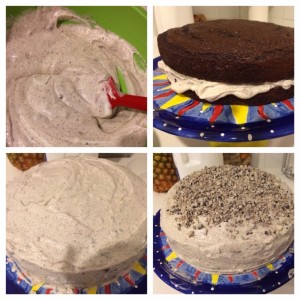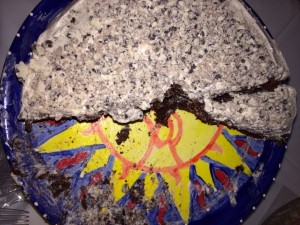 Oh, and I found a way to make the cake more my style, too. Less cakey, LESS FAT, more moist, and definitely more fudgy. Boxed cake mix and fat-free Greek yogurt. Anytime you can make a cake with less fat and less calories without making it taste that way, it's always a crowd pleaser.
My very first layer cake was a complete success. I guess I'll have to start making cakes more often.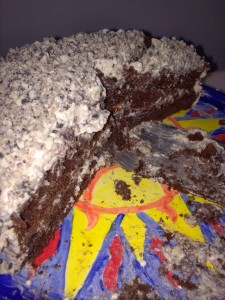 PS- DO NOT discard any leftover frosting (if there is any)! It makes fantastic dessert the next day. Simply stick it in the freezer to harden up. It tastes like a cross between frozen yogurt and ice cream. Oreo Pudding Ice Cream. Yanno, I'd advise making sure there is extra frosting so you don't miss out on this.

Cookies and Cream Layer Cake

For the cake
1 package Betty Crocker Triple Chocolate Fudge boxed cake mix
1 cup fat-free plain Greek yogurt

For the frosting
1 large package Oreo pudding mix/pie filling
1 cup milk
1 8 oz. tub of fat-free Cool Whip

For the topping
1 cup Hershey's Cookies and Cream Drops, crushed

Preheat the oven to 325 degrees. Spray two 8" cake pans with cooking spray and set aside.

Mix together cake mix and Greek yogurt in a large bowl with an electric mixer. Mix until well combined and creamy. Evenly distribute the batter into the two cake pans. Bake for 30 minutes or until a toothpick inserted in the center of each cake comes out clean.

To make the frosting, combine pudding mix and milk in a medium bowl and stir until it thickens up. Fold in the cool whip. Keep in the refrigerator until your cakes have cooled and are ready to be frosted.

Once cooled, remove one cake from the pan and place onto a cake stand or plate. Spread frosting generously over the top of the cake. Remove the second cake from the pan and place on top the frosting. Cover the entire cake, top and sides, with the remaining frosting. Spread evenly and make sure there is a generous amount of frosting on the top.

Place the cookies and cream drops in a food processor and pulse until crushed into small pieces. Sprinkle over top of the frosting. Keep cake refrigerated until about an hour before you are ready to serve.

Posted with Blogsy