I'm sorry but I am about to flood you with another satisfying sweet treat today. Cookies and Cream Stuffed Chocolate Cookies. Another mouthful, huh? I'm super wordy lately, but at least the words look like that.

The stuffing cookies trend trails back to the original Oreo Stuffed Chocolate Chip Cookie made by one of my new real-life blogging friends, Jenny from Picky Palate. I remember seeing that post back in 2011 and thinking it was the most genius idea ever. Obviously it was, because there are tons of other recipes for the same type of cookie all over the blogosphere. But I'm pretty sure Jenny was the first. She makes that disclaimer on the post! (Jenny has no idea about this shameless plug I'm giving her. This just proves how much I adored hanging with her at BlogHer).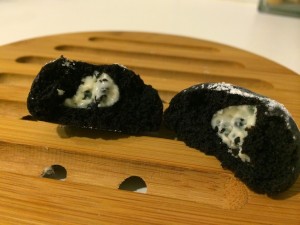 Anyway, I'm stuffing cookies now too. With Hershey's Cookies and Cream Kisses. I started with my favorite cookie bar base because it never fails to produce that thick, soft texture that I love about baked goods. Since I wanted the cookies to rise, I added baking soda. The chocolate cookies came out so pillowy soft that biting into one is like biting into a cloud. If you know what clouds taste like. I imagine they would taste like these cookies though…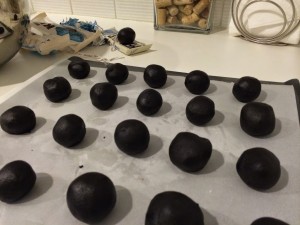 The unsweetened cocoa powder gave these cookies an intense chocolate aroma, flavor and presence. They're really dark and so smooth. In fact, I kind of think they look fake…almost like playdough? But I promise they don't taste like playdough!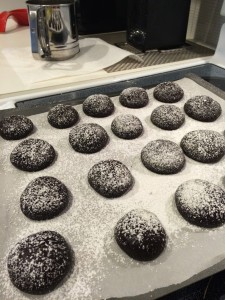 I'd never feed you playdough. Just super chocolatey cookies with a little Cookies and Cream surprise inside.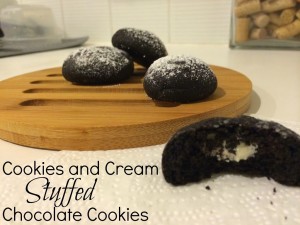 Cookies and Cream Stuffed Chocolate Cookies
2 cups all purpose flour
3/4 cups Hershey's Special Dark Unsweetened Cocoa Powder
1 tsp baking soda
3/4 cup unsalted butter
1 egg
1/2 cup Dixie Crystals granulated sugar
1/4 cup Dixie Crystals dark brown sugar
1 tsp vanilla
1 bag of Hershey's Cookies and Cream Kisses
Optional topping: Dixie Crystals powdered sugar

In a medium bowl, whisk together the flour, cocoa powder and baking soda and set aside.

Beat the butter, egg, sugar and vanilla in the bowl of a stand mixer on medium speed. Slowly add the dry ingredients and continue mixing until well combined. The dough will be extremely dark and sticky. Chill in the refrigerator for at least 30 minutes.

Preheat the oven to 350 degrees. Use a cookie scoop to portion out the balls and roll between your hands to make perfect spheres.

Flat side down, stuff one of the kisses into the cookie and use surrounding dough to cover it. If needed, take a little bit more of the dough to completely cover the kiss.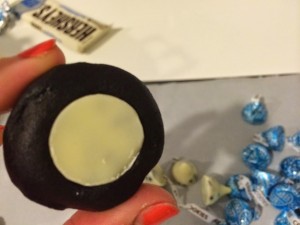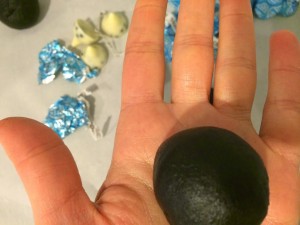 Bake for 10 minutes. Once the cookies have cooled, sprinkle generously with powdered sugar (and be prepared for a mess to clean up afterward!)
Disclaimer: This post contains Amazon Affiliate links to products I love to use. If you click through the link and purchase one of these items, I will receive a small percentage of the sale price. It's things like this that help me to continue bringing you treats like this one. Thank you in advance for helping out Take A Bite Out of Boca with your purchases through Amazon.