Never miss a bite! Sign up here to receive new recipes and reviews straight to your inbox.
You guyssssssss!!!!!! I am SO over-the-moon thrilled about today's guest post. Patricia from All Five Senses is here to show us how to cook octopus! If you've been here for any length of time, you know how much I love octopus. When Patricia said this was what she'd be contributing for her post, I almost fell out of my chair with excitement. Could she have picked anything more perfect?!
Patricia not only shares her recipes and food she enjoys on All Five Senses, but she also has a catering company Patricia Clark Catering. In between cooking a zillion meals for all of her clients in the New York City area, she somehow managed to find the time to make an appearance on Take A Bite Out of Boca. I'm happy to introduce Patricia and her wonderful tutorial on how to properly cook octopus.
The thing about octopus is that it is everywhere these days – and most of it is bad! Octopus can be a delicious, tender, melt-in-your-mouth experience but only when the person preparing it takes the time to treat it with respect! An octopus is a mighty sea creature and one cannot expect to toss it in oil and put it straight to the heat!
I have a long history of eating octopus dishes all over the world and I am offended when a restaurant doesn't bother to treat its octopi with the care it may treat its filets.
The strong tentacles of an octopus are designed to withstand everything the sea can throw at a ship, and manage to find its own food through sheer force. If you are lucky enough to find a fish monger who can sell you an octopus of at least 8 lbs (for 4 people), you have an incredible opportunity to create a dish worth your time, money and effort!

Take the time to rinse, trim off the skin, remove the eyes and beak, and slow braise. These steps are the primer to creating something magical. I have put together a brief tutorial below on how you can efficiently prep and cook an octopus.
Once you learn how to handle one, the world of flavors are yours to play with, including pairings of fruit, root vegetables, and even surf and turf style.
Patricia Clark is an international caterer and chef for nearly 20 years. Her work has been featured in several magazines and her lecture on modern culinary thinking is sought after by groups around the country. She is based in NYC but frequently cooks by request in Miami, LA, SF and abroad. You can see some of her dishes on Instagram, Twitter, and Tumblr.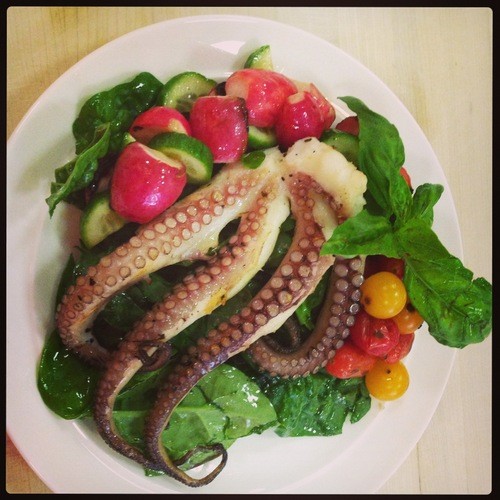 How To Cook An Octopus
Author:
Ingredients
6-8 lb. octopus
1 gallon cold water
2 tbsp herb de provence
2 bay leaves
½ yellow onion, peeled and unchopped
1 carrot, peeled and halved
½ cup regular olive oil (not extra virgin)
1 ½ tsp sea salt
juice of 1 lemon
2 tbsp chopped fresh flat leaf parsley
Instructions
In a deep stock pot combine the cold water, herb de provence, bay leaves, yellow onion and carrot. Set aside – but do not heat.
If your octopus is not cleaned you must do the following: Rinse thoroughly until no more foam is released. Invert the head and remove any membranes, slimy stuff. Cut out the hard beak in the center where the legs connect to the head. Cut out the eye balls. Rinse again. Peel off all of the skin, and cut through the membranes that connect the legs. You must do this step otherwise your octopus will taste slimey. Rinse again, At this point you can cut off the head if you don't like the thinner meat.
Add your octopus to the water pot and turn on the heat to medium. Once the water begins to simmer, turn the heat down to very low and let cook 2-3 hours. Never let the water boil. Do not cover the pot.
Once the time is up, turn on your grill to high heat. Using tongs, remove the octopus from the water and place it in a bowl with ¼ cup of the olive oil and the sea salt. Make sure the octopus is coated with the oil and place it on the hot grill. Using tongs, press the tentacles against the grill grates to spread out. Sear one side 3 minutes, flip and sear the other. Press the tentacles into the grill to shape as you prefer.
Remove and set aside. Toss in the remaining ¼ cup olive oil, the lemon juice and the parsley. Slice into 6 equal parts – or slice all the tentacles into 1" chunks.
Notes
Patricia's note: "I like to serve this with boiled potatoes/whole cherry tomatoes and diced fennel as a seafood potato salad. In the picture I serve it over baby spinach dressed in balsamic with grilled radishes and charred cherry tomatoes."