Never miss a bite! Sign up here to receive new recipes and reviews straight to your inbox.
Do you remember the very first blog you started reading? I do — Skinnytaste. This healthy eating blog by Gina Homolka was first brought to my attention by one of my best friends from back in Jersey who was getting into healthy cooking. My friend Leanne used Skinnytaste, along with a few other blogs, for recipe ideas and would always share them with me. Gina's blog was extremely inspirational to me, and still is, so when I was given the opportunity to review her amazing new cookbook, I jumped at the chance!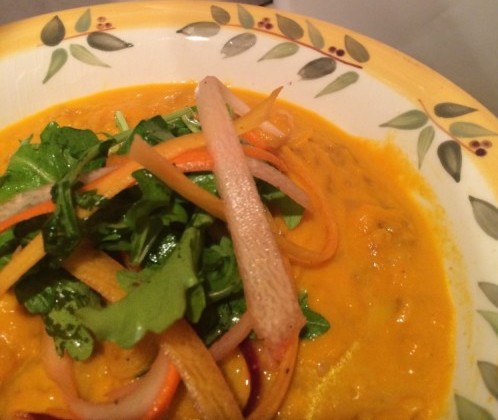 "The Skinnytaste Cookbook" is full of all of Gina's incredibly tasty and good-for-you recipes — everything from fun party appetizers to truly decadent desserts. Her motto? "Light on calories, big on flavor." The book's introduction is full of "Skinny Basics" to help you prepare for getting into a healthy state of mind in the kitchen — what kinds of healthy fats, lean protein and high-fiber carbs we need to make our calories count, how important it is to get exercise and sleep and stay stress-free, and even a full guide on how to stock your kitchen pantry, fridge and freezer. All of the recipes in The Skinnytaste Cookbook are clearly labeled to show whether they are Vegetarian, Gluten Free, Quick (ready in 30 minutes or less), Freezer Friendly and for the Slow Cooker.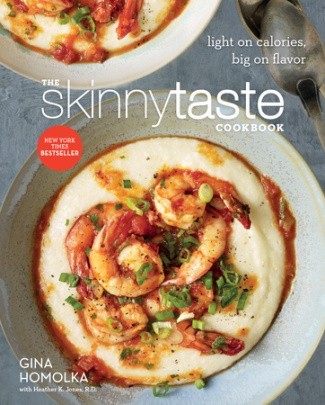 Gina puts a healthy twist on all of the classic comfort foods that you and your family love, and gets pretty creative in the kitchen too. I love her PB&J Overnight Oats in a Jar for mornings when you need a quick breakfast to grab on your way out the door. You'll find things that are normally taboo for those of us who like to eat healthy, like Caliente Bean and Queso Dip, Loaded "Nacho" Potato Skins and Cheesy "Fried" Mozzarella Balls. But with Gina's "skinny-fied" recipes, you can enjoy these finger foods with absolutely no guilt.
I'm totally in love with her "Fabulous Fish" chapter, with dishes like Sweet 'n Spicy Sriracha-glazed Salmon and Thai Coconut Mussels (YUM!). Not only do the recipes sound amazing, but the photography in this cookbook is insane. The colors pop and I almost feel as though I could dig right into the page… Now wouldn't that be the best cookbook ever?!
Once I hit the "Meatless Mains" chapter, I found tons of recipes I knew I wanted to try. But what stood out to me the most was the Creamy Carrot Farroto, a play on the classic Italian risotto dish — one of my absolute favorite things in the world. Instead of aborio rice, this dish uses farro, an ancient grain that was a staple crop in Rome. I have been eating farro for years and prefer it over other grains (even quinoa). It has a nutty flavor and a nice little bite that really makes a big difference in the taste and texture of whatever dish you are using it for.
I was pretty impressed with myself after I made this Creamy Carrot Farroto — it looked almost exactly like the picture! It was delicious too — I can only hope it lives up to Gina's version.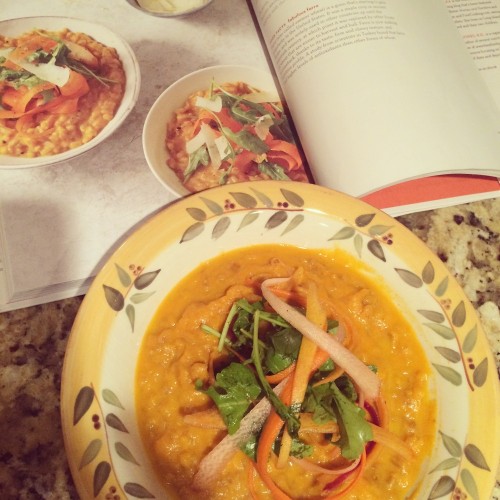 There are so many more recipes I plan to make from The Skinnytaste Cookbook. It's the perfect cookbook for anyone looking to lighten up their eating routine without losing any flavor.
Creamy Carrot Farrotto and The Skinnytaste Cookbook Review
Author:
Reprinted from "The Skinnytaste Cookbook"
Ingredients
For the salad:
1 medium carrot, peeled into ribbons
2 tbsp fresh lemon juice
1 tsp extra virgin olive oil
1/2 tsp kosher salt
freshly cracked black pepper
1 1/2 cups baby arugula
For the carrot puree:
1 tbsp olive oil
1/2 cup minced shallotd
3 garlic cloves, minced
1 1/2 cups chopped carrots
2 cups Pacific low-sodium vegetable broth
1/2 tsp kosher salt
1/8 tsp freshly ground black pepper
For the farrotto;
1 1/4 cups rinsed semi-pearled farro
3 cups Pacific low-sodium vegetable broth, plus more if needed
1/2 tsp kosher salt
1/4 cup grated Parmigiano-Reggiano cheese, plus 2 tbsp freshly shaved, for garnish
Instructions
For the salad:
In a medium bowl, combine the carrot ribbons, lemon juice, olive oil, salt and pinch of black pepper to taste. Refrigerate until ready to serve.
For the carrot puree:
In a large deep nonstick skillet, heat the oil over medium heat.
Add the shallots and garlic and cook, stirring, until soft, 3-4 minutes.
Add the carrots and vegetable broth and season with salt and black pepper.
Bring to a boil.
Reduce heat to medium-low, cover, and simmer until the carrots are soft, about 30 minutes.
Remove the pan from the heat and let cool slightly.
Puree the carrots in a blender or with an immersion blender (be careful to keep the lid slightly ajar to release steam, and cover with a kitchen towel to catch any splatters). Set aside.
For the farrotto:
In a large saucepan, combine the farro, vegetable broth, and salt.
Bring to a low boil over medium-low heat and cook until the farro is al dente, 15-20 minutes or according to package directions.
Drain and return the farro to the pan.
Add the carrot puree to the farro and cook over medium-low heat, stirring occasionally, until creamy, 4-6 minutes, adding more broth if needed.
Stir in the grated Parmesan.
To serve, toss the arugula with the carrot ribbons. Divide the farrotto among 4 plates, sprinkle with shaved Parmesan, and top with the carrots and arugula.
Serving size:
1 cup + 1/2 cup salad
Calories:
330
Fat:
9g
Saturated fat:
3g
Carbohydrates:
53g
Sugar:
11g
Sodium:
560mg
Fiber:
9.5p
Protein:
10g
Cholesterol:
8mg
Notes
This recipe, along with all nutritional information and serving size, has been reprinted from The Skinnytaste Cookbook.
Disclaimer: I received this book from the Blogging for Books program in exchange for this review.