Wait… Hold on a second while I wipe the drool from my mouth. Sorry, my sweet tooth totally just took over my brain. I took the "stuffed" trend into my own hands and remade something I've seen countless times all over the blogosphere and Pinterest. Cheesecake-stuffed strawberries! It's funny though; as familiar as they were to me, when I brought them to work my co-workers were blown away by the concept. I guess when you spend almost all of your time reading food blogs and browsing recipes, you find out about different ways to prepare things that the ordinary person (read: non-foodie) wouldn't necessarily know about. This is probably one of my favorite things about being a food blogger: We are all constantly in the know when it comes to what's on trend in the world of food!
When I started to make these little treats I had no idea what I was getting myself into. I didn't know how messy it would be to scoop out the insides of strawberries. If I had had one of those melon ball scoopers, it would have been much much easier. But I didn't, so I had to use a regular old knife. Needless to say, my kitchen counter was filled with strawberry "guts". Gross.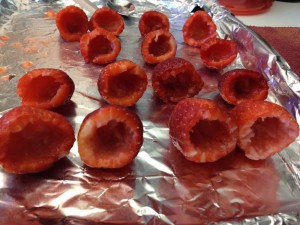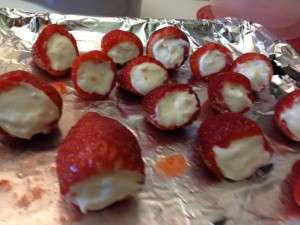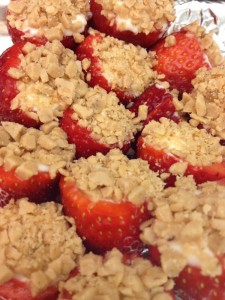 After I finally got through the "hard" part, mixing up the cheesecake stuffing was a piece of cake! None of the recipes I read ever say that you should put them in the freezer, but the strawberries were really soft and mushy after putting in the filling, so I stuck them in and left them overnight. This way, they were nice and firm when I brought them to work the next day. My manager brought her daughter in that morning because school still hadn't started back up yet after the holidays; if you remember from my holiday baking post, Emma helped us out! She was the first to taste test the strawberries. Her eyes nearly bulged out of her head. They got the Emma seal of approval! They were extremely cold and probably gave us all a slight brain freeze, but I think we all would agree that it was well worth the icy experience.
Creamy Stuffed Strawberries
15 small-medium strawberries
4 oz. reduced fat cream cheese
Heath Bar Bits 'o Brickle (or any other topping of your choice)
Slice off the tops of the strawberries and scoop out the insides. Lay them on a baking sheet, wax paper, or just a large plate. In a small bowl, use a hand mixer to combine the cream cheese, sugar and vanilla. Transfer about a tablespoon of the mixture into each strawberry and sprinkle with your topping. Store in the freezer overnight.