We all know and love the Thanksgiving staples of turkey, cranberry sauce, sweet potatoes, and stuffing, but every so often someone will come up with an out of the ordinary dish to bring to the table. Here are a few really creative ways to show the Thanksgiving spirit in the only way fitting: through food!
My friend Kelly is a school teacher and every year around this time, she makes her students an adorable little treat that I'm sure they just gobble right up. Ah, please excuse to lame joke…I had to do it… Oreo Turkeys!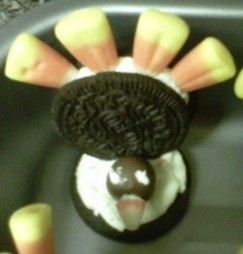 What you need: Double Stuffed Oreos, white icing, Whoppers, Candy Corn
-Take apart one Oreo cookie and place half of the cookie (the side with cream) off to the side; you'll use it in a minute.
-Take one Oreo cookie and put some icing on the top – stick in four Candy Corns, upside down. Put icing on the bottom of the cookie and attach it to your other cookie half like seen in the photo above.
-Put icing on the bottom of one of the Whoppers and stick it to the front of the bottom Oreo cookie.
-Break off the tip of one Candy Corn and use icing to stick it onto the Whopper to look like a beak.
-Use the icing to make dots on the Whopper for eyes!
SO cute, right? What a fun and easy Thanksgiving arts and crafts project to do with your kids, cousins, nieces, nephews, grandchildren, etc. Of course, I won't tell anyone if you just want to make these for yourself too… 🙂
Here is another great Thanksgiving creation made by my friend Cara. This is great for decoration (and eating too, duh!) during the early part of the day when family is hanging around watching football waiting for dinner to be served. Not only is it absolutely adorable, but it's healthy and won't ruin your appetite before dinner! Presenting…Veggie Tail!
This treat is named after the cute little kids Veggie Tale movies – Cara was obsessed as a child so her family named this dish after it. You can easily recreate this masterpiece just by looking at the picture, and you could even swap different vegetables in if the ones used aren't to your liking. But try and stay true to these Thanksgiving colors!
-Use baby carrots and cut up red, yellow and orange peppers to make the tail
-Slice cucumbers for the body and use two small pieces of broccoli for the feet
-Cut half of a green pepper for the head
-Cut a small piece of red and orange pepper for the beak and use two dried cranberries for the eyes and you've got your turkey!
There are so many different veggie options to use for this, and you can really use anything small and round for the eyes. Cranberries are very appropriate for Thanksgiving, but raisins would also work, as would any kind of bean. Serve with a good dip such as hummus or ranch for a nice, light pre-Thanksgiving feast appetizer.
Now for one more creative Thanksgiving dish: a turkey pound cake! One of my Jersey friends, Lisa, posted this photo on Facebook and it looked so great so I asked her about it. She confessed that itis store bought, but someone still  did make it. It may not have been her, but some creative little genius at this South Jersey bakery thought up the idea. 
I don't even think I would want to cut into this adorable cake! I'm sure it tasted just as amazing as it looks. Thank you to Minos Bakery in Absecon, NJ for having such a great Thanksgiving dessert! I hope Lisa and her family enjoyed it. If you've got some artistic talent you could certainly recreate this delicious dessert right tin your own kitchen.
Did you have any out of the ordinary dishes at your dinner? Let me know! There are so many ways to get creative with your food when preparing for a big holiday meal. It's fun to get crafty in the kitchen and makes all the chaotic cooking more enjoyable!
Stay tuned for my much-anticipated Thanksgiving Day Feast post to come.