As the baking frenzy continues, the next thing on my list was chocolate chip cookies. But not just any chocolate chip cookies, these were going to be food Network Magazine-style! The March issue was "The Chocolate Issue," and let me tell you…they did not skimp on any recipes. There were 50 recipes for brownies alone, plus fudge, cake, mousse, chocolate waffles, and even savory recipes using cocoa! One section was dedicated to chocolate chip cookies, giving four different recipes for your preferred type of cookie — crispy, chewy, crispy-cakey and cakey. I love chewy cookies; my dad loves crispy cookies (no doubt he will be asking me to scan him the page from the magazine with the recipe after reading this). I thought I would try something totally different and go for the crispy-cakey cookie. I am not kidding you when I tell you these were the most delicious chocolate chip cookies I have ever tasted. Case in point: I gave a couple to my friend at work and 10 minutes later I get a phone call at my desk. "Shaina…what kind of cookies are these?" she asked me. "Chocolate chip…" Silence. "They…are…AMAZING!" Throughout the remainder of the day, each person who took a cookie came back to me and said how much they liked them. I may just have to keep making these until I perfect them and they become my signature cookie. The recipe below has been copied from the magazine; what you see in italics has been added by me.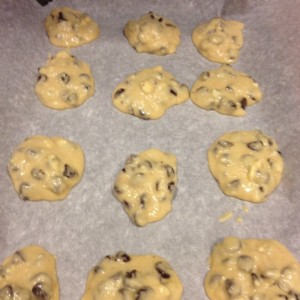 from Food Network Magazine, March 2012, page 130
Crispy Cakey Chocolate Chip Cookies
2 1/4 cups all purpose flour
3/4 teaspoons baking soda
2 sticks unsalted butter, softened (I only used one stick of butter and 8 oz. of applesauce)
3/4 cup packed light brown sugar
2 large eggs, at room temperature
2 teaspoons vanilla extract
2 cups semisweet chocolate chips
Whisk the flour, salt and baking soda in a large bowl.
Beat the butter (and applesauce), brown sugar and granulated sugar in a bowl with a mixer on medium speed until light and fluffy, about 5 minutes (use the paddle attachment for a stand mixer). Beat in the eggs one at a time, then beat in the vanilla. Reduce the mixer to low, add the flour mixture and beat until combined. Stir in the chocolate chips by hand. Press plastic wrap directly onto the surface of the dough and refrigerate at least 1 hour or preferably overnight (I refrigerated my dough for about an hour and a half). 
Preheat the oven to 425 degrees. Line 2 baking sheets with parchment paper. Drop scant tablespoonfuls of dough onto the prepared baking sheets, about 2 inches apart. Bake until golden brown around the edges but still light in the center, about 8 minutes. Remove from the oven and let cool 10 minutes on the baking sheets, then transfer to racks to cool completely.