Okay, fellow Brunch lovers, what is the best part of crumb or coffee cake? The crumb topping, of course! I'd much rather eat an entire piece of cake made out of those crumbles, and usually that's the only part I eat anyway. There's nothing like a slice of cake with a good, sugary sweet crumbly topping. The crumblier, the better! Those are some pretty good words to live by, if I do say so myself.
Anyway, I really like yogurt parfaits too. The usual parfait includes yogurt, fruit and granola. It's a great mix of textures and there are so many different combinations you can put together. I was trying to think of a good, but different, kind of parfait to make for Brunch Week when I had a total epiphany. What would happen if you substituted the granola for — gasp! — that amazing crumb topping we were just gushing over??! There is no way something like this could go wrong. I got right to work on creating this absolutely amazing crumb cake parfait.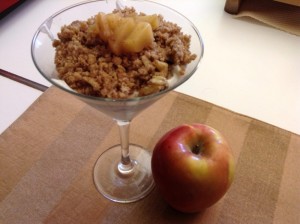 So far I've used bananas and blueberries in my Brunch Week recipes, so I wanted to go a different route and use another fruit for my parfait. I've always liked apple cakes, so why not go with an apple parfait? I peeled a Fuji apple and chopped it up into pieces, mixed that with some cinnamon, sugar and vanilla extract and let it cook on the stove for about 10 minutes or so — until the apple chunks were nice and soft. Then I got out my food processor and threw in all mycrumb-topping ingredients and pulsed away. Pretty sure I had everything ready to assemble my parfait.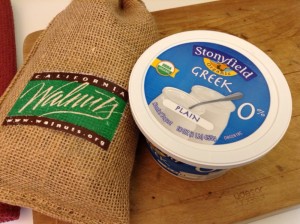 Special thanks to our Brunch Week sponsor, California Walnuts, for sending me a bag of walnuts to use in one of my recipes. They were the perfect addition to the crumble. I also used Stonyfield Greek Yogurt — they're another one of our Brunch Week sponsors. Don't forget to enter the giveaway for tons of cool prizes from all of our sponsors in the rafflecopter widget below!
Crumb Cake Parfait
For the crumb topping:
1 tsp coconut oil
1/2 tbsp granulated sugar
2 tbsp brown sugar
1/4 cup walnuts
1 tbsp cinnamon
1/2 tbsp nutmeg
For the cooked apples:
1 medium apple, peeled and chopped
1-2 tbsp cinnamon
1/2 tbsp granulated sugar
1 tsp vanilla extract
1/4 cup water
1 cup plain non-fat Greek yogurt
In a small bowl, mix the chopped apples with cinnamon, sugar and vanilla. Place into a sauce pan and simmer, covered, for about 10 minutes or until the apples are softened.
While your apples are cooking, put all of the crumb-topping ingredients in a food processor and pulse until completely combined.
Assemble with plain Greek Yogurt (or any yogurt of your choosing)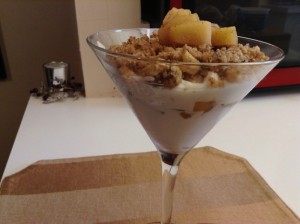 More Brunch Week recipes here!

Html links:
Brunch Drink Recipes
Breads, Grains, Cereals and Pancake-type Yums
Brunch Egg Recipes
Potato Recipes for Brunch
Meat, Poultry, Fish and Legume Brunch Recipes
Brunch Dessert Recipes