Today's guest post is from one of the most important bloggers in my life right now — Aly from Cooking in Stilettos. She is helping me as I make some big changes with my blog. I wouldn't have even thought to do these things without her pushing and shoving me along the way. Aly and I met wayyy back when I first starting with The Leftovers Club, and we finally got to meet and hang out at BlogHer Food last weekend. I'm so lucky to have her guiding me in this crazy process to improve this little hobby of mine and start to earn some $$$! It's only right that she gets some time to herself on Take A Bite Out of Boca before before it goes from a mediocre, meh Blogger blog to a super awesome totally beautiful WordPress blog.

——–


Refreshing a Childhood Favorite With A Cucumber Tomato Salad with Quinoa and Ricotta Salata
When Shaina put out a call for a light and fresh recipe, perfect for summer, I knew I'd have to update a childhood favorite with a bit of a Florida spin.

While recently in Miami for BlogHerFood, a group of us had a divine brunch at Michael's Genuine and there was a salad that was so light and fresh that I knew I had to play with it when I went home.

It had farro with a bit of feta, tomato and red onion and tossed in a light vinaigrette – the perfect compliment to a fabulous brunch.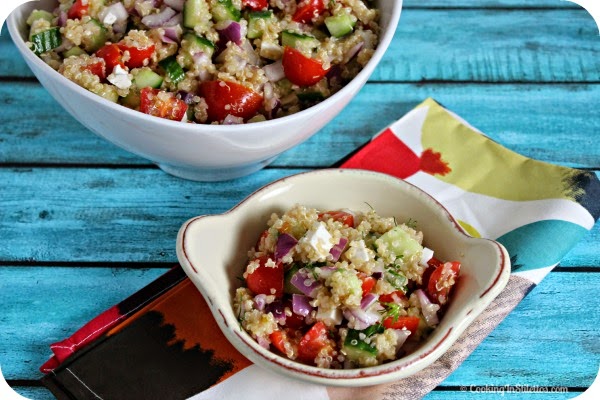 Thinking back, during the summer, my mother often served cucumbers that were marinated in a bit of vinegar with a touch of sugar – sweet and sour with a salty bite and a must for any family cookout.

I decided to update my mother's summer staple with some fresh ingredients, along with two of my summer staples for salads – a delicious and peppery unfiltered extra virgin olive oil and my favorite cheese – a salty ricotta salata.

Fold in some quinoa for a bit of protein and a bit of fresh dill and you have a summer salad that will be a new favorite.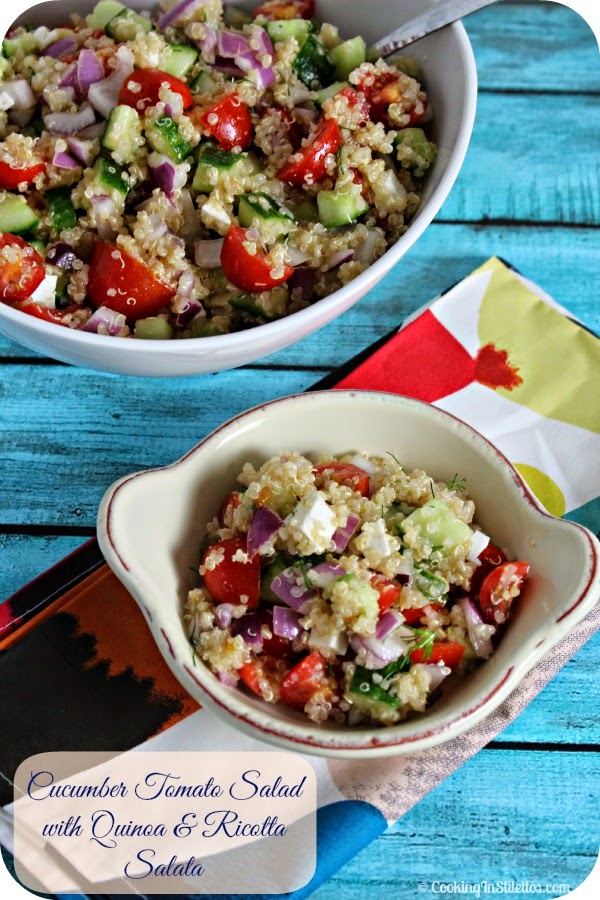 Cucumber Tomato Salad with Quinoa and Ricotta Salata
1/2 cup of quinoa, rinsed
1 large English cucumber, seeded and diced
1 pint of grape tomatoes, quartered
1 1/2 tablespoons of champagne vinegar
1/4 cup of extra virgin olive oil, preferably unfiltered
Pinch of salt and freshly grated black pepper
1 tablespoon of fresh dill, finely minced
1/4 to 1/3 cup of ricotta salata, finely cubed
In a small dry saucepan, lightly toast the quinoa before adding the water.
Add the water, stir and bring to a boil.
When boiling, cover the quinoa and reduce to a simmer.

Let simmer for 15 minutes or so.
Lightly fluff with a fork when done and set aside to cool.
While the quinoa is cooking, soak the red onion in a bowl of water for about 10 minutes or so to reduce the bite (if desired).

Drain and add to a large bowl.
In a large bowl, also add the diced cucumbers and quartered grape tomatoes.
In a small bowl, whisk together the champagne vinegar, olive oil and honey.
Add a pinch of salt and freshly grated black pepper – whisk together until everything is combined.
Add the fresh dill and mix well.

Set aside.
Add the cooled quinoa to the large bowl with the cucumber mixture.

Mix well.
Add the vinaigrette and toss everything together again.
Many thanks to Shaina for letting me visit and for letting me freshen up a childhood recipe with one that brings memories of fabulous food, great conversation and laughter among friends!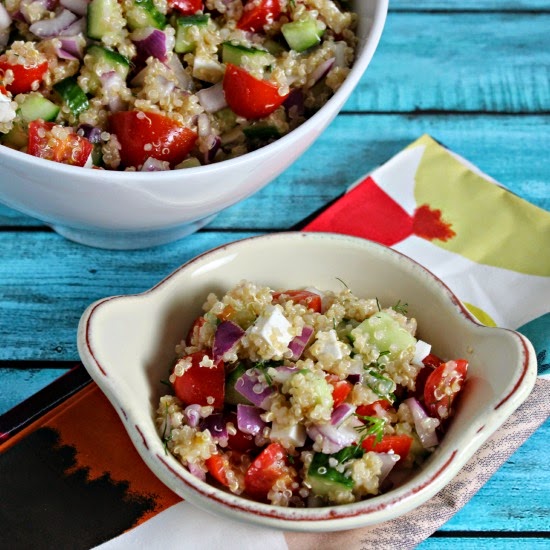 ———-
Oh Aly this sounds so delicious and so perfect for summer! I'm so glad our brunch at Michael's sparked such a great childhood memory for you and inspired this dish. I love it!

Make sure to head over to Aly's blog, Cooking in Stilettos, and follow her on Facebook, Twitter and Pinterest.