The judges on cooking shows seriously have the best jobs in the world. You eat great food, travel all over, dine at the best restaurants all the while helping the chefs to hone their skills and share their passion. I've always thought it would be so cool to be a judge on a show like Top Chef. A girl can dream…
Last week, I got to dip my toes into the judging pool and get a feel for what it's like. I was given the amazing opportunity to be a culinary judge at Flavors of Boca, an event sponsored by the Junior League of Boca Raton and its community initiative, C.H.O.W (conquering hunger our way), with the money raised going to charity. Local restaurants and shops were set up with tables to showcase their specialities. There was also a silent auction and raffle for a huge variety of prizes and gift baskets. It was held in the newly renovated courtyard at the Shops of Boca. It was the perfect area for this kind of event. Bars stocked with wine, beer and cocktails are scattered throughout the area and there was a VIP section set up with couches and chaise lounges for those with VIP tickets to relax after they tasted their way through the evening. In the center of the courtyard was a stage where the DJ was setup. Good music filled the air all night and people really looked like they were having a great time.
My fellow judges were Stephanie Miskew, wine sommelier and creator of the blog, The Glamorous Gourmet, and Ken Spahn, founder of Restaurant Placement Group. Stephanie and Ken made me feel so welcome in this scene that they both know so well and they introduced me to a lot of awesome people in the food industry. The three of us were led to each table and the chefs gave the run down of what we were being served. We had some seriously delicious food and when it came down to picking the winners, some of the categories were difficult to pin down.
We started in the VIP area where a few select restaurants were set up exclusively for VIP ticket holders. Our first stop was Blue Martini. They served seared ahi tuna on top of a seaweed and calamari salad. The calamari was sliced long and thin. I love seaweed salad, so of course I enjoyed this dish. We also got to taste their signature drink, the Blue Martini — Van Gogh Blue Vodka, Cointreau, Blue Curacao, sour mix and orange juice.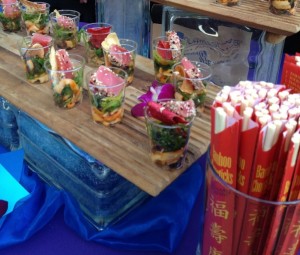 Stop #2 was the Boca Resort. They gave us a full dining experience with an entree, dessert and a beverage. First we tried the paella with clams, scallops, mussels, shrimp, calamari, chorizo and saffron rice. I avoided the chorizo since I don't eat red meat, but it didn't take anything away from the dish. It was still hands down my favorite of the night. Then we sipped on their orange-infused white sangria. We finished with a decadent salted caramel chocolate cake, filled with caramelized banana.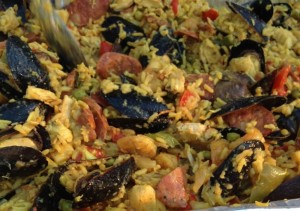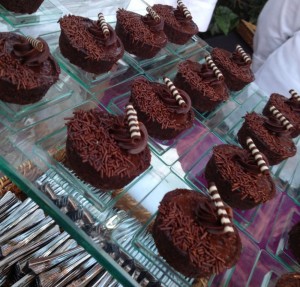 Tanzy was next down the line. They had a garlic crostini with a rosemary herbed goat cheese and port wine poached pears. It was topped with prosciutto, so obviously I just asked for one without. I really liked the combination of flavors of the goat cheese and pears.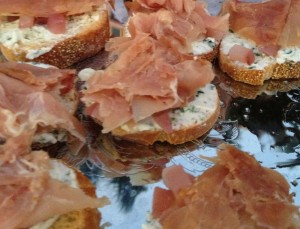 Potions in Motion was the company taking care of all the bar service for the evening, but they also had an appetizer and special Thai Basil Sake to contribute to the competition. The appetizer was very fresh and flavorful — saki tuna with a kiwi pineapple salsa. It was served in an endive boat. The bitterness from the endive complemented the sake drink very well.
Morton's Steakhouse had a filet with horseradish on a toasted crostini. I didn't really participate in this tasting; I took a tiny bite of the crostini, but that's about it.
Hoffman's Chocolates was the last of the VIP tables we tried. I tried a tiny bite of each of the four chocolates they were sampling — white chocolate mint, dark chocolate buttercream, solid milk chocolate and a key lime truffle. The dark chocolate buttercream was my favorite. That filling was so silky smooth and rich, yummmm.

I could continue with the rest of the restaurants in the general admission area, but I'd rather leave you with a little
cliff hanger instead. Hope your mouths aren't watering too much yet.
Check back tomorrow for the rest of the restaurants and who
the lucky winners were!