We made our way into the general admission area to continue the tasting… We had to pace ourselves to keep from getting overly full, so there was a lot of stopping to talk to people along the way. The first table was Cafe 5150, who was serving their chocolate covered strawberries and bananas. Next to them was Juicetaria, a juice bar and cafe with a focus on all natural and healthy clean eating. They had samples of their various juices and smoothies, along with two raw, vegan dishes — a flatbread pizza and chocolate brownie. Abe and Louie's was up next. I didn't really eat what they had; it was a sirloin steak sandwich. I couldn't get around that one. They did have a chocolate brownie, so I tasted that instead.
We walked over to Rocco's Taco's next for some of their crab guacamole and shrimp and scallop ceviche. The chips, with their housemade spices, are always the best part about Rocco's. I could eat their guacamole everyday for the rest of my life and be content. They added crab to it for the event. I don't think this is on their menu… If it isn't, it really needs to be.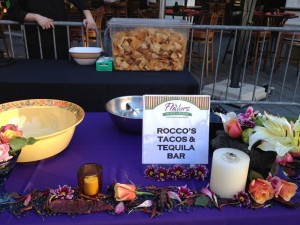 Our next stop was City Fish Market. Surprisingly, they did not have a seafood dish to share with us. Instead, the chef wanted to show off a different aspect of their restaurant — dessert. We got to try their apple crumb cake, which was extremely tasty. I really enjoyed that. City Fish is easily my favorite seafood place in Boca.
Dorsia is a new Italian restaurant that hasn't been open for too long, so this was a great event for them to participate in to get recognition. Their 4-cheese pasta dish was so good! I love a good, cheesy penne in a light tomato sauce. This one was made with parmigiano reggiano, muenster, swiss and fontina cheeses.
Corner Bakery Cafe had a selection of their signature sandwiches, chicken pesto on ciabatta, turkey or ham on pretzel bread, and tomato mozzarella on ciabatta. There was a variety of baked goods too — chocolate chip cookies, raspberry bars, maple pecan bars and chocolate bundt cake, to name a few.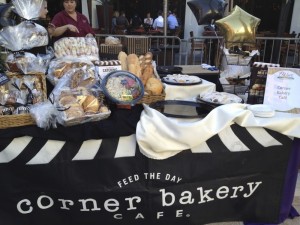 Cupcake Couture had the cutest display, with all of their mini cupcakes on multi-tiered holders and lots of bright, fun colors. All of their cupcakes are named after high-end designers, like the Cocoa Chanel (chocolate cake with vanilla frosting and white chocolate curls), Red Valentino (red velvet cake with cream cheese frosting), Donna Karrot (carrot cake with walnuts and cream cheese frosting) and Jimmy Chooo-colate (chocolate cake with chocolate frosting and chocolate chips). I may or may not have one one of each flavor they had…
We tasted specialty flavored sparkling waters from Onli next. I tried the lemon, mango, passion fruit & mint, which tasted a little like a mojito.
Kari Hari is a company that sources ingredients fresh from Italy — chocolates, condiments and gourmet olive oils and balsamic vinegars. They also have a lot of gluten-free products that can't be found in your basic grocery store. They had samples of their dark-chocolate-dusted almonds and cherry cordials, as well as a fig-almond jam and sun-dried tomato spread that were delicious.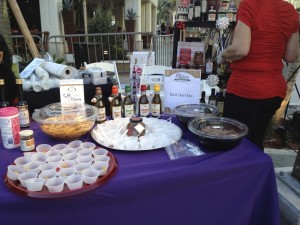 Publix Apron Cooking School was next. I spent a long time talking to Chef Rey de la Osa at the beginning of the event. He's an awesome guy and I really look forward to attending some of his cooking classes. He was serving a corn chowder topped with a little corn salsa. I didn't try the chowder because there was bacon in it, but I liked the salsa a lot!
Brio Tuscan Grille served up their signature Pasta Brio, rigatoni in a roasted red pepper sauce with grilled chicken and seared mushrooms. They outdid themselves a little by giving us not one, but two delicious desserts — tiramasu made with coffee liqueur, mascarpone cheese and cocoa, and a chocolate caramel cake with layers of milk chocolate ganache, caramel, chocolate frosting and vanilla whipped cream.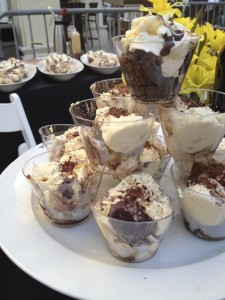 The Melting Pot had both a cheese and chocolate fondue for us to try. The English Tap and Beer Garden gave us a taste of their ceviche made with white fish, shrimp and scallops served with wonton chips.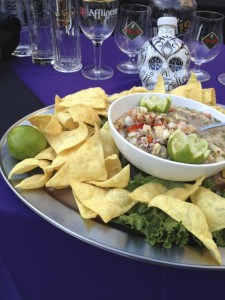 Nick's New Haven Style Pizzeria showed off their pasta making skills. The linguine in clam sauce was delicious and really nicely plated in a clam shell. But they really won us over with their out of this world dessert. A fried ravioli stuffed with Nutella. Yeah. You heard right. That dessert was the perfect way to end the night.
Then it came time to sit down and go back over everything we had tasted over the past 2 hours. We had 5 categories to award. Stephanie, Ken and I must have similar palettes because we all had very similar opinions about most of the dishes. While there was a little back and forth trying to decide some of the winners, some were no-questions-asked. We made our choices and were able to present the winners their plaques on stage in front of the whole crowd.
Best Savory: Boca Resort, Seafood Paella
Best Dessert: Nick's New Haven Style Pizzeria, Nutella Ravioli
Best Beverage: Boca Resort, Orange-infused White Sangria
Best Presentation: Cupcake Couture
Best Flavor of Boca: Boca Resort
Eh, we may have been a little heavy-handed when it came to awarding the Boca Resort; but hey, they totally deserved it! They gave us a solid savory dish and a really light, refreshing drink. They served dessert too. It may not have been the winning dessert, but it was a very close contender and was the last component of what was a well-rounded three course meal.
Nick's Nutella ravioli was the most amazing dessert I have ever tasted. It was just…phenomenal. Nutella is such a trendy and unique ingredient nowadays, too, so it shows good judgement that they played on that instead of using something like peanut butter or plain chocolate.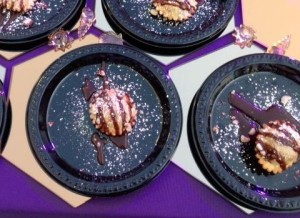 I left that night feeling extremely full — but with more than just lots of food. I was so happy and motivated to do so many things with the blog. My tummy was stuffed with food and my head was filled with ideas. It was a successful night for me in so many ways. Special thanks to co-chair of the event, Melissa Roberts, for bringing me in as a judge. Thank you to our "tasting guide," Barbara for taking us from table to table to introduce us to the chefs. And of course, thank you to my fellow judges, Stephanie and Ken!