Never miss a bite! Sign up here to receive new recipes and reviews straight to your inbox.
Start your week with something spicy! Curried Chickpeas Over Wilted Greens is a great vegetarian option for dinner or a side dish.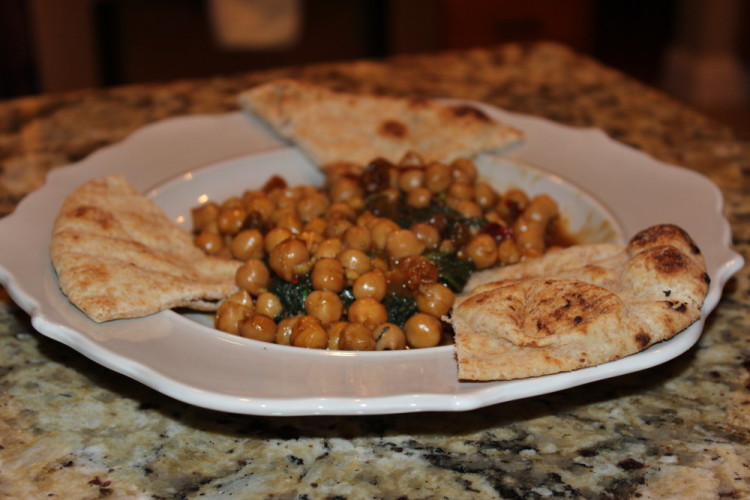 I'm back again sharing another recipe for #WeekdaySupper — easy 30 minute meals with ingredients you don't have to search high and low to find. Things can get pretty hectic during the week, so it's pretty great to have these recipes on hand when you need a little push and shove in the kitchen. I made this Curried Chickpeas Over Wilted Greens one night when I opened my refrigerator and did the what-am-I-going-to-make-tonight song and dance. I was stocked — and I mean STOCKED — with produce. Last month I received a share from one of the local farms. It was filled with gorgeous vegetables — beets and radishes and tomatoes and peppers — and so many greens! There were bags of bok choy, bibb lettuce, romaine leaves and…red frilly mustard greens. I had never seen this vegetable in my life and had NO idea what to do with it. But after much Pinterest research and asking some of my chef and foodie friends, I figured a plan.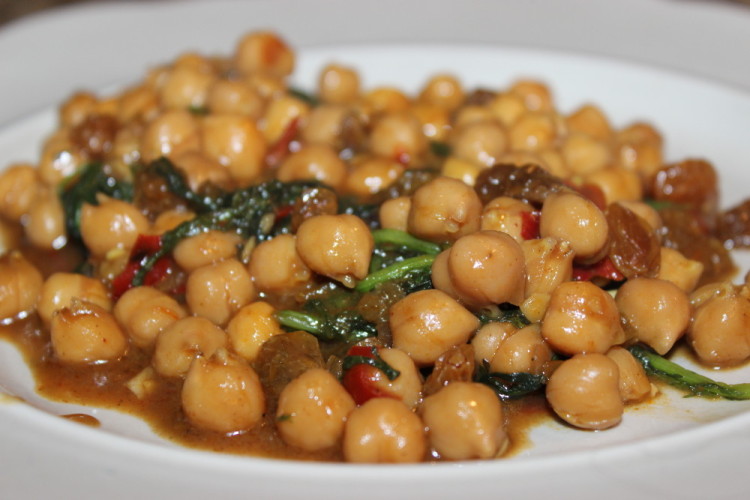 I had to go Indian. Curry sauce and powder are the stars here so definitely expect some heat. Oh yeah, and the red pepper flakes pack some punch too…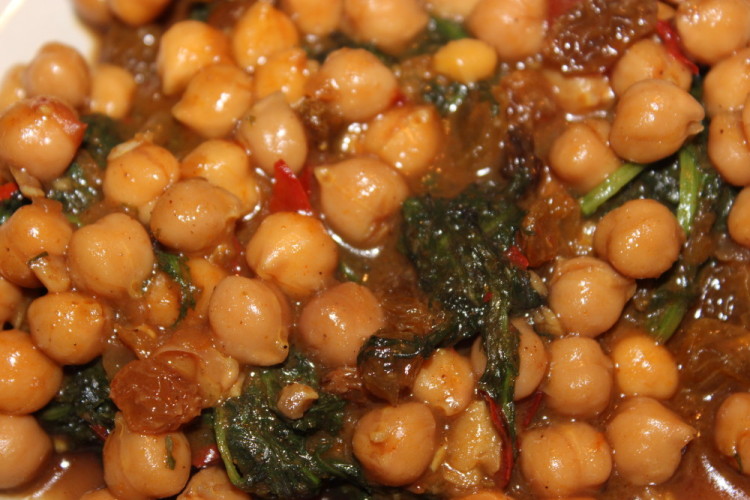 What's great about this recipe, though, is you don't have to use red frilly mustard greens. Because, let's be honest, you're not going to find that in your local grocery store. Maybe at a farmer's market or something like that, but #WeekdaySupper is all about easy-to-find ingredients and quick meals. So use spinach, kale, collard greens — whatever you can find or already have on hand. I could eat chickpeas in some form everyday, whether they're pureed into a hummus, roasted for a crunchy snack, or simmered in delicious spices like in this Curried Chickpeas Over Wilted Greens.
I'm telling you though — keep water nearby. We're getting spicy tonight!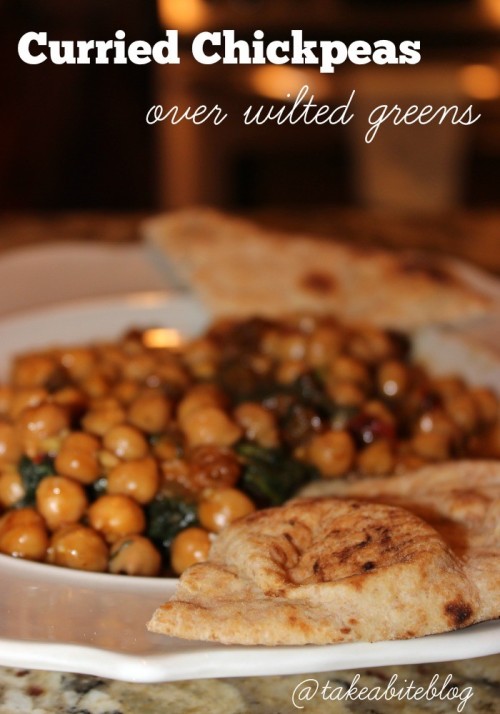 Curried Chickpeas Over Wilted Greens
Recipe Type
:
Entree/Side Dish
Author:
Start your week with something spicy! Curried Chickpeas Over Wilted Greens is a great vegetarian dinner option or can be made as a side dish too.
Ingredients
4 garlic cloves, minced
1/4 tsp red pepper flakes
1/4 cup vegetable broth
10 ounces leafy greens
1/4 cup red curry sauce
1/4 light coconut milk
1 tbsp lime juice
1 tsp curry powder
1/2 tsp tumeric
1 cup canned chickpeas, rinsed and drained
Instructions
In a deep saucepan, sauté garlic and red pepper flakes for 1-2 minutes or until garlic becomes fragrant.
Add broth and cook for another minute, continuing to stir.
Add greens, curry sauce, coconut milk and soy sauce.
Stir, cover and cook on low until the greens begin to wilt, about 3-4 minutes.
Remove just the greens from the pan, leaving as much liquid as possible.
Stir in the chickpeas, curry powder and turmeric and mix well.
Cover and simmer until the chickpeas have started to soften and the liquid has become like a sauce, about 10-12 minutes.
Serve with pita or Naan bread.
Here's the rest of our #WeekdaySupper line up!

Tuesday
Chicken Bacon Leek Casserole by Noshing With The Nolands
Wednesday
Lemony Swiss Chard and Quinoa Sauté with Fried Capers and Olives by The Wimpy Vegetarian
Thursday
Turkey Lentil Taco Salad by Shockingly Delicious
Friday
Gluten Free Scalloped Potatoes with Ham and Kale by Gluten Free Crumbley