Never miss a bite! Sign up here to receive new recipes and reviews straight to your inbox.
NOTE: This restaurant has since closed.
Disclosure: I was invited to dine as a guest of CWS Bar + Kitchen. No monetary compensation has been received for this post. As always, all opinions are 100% my own.
Located in the heart of downtown Lake Worth, CWS is a playground for whiskey aficionados, wine and cocktail lovers, and those who appreciate good food in a fun, playful atmosphere.
CWS opened its doors in May of 2016 and took no time at all to jump to the forefront of the Lake Worth restaurant scene. With it's cheeky outdoor craft beer garden and the cozy, speakeasy-esque indoor den, you can easily have two totally different experiences while drinking and/or dining here. Outside, you'll find live music, games and TVs, 28 craft beers on draft and tons more in cans and bottles, and communal tables, making it a great spot for groups to hang out and have a good time. Inside, the lights are dimmed, the fireplace is lit and the leather furniture invites you to sit back and relax with one of the many whiskeys available, or one of the signature or classic cocktails, hand crafted with only the finest and freshest ingredients.
CWS makes all of their mixes from scratch, including all fresh squeezed juices and simple syrups. I tried a sip of their cranberry juice — something I normally do not like at all — and surprisingly loved it. There was no fake aftertaste like those store-bought juices. It had sort of a thick, syrupy texture, which ran smoothly down my throat and left me wanting more.
Steal a glance at the list of signature cocktails and you may be confused at first — is this the food or drink menu?! Drinks include things like "A Head of Lettuce" made with vodka, romaine lettuce, hand pressed citrus, extra virgin olive oil, salt and pepper; and "F Your Pumpkin" made with scotch, house-made roasted butternut squash infused liqueur, local honey, hand pressed citrus and cane sugar. If you're feeling brave, let the man behind the bar, Bill, create something unique for you. He may be a wizard when it comes to whiskey, but he can also mix a great cocktail (but if you are into whiskey, he's got you covered!). I've known Bill for quite some time now, and his drinks are always top-notch. I'm pretty picky when it comes to cocktails — I normally stick to wine, which we will get to later, because CWS introduced me to a delicious wine I had never tasted before — but Bill has come to learn my palate and never lets me down. This time around, he whipped up an amazing combination of gin, elderflower liqueur, hand squeezed lime and pineapple juice and fresh mint. Simple in ingredients, yes, but not in flavor. You could taste just how fresh everything was, and it really made a difference.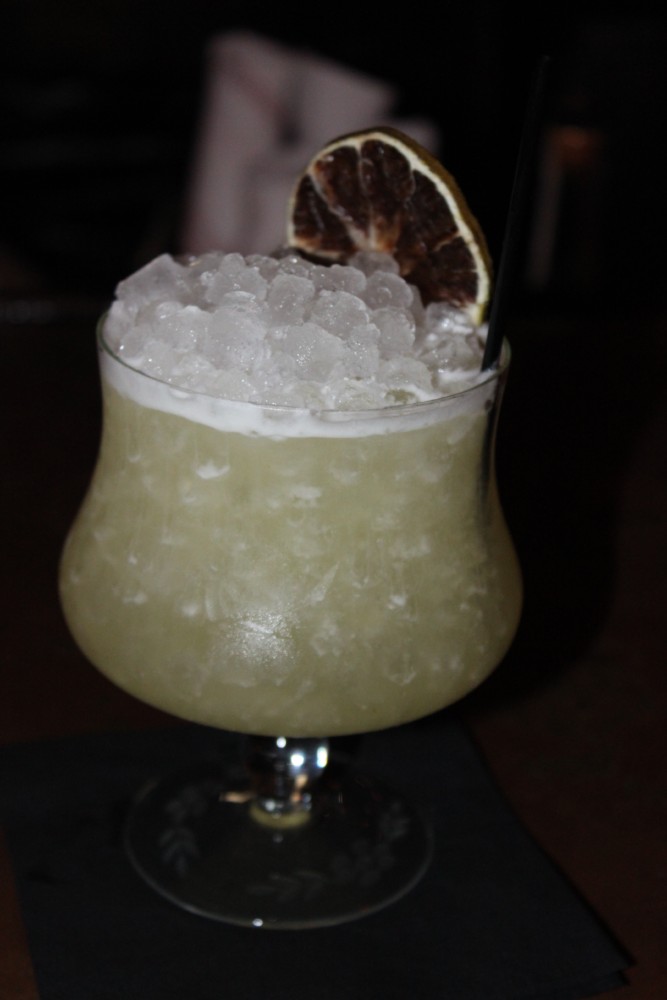 Cocktails aren't the only reason for coming to CWS. The food is just as unique and delicious and features locally sourced ingredients whenever possible — and when I say local, I really mean local. For instance, we feasted on a whole fried snapper that had been caught off the dock in Boynton Beach just 14 hours before it was placed on the table in front of us. The local catch is served with quinoa fried rice and a sesame-ginger vinaigrette and presented with extra attitude. With a whole fish literally staring back at you from the plate, it might be hard for some to dig in… But when the aroma coming from the plate is as good as this was, you really can't resist.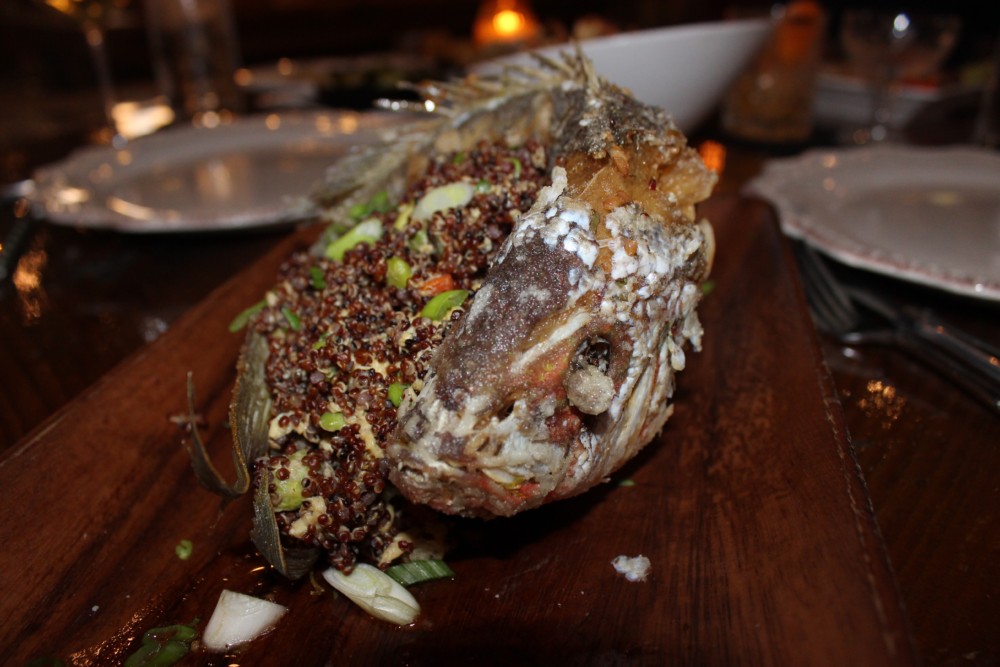 I'm getting ahead of myself here, skipping to the entrée before even tantalizing your tastebuds with the appetizers… We started with a taste of the cheese and charcuterie board — a great sharing plate perfect for girlfriends gabbing over happy hour drinks, which is basically how the beginning of dinner was for me and my guest for the evening. The platter consists of a rotating selection of cured meats and speciality cheeses, along with pickled vegetables, whole grain mustard, fig jam and grilled bread. You can choose cheese or meat only, or a combo of both.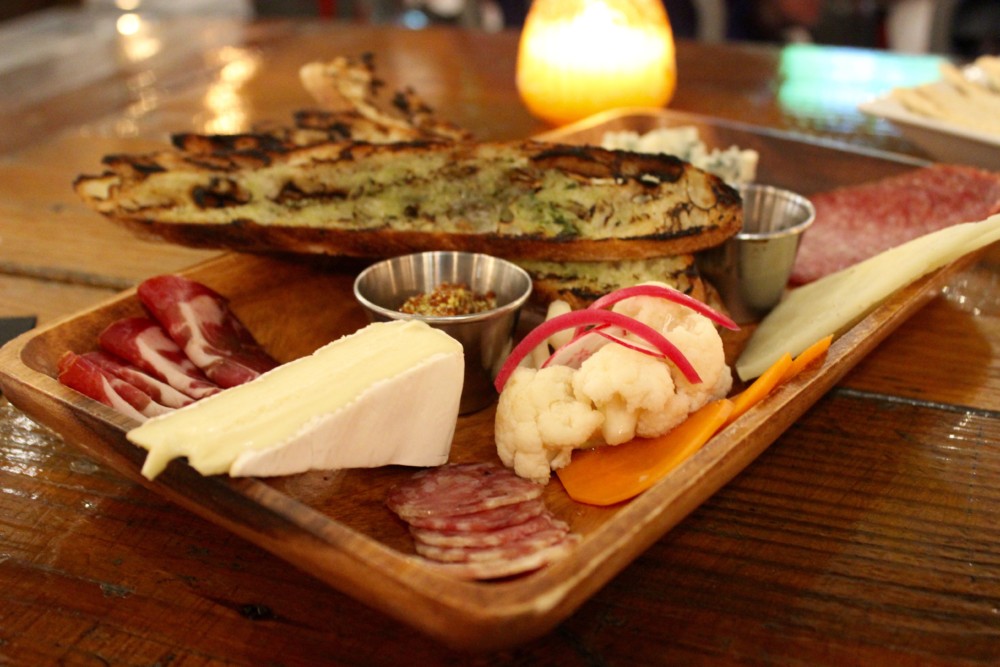 Cheese and charcuterie boards are always a crowd favorite, but the crispy cauliflower bites might just steal the spotlight… Lightly fried florets are served with two sauces — curry spice and sweet chili — and both are equally as amazing. The curry sauce has just a hint of spice as to not overpower the delicate flavor of the cauliflower. The sweet chili, on the other hand, bursts with sweet and spicy flavor. Of the two, this one definitely packs a punch — but the cauliflower still shines bright. This is a must-have appetizer when dining at CWS. Just writing about it makes me crave it all over again!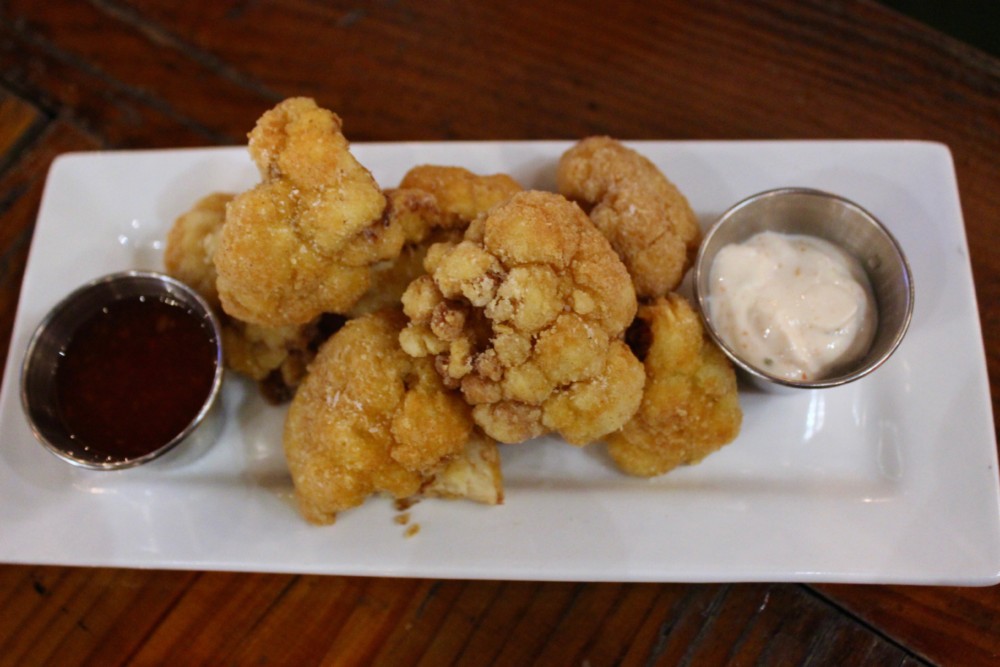 Chickpea lovers, don't miss CWS's simple yet delicious hummus appetizer, served with an olive medley, crudité and grilled pita. The hummus is the perfect texture. Smooth as velvet and  melts in your mouth… You don't even need to dip anything in it. Just pick up a spoon and go to town!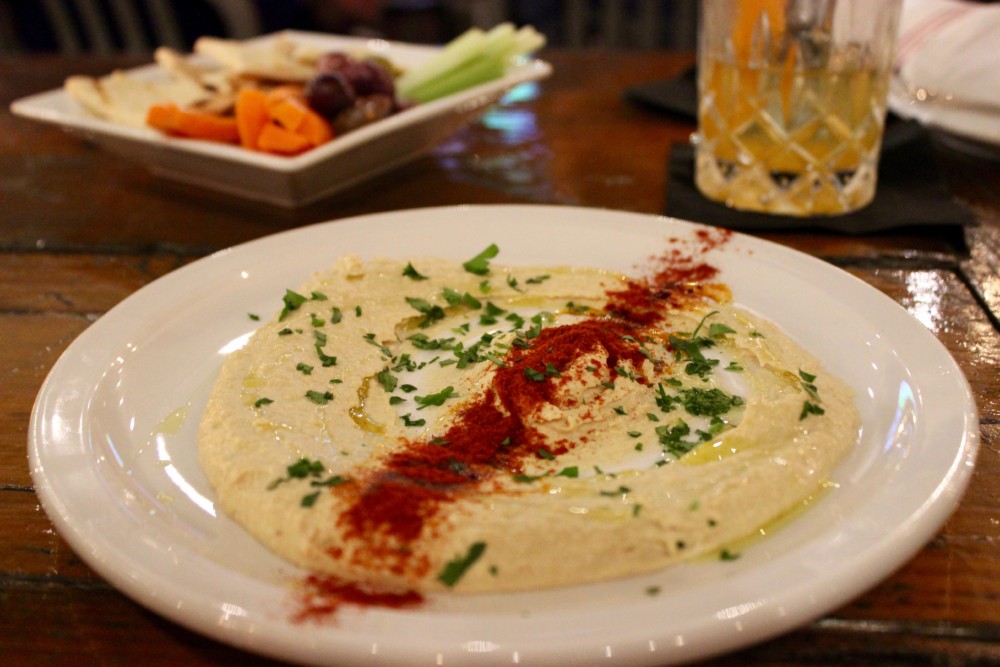 This is the best time of year for vegetables, and CWS totally takes advantage of all the incredible produce we have here during the fall and winter months. The Fall Vegetable Grain Bowl is full of 'em! Sweet potato, Brussels sprouts, oyster mushrooms and seasonal squash are mixed with farro and topped with crispy chips made from parsnip, and tossed in a lemon-sage vinaigrette. All of the veggies were cooked just right, and the vinaigrette had a great balance of flavor. I love the extra crunchy texture from the parsnip chips. Their salty flavor was truly satisfying, and if I didn't know better, I may have mistaken them for super-thin potato chips.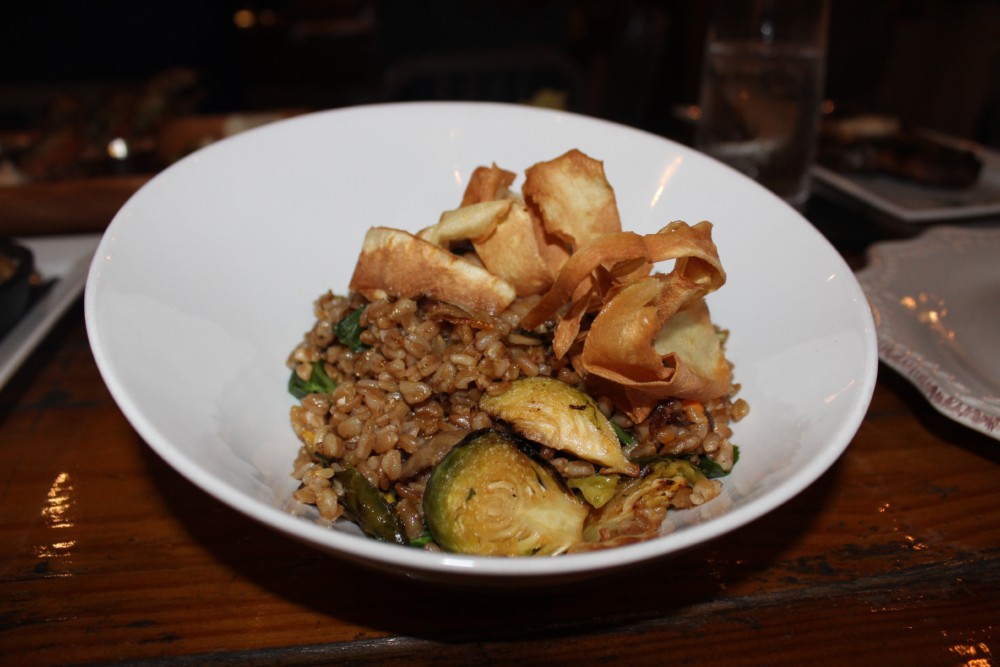 Now, after filling up, it was time for a little break — and some wine. CWS offers featured wine selections, and on this particular night I got to try an Austrian Gruener, a white variety I've never had before. It had a super crisp flavor profile, which reminded me of a green apple. It paired beautifully with the fish I mentioned earlier, which came next. Along with the fish, we were served — or rather, my friend was served — the night's signature cut of meat, bone-in Kansas City strip steak straight from Central Iowa. It comes with loaded baked potato hash and seasonal vegetables, and is topped with smoked garlic butter. Lucky for me, my friend really enjoyed the steak — more snapper for me!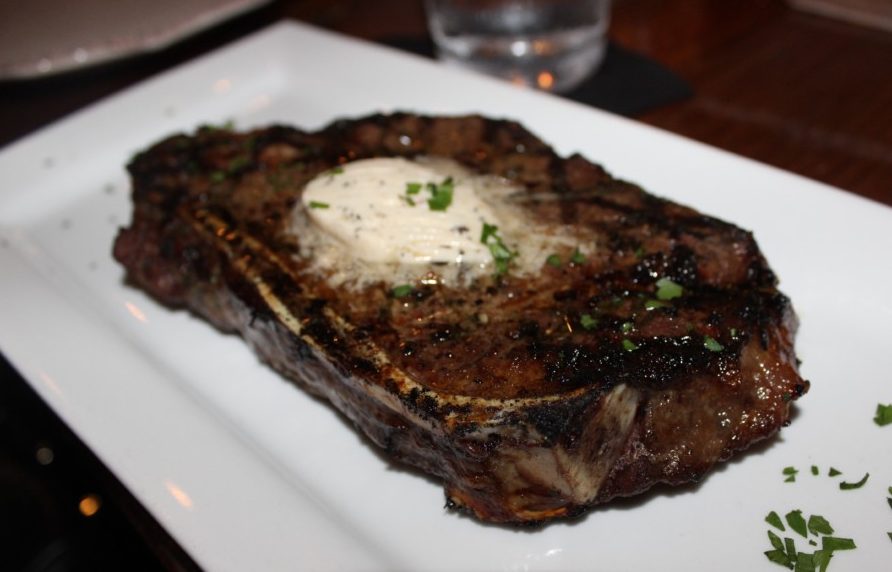 Now, for dessert. We were served our sweet ending two ways — something edible and something drinkable. Bill surprised us with a brass pineapple goblet filled with a cocktail made of ancho chili infused liqueur, fresh pineapple and orange juices, coconut water, aromatic bitters and crushed ice. The presentation had us ooh-ing and aah-ing but after that first sip, we were speechless. It was so good. Almost majestic in the fact that it seemed like it would be a little bit much with that ancho chili, but the ingredients all complemented each other extremely well. Like I said earlier, the man knows his way around the bar.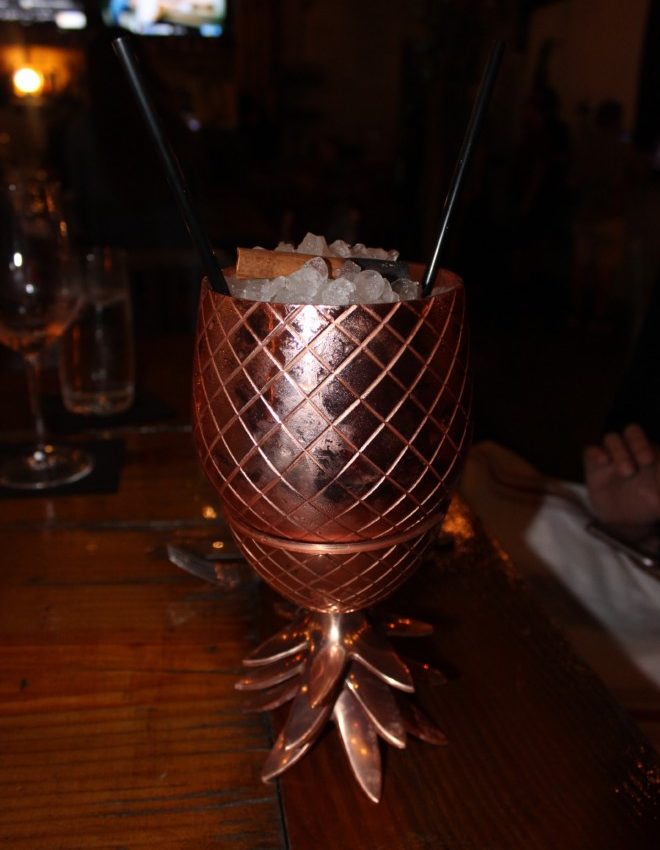 A few sips later and we were graced with the presence of fig and walnut bread pudding, a seasonally inspired dessert that oozed with all the things you love about fall. It was rich and decadent — and as if it couldn't get any better, it was served with house-made ice cream infused with Wynwood Brewing Company's Pops Porter and chunks of cookie dough. Yeah, you read that right. Beer-infused cookie dough ice cream. Are you drooling yet?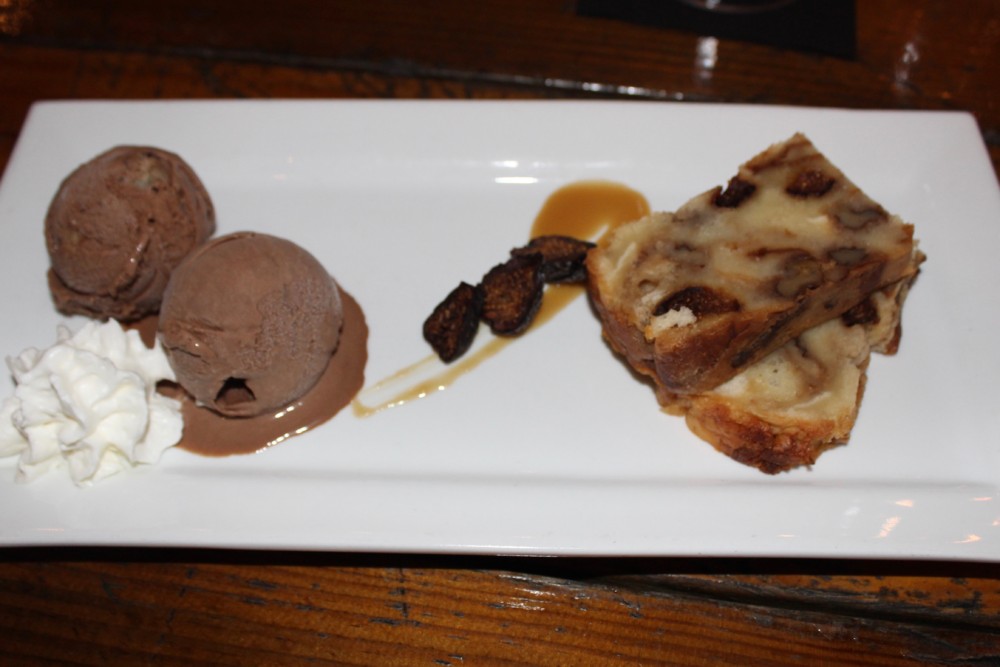 The team at CWS knocked it out of the park with this latest menu launch, and there's even more to look forward to with the new brunch menu coming soon — which, by the way, is served every Sunday beginning at 11am. CWS is closed on Mondays, but is open for dinner Tuesday through Sunday from 4-11pm, with a late night menu available Tuesday through Saturday starting at 11pm. Happy hour is Tuesday through Friday at the bar only from 4-5pm with $6 premium wine and cocktails, $4 craft beers and $2 vodka martinis. Other happenings include Whiskey Wednesday featuring 30% off pours and $5 Kentucky Bourbon Barrel Ales, and live music throughout the week — check the website for the full lineup!
CWS Bar + Kitchen is located at 522 Lucerne Avenue in Lake Worth.