I've visited home so much over the past couple of months. The summer was jam-packed with family events, putting me on a plane to Jersey multiple times.
First there was Rebecca's school musical, The Wedding Singer. She had one of the lead roles – Holly, the bitchy, slutty cousin of Julia. She was PERFECT. I am so happy I was able to be home for the show. Ugh, every time I watch her on stage I am so amazed and impressed by her talent. I'm a pretty proud big sister.
Then there was my cousin's wedding in May – a gorgeous (albeit cold), outdoor ceremony followed by a BBQ/picnic-themed reception. It was a short weekend trip, just long enough to enjoy some quality time with my dad's side of the family while we celebrated Emily and Mark's marriage.
A month later was Rebecca's graduation – an event I almost didn't think I'd make it home for. I did not want to miss it, and knew that if I did, my sister would probably want to rip my head off. So I found a way to make it work with my schedule and my bank account and headed home to watch her walk across the Egg Harbor Township High School football field and get her high school diploma. Another proud sister moment!
I wanted to go back in July to watch her as Tracy Turnblad in Hairspray. If you know my sister at all, you know that she was made for this role. There was really no way I could swing the trip though, so I had to miss it. But I saw some video clips and she nailed it. I can't wait until the DVD is finished so I can watch the entire show.
And so we come to my last trip to NJ for a while… Last week I went back to celebrate my dad's 70th birthday and Rebecca's send-off to Temple University. My mom successfully threw a huge party at our house for about 100 guests. There were people from all walks of life – family members, my dad's Philadelphia friends and work friends, family friends, and Rebecca's friends. It was a really awesome turnout and everyone enjoyed themselves. We even got Bec and Dad up in front of everyone to sing. We are a very musically-inclined family, so something like this was bound to happen. The food was simple but great – pizza and chicken tenders from Primo's, sandwiches, wraps, macaroni salad, potato salad and coleslaw from Romanelli's, fruit and cheese platters from B.F. Mazzeo's, and I made Mini Caprese Stacks and a Vegetarian Antipasti Salad. Dessert was two huge cakes from Dad's favorite gourmet bakery in Philly, Swiss Haus (nee Swiss Pastry). This Hazelnut cake has been his signature birthday cake since he was a kid. Without fail, every single year he takes the drive to the bakery in Center City Philadelphia to get one. But this occasion called for two – with hopes that there would be plenty left over for him and Mom to store in the freezer (and there was!).
Before my mini-vacay was over, I was able to check out Revel in Atlantic City. I went there once before when it first opened, but haven't been backsince. My older sister and her family stayed overnight there (they drove down from New York) so we met them for brunch the morning after the party. It was so fun getting to spend time with them. I haven't seen my nieces and nephew since before I moved; it's crazy how big they have gotten!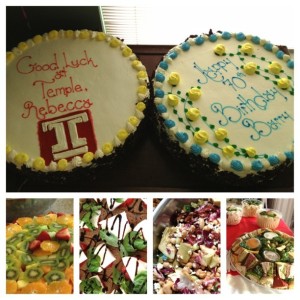 Revel is really nice, but it is so big…like, TOO big. It's insane. The rooms are gorgeous and have a really nice view overlooking the ocean. It sits right off the Boardwalk, and there is a private beach just for Revel guests. My dad and I walked through the casino and checked out the area before we ate at one of the hotel restaurants. Though the menu was very small and didn't have anything real gourmet or elaborate, the food was still pretty good. I got the Vegetable Panini with Portobello mushroom, roasted red pepper, spinach and mozzarella cheese, and a side of fruit.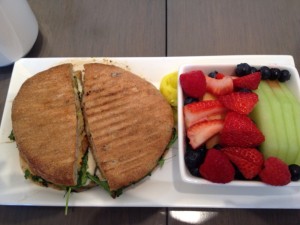 This last trip home was definitely a good one, but I have had my fill of New Jersey for a while. I think my next trip up north will be to Philadelphia to visit Rebecca at college, but I may have to wait until AFTER winter.

Posted with Blogsy