Never miss a bite! Sign up here to receive new recipes and reviews straight to your inbox.
I have never been to Dania Beach before. Driving through the town sort of reminded me of Wildwood, NJ — lots of seaside motels/hotels and old storefronts — and seems a bit touristy. Why did I venture out to this part of South Florida? My good friend Tricia is a manager at Quarterdeck, a casual seafood restaurant located right on the pier. Quarterdeck is also located on E. Las Olas Blvd in Ft. Lauderdale, in Davie, Plantation, and Jupiter. Dania Beach, however, is absolutely incredible. The restaurant sits directly over the ocean. Whether you're sitting inside or out on the deck, you can look down and watch the waves roll in and out and crowds of people walking up and down the pier taking in the scene.
It happened to being raining the night that Kathryn and I went, so we unfortunately were unable to sit outside, but the view was just as awe-inspiring from inside.
The menu isn't fancy but it isn't boring either — it's got your standard seafood favorites with a Floridian twist. Conch fritters, fried calamari, a dolphin Rueben sandwich, mahi tacos, lobster and shrimp pot pie, among many others. We tried the smoked fish dip and artichoke spinach and crab dip, both with the always-addicting tricolor tortilla chips. The crab dip was a bit heavy, as expected, but packed some serious flavor with chunks of artichokes in each and every bite — my favorite part! I liked the smoked fish dip better though, which is weird because I don't particularly like smoked fish. But as a dip? Yes pleeeease. Trish suggested we hit it with a splash of mild green tabasco sauce — what?! I hate hot sauce, but tried it anyway. Flavor explosion! I don't know what it is about the spicy sauce, but it really amplified the taste. No fishiness here!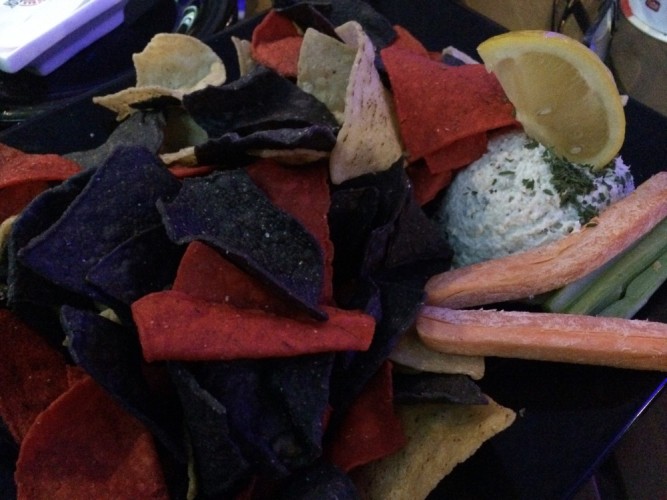 The Dania Beach Quarterdeck has an edge on some of the other locations — it has a full sushi bar! I went with the Dania Roll (how appropriate), a cucumber-wrapped roll filled with tuna, salmon, hamachi, crab, asparaus, masago, and scallions. Loved this! Riceless rolls can sometimes feel unfinished, like they're missing something (the rice, duh) — but I liked that there was nothing starchy to weigh down the roll. It was light, cool, and super refreshing.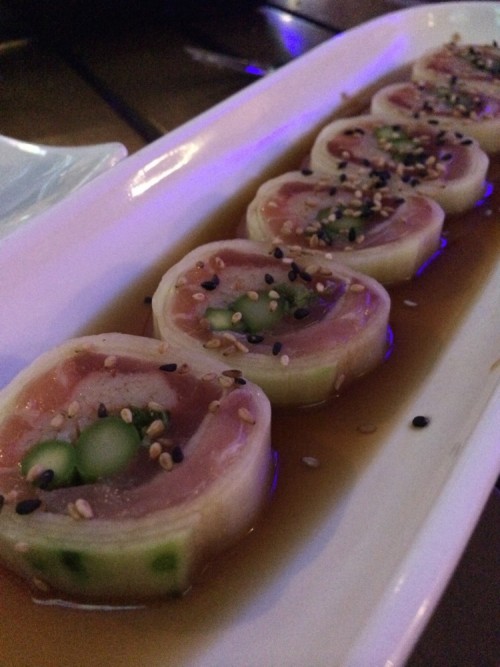 Kathryn ordered dinner from the regular menu and decided on the Balsamic Chicken Salad with grilled chicken breast, red onion, tomatoes, blue cheese, bacon, and black olives tossed in a balsamic vinaigrette dressing. A simple salad filled with delicious, good-for-you ingredients.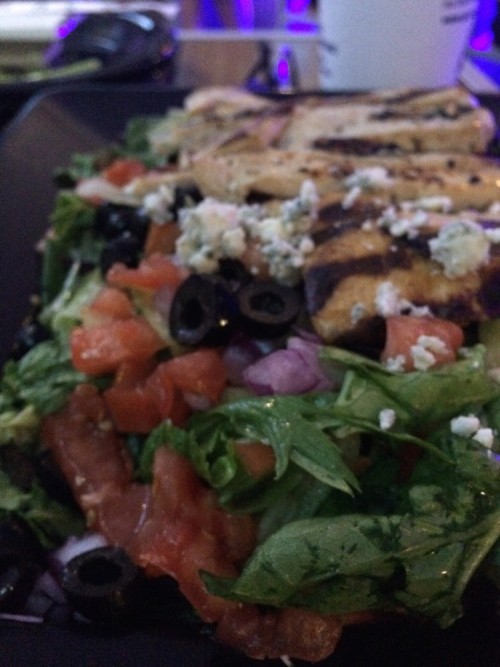 We may have filled up a bit too much on those tasty tortilla chips, but that didn't stop us from accepting the slice of triple chocolate cake that was brought to us. Oh. My. God. This cake… I will be recreating this at home very soon and can't wait to taste all of the chocolate amazingness again. Four layers of super moist chocolate cake held together with a supremely rich and decadent chocolate ganache, with even more of this insane ganache covering the outside, and dotted with little mini chocolate chips. It is every chocolate lover's dream cake.
I've got to head back to Quarterdeck on a nice, sunny day so I can really take in the gorgeous scenery. The atmosphere is very friendly and so is the staff. Even with a packed house both inside and out (despite rain!), the service was on point. Seafood fanatics will love the menu — actually, everyone will. The variety is great, especially knowing there is sushi too!
Quarterdeck Dania Beach is located at 300 N. Beach Rd. You really can't miss it. Just drive toward the water.
Disclaimer: My guest and I were both provided with a complimentary meal on behalf of the restaurant. As always, all opinions are 100% my own.