Life has been super busy. So busy that I haven't had time to even go food shopping in forever. So busy that I didn't even realize that I haven't gone food shopping in forever, until Sunday came and I wanted to bake something to bring to work on Monday. I always like to bake on Sundays so I have something to bring to work to start out the week on a sweet note.  I began looking for recipes while checking what ingredients I had on hand, and realized….I had no eggs. So my choices were limited. BUT, then I thought, I can go with a no-bake dessert, because duh, you don't need eggs in a no-bake recipe. I found this "eggless cookie dough" recipe on Pinterest. Perfect!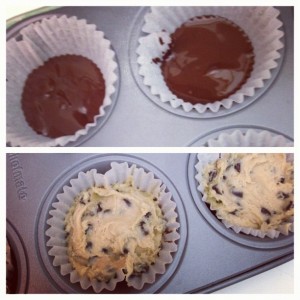 I'm not really sure why the recipe is geared toward "preggies." I'm most definitely not pregnant, but I still like the idea of eggless cookie dough because who doesn't love eating raw cookie dough before baking it into delicious little cookies? But I didn't just want to make cookie dough. That's too boring. I got out my muffin tin and liners, melted some dark chocolate chips, lined the cups with chocolate, topped with the cookie dough and voila! Cookie dough cups! 
I actually used butter as the recipe calls for instead of substituting like I usually do. This was partially because I didn't have applesauce, and partially because, let's be real, it's time to just throw caution to the wind and make a dessert the way it's supposed to be — sweet, decadent, and buttery! These were just that. The dark chocolate bottom gave it that sweet but bitter taste, and the cookie dough was extremely rich. I brought the batch to work and sugared up my co-workers. The cookie dough doesn't stay frozen as well as the chocolate bottom, but its creamy, doughy texture was delicious cold. I think the only thing that could have made these better was adding in some peanut butter… Oh, the possibilities…
No Bake Dark Chocolate Bottom Cookie Dough Cups
1/2 cup mini semi-sweet chocolate chips
1 cup dark chocolate chips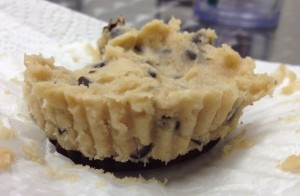 Mix together the brown sugar and butter until smooth. Add in the vanilla and milk and continue mixing. Stir in the flour and chocolate chips. Store in the fridge while you prepare your chocolate. Melt the dark chocolate chips in the microwave or over the stove. Line a muffin tin and pour about 2-3 tbsp of chocolate into each liner. Place into the freezer for about 10 minutes. Scoop out 2 spoonfuls of cookie dough into each liner and smooth out onto the edges of the liner. Place into the freezer until ready to eat.