Every good food blogger should have a go-to recipe for all the basics: chocolate chip cookies, chocolate and vanilla cake, a good chicken/fish/meat dish, etc.Sometimes it really can take a while until you find that one recipe that surpasses all of the rest. It will never fail as a base for whatever else you want to mix in. Like my Veggie Quinoa bowls – I change up the ingredients, but the basic idea is always the same. It's a genius last-minute dinner when you don't have the time or energy to cook something elaborate. But never mind savory dishes – let's talk dessert. Fudgy, chocolate, ooey-gooey dessert.
Thanks to Aimee of Shugary Sweets, I have finally found my go-to chocolate brownie recipe. Aimee's Perfect Dark Chocolate Brownie Recipe is by the far the easiest, quickest, most delicious brownie I have ever tried, and I've tried quite a few. My favorite feature is that everything is done in ONE bowl. Less clean up = happy Shaina. Yay! Everyone who tried these brownies said it was like biting into a piece of fudge. That is the best compliment one can receive when the goal is to produce a dense, rich brownie. And that is exactly what I wanted.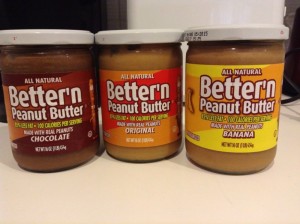 But instead of keeping it all chocolate, I added some of my favorite Better'n Peanut Butter into the mix for an extra kick. Better'n Peanut Butter is one of my favorite products on the market right now, and I never hesitate to make that known! I recommend it to everyone and use it in every peanut butter recipe I make. It's only 100 calories per serving (2 tablespoons), 2 grams of fat and 2 grams of sugar. No cholesterol, no preservatives, no refined sugars, and is made from non-GMO peanuts. Are you sold yet? Not only does Better'n Peanut Butter 85% less fat and 40% less calories than regular peanut butter, but it also has no saturated fat, no trans-fat and is dairy and gluten-free. The best part is that it seriously tastes just as good as – if not better than – regular peanut butter!
I've only used their original flavor — little did I know there were other flavors available. Better'n Peanut Butter sent me a boxful of their product. They sent the original, of course, but also surprised me with BANANA and CHOCOLATE flavored peanut butter, as well. I literally jumped for joy when I saw these flavors. No joke.
So let's just say these brownies didn't get an extra dose of flavor from just any old peanut butter – they were intensified by chocolate peanut butter (and some of the original, too, just because I could).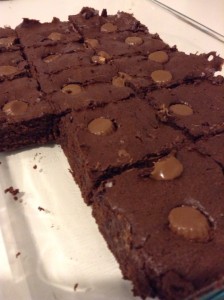 Dark Chocolate Peanut Butter Brownies
Adapted from Shugary Sweets Perfect Dark Chocolate Brownie Recipe
¾ cup unsalted butter, melted
1½ cup granulated sugar
¾ cup all-purpose flour
¾ cup dark chocolate unsweetened cocoa powder
3 eggs
¾ cup Chocolate Better'n Peanut Butter
¼ cup Original Better'n Peanut Butter
1 cup semi-sweet chocolate chips
20 mini Reese's Peanut Butter Cups
Preheat the oven to 350 degrees and line a baking dish with parchment paper.
In a glass bowl, melt the butter in the microwave for about 1 minute. Add in the sugar, flour, cocoa and eggs and stir until combined. Fold in the peanut butters and chocolate chips.
Pour the batter into the dish and spread evenly. Press the mini Reese's Cups all over the top of the batter, spreading them out evenly.
Bake for 25 minutes. They will appear a little under done when you first take them out, but that's okay because underdone brownies are what makes the world go round. Now don't let temptation get the best of you – make sure to let them cool before you dig in.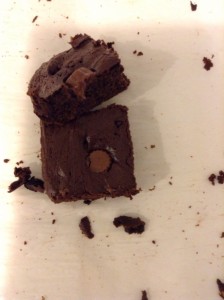 Disclaimer: I was sent free product from Better'n Peanut Butter to createrecipes to share with the brand. As always, all opinions are my own.

Posted with Blogsy