Disclosure: This is a sponsored post on behalf of Stonyfield Organic and Divine Chocolate. All opinions are 100% my own.
Dark Chocolate Raspberry Greek Yogurt Brownies are a guilt-free treat to satisfy your sweet tooth!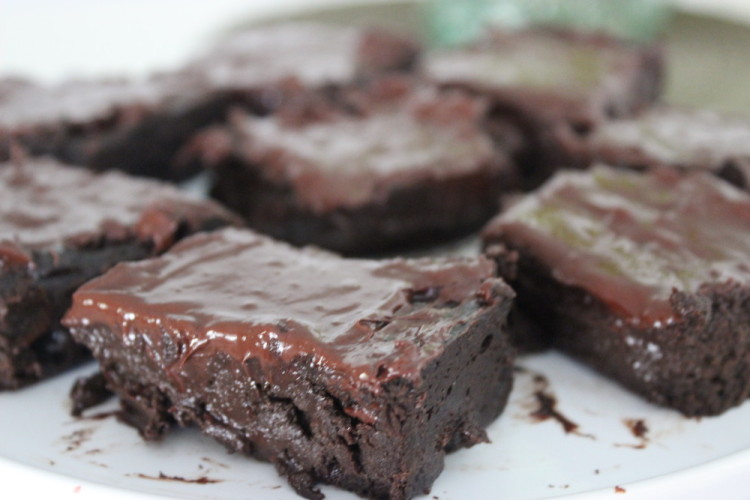 We all fall victim to the after-dinner need for dessert, am I right? Sometimes I feel like the day isn't over until I've had something sweet — even if it's just a tiny bite! I'm a total sucker for baked goods. If you put a plate of warm, soft, fresh-outta-the-oven chocolate chip cookies in front of me, you can bet I'm not going to stop at just one. Same goes for dense, fudgy brownies. These are necessary evils in life. Unless you figure out a way to make these indulgent treats somewhat good for you — or at least not as filled with calories and bad-for-you fat.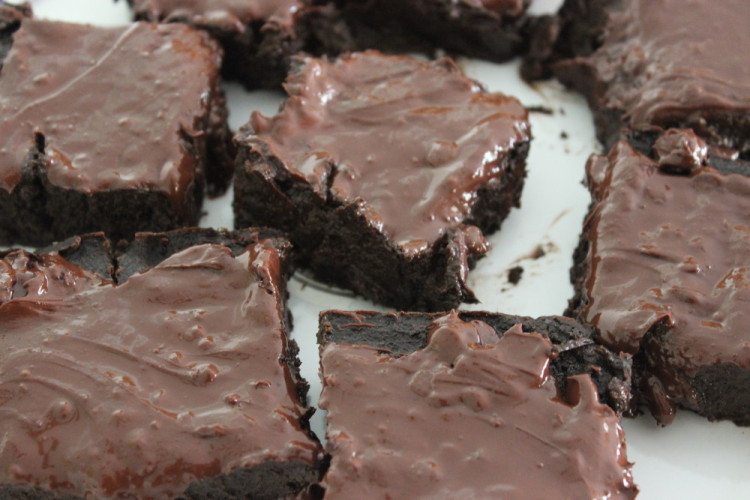 Enter these Dark Chocolate Raspberry Greek Yogurt Brownies — made with Stonyfield Organic plain nonfat Greek Yogurt, coconut oil, dark unsweetened cocoa powder, and Divine dark chocolate. No butter! No eggs! And you can really feel good about the chocolate used in these brownies because Divine Chocolate is co-owned by the 85,000 farmer members of Kuapa Kokoo, the cooperative in Ghana that supplies the cocoa for each of the chocolate bars. Owners get a share of the profits, a say in the company, and a voice in the global marketplace.  I used the Dark Chocolate with Raspberries for these brownies. But any of their yummy flavors would work too! Dark Chocolate with Mango and Coconut, Mint Dark Chocolate, Milk Chocolate with Toffee and Sea Salt. YUM!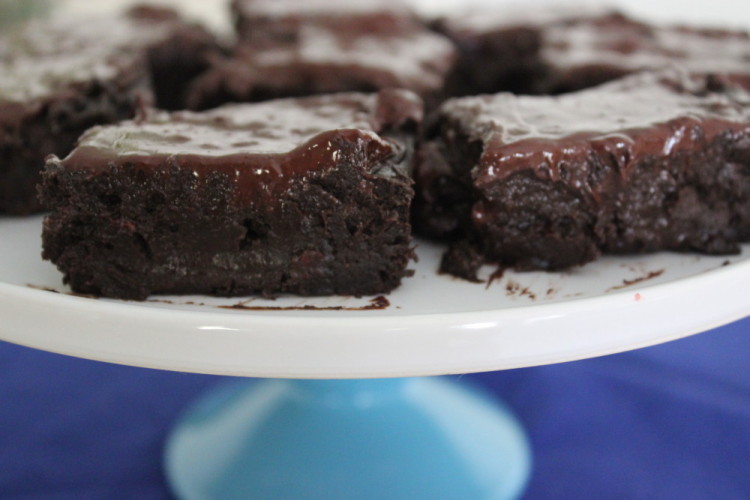 Whenever I'm looking to lighten up a recipe for dessert, I always turn to Greek yogurt to replace butter and/or oil. Here, the coconut oil was simply used to smooth out and thicken up the chocolate during the melting process. As a member of Stonyfield Organic's Clean Plate Club, I always have Greek Yogurt on hand to use whenever I'm baking. Just look how beautiful the melted chocolate and Greek yogurt look all swirled together!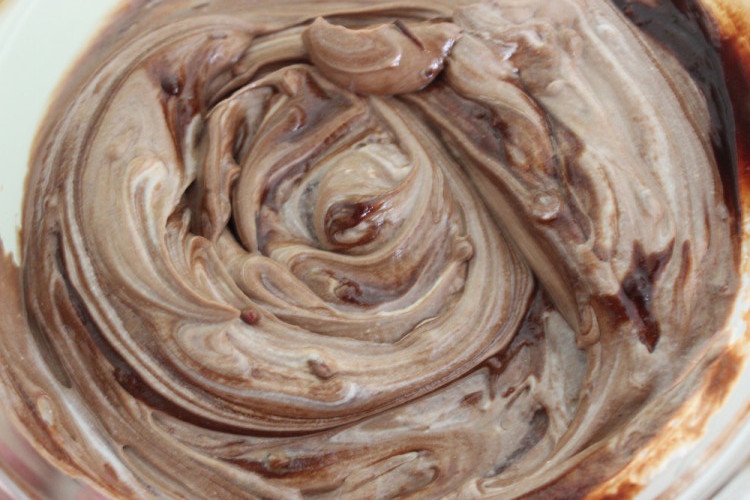 Dark Chocolate Raspberry Greek Yogurt Brownies are the perfect blend of decadence — THREE kinds of dark chocolate are used. We've got the cocoa powder, Divine Chocolate, and on top we have melted dark chocolate chips for a ganache-like icing.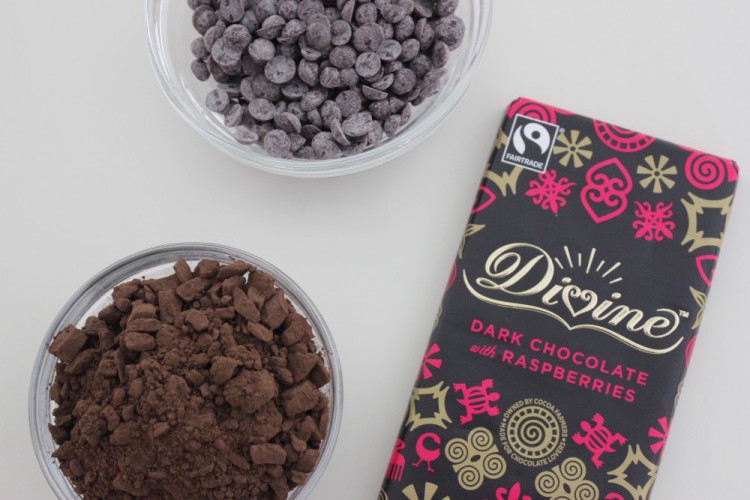 I don't know about you, but I'm totally in the mood for dessert…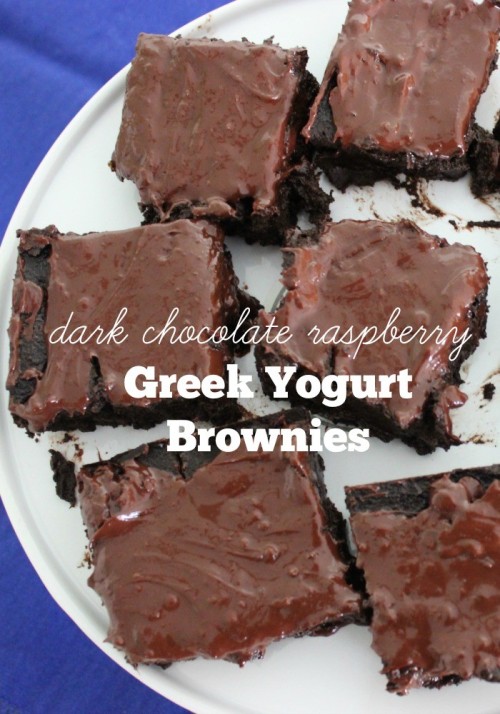 Dark Chocolate Raspberry Greek Yogurt Brownies
Author:
Dark Chocolate Raspberry Greek Yogurt Brownies are a guilt-free treat to satisfy your sweet tooth!
Ingredients
1 3.5 oz Divine Dark Chocolate with Raspberry
2 tbsp coconut oil
1/2 cup unsweetened dark cocoa powder
3/4 cups granulated sugar
1/4 cup light brown sugar
3/4 cups white whole wheat flour
1 1/4 cup Stonyfield Organic plain nonfat Greek yogurt
1 tsp pure vanilla extract
1 cup mini dark chocolate chips
Instructions
Preheat oven to 350 degrees. Grease an 8×8 baking dish with cooking spray and set aside.
In a large glass bowl, melt the dark chocolate bar and coconut oil in the microwave until smooth.
Whisk together cocoa powder, granulated sugar, brown sugar, and flour in a medium bowl.
Stir the yogurt and vanilla extract into the melted chocolate until fully incorporated.
Add the dry ingredients a little at a time, and mix until just combined.
Scoop the batter into the prepared baking dish and spread evenly.
Top with mini chocolate chips and bake for 23-25 minutes.
Notes
Adapted from Back for Seconds: http://backforseconds.com/fudge-brownies-made-with-greek-yogurt/#_a5y_p=3592488