Never miss a bite! Sign up here to receive new recipes and reviews straight to your inbox.
Disclosure: I was invited to dine as a guest of Deck 84. No monetary compensation has been received for this post. As always, all opinions are 100% my own.
Delray Beach's waterfront destination, Deck 84, has introduced its new Executive Chef Michael Romano as well as the launch of the new fall/winter menu, with some of your favorite dishes back in house!
There is only one place in Downtown Delray where you can enjoy fresh seafood, an open air breeze and a perfect view of the Intracoastal, and that's Deck 84. A staple part of the Rapoport's Restaurant Group (which also owns Burt & Max's, Henrys and the soon-to-open Prezzo), Deck 84 has been named Top 100 Al Fresco Dining Restaurants by Open Table in 2012, 2013 and 2015, and is the number one answer to your need for a fun, casual environment with good food, good drinks and good vibes. It's my go-to spot on the Avenue, whether for a happy hour cocktail and snack anytime of year or to watch my Eagles during football season.
The launch of the new fall/winter menu has everyone excited, especially because it not only introduces some brand new yumminess, but it also means we get to say hello to the brand new Executive Chef, Michael Romano! Chef Romano has a lot of experience working in steakhouses, which has instilled in him some very high standards and attention to detail — two things that are very much needed in the kitchen. Chef Romano is influenced by his Italian roots, and a love for Mediterranean and Caribbean cuisine. Oh yeah, he's going to fit in very well around these parts…
I was excited to hear that the menu would be reintroducing one of my favorite dishes — the jumbo lump crab cake! YES — it's back and better than ever, now offered as an entree with an avocado-mango salsa and asparagus. I remember last year, when I was working with the Rapoport Group, I filmed a video of the current chef demonstrating how to make their signature crab cakes. There is nothin' but love going into those cakes — crabby, delicous love. And the salsa? Full of tasty tropical flavors that really make you feel like you're on an island, sippin' on tropical drinks and enjoying a yummy snack.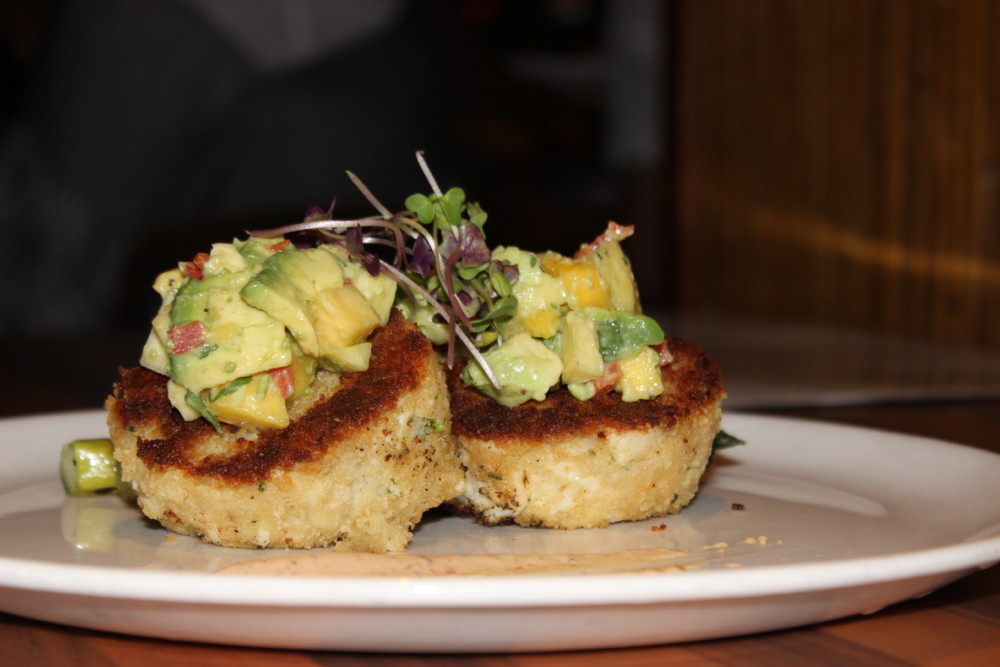 Speaking of tropical drinks, along with the new menu, Deck 84 has also introduced new tiki-inspired cocktails. Kick back and relax with the coconut tangerine fresca made with Don Q coconut rum, Monin tangerine syrup, fresh OJ, lemonade, coconut syrup and lemon-lime soda — or if you're looking for something more spicy than sweet, check out another new cocktail, the spicy peach margarita made with blue nectar silver tequila, fresh lemonade, Berentzen peach liqueur and jalapeños. Don't be alarmed by the jalapeños; the drink is really not that spicy. It's a margarita with a kick, but it won't kick you out the door…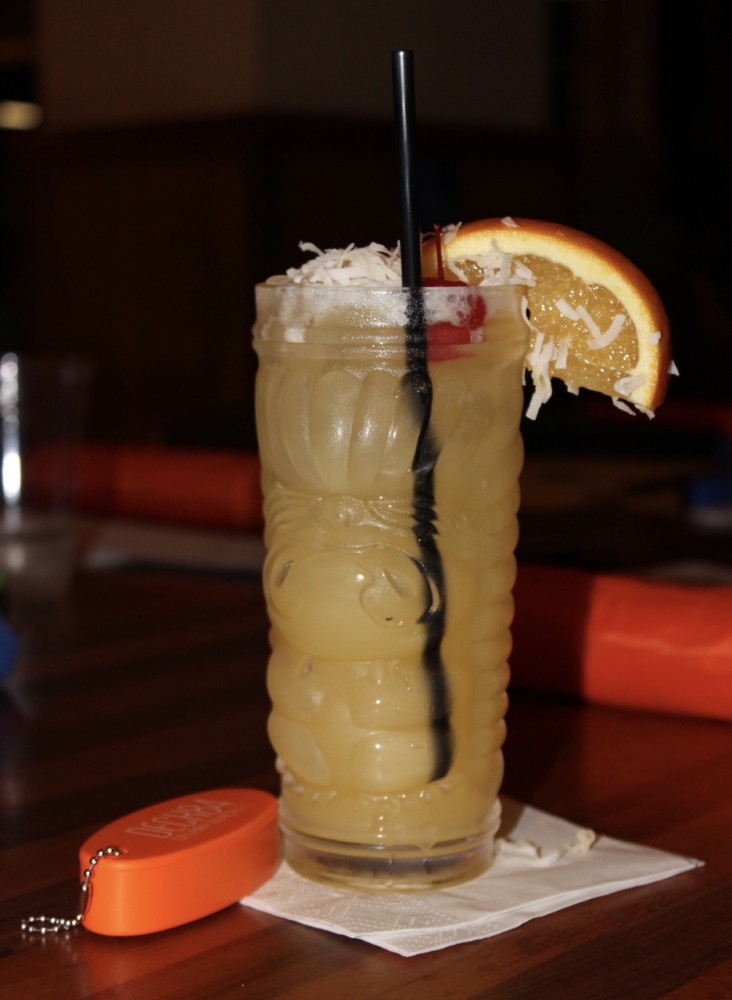 If there's one ingredient that's the star of the show this season at Deck 84, it's crab. Along with bringing back the crab cakes, Executive Chef Michael has created a jumbo lump crab stack appetizer. I actually had a chance to try this a few weeks back when it was a special and was loving every bite. I'm happy to see it has made its way onto the menu and seems to be a fan favorite among guests. The stack features layers of mango, avocado and jumbo lump crab with pickled red onions and a chipotle remoulade sauce that you will want to pour on everything. This is a great sharing appetizer — but let's be real, you're not going to want to share this with anyone.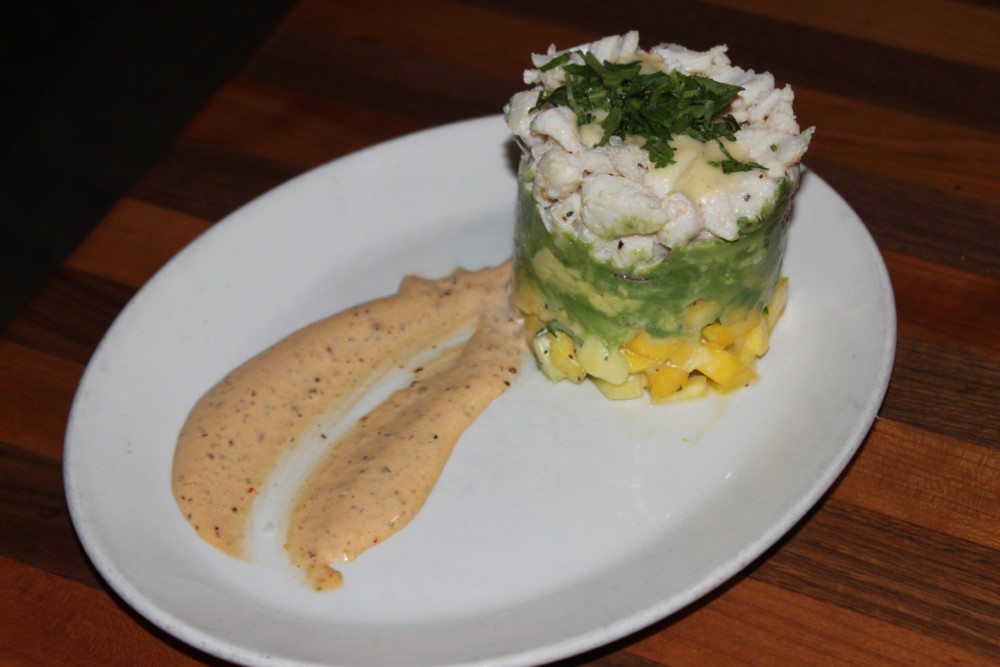 Another oldie but goodie that's back on the menu is the pear and brie flatbread, now with Chef Romano's flair. Crispy flatbread is topped with slices of poached pear, brie, miso bacon brittle, lemon-balsamic reduction and baby arugula. I love this combination of ingredients (minus the bacon), especially during the fall and winter months. This dish joins the popular tomato and mozzarella flatbread, giving guests who crave a flatbread a little more of a variety to choose from.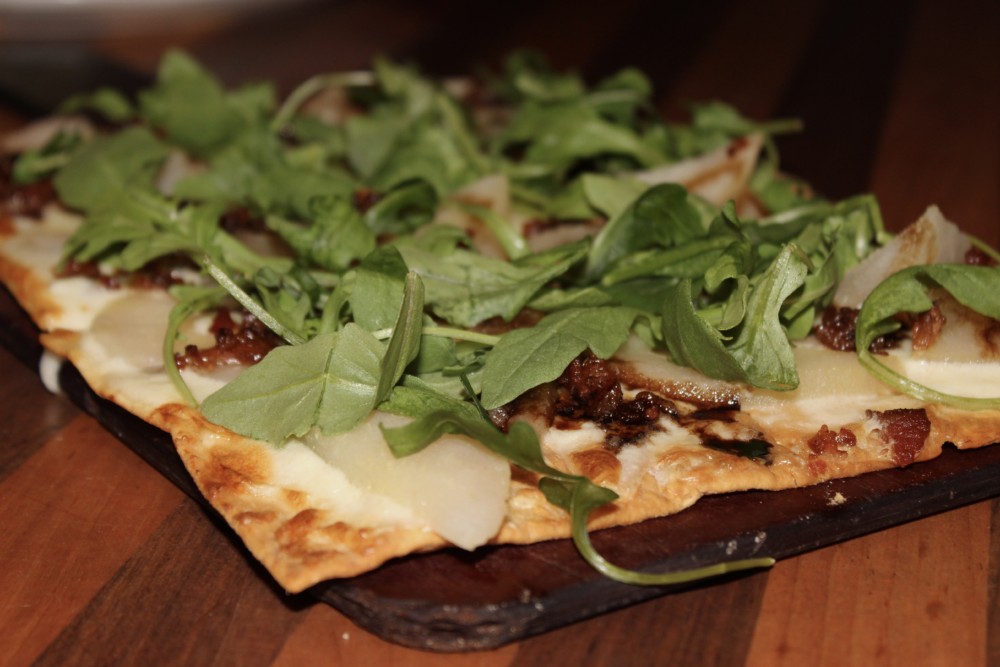 Rounding out the new appetizers are the chicken wings, smothered in a sticky sweet Thai chili sauce and cooked to perfection. I tasted that sauce, and I'm thinking some cauliflower "wings" would be a good vegetarian alternative! Or shrimp… That sauce would be fantastic on shrimp too! (Hey Chef, hint hint…)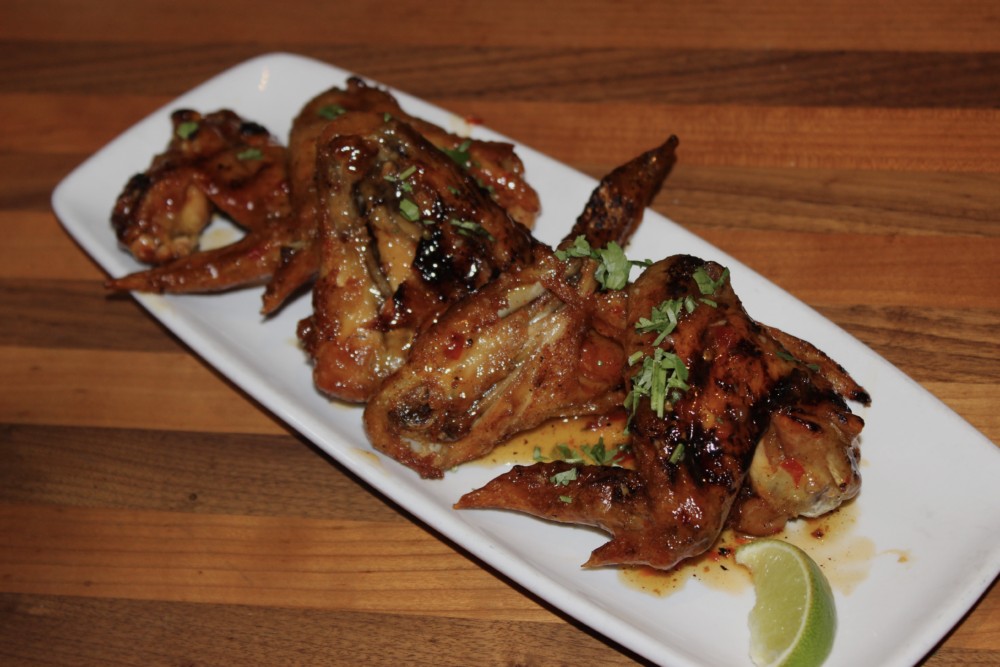 I mentioned earlier how crab is the ingredient of the moment this season at Deck 84 — we saw it again in the new tuna steak entrée with wasabi créma, crab fried rice, sautéed spinach and spicy mayo. The Ahi tuna was perfect — so fresh and so good! With so many takes on Ahi tuna all over the restaurant world, this is a unique presentation. The fried rice is filled with huge chunks of crab meat and both sauces on the plate are good enough to eat on their own. I made sure to savor this dish, since the next two were meat heavy…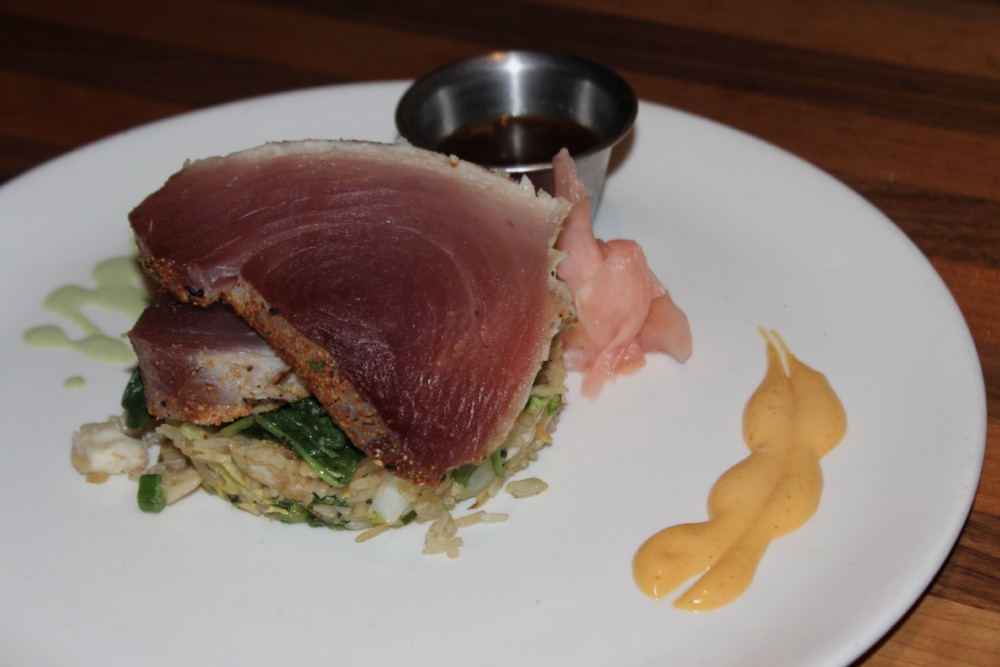 Chef Romano brought his steak game strong — the menu now has a brisket sandwich and a prime flat iron steak entrée. The flat iron dish reminds me very much of a steakhouse staple, with roasted fingerling potatoes and green beans on the side and a red wine reduction sauce with mushrooms. The sandwich, piled high with slices of brisket, made me think of my childhood and the way my Bubby's apartment would smell while brisket was cooking during the Jewish holidays. Brisket might be the only meat I kind of miss eating. This particular brisket is glazed in BBQ sauce and topped with pickled red onions, smoked chili cheddar and a smokey aioli sandwiched between a ciabatta roll. A side of Deck 84's crispy french fries make it that much better.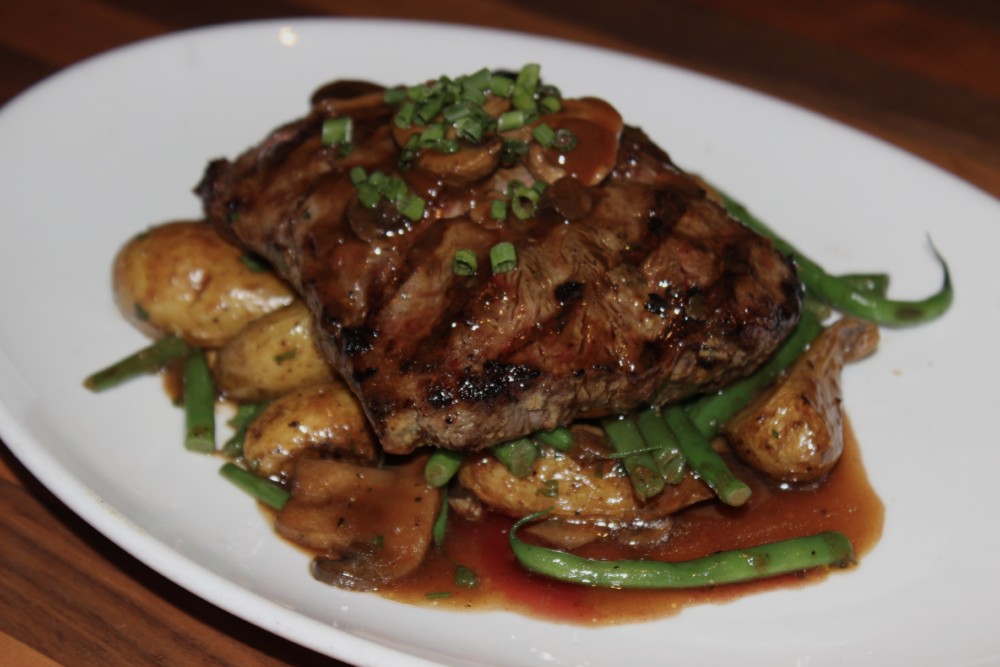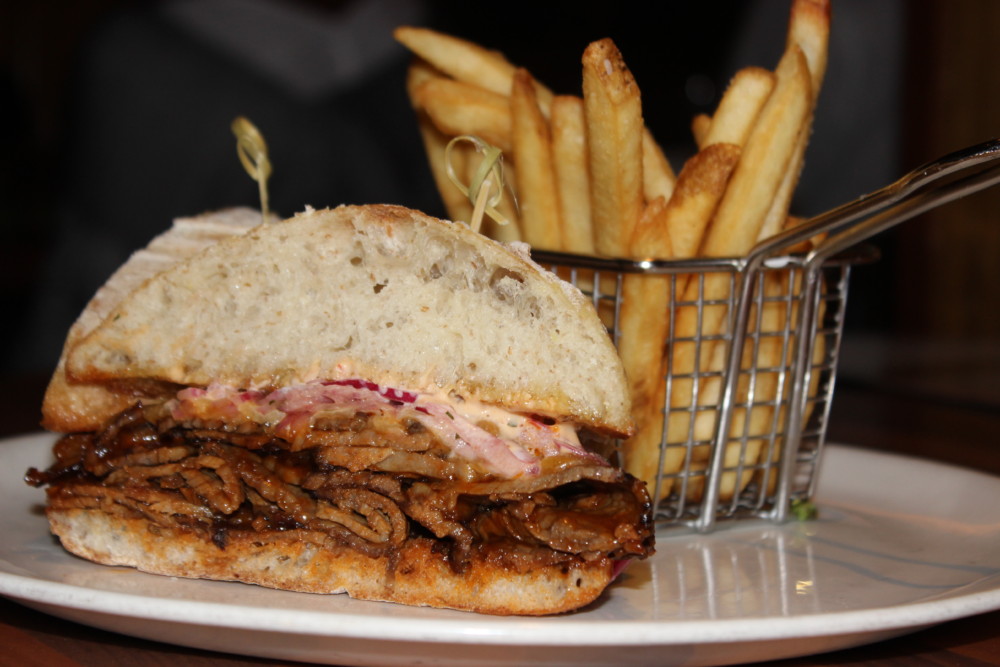 Let's go back to the beginning when we felt like we were on vacation with our tropical tiki cocktails, crab cakes and waterfront views, and top it all off with dessert in a coconut shell. Creamy coconut gelato with a mango sorbet center fills the inside of half a coconut, topped with toasted chocolate shavings. For an extra $4, you can add a big ol' floater of Mount Gay Black Barrel rum poured over top. The flavors will exceed your expectations, and I promise you — you will not be able to set down your spoon.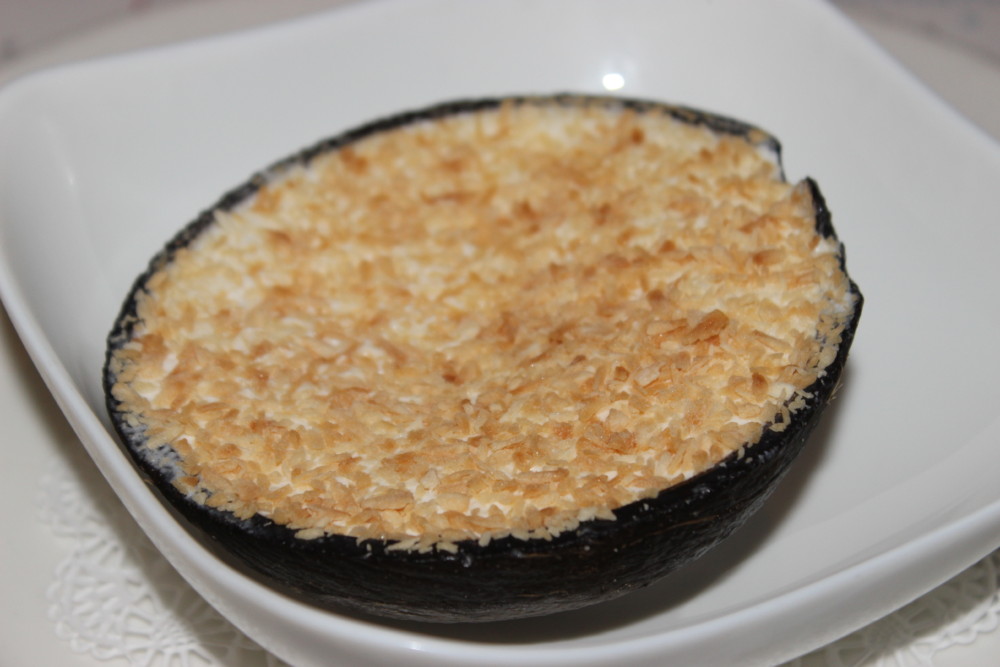 For the chocolate lover, Deck 84 has you covered with their chocolate cake with chocolate fudge frosting. Sounds simple, but why fix it if it isn't broken? Four layers of moist chocolate cake with a super tender crumb are separated by a rich, decadent, lusciously smooth chocolate fudge frosting. This cake doesn't need any bells and whistles, because it is bells and whistles.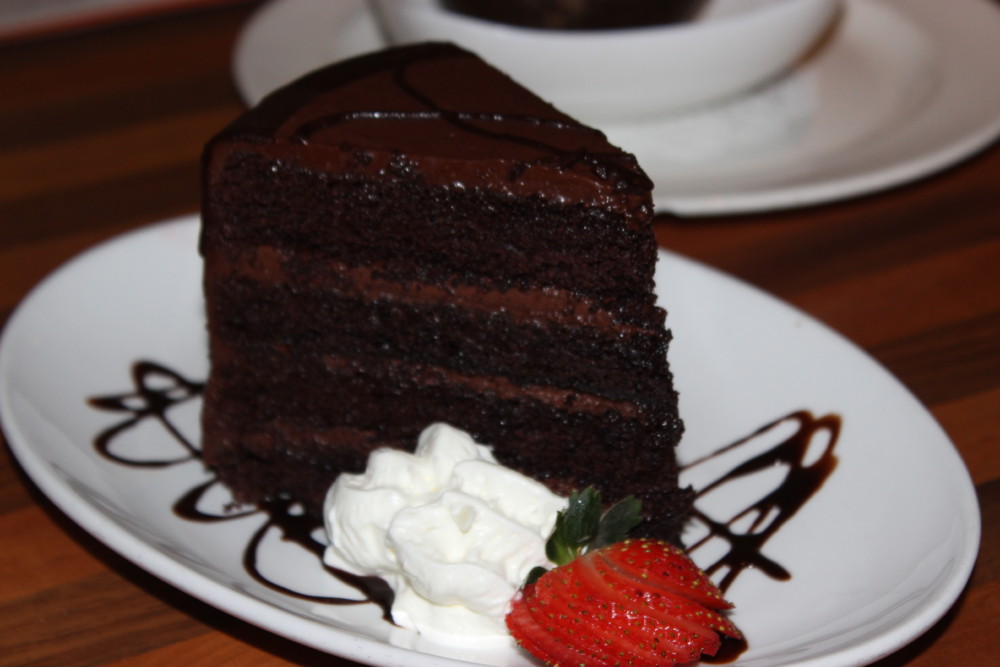 There's always something fun going on at Deck 84. Enjoy the Taco Tuesday special featuring a $16 taco plate with three tacos, rice and beans, and a choice of Landshark draft, house margarita or soda, live music on Saturday and Sunday from 1:30-5pm, and Happy Hour Monday through Friday from 3-6pm at the bar and high tops featuring half-priced draft beer, wine and spirits and a special bar menu. Brunch is offered Saturday from 10:30am-3pm and Sunday 10am-3pm featuring a build-your-own Bloody Mary bar. Deck 84 is located at 840 East Atlantic Ave. in Delray Beach.