Never miss a bite! Sign up here to receive new recipes and reviews straight to your inbox.
Deerfield Beach is a happening little town, especially when you go down to the beach where visitors and locals alike fill the pier, walking, biking and soaking up the sun. On the corner of A1A and 2nd Ave is a Wyndham hotel, with two very different restaurants — one is Burger Craze, a beach-friendly burger joint with speciality drinks and unique, fresh ingredients. The other is Café Med, an authentic Italian restaurant known for it's fresh Italian fare and seafood, and one super creative chef. Chef Tulio recently debuted nearly two dozen new menu items after his recent trip to Arthur Avenue in the Bronx, Manhattan and Boston's North End. He was inspired by simple, fresh ingredients and Old World tradition and wanted to bring these features to the menu at Café Med.
And boy, are we glad he did…
I was joined by my good friends Nancy and Stef for dinner. After marveling over the gorgeous location and beautiful weather, we were seated outside and introduced to Chef Tulio and the Assistant General Manager/Sommelier, Marco, who graciously offered to pair wines with each of our courses that evening. Together, Tulio and Marco were about to give us one hell of a dining experience — truly something we would not soon forget. We started with a little bubbly. Prosecco was a great way to start the evening, especially on a warm Florida night by the ocean, cool breeze included. We "cheers"ed and proceeded to rip off pieces of freshly baked bread and smother them with the spread of fixings in front of us — parsley pesto, artichoke and red pepper spread and olive tapenade. I'm not at all fan of olives, but Nancy and Stef both really liked the tapenade. I, on the other hand, could have eaten that artichoke and red pepper spread with a spoon!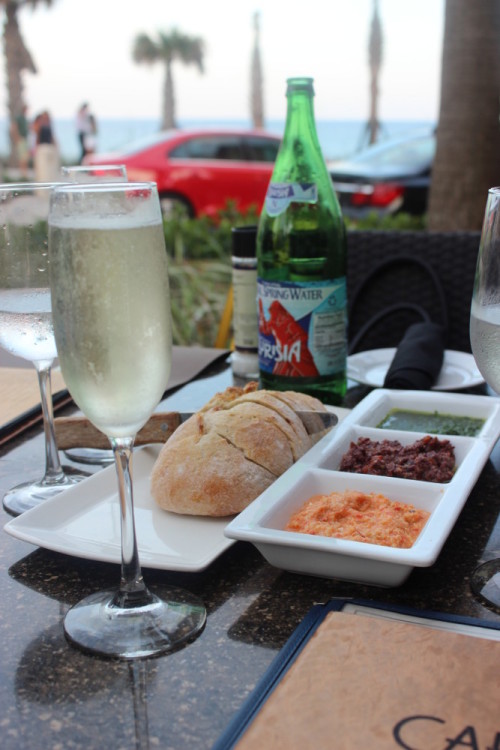 Chef Tulio asked us if we wanted to order food or just "let him cook." When a chef offers to cook for you, you let him do his thing. Our only request was that he bring us the octopus! This antipasto is one of the additions to the menu, and it was absolutely incredible. Served family style, the Polipo E Fagioli features imported Mediterranean octopus tossed with cannelloni beans, red, yellow and green peppers, red onions, extra virgin olive oil and lemon juice, served on top of a bed of arugula. Marco paired this gorgeous dish with a light and crisp Jermann Pino Grigio, which we all really enjoyed. The octopus was tender and moist and had the perfect amount of char. I loved the bright flavors in the salad. Honestly, I'd go back to Café Med simply for a glass of wine and this octopus salad. I probably could have stopped there and been happy with the experience… But I'm smart enough to know better.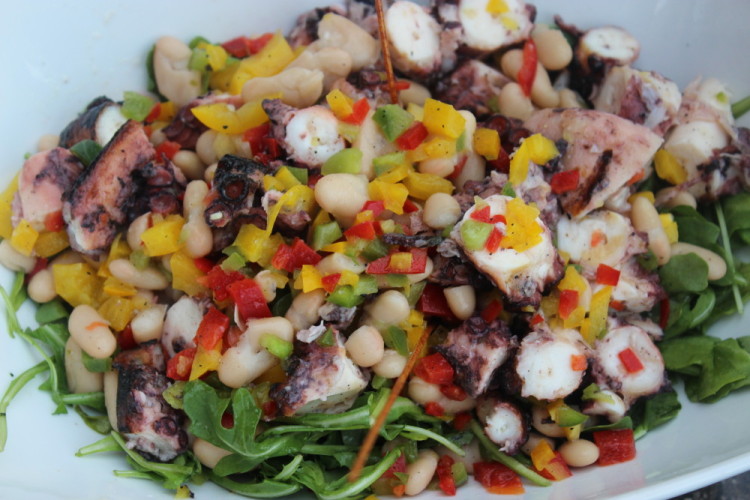 Before long, Marco was back with a Jermann Chardonnay to pair with our next course. Chef Tulio took a few liberties in this one. Since both Nancy and I don't eat red meat, he changed up the Salsiccia E Polenta, normally made with Italian sausage made exclusively for Café Med back in NY on Arthur Avenue, and instead used shrimp. The shrimp is sautéed with onions, red and green peppers, garlic and crushed red pepper, tossed in a balsamic glaze and topped with crispy polenta. Those crunchy little pieces of polenta were the best part! None of us have ever had polenta cooked this way and we were all really loving it. Just because you don't eat meat doesn't mean you have to forgo tasting this delicious dish — just ask Chef Tulio! He can prepare it for you like he did for us. In fact, Chef loves when his guests ask him to prepare food specially for them. He is always up for the challenge, so don't hesitate to ask!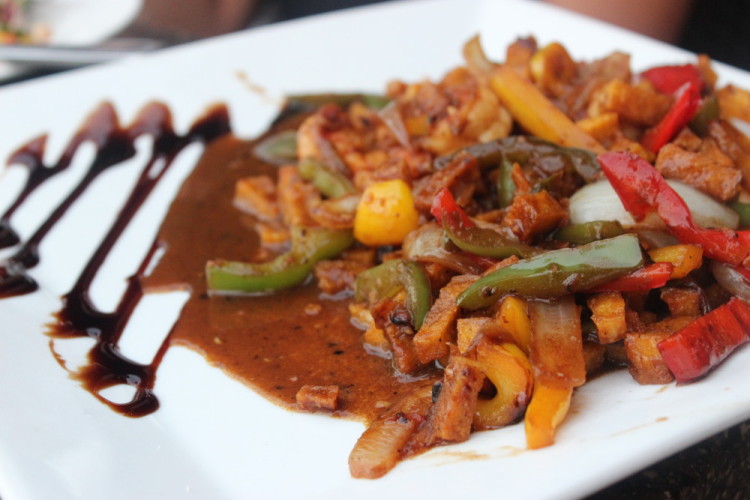 Chef brought the next dish to the table, wrapped in tin foil. As he set it down in between me and Stef, all I could smell was….TRUFFLE! I practically squealed with excitement as he slowly opened the foil and revealed a beautiful assortment of homemade pasta, zucchini, yellow squash, cherry tomatoes, porcini mushrooms and garlic tossed in a mascarpone truffle sauce that had all been steamed inside that foil pack. The Strozzapreti Al Tartufo might just be the best pasta dish I have ever had. There's nothing quite like fresh pasta made from scratch — it was a tad al dente and had a nice amount of bite to it. The truffle sauce clung to each and every vegetable so that no matter what your forkful, you were getting a hefty dose of flavor. I take back what I said before. I'd go back to Café Med for the octopus and this pasta!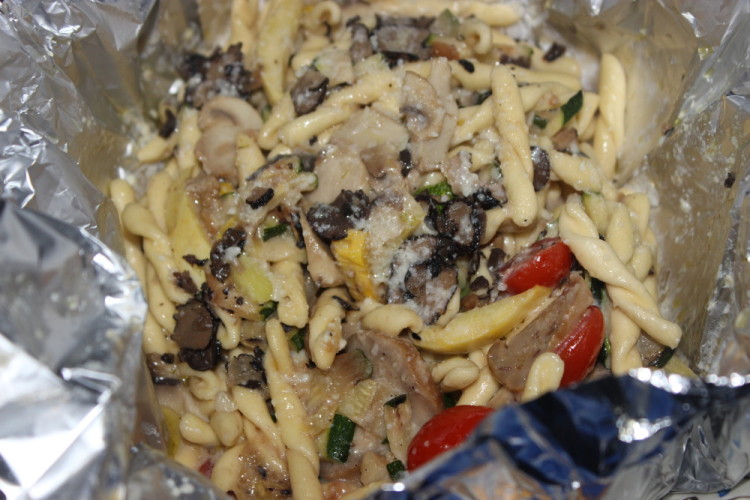 Marco brought out another white wine as we got ready for our fourth course — I Pentri Flora Falanghina. Although we were pretty stuffed, we anxiously awaited Chef Tulio's next surprise. Out came a huge platter filled to the brim with seafood. This was the Cioppino with half Maine lobster, fresh Florida hog snapper, jumbo shrimp, mussels, clams and calamari in a garlic plum tomato sauce. This was a treat! I'm not sure if any of us said one word as we cracked our lobster tails, fished (aha!) through the sauce for pieces of calamari and snapper, and released mussels and clams from their shells. The flowing wine, the gorgeous fresh seafood — we were in heaven.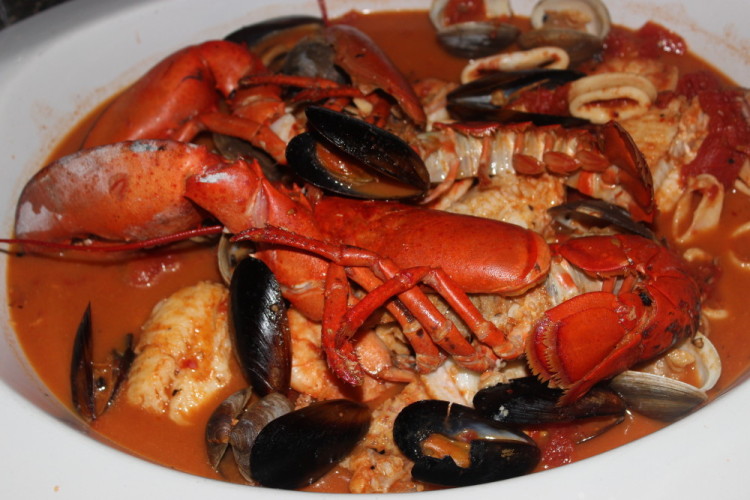 But wait! You know there's dessert coming. We were brought two traditional Italian sweets — Panna Cotta and Tiramisu. Both were delicious, but I think Chef Tulio's strong point was definitely those amazing seafood dishes. I need to go back — that octopus is calling my name!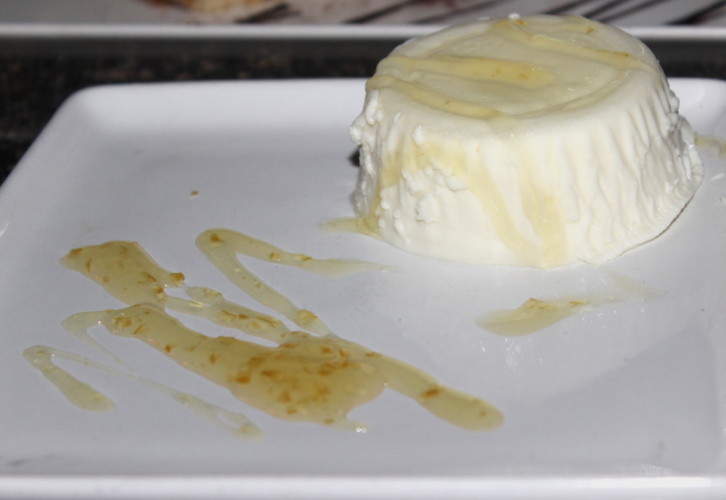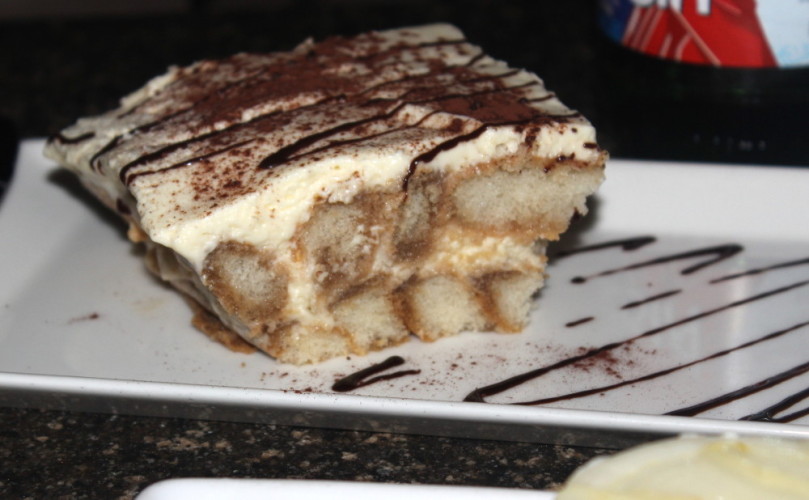 Café Med is located at 2096 NE 2nd Street in Deerfield Beach.
Disclosure: The three of us were invited to dine as guests of the restaurant. No monetary compensation was received for this review. As always, all opinions are 100% my own.