NOTE: This restaurant has since closed.
I may not go gaga for "organic" foods like some people, but I do love the word "FRESH." Fresh fruit, fresh vegetables, fresh fish – to me, this is the way to go. Fresh sometimes does mean organic, but I just like the sound of this word much better. Fresh foods not only taste better, but they look prettier too! Picture a bushel of bright, green fresh baby spinach leaves. Now picture a hard-as-rock block of dark, green frozen spinach. Which one looks more appetizing to you? Yes, frozen spinach has just as much nutritional value and can be used in almost all of the same ways, but there is just something about buying a bag of fresh spinach that wins me over.
Anyway, the point is that there are a lot restaurants opening up that are focused on serving fresh, farm-to-table, good-for-you food. Delray Beach is home to a few, one of them being Dig, which stands for "Doing It Green." Its tagline is "Big Flavors…Small Footprint." The whole idea behind this new restaurant is to give patrons great-tasting food using only the freshest, seasonal ingredients. They use only organic fruits and vegetables, and strive to stay environmentally friendly and efficient with all of their food preparation. My friend Lauren and I decided to give the place a try – we were going out to dinner and wanted to go somewhere neither of us had been before. She doesn't eat any meat, and I don't eat red meat or pork, so we have our limitations, but there was plenty for us on the menu. It isn't a very large menu, but there is a good variety and the prices aren't bad. The portions were right, too. We split an appetizer and each got a salad and were very satisfied with our meals. The Hummus Trio was amazing. I actually wouldn't mind ordering this as my dinner. I highly recommend you get this for the table when you dine at Dig. It came with 3 different flavors of hummus: eggplant-pumpkin seed, black bean-chipotle, and basil sun-dried tomato and was accompanied by grilled baguette slices and raw carrots, zucchini and squash. Our favorite was the basil sun-dried tomato, though all three flavors were great. They were smooth and creamy without feeling too heavy.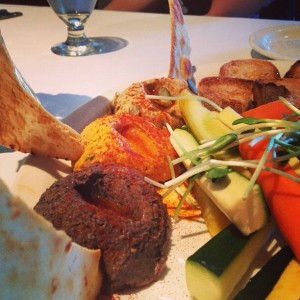 We each ordered the same salad for dinner too, the Strawberry & Beet Salad with baby spinach, strawberries, roasted golden beets, sunflower seeds, goat cheese and a Dijon-balsamic vinaigrette. We LOVED that salad, although it was really heavy on the spinach and I wish I had more strawberries and beets in mine! The dressing to salad ratio was spot on, which is super rare when it comes to restaurant salads.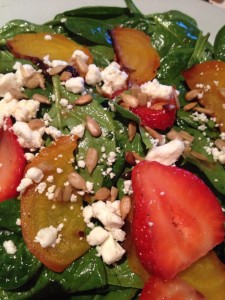 We were eyeing other menu items that sounded good to us for our next visit. The organic vegetable lasagna particular caught my attention with pomodoro, basil pesto, shaved parmesan and sunflower sprouts. If it wasn't so hot out, the Moqueca with shrimp, organic seasonal vegetables, rice noodles, red curry, cashews and cilantro-coconut milk would have been my choice, but curry whenit's 90 degrees outside does not make for a pretty picture. I'd be dripping sweat. Sorry for the gross visual, but you know you'd be in the same boat.
The restaurant is large and wasn't too full, but the crowd that was there seemed to really be enjoying themselves. The food is good and (good for you), the atmosphere is pretty and the staff is friendly. I hope Dig sticks around because I really like the concept, and definitely want to go back again.

Posted with Blogsy