Never miss a bite! Sign up here to receive new recipes and reviews straight to your inbox.
Disclosure: I was invited to dine as a guest of the restaurant. No monetary compensation has been received for this post. As always, all opinions are 100% my own.
There's no shortage of places to grab Asian cuisine in South Florida — but there IS a shortage of places where you can get a meal as unique and delicious as you can at the newest Thai restaurant to hit the area, EaThai. Restaurant owner, So, prides himself on serving "classical Thai cuisine with a modern ambiance to appeal to everyone from the Thai traditionalist to the first time Thai diner." He wants every guest to leave feeling as though they've had a true Thai experience — and that was definitely the case after my recent dinner there.
A few other local bloggers and I arrived with big eyes and empty bellies, ready to dive into the tastes of Thailand in a way we never have done before. Upon looking at the menu, I knew we were in for a treat. There were so many dishes I have never seen on any other Thai menus. Of course there's your typical Pad Thai and Papaya Salad, but many of the other dishes were totally new to me. When you visit EaThai, have an open mind and give everything a try — you will not be disappointed!
We were served a variety of appetizers to share including the Shrimp Thai Ceviche, Quinoa Spicy Thai Southern Salad, and the "Horseshoe," an interesting sweet treat that I almost would rather have for dessert. A slice of tangerine is topped with caramelized peanuts, coconut, and radish to make for one absolutely delicious bite. And yes, they're basically small enough to eat the entire thing in one bite.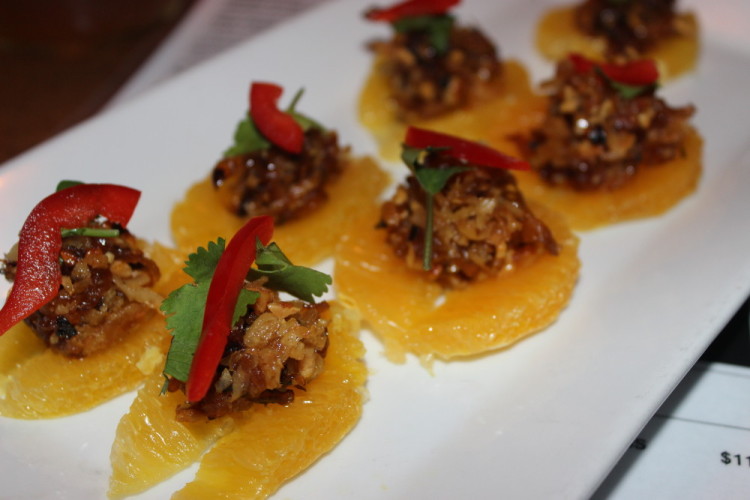 The ceviche was one of the spiciest dishes I have ever tried — it was verging on too spicy for most of us, but still very flavorful. Raw tiger shrimp is topped with a fresh chili-garlic puree, and since everything is made to order in the EaThai kitchen, you can definitely request to dial down the spice a bit, however for this dish in particular, the spice is part of the essence of the dish — so I'd imagine no matter how much they dial it down, it's going to have a kick.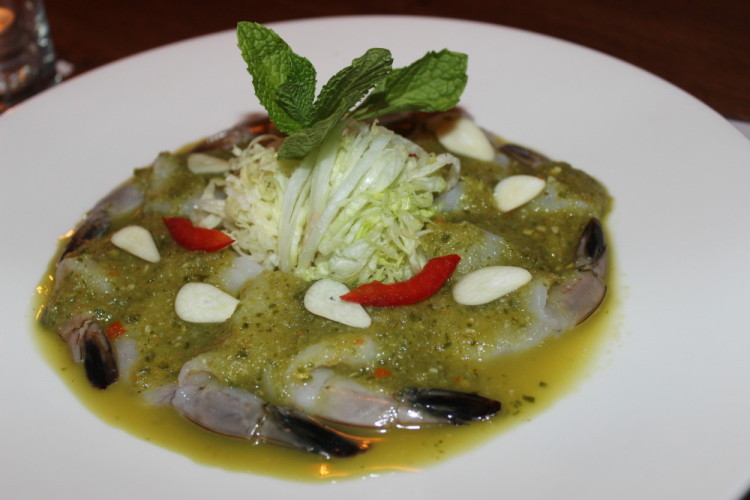 The Quinoa salad was also pretty spicy, but nowhere near as much as the ceviche. It was a beautiful, tasty dish made up of lime leaves, long beans, lemongrass, cucumbers, pomelo, and bean sprouts. Most dishes at EaThai have a very discernible heat factor. If spice isn't your thing, this might not be the place for you. Like I said, you can ask for a dish to be mild, but it seems that spice is pretty much their thing.
More share plates came out including the Coconut Rock Shrimp, Thai Chicken French Toast, Thai Chicken Wings, and Papaya Salad. I loved the chili-honey sauce that came with the shrimp, and they were perfectly crispy and delicious.
A hot pot full of Thai Bouillabaisse was served next — cilantro, scallion, lime leave, basil, enoki mushroom, white mushroom, bird eye chili, crab meat, mussels, shrimp, and calamari, in a spicy lemongrass broth. Yep, another spicy one! I loved this soup though. The mussels were HUGE, the seafood perfectly cooked, and the broth full of extreme flavor.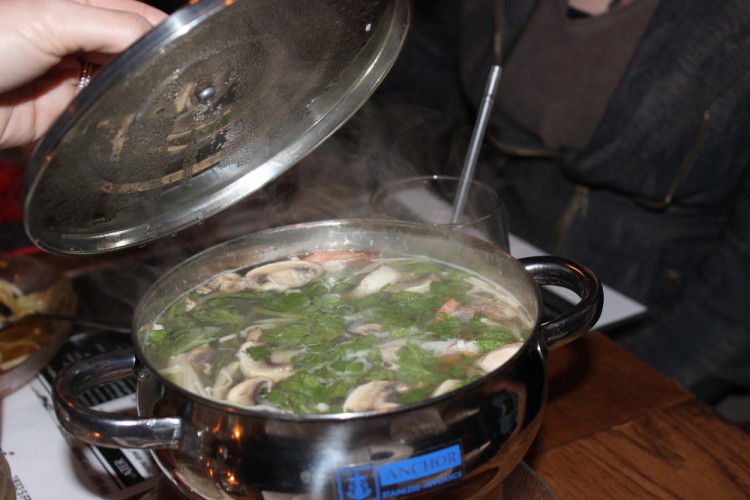 We all shared a few different entrees, one of which I was very anxious to try since first looking at the menu — the Spicy (no surprise here) Skinny Pad Thai. The dish is made with bean thread noodles instead of traditional rice noodle, a sriracha tamarind sauce, and uses NO oil. I loved the flavors and the texture of the noodles — this is a dish I'd definitely go back for.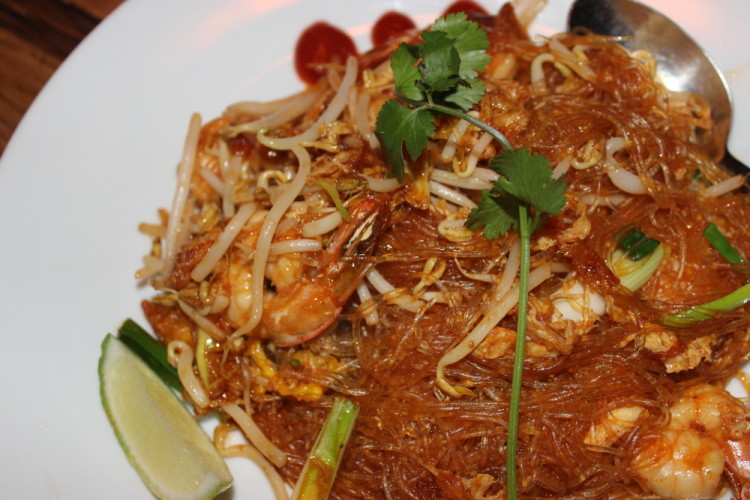 We also tried the Crispy Egg Noodle Pad Thai with Shrimp, another winning dish and a favorite of the night. The fried noodles are reminiscent of the crispy wonton strips you get from your typical Chinese Food restaurant in flavor, but much thinner and even a little crispier.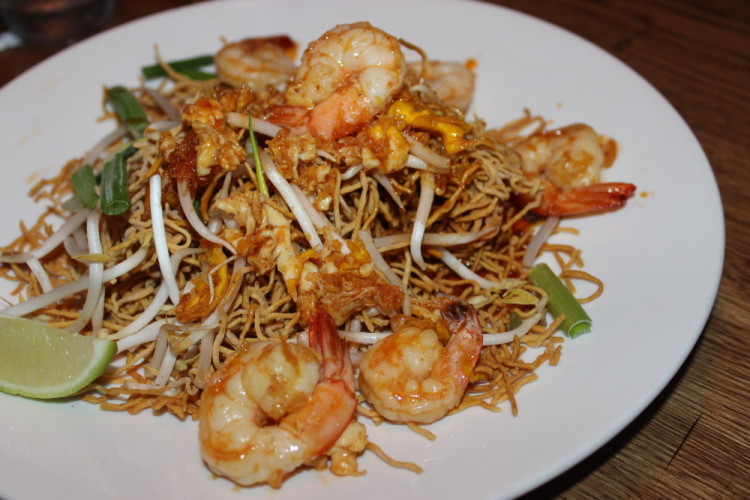 There were a couple side dishes that we just had to try — the Thai Omelette and Sriracha Fried Rice. That fried rice wasn't as spicy as you'd think it could be, but it was definitely full of flavor!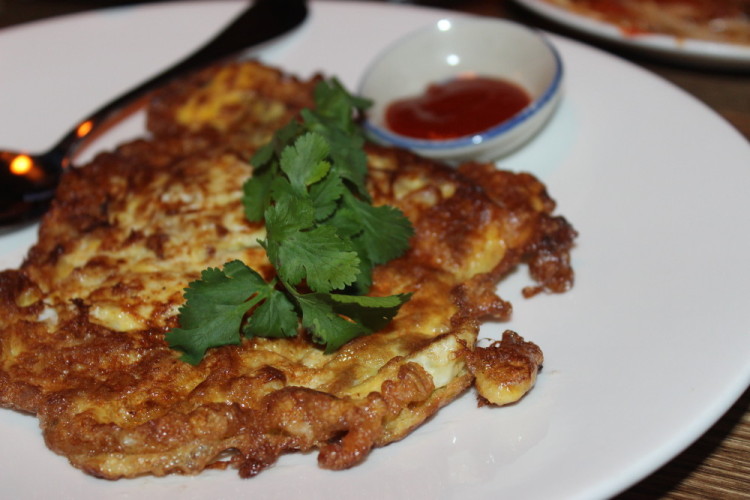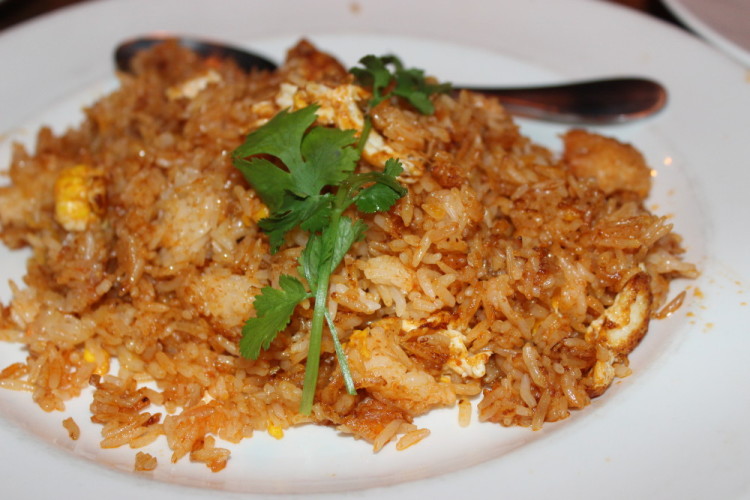 Dessert was Honey Glazed Coconut Tempura Banana. I had to force myself to stop eating all the little crispy pieces that were scattered around the plate — this was incredible. The perfect sweet ending to an eye-opening, satisfying meal!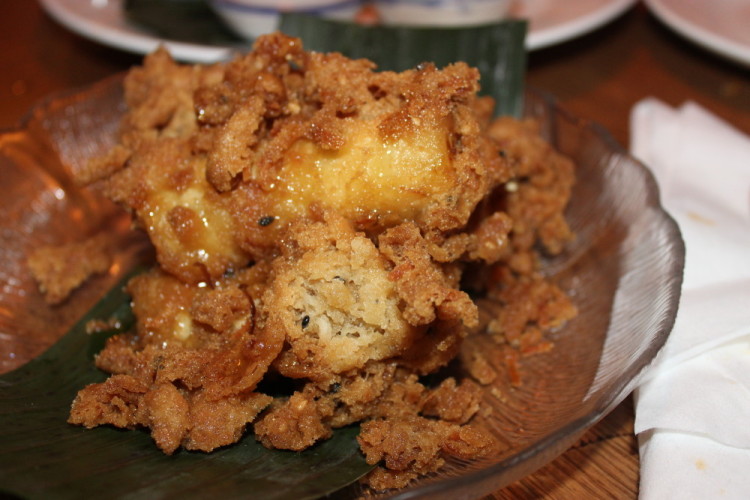 The portion sizes at EaThai are great for sharing, which is a good thing because you're definitely going to want to try more than one dish! Grab some friends and get ready to experience Thai food unlike anywhere else.
EaThai is located at 1832 South Federal Highway in Delray Beach.