Never miss a bite! Sign up here to receive new recipes and reviews straight to your inbox.
Disclosure: I was invited to dine as a guest of the restaurant. No monetary compensation has been received for this review. As always, all opinions are 100% my own.
NOTE: This restaurant has since closed
Sometimes it feels like there's a new restaurant popping up everyday in Delray and Boca — sometimes they make it, and sometimes they don't. The thing they need to stay strong in these restaurant-heavy towns is a hook, something that makes them stand out from the others. I recently was invited to check out the menu at the new Free House American Eatery & Pub, which has taken over the former location of D.I.G. Free House is owned by a mother-daughters trio from Michigan, Catherine Murray and her daughters Heather and Kristin Dauss, who were the previous owners of D.I.G. They decided to take the restaurant in a totally new direction — a high end sports bar with plenty of craft cocktails, beer, and a menu that combines traditional British style pub with American fare.
Their #EatDrinkWatch philosophy focuses on a menu full of made-from-scratch plates and rotating lunch specialties, Happy Hour Monday through Friday 4-7 pm, a reverse Happy Hour everyday from 10pm until the bar closes, and 22 HD plasma televisions which feature NFL, NBA, MLB, NHL, UFC, MLS, etc. This is the ultimate sports bar. The extremely spacious restaurant is great for large groups and events, and I definitely expect it to fill up during any sports season!
I shared a few appetizers with a friend during my visit, but plan to return soon because there is still so much I want to try. We started out with cocktails from their unique list of specialty drinks. I chose the Strawberry Margarita with Jose Cuervo Traditional, Fig Jam, and Balsamic, and my friend ordered the Peach Mule with New Amsterdam Peach Vodka and Fever Tree Ginger Beer. We both liked ours so much, when asked if we wanted to try a different drink we opted to stick with the same. The fig and balsamic flavors were perfectly balanced and not too strong. I'd order this again, but also thought the Watermelon Current with New Amsterdam Vodka and Basil also sounded pretty interesting.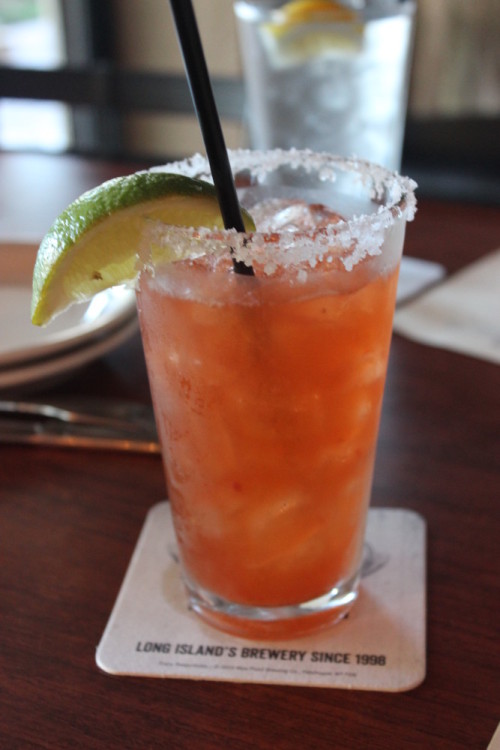 Onto the eats! The very first thing my eyes wandered to on the menu were the Kaffir Lime Brussels Sprouts. Although the dish does come with prosciutto, the kitchen has no problem serving the dish without. A tasty mixture of shallots, almonds, and fried rice noodles in an extremely flavorful sauce makes for an excellent appetizer. It's a nicely sized portion too, easily manageable for three or four if you're into tapas-style eating like I am.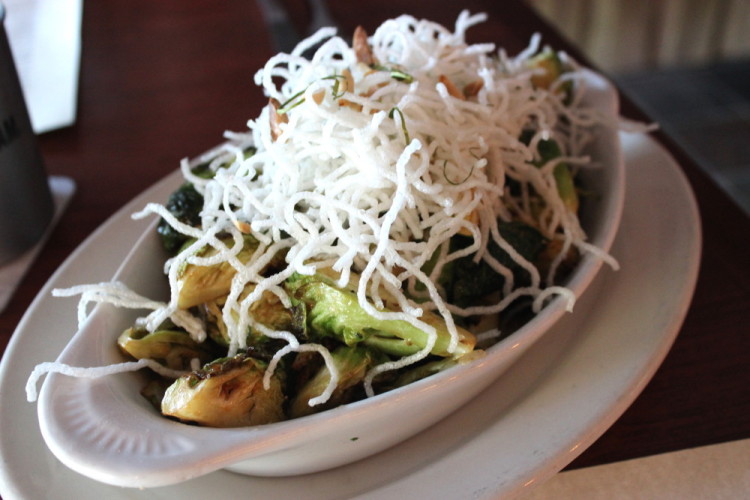 Another item I've been drawn to lately is fish dip. Free House has a Smoked Salmon Dip that they served with crispy corn tortilla chips and slices of grilled baguette. At first glance, the dip looks very liquidy, almost as if it were soup. We were a little hesitant and not sure how it would taste, but after one bite, we were hooked. Seriously — it is good. I highly recommend this as a starter. It may look like a thick soup, but it's still very creamy and full of large chunks of smoked salmon. Proof that the saying, you can't always judge a book by its cover, applies to food too!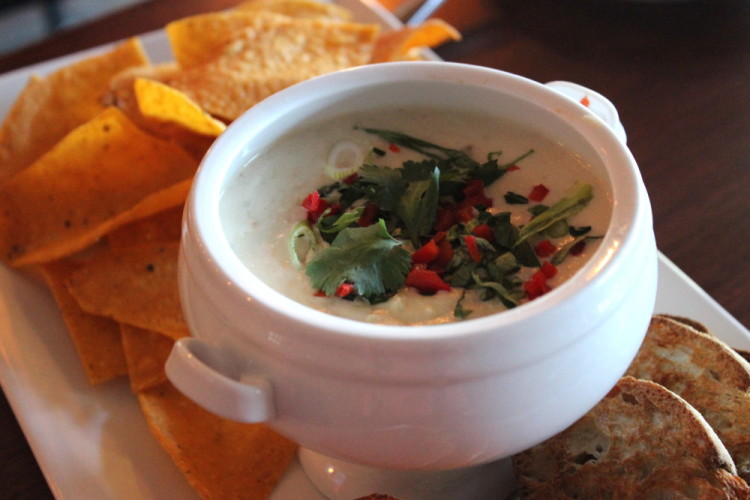 We decided on the Baked Asparagus Fries as our third appetizer to try. They came out nice and hot, perfectly crispy, and with a simple marinara sauce. While we both thought the asparagus was cooked well and very tasty, we would have liked it served with an aioli rather than marinara. This was the only thing I didn't care for. But the asparagus? Loved it. I even dipped it into the Smoked Salmon Dip!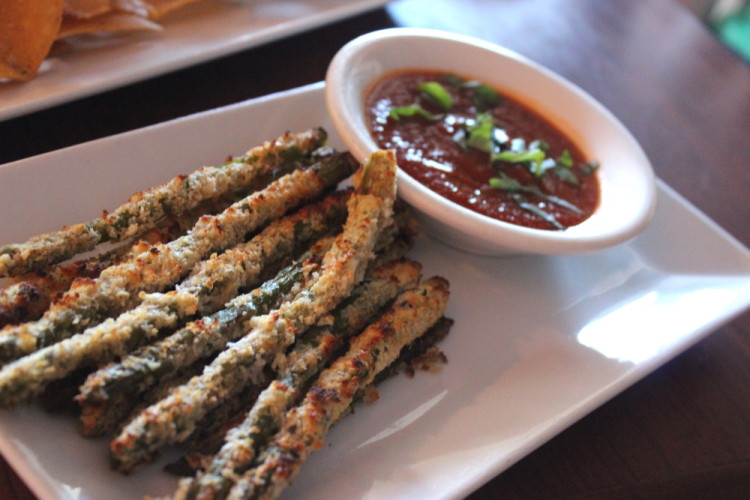 The chef didn't want us to leave without a little something sweet, so he sent out the Apple Blueberry Crisp made with Stella Hard Cider and topped with a scoop of ice cream and caramel sauce. It was piping hot but I still couldn't resist devouring spoonful after spoonful of this incredibly delicious dessert. There wasn't too much of a cider taste to the dish; in fact, I wouldn't have known it was made with cider if the waiter didn't mention it, but I love the idea — especially because I love cider! The fruit was bright and vibrant and full of flavor. I love any kind of crumble topping, and this one was to die for. You almost had to pry the spoon out of my hands to get me to stop…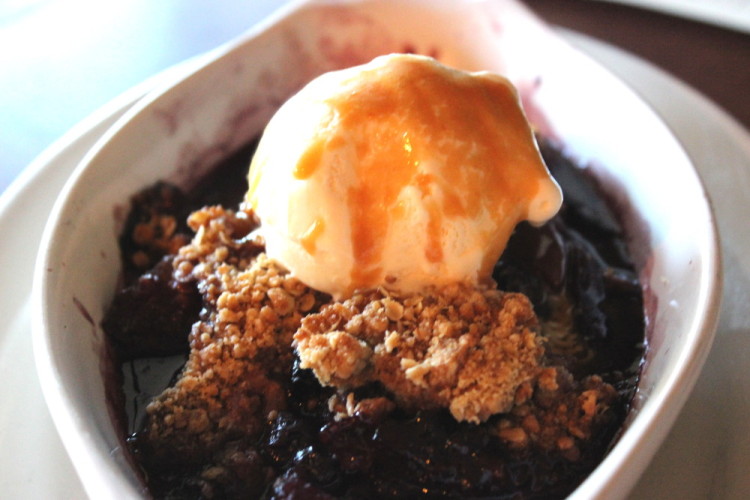 The menu is packed with enticing dishes like Rosemary Garlic Frites and Smoked Gouda Mac & Cheese. It's elevated bar food — Soft Pub Pretzels with honey mustard, ranch and mornay dipping sauces, Vietnamese wings with Thai chili and garlic, and a Slider Trio of pulled pork, Wagyu beef and smoked chicken. They have flatbreads and salads with a variety of ingredients that play to anyone's tastebuds, as well as wraps and a Build-A-Handheld section with lots to choose from — it even includes a vegetarian black bean burger, and you have the option to have your custom-made sandwich served on a bun or wrapped in Romaine leaves, a smart idea to have available for carb conscious diners.
I'm looking forward to going back to Free House soon for some more good eats. I love knowing I can head over there to watch my Eagles play this season! Free House will be having their official Grand Opening THIS Thursday, September 10th. The event is open to the public. There will be raffles, prizes and live music in the courtyard by Jerry Leeman Duo from 5-8pm. Saltwater Brewery and Delray Beach Delivery Dudes will be there, and it's also the NFL Kickoff with the Steelers vs. the Patriots at 8:30pm. Free House American Eatery & Pub is located at 777 E Atlantic Avenue in Delray Beach.