Never miss a bite! Sign up here to receive new recipes and reviews straight to your inbox.
NOTE: This restaurant has since closed.
Fans of FOX's Hell's Kitchen will be gunning for seats at Delray Beach's newest waterfront restaurant, Hudson at Waterway East. Season 9 winner, Chef Paul Niedermann, has taken over the kitchen at Hudson and is ready to give his guests something to talk about (aside from the fact that they're eating food from a winning TV chef!)
Hudson at Waterway East overlooks the Intracoastal Waterway and features a menu that focuses on all natural meats, locally sourced produce and the freshest of seafood. As you all know, I am a Pescatarian, so good seafood is super important to me. I was excited to be invited to Hudson to try out Chef Paul's new menu items. Funny thing is that I was invited before it had been announced to the public that Paul was the new chef. I walked in with no knowledge whatsoever that I'd be dining among Food TV Royalty. Not only does Paul have a Hell's Kitchen win under his belt, but he has also worked in some of the most prestigious kitchens in the industry — 1200 Courtyard Grill at Biltmore Hotel, Ritz Carlton's Via Luna, and BLT Steak both in New York City and the Hamptons. Needless to say, I was pretty freaking excited for dinner.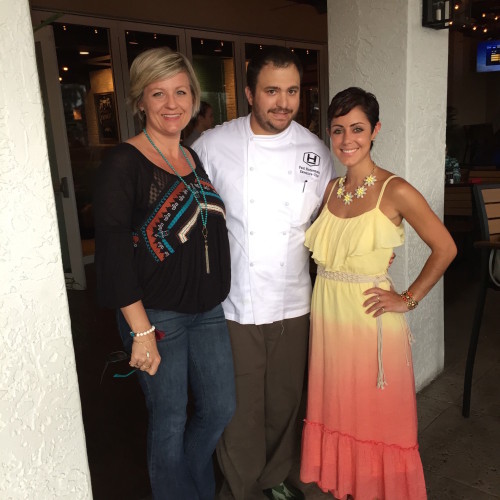 My friend Nancy and I sat outside where we could watch the gorgeous sunset happen right before our eyes. Hudson has the most breathtaking view — I'd say one of the best in the city! Within seconds, the General Manager, Jude, and Chef Paul were at our side. I noticed throughout the night that both Jude and Paul made their way around to just about every table of guests — a sign of amazing hospitality. Both of them seem to go above and beyond to make their diners happy. After much deliberation over what wine to drink, Jude suggested a Chardonnay — to which Nancy and I both shook our heads. Neither of us really like Chardonnay, but Jude was insistent. He brought it over for us to taste, and lo and behold, we somehow found ourselves loving it. This particular variety — a French Chardonnay, Château de Sancerre, was pretty delicious. It was amazing that Jude was able to tell we would like this wine just by listening to us talk about the wines we do like. We were impressed!
Chef Paul wasted no time at all recommending what appetizers to start with — Jumbo Lump Crab Cake, Mussels and Olive Oil Poached Shrimp. We loved his suggestions and went with all three.
The crab cake sat on a grain mustard aioli and was topped with a refreshing mixture of basil and grapefruit. I'm such a sucker for good crab cakes. As much as I always say it's hard to find a good one down here, when you do, it's pretty spot-on. I absolutely loved the aioli — a little bit spicy, a little bit sweet, and a whole lotta flavor. Paired with the bright citrus and herbs, this was an outstanding start to our meal.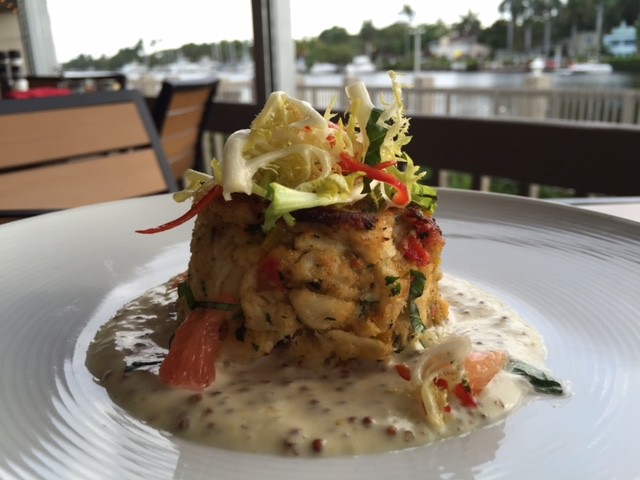 Nancy and I always get mussels when we go out to eat — we already knew we'd get these before Chef Paul suggested it. These P.E.I Mussels came in a flavorful broth of red chili and coconut and were topped with a heaping pile of crispy sweet potato strips. As with most mussel dishes, the broth was the best part — good enough to eat with a spoon alone! I promise you these were not spicy even with the presence of the chili. There was just a hint of heat — enough to give it a little punch without totally overwhelming your palate. Mussels for the win!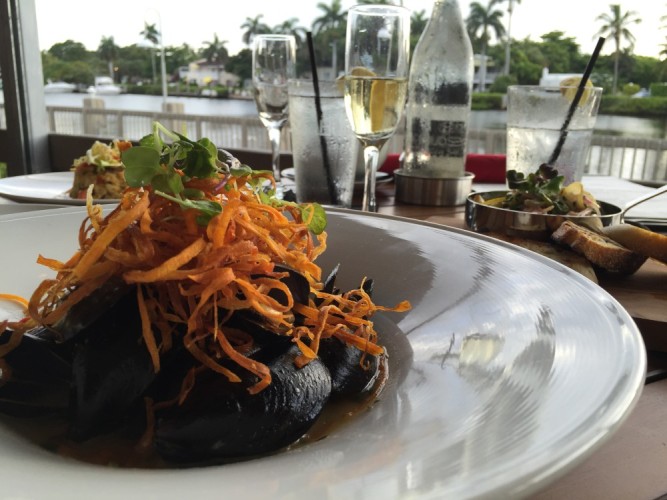 Of the three appetizers, the Olive Oil Poached Shrimp was our favorite. First of all, these were massive shrimp — I could cut one into four normal-sized pieces! The lemon and jalapeno jumped right off the plate and into your mouth. There was no shortage of flavor here. It was as much sweet and sour as it was savory — a beautiful marriage of ingredients. I can't praise this one enough!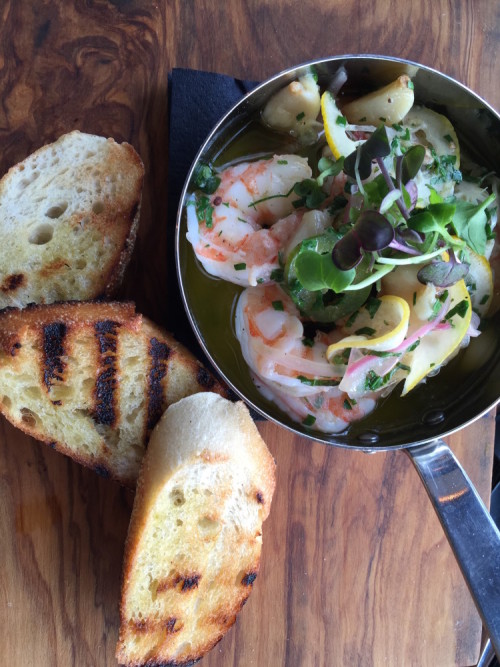 Our next course was the burrata with roasted vine ripe tomatoes, basil and pine nuts. The measure of a good burrata is all in the way the creamy inside oozes out when you make that first slice. This one aced with flying colors! Nancy and I agreed that it just may be the best burrata we've ever had. Thank goodness Paul split this dish for us, because we totally needed room for the next two dishes coming out…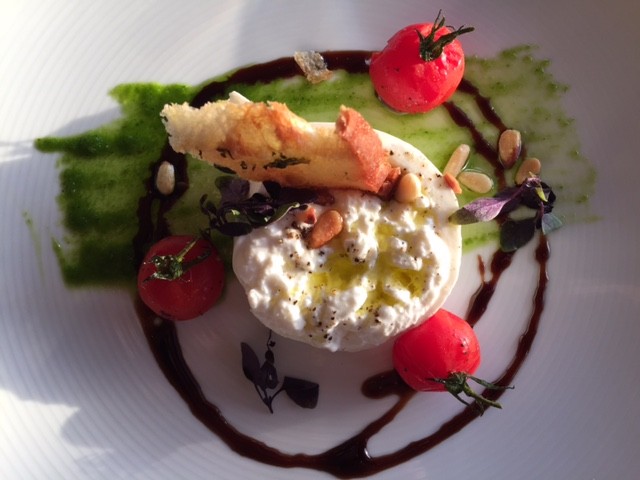 Are you ready for this one? Fig and Goat Cheese Flatbread with balsamic onions, sautéed spinach and truffle honey. OH MY GOD. I'm not joking when I tell you that I could probably have eaten this entire thing in 5 minutes. It was too good to put down. Each time I finished one square, I'd immediately crave another. The textures, the smells, the flavors — everything was incredible. This flatbread is me on a plate. It's everything I love in one dish. If I were to be reincarnated as food, I think I'd come back as this flatbread.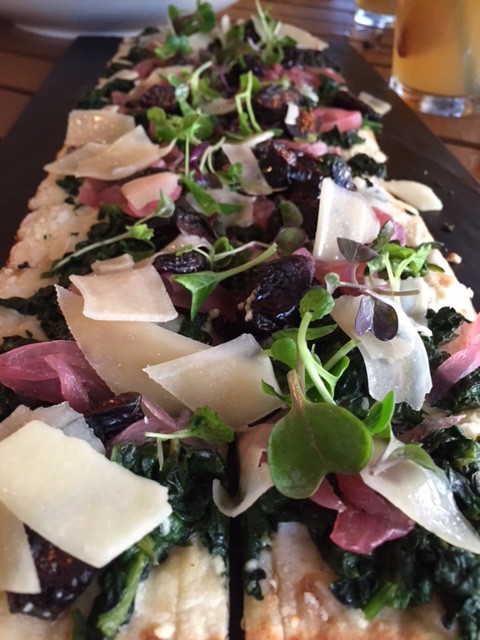 Alongside that insanely delicious flatbread was another one of Chef Paul's newest creations — the Roasted Local Snapper with San Marzano tomato fondue, Puttanesca compote and wilted arugula. For someone like myself who doesn't love olives, I was surprised at how much I enjoyed this dish. The intense flavor of the tomatoes masked most of that pungent olive taste. The snapper was perfectly cooked, skin on. The crispy skin is always my favorite part of a well-cooked fish.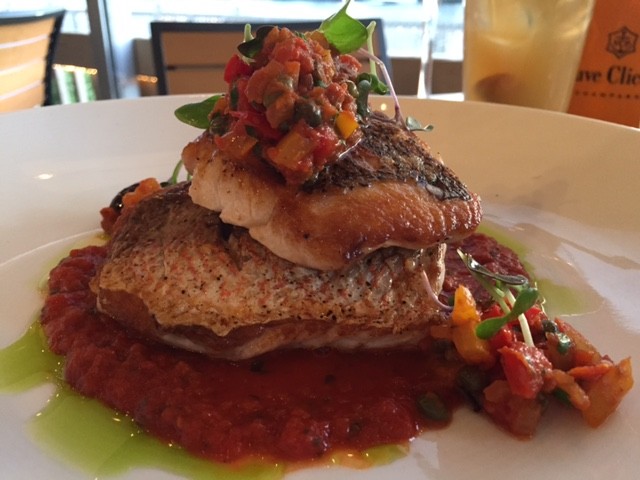 Chef Paul brought us out his two signature desserts — Flourless Chocolate Cake with salted caramel and strawberry ice cream, and Key Lime Pie Bars with a raspberry coulis, graham cracker and Chantilly cream. We loved both of these — neither was too sweet. The cake was super thick and fudgy and because it was so dark, it was more bitter than sweet — which is how I like my chocolate. I liked Chef Paul's twist on the classic Florida dessert. Serving Key Lime Pie as a bar is a delicious idea! The raspberry paired beautifully with the lime and the traditional graham cracker crust brought everything together.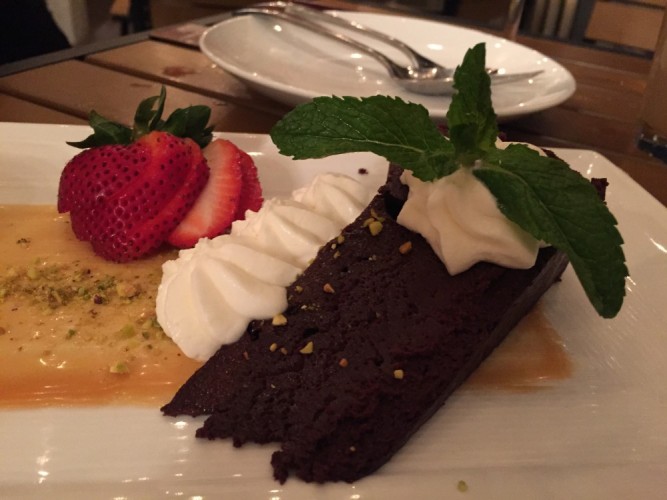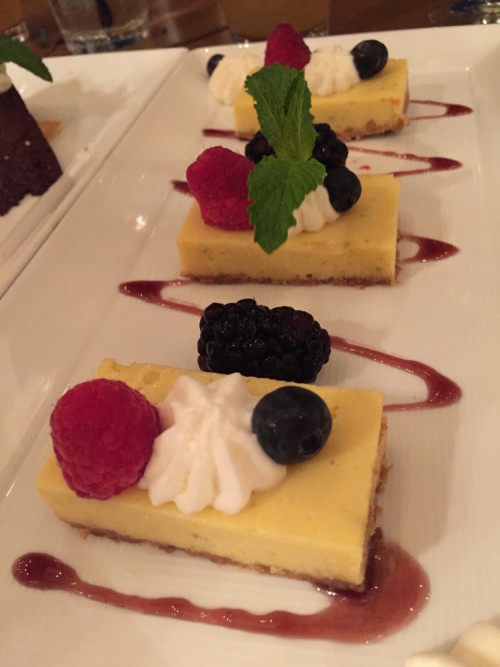 This is just a few of the many new items Chef Paul has brought to Hudson. You're just going to have to head over there to check out what else he's got brewing in the kitchen. Hudson is open daily at 11 A.M. Happy hour runs Monday through Friday from 4-7 and features food and drink discounts. There's even a late night happy hour Monday through Thursday from 10 P.M. to close. Hudson is located at 900 E. Atlantic Ave in Delray Beach.
Disclosure: I was invited to dine as a guest of the restaurant. No monetary compensation was provided for this review. As always, all opinions are 100% my own.