Never miss a bite! Sign up here to receive new recipes and reviews straight to your inbox.
Disclosure: I received complimentary tickets to attend select Delray Beach Fashion Week events. As always, all opinions are 100% my own. Images courtesy of the Delray Beach Downtown Development Authority.
It's that time of year again when fashion takes center stage in Downtown Delray Beach! The 7th Annual Delray Beach Fashion Week is back — and this year, it coincides with Super Bowl LIV, so you know it's going to be big!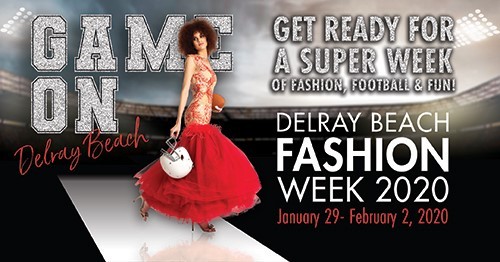 From January 29th through February 2nd, Downtown Delray Beach showcases all that our small town by the sea has to offer when it comes to style and beauty. If you weren't aware, Downtown Delray is home to a ton of local designers, beauty salons and boutiques. During Fashion Week, these small businesses come together to feature their best work. The event is always well attended by both residents and visitors, and gives everyone an opportunity to support local — a mantra our Delray Beach community truly upholds.
Here's the exciting lineup for this year's Delray Beach Fashion Week:
Fashion Bowl "54" Kickoff Runway Show and Studio 54 Dance Party
When: Wednesday, January 29th 6-9pm
Where: In front of The Colony Hotel at 525 E. Atlantic Avenue
Details: There will be entertainment, a Studio 54-style dance party, red carpet, and more. The live runway show with feature over 30 retailers showcasing their best in evening wear, resort, and swim wear worn by over 70 models.
Cost: $30 for runway seating, includes a special gift bag and a chance to receive a Fashion Week prize. Standing room is available for free.
Attire: Studio 54/Disco
Art & Couture All-Stars – Designer Fashion Show and Art Experience
When: Thursday, January 30th 7-9pm
Where: Cornell Art Museum at Old School Square at 51 N. Swinton Avenue
Details: There will be an exclusive designer runway show outside in front of the Cornell Art Museum followed by the
"Art Couture: The Intersection of Art and Fashion" exhibition and reception inside. Enjoy a meet-and-
greet with local Delray Beach designers after the show. Some of the designers featured will be Project Runway Star Amanda Perna from The House of Perna & Neon Bohemians, Glavidia Alexis of Glavidia by Glavidia Alexis, and William DeBilzan of DeBilzan Gallery.
Cost: $50 per person, including entrance into the event, runway seating and reception. Standing room is available for free, but only ticket holders will be admitted into the museum for the exhibit and reception.
Attire: Evening casual
"Halftime & High Heels" Presented by Vince Canning Shoes – Resort Wear Luncheon Show
When: Friday, January 31st, 11:30am-2:30pm
Where: CHE!!! Restaurant at 900 E Atlantic Avenue
Details: Enjoy a fun, fashion event at Che!!! Restaurant on the Intracoastal Waterway, featuring a silent auction, entertainment, lunch, and ready-to-wear resort fashions from over 40 downtown boutiques.
Cost: $50 per person, includes lunch, signature cocktail, and a ticket for a chance to win the Fashion Week Grand prize.
Attire: Resort casual
Old School Square Super Pep Rally – Swim & Active Wear Show with Free Concert & Tailgate Games
When: Friday, January 31st, 6-10:30pm
Where: Old School Square Park and Pavilion at 51 N. Swinton Avenue
Details: There will be entertainment from local high school marching bands and cheerleaders, including the National
Anthem and a meet-and-greet with NFL Alumni and local football legends. The free concert will begin at 7:30pm, complete with a tailgate-like atmosphere with food and beverage vendors available on-site, corn hole games, football toss, ring toss, bocce ball, and more! Visit the Delray Beach Fashion Week Experience booth to meet the models, get your Fashion Week bag, and the opportunity to shop the runway.
Cost: Free to attend
Attire: Game day
Downtown Shop The Runway Blitz – Boutique Shopping Event
When: Saturday, February 1st, 10am-3pm
Where: Check-in is at Rose's Daughter at 169 NE 2nd Street
Details: Experience a fun, unique way to shop the participating retailers within downtown Delray Beach. The event includes a continental breakfast, coffee, and a mimosa. Guests will then hop on a shopping shuttle and shop the runway at participating retail stores! For every purchase made, you receive a raffle ticket for a chance to win one of several awesome prizes. Enjoy
a post-event reception at L'Acqua Ristorante Italiano. Attendees will also receive a Fashion Week SWAG bag with coupons to participating retailers.
Cost: $25 per person, includes welcome reception, SWAG bag, shuttle transportation, and post-event reception.
Attire: Casual, there will be some walking involved so wear comfortable shoes.
Celebrate the Big Game 2020 – Brunching, Shopping & Community Watch Party
When: Sunday, February 2nd, 5:30-10pm
Where: Old School Square Park at 51 N. Swinton Avenue
Details: There will be opportunities for brunching and shopping all day throughout Downtown Delray. Then, bring chairs to attend the community watch party from 4-10pm on the Old School Square lawn. There will be a 13ft x 27ft screen for watching the Big Game. Kickoff time is 6:30PM.
Cost: Free to attend the community watch party
For tickets, visit Downtown Delray Beach.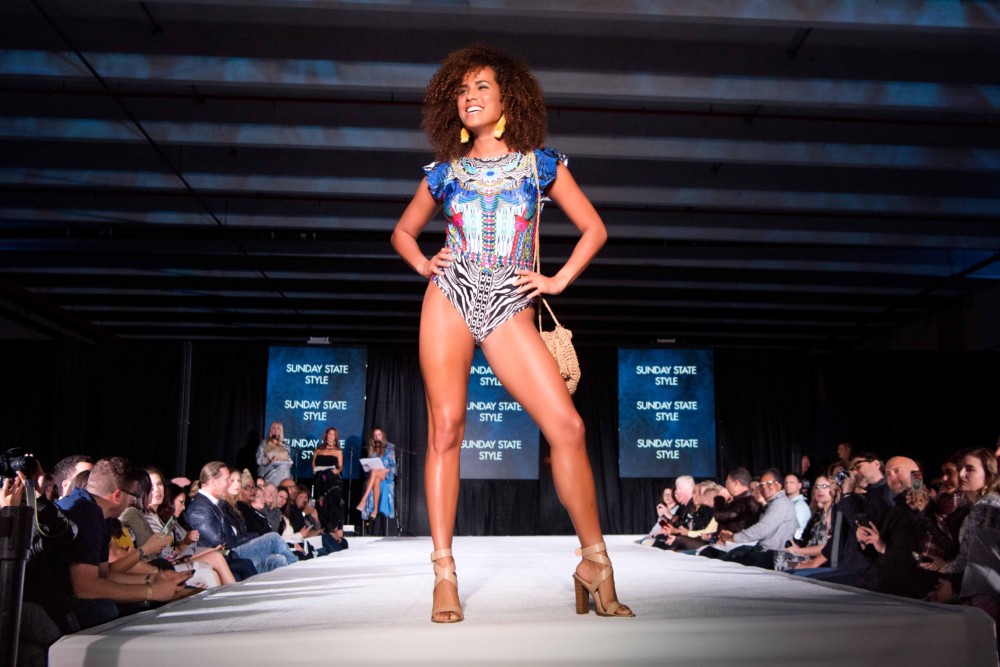 100% of the proceeds raised from ticket sales during Delray Beach Fashion Week go to the Achievement Centers for Children and Families, and Old School Square. You can purchase individual tickets to events OR you can splurge for the SUPER Fashion Pass for $175. These tickets are limited and include an all-access pass that gets you VIP reserved seating at the Fashion Bowl "54" and Art & Couture All-Stars runway shows, tickets to the Halftime and High Heels luncheon, admission to the Shop the Runway Blitz shopping day, a VIP lanyard, access to VIP receptions at specific events, and a special edition 2020 Fashion Week VIP Swag Bag by local designer, Amanda Perna.