Never miss a bite! Sign up here to receive new recipes and reviews straight to your inbox.
For the most amazing view in all of Downtown Delray, you must check out 50 Ocean, the elegant and sophisticated sister of Boston's On The Beach and Sandbar, two beach-friendly restaurants that reside right below this upscale restaurant. Though these three Delray spots are owned by the same restaurant company, 50 Ocean is an entity all its own.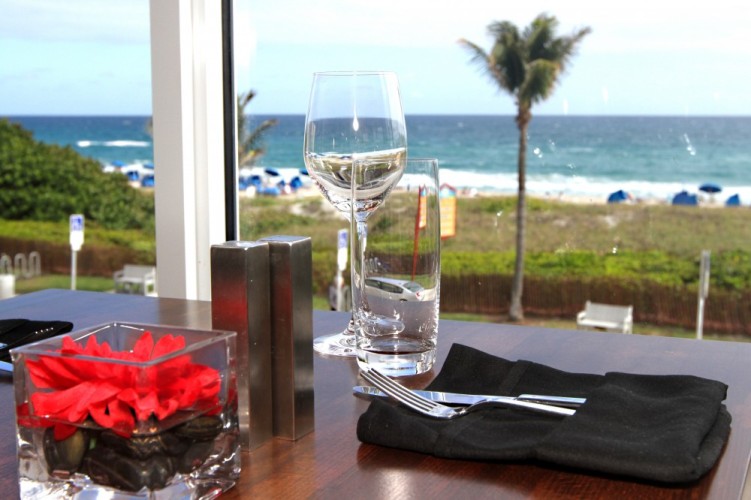 To say that the view from 50 Ocean is beautiful is a total understatement. The restaurant is located on A1A, where floor-to-ceiling windows never let you forget that you're siting mere footsteps from the beach. The moment I walked into 50 Ocean, I was met with an inviting bar and a smiling bartender. Walls and walls of wine were behind her and to her side were two canisters filled with vodka-soaked pineapple and watermelon — their own infused libations just waiting for me to give them a try. I can honestly say I have never tasted something so pure and delicious. With NO added sweeteners but the fresh fruit itself, these spirits needed nothing more than a few cubes of ice.
I was joined by Stef Cainto, Boca Raton Magazine's web editor, and Enid Atwater from Venue Marketing Group, who represents 50 Ocean. The three of us pulled up our chairs to the bar and were ready to indulge in some "Appy Hour" goodies. "Appy Hour" runs in the bar and lounge on Monday through Friday from 4-7pm — half off premium well liquor and house wines, $3 domestic bottles, $4 draft beers, and half off any items from the "This and That" and "Jars" sections of the menu. We chose the crispy whole belly clams served with an apple fennel slaw and roasted garlic aioli (my favorite of the night), mussels the size of your hand (not kidding) in a white wine and chili broth with roasted shallots, tomatoes and scallions, and the spicy tuna tartare with avocado and mango and a chili white-soy vinaigrette.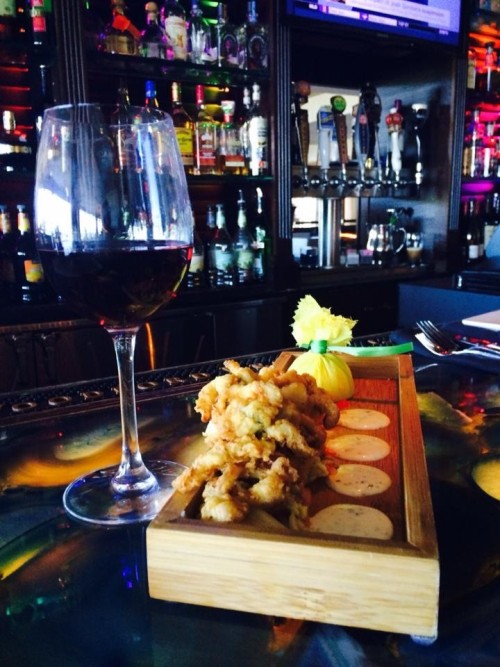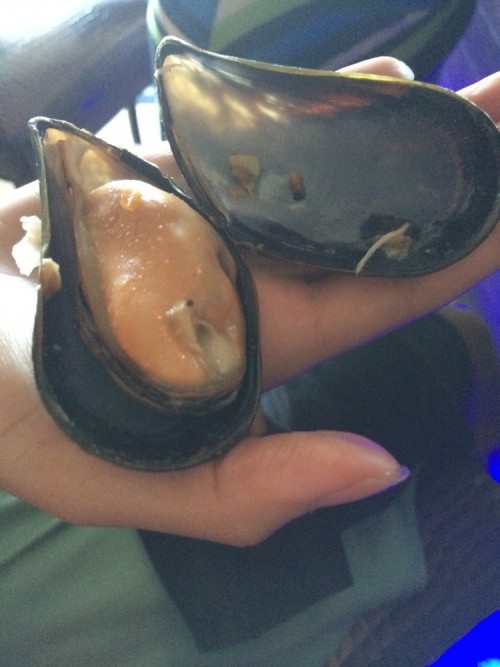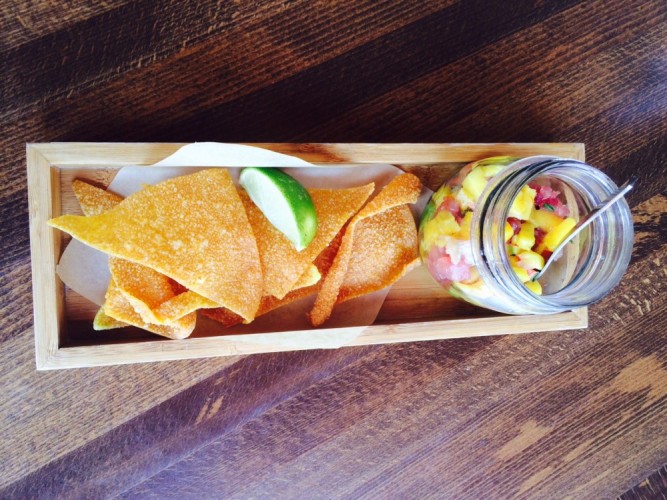 After I polished off the clams (because I just could not stand to see any of them go to waste), we were seated in the most perfect location. It was still light out so we had a gorgeous view of the pristine blue water breaking on the sand. There were so many fresh seafood dishes on the menu — it was very hard to decide what to get. But after much discussion, I decided on the dayboat harvest scallops dusted with porcini and served over an herb and english pea orzotto (sort of a risotto-like texture and appearance, but made with orzo). It was incredibly flavorful and the scallops had the perfect sear.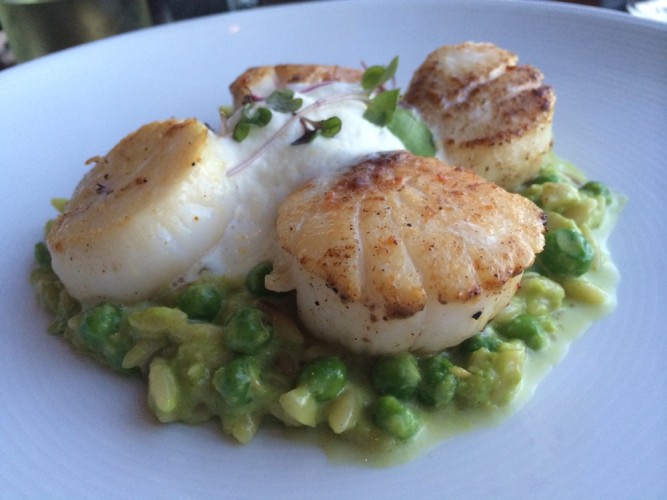 Stef had the seared snapper with asparagus, creamy coconut risotto, mango-ginger sauce, and a corn and red pepper relish. I helped her polish off the risotto — one of the most amazing risotto dishes I had ever tasted in my life! That is definitely something I need to recreate at home.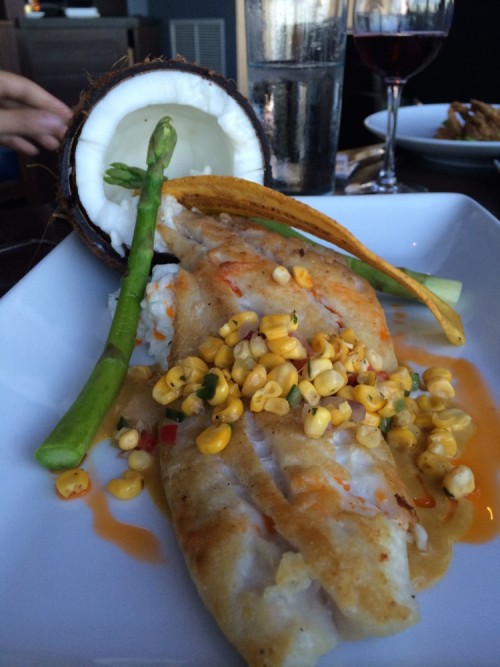 As always, no dinner is complete without dessert. We ordered two to share between the four of us at the table (one of Enid's friends had joined us for dinner). That was more than enough to satisfy our end-of-dinner sweet tooth and inner-chocoloholics. The Turtle S'mores is a dark chocolate tart topped with a toasted marshmallow ice cream, candied pecans, and salted caramel. This is the flavor combination of all flavor combinations when it comes to dessert. Chocolate and salted caramel alone is to die for, but when topped off with pecans and toasted marshmallow ice cream? Pretty much insane.
I didn't think it could get any better, but then we had the Truffle Garden — a tasting of truffles on a plate made to look like, well obviously, a garden. A sweet cookie crumble played the part of the soil, with vanilla ice cream and fresh berries scattered among the chocolate truffles. This was a deliciously creative presentation and a really wonderful way to accentuate the deep, rich flavors of the chocolate.
For someone like me who loveeeeees seafood, 50 Ocean is a winner. The restaurant uses locally-sourced ingredients and only antibiotic- and hormone-free meat and poultry. The food is fresh, and staff is warm and inviting and the atmosphere is memorable.
Disclaimer: I was invited to dine as a guest of the restaurant and received complementary appetizers, dinner, and drinks. No other compensation was received and as always, all opinions are 100% my own. Some of photos shown have been provided by Venue Marketing Group.