Would you believe me if I told you that the farther west you go in South Florida, the more vast and empty it gets? Yeah, it's freaking weird. Huge open areas that go on for miles with…nothing. It's a little scary actually, especially when the roads aren't well lit and you're driving them by yourself at night. I was distracted by the weirdness of it all as I drove home from dinner the other night. My sister Jen and her husband and kids were visiting (her inlaws live in Lake Worth) so I met them out for dinner. We decided to go to the Delray Marketplace since it's a pretty straight shot from her inlaw's place. I haven't been back to that area in a while. I went very shortly after it was built and there were only one or two places other that the movie theatre that were even open for business. An intense craving for Mexican had us really excited when we saw Cabo Flats was there, but an hourlong wait quickly ended that for us. Instead, we went to Japango, a Japanese-Sushi-Thai restaurant with a pretty goodreputation, that I've never been to before. It had been a while since I had good sushi, so it sounded good to me!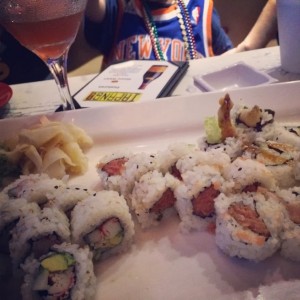 Despite the entire area being jam-packed, we were seated immediately. When you've got a 5, 7 and 9-year-old with you, getting seated right away is super important. My brother-in-law, Eric, ordered a bunch of rolls for all of us to pick at forappetizers. I couldn't even tell you what he got, just a mishmash of everything. It was all great though. For my dinner, I ordered one of the cucumber-wrapped rolls: the Himachi and Seaweed Salad Wrap. It had yellowtail, seaweed salad, masago, ginger, and spicy mayo and was topped with a sundried tomato dressing, kimchi and eel sauce. Seaweed salad, ginger, kimchi and eel sauce… basically sushi heaven for me! Jen got one of the cucumber-wrapped rolls as well. Hers was the Tuna and Avocado Wrap and had tuna, masago, scallions, radish, spicy mayo, ginger, avocado and ponzu sauce.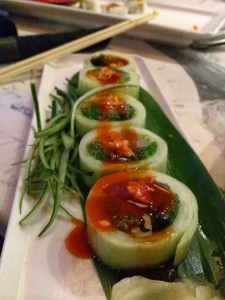 I also got a really amazing salad that came out looking just as gorgeous as it tasted. The Mango Seafood Salad came piled high in a cylinder shape with mango, crab, shrimp, salmon, scallion and spicy mayo. Jess and Tyler had teriyaki chicken from the kid's menu, and Dani got a chicken udon noodle stir-fry. Can you believe that as much as I love Asian food, I've never tried udon noodles before? Of course I had to steal a bite, and yuuuuuum, I was so glad I did! Udon noodles are now on my radar and I can't wait for my next Thai outing so I can order them!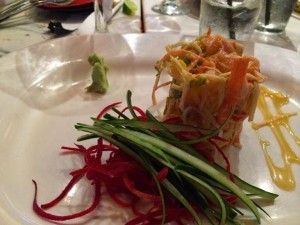 The sushi was really good, but the service was a bit all of over the place. It was a busy night, so I understand, but I'm a pretty firm believer that when there are kids at a table, they should always be served their food first. Instead, she kept bringing things out in a scattered manner, and the youngest two kids got their meals last. Uh, what?! That annoyed me. And apparently annoyed Dani just as much because she really wanted [me or Jen] to say something to the waitress, ha! She was just being a concerned big sister. In the end, everything was served and we all enjoyed the food.

It's a huge menu, so if you're planning to go you may want to give it a once-over so you aren't totally overwhelmed like we were. Most places like this do have large selections of food. That's what happens when you fuse Asian cuisines together . Everything's so good you don't want to leave anything out!