For out-of-the-box menu items and the perfect outdoor dining experience, you have got to check out Max's Harvest in Downtown Delray's Pineapple Grove district.
Max's Harvest believes in the "Farm to Fork" mindset, always using fresh and seasonal ingredients from local farmers. The restaurant is part of the Max Group, which also includes one of my favorite restaurants and a Boca staple, Max's Grille. Executive Chef Eric Baker hasn't been at the Harvest long, but he has certainly made their menu his own. He puts together incredibly unique and flavorful food that will leave you still dreaming about your meal days later.
The menu changes regularly depending on what's in season, and sometimes just based on what the guys in the kitchen feel like putting together. With such a diverse menu, it's hard to choose what to get, but thankfully most of the dishes are small plates and good for sharing.
My good friend Jim joined me for dinner at Max's Harvest recently and we indulged in many of the menu's most popular dishes. I was already impressed when our waitress greeted us with with two pieces of yummy zucchini and carrot corn bread instead of your usual boring bread basket — which usually makes someone totally fill up on bread before even ordering dinner!
We started out with the Goat Cheese Croquettes coated with a marcona almond crust and served with a red chili-guava jelly. If you're a goat cheese lover like myself, this is a must-have. The pairing of the creamy, tangy goat cheese and crispy, crunchy outer coating was a match made in heaven. And that jelly…it reminded me of my favorite red chili pepper spread from Costco (which, by the way, is fabulous with goat cheese too). This appetizer comes with four croquettes, so it's perfect for two people to share.
There were three "small plates" that stood out to me, and since I knew they would be small, I didn't hesitate to make sure we ordered all of them. Plus, our waitress and the restaurant manager said that I chose the best ones and had to get all three. How could I not? The Grilled and Chilled Calamari with ramp pesto (spicy!), farro, black-eyed peas, greens, tomatoes, and pistachios; the Grilled Jamaican Jerk Octopus with crispy polenta cake and a pineapple-fennel sauce; and the Local Ricotta Gnocchi with oyster mushrooms, fava beans, thyme butter and a truffle tremor cheese. Honestly, I can't choose which dish I liked best — they were all incredible. Each had their own distinct flavor profile. I like how Chef Eric plays with texture in his dishes, like adding the salty crunchy pistachios mixed with the calamari and the crispy breaded polenta that sat underneath the charred octopus. Again, all of these were great for sharing between the two of us.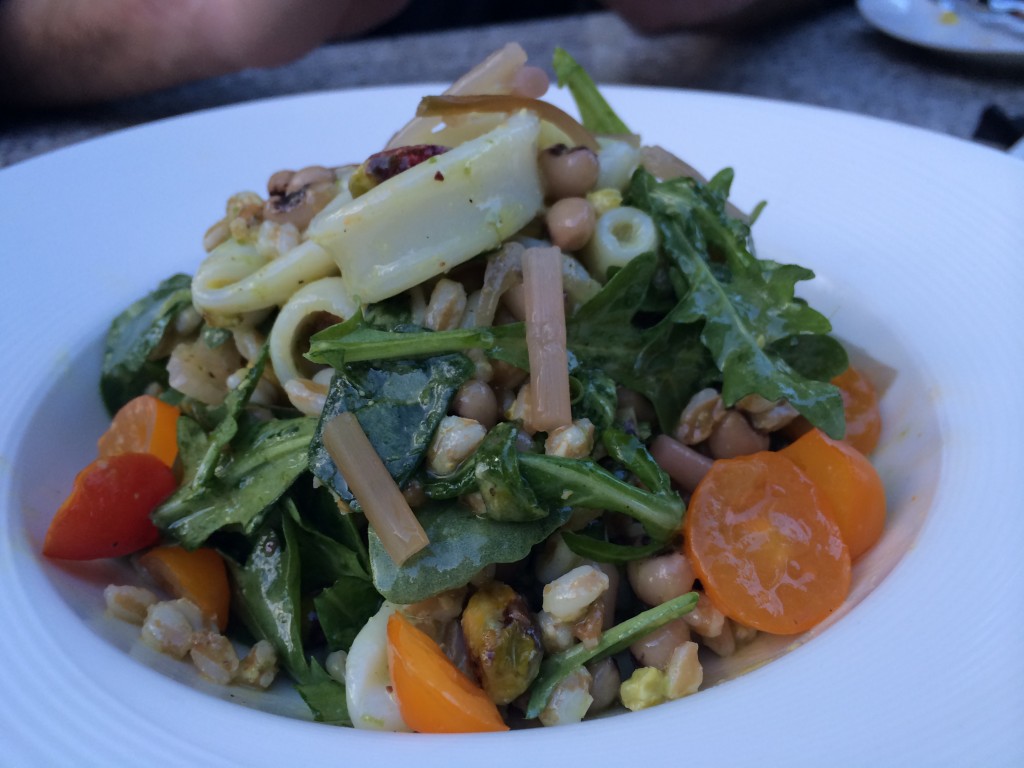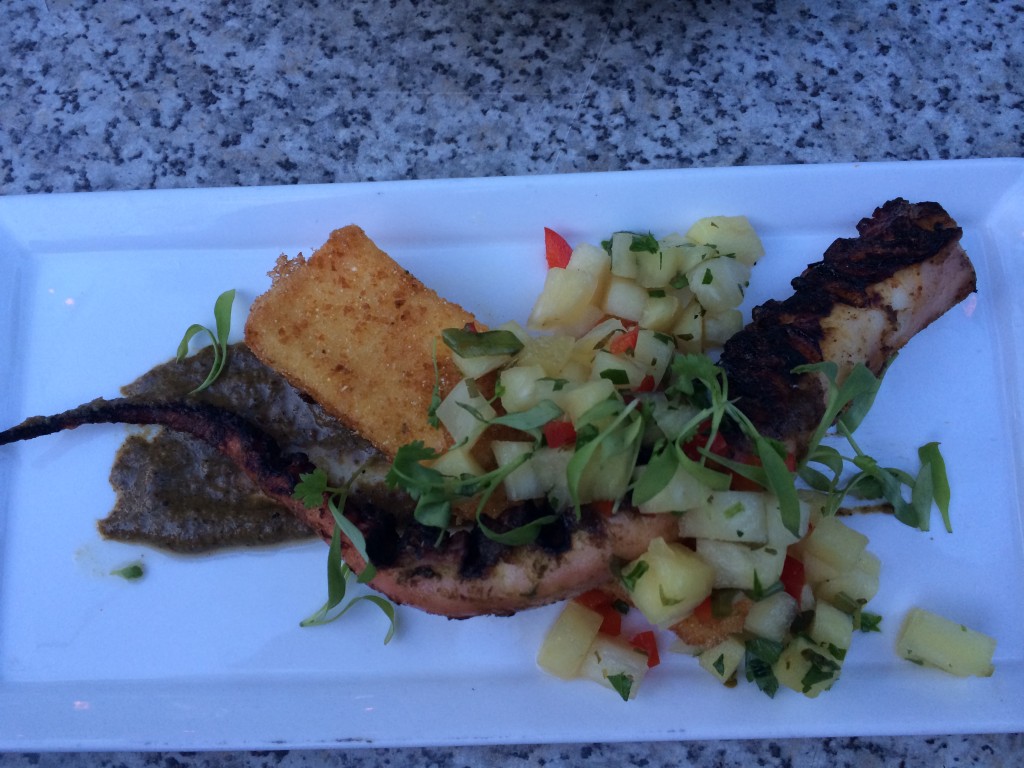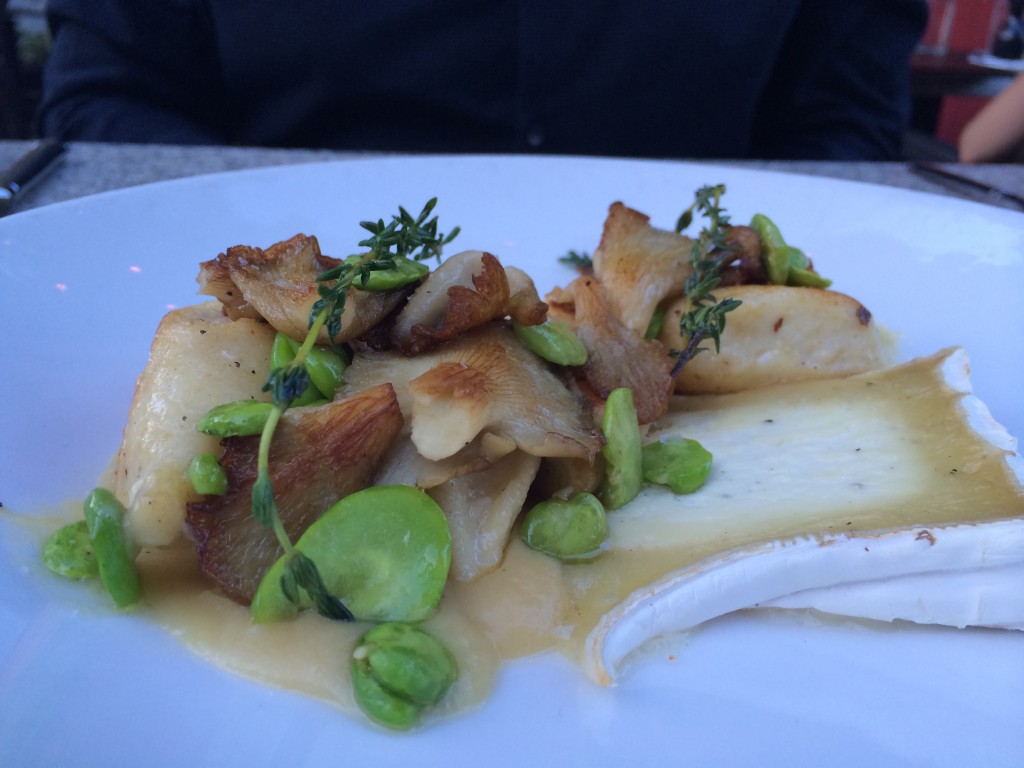 We ordered one more dish from the entrée section of the menu. Both of us agreed right away on the Local Black Grouper with Florida clams, smoked fingerlings, artichokes, corn, pickled shallots and a ginger beer braise. Ohh man. This was a seafood dish like none other. The fish was not served whole, as you may expect. Instead, it was cut into perfect-sized pieces and floating along with the other ingredients in a bowl full of that incredible ginger beer broth — something I would totally slurp straight from the bowl…as long as no one was watching.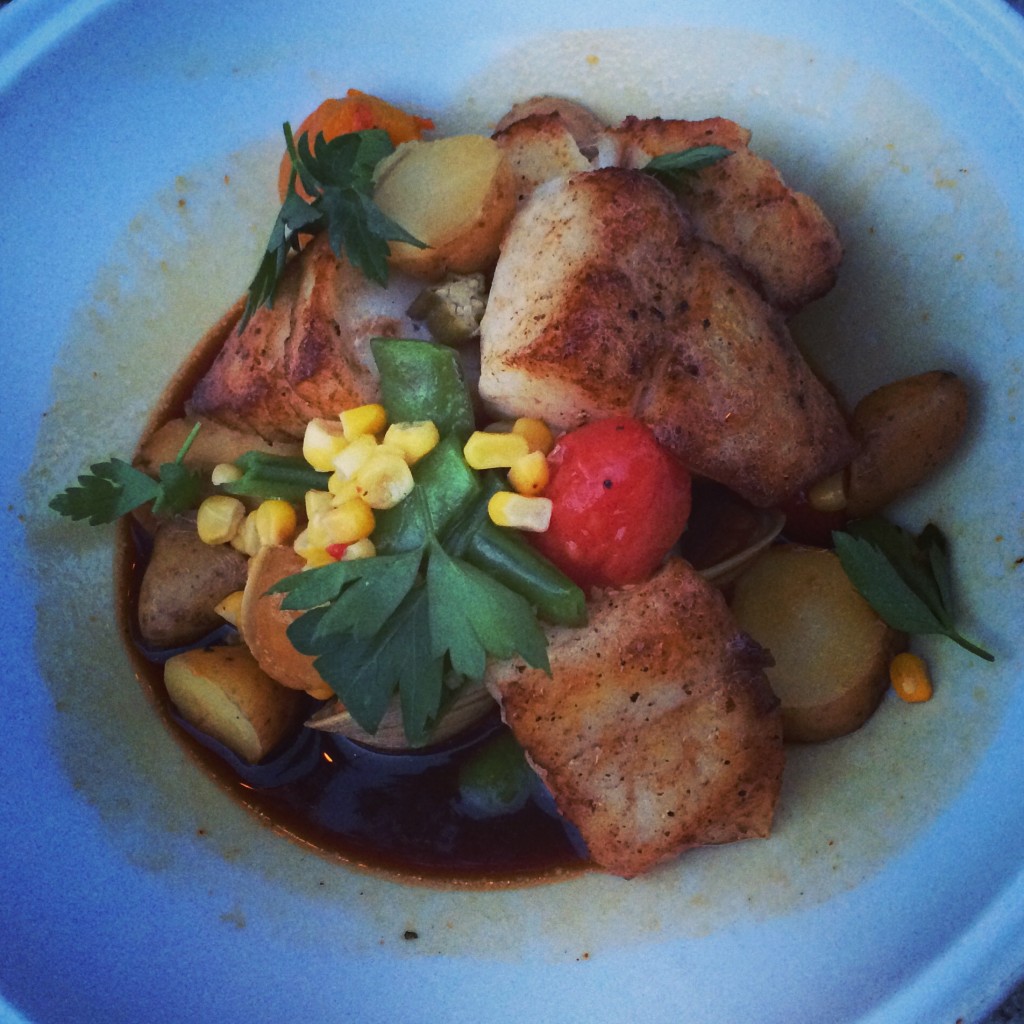 We weren't allowed to leave without having at least a bite of something for dessert. The made-to-order cinnamon sugar donuts with "every berry" compote and a crème anglaise dipping sauce was their offering. They really had to twist our arms…
These were not your average donuts. So fluffy, so warm, so delicious. The cinnamon sugar coating reminded me of my favorite breakfast as a kid — toast with butter and cinnamon sugar sprinkled on top. The dipping sauces added different dimensions of flavor to each bite of donut. The berry compote turned it into a refreshingly sweet dessert, while the crème anglaise gave it more of a rich and decadent feel.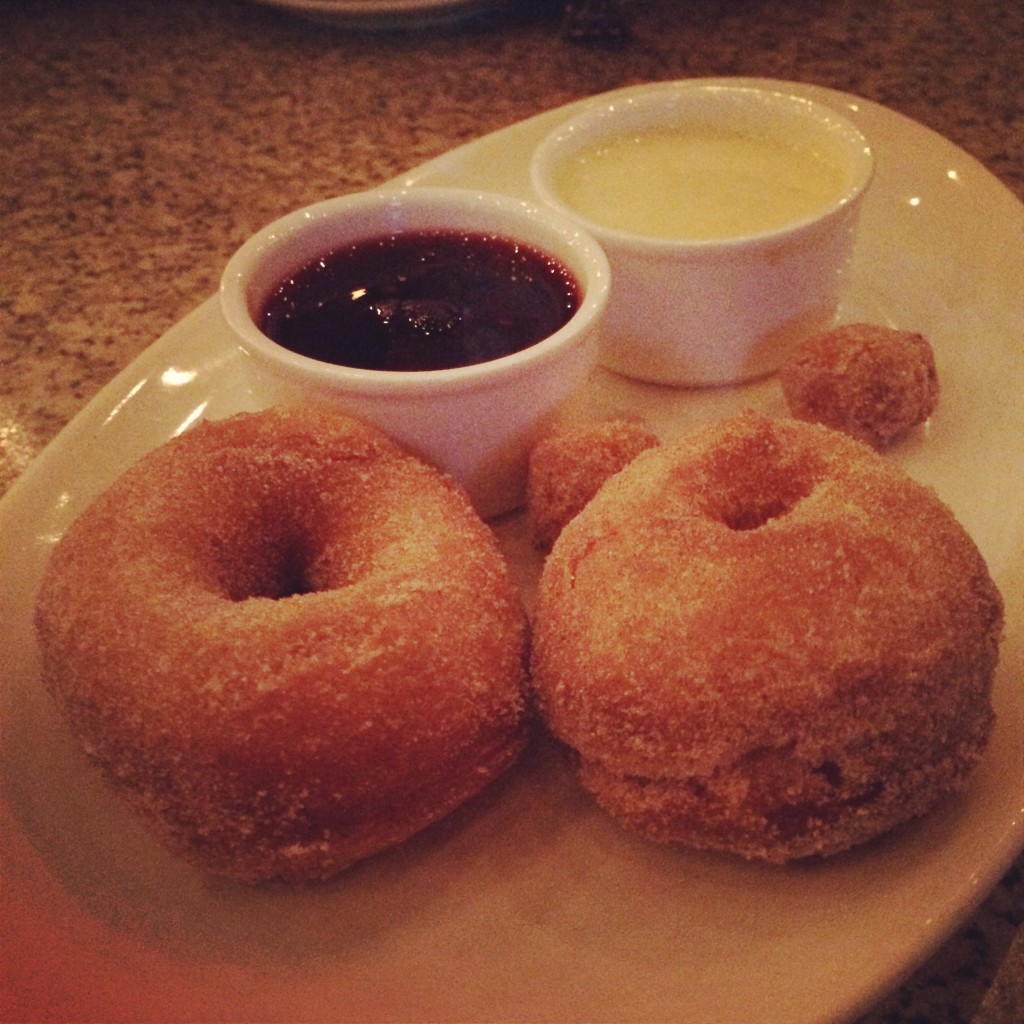 Sometimes you really can't leave dinner without ending on a sweet note.
Max's Harvest is offering a great special all summer long — a three-course tasting menu for $55 per person. You get to choose three dishes from any of the menu sections to create your own perfect tasting menu. This is available Sunday through Thursday. Also, join the Harvest for their Sunday Brunch on Saturdays and Sundays from 10am to 2:30pm. There's an unlimited mimosa and Bloody Mary bar for $15 and lots of great dishes to choose from.
Disclaimer: I was provided with a complimentary meal for myself and a guest courtesy of The Buzz Agency and Max's Harvest. No other compensation was received. As always, all opinions are my own.