The farm-to-table trend seems to really have taken off in the restaurant world. Especially in South Florida. A lot of restaurants in this area pride themselves on their fresh, locally grown produce and work hard to prepare dishes with unique ingredients to draw in all the foodies. It works. At least it has on me.
Not too long ago, Max's Harvest opened up in Delray Beach in Pineapple Grove. This is one of the cutest areas over there, with lots of shops and boutiques and great little restaurants with outdoor seating perfect for people-watching. Max's Harvest is owned by the same group as one of my favorite Boca spots, Max's Grille, so I had some pretty high expectations, which were totally and completely met.
Bubby and I went for dinner and sat outside. It was a perfect night – no wind and no humidity. Our waitress, Tracy, was extremely friendly and helpful with the menu. They just so happened to have a special going on, — all bottles of wine 50% off — so we ordered a bottle of my favorite, Kim Crawford Sauvignon Blanc, and each enjoyed a glass or two.
Back to the most important part: the food. The menu is divided into four sections: Little Big, Start Small, Entrees and Sides. There were way too many things on the menu I wanted to try – but there was only one entree that both Bubby and I had our eyes on. Obviously the best thing to do would be to share a few things. Bubby chose the appetizer: tempura-crusted shishito peppers stuffed with shrimp and drizzled with some kind of soy glaze and bonita flakes. I was afraid the peppers would be spicy, but they were very pleasantly mild. There wasn't too much of the tempura batter covering the peppers either, so it wasn't heavy and had just the right amount of crunch.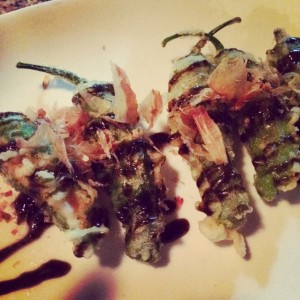 For dinner, both of us gravitated toward one thing. The pan-seared diver scallops with pumpkin farro, pearl onions, and a pomegranate gastrique. PUMPKIN farro! I love farro, but adding pumpkin to it is just a whole different level of delicious. The scallops were enormous, and Bubby could not stop commenting about how perfect they were cooked. I picked the side dish for us to share: creamy polenta with wild mushrooms. I've had polenta a few times before. Once I really liked it and once I did not care for it at all. This polenta definitely goes into the "like" category. It was really smooth and the mushrooms gave the dish that earthy flavor to balance out our entire meal.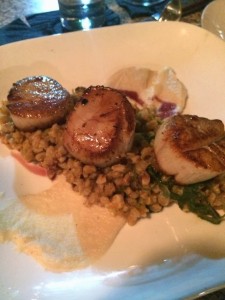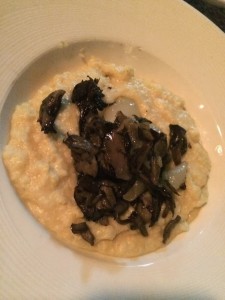 One thing that made all of the food stand out was the colorful ingredients and how fresh everything tasted. I was really impressed with all of it and couldn't see how it could get any better. But then came dessert. Are you ready for this one?


PUMPKIN Creme Brûlée!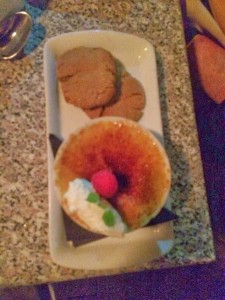 With a molasses cookie crust and two soft gingerbread cookies that I may or may not have dipped into the creme brûlée multiple times.

I think I can end this right here. I don't think I need to say anything more.