Never miss a bite! Sign up here to receive new recipes and reviews straight to your inbox.
What would you do if you had 14 different kinds of mussels to choose from? How do you decide?! Hand-picked Prince Edward Island mussels swimming in a flavorful broth filled with aromatic herbs and spices that awaken your entire palate with crispy pieces of freshly baked bread just begging to be dunked, soaked, and devoured.
Is your stomach rumbling? You're welcome. =)
This is what you'll find at Mussel Beach. The restaurant is located in Delray Beach and lends a much-needed seafood touch to the Ave. You can find good seafood at plenty of places, but this is the hub! Don't let the name fool you — Mussel Beach may love their mussels, but they have a hefty menu full of other incredible seafood dishes as well as chicken, veal, and beef entrees. I was recently invited to attend a media dinner along with a few other local foodies, including my good friend Denise (read her review here), to try out some of the restaurant's creative menu offerings. The seven of us were served by an extremely knowledgable server who knew about everything there is to know about the menu and had no hesitation answering any of our questions. We were also lucky enough to have full attention from the owners. We all felt like true VIPs — ah, the perks of being a food blogger in a town with great restaurants. 🙂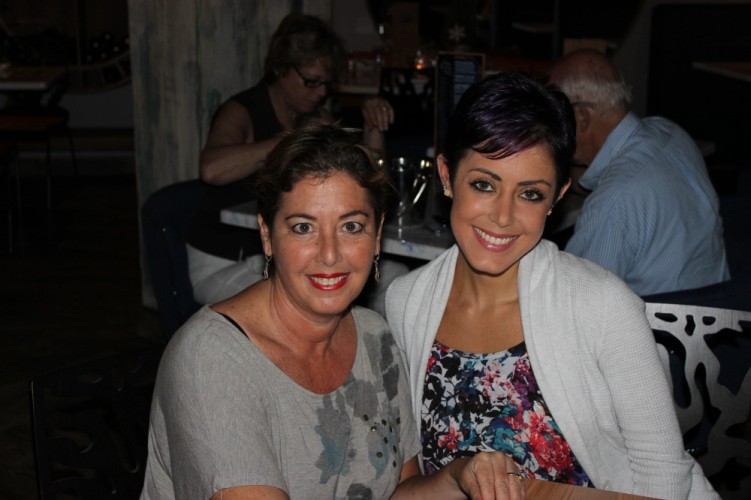 Our dinner was split into three "rounds" — or at least that's what I'm calling them. The Appetizer Round, the Mussel Round, and the Dessert Round. It was so much food, but what's a food blogger to do when delicious food is set in front of them to review? You dig in, that's what!
Oh — but wait! Before these rounds even began, we were given a plate of crispy baked kale chips. This tasty snack is on the Happy Hour menu. Kale is sprinkled with olive oil, garlic and red pepper flakes and baked in the oven for exactly 13 minutes at 325 degrees. Yes, I asked the chef how he makes his kale chips so I can make them for myself at home. They're so thin and crisp that they practically dissolve in your mouth, but the flavors linger on your tongue just long enough to give you a little punch of heat.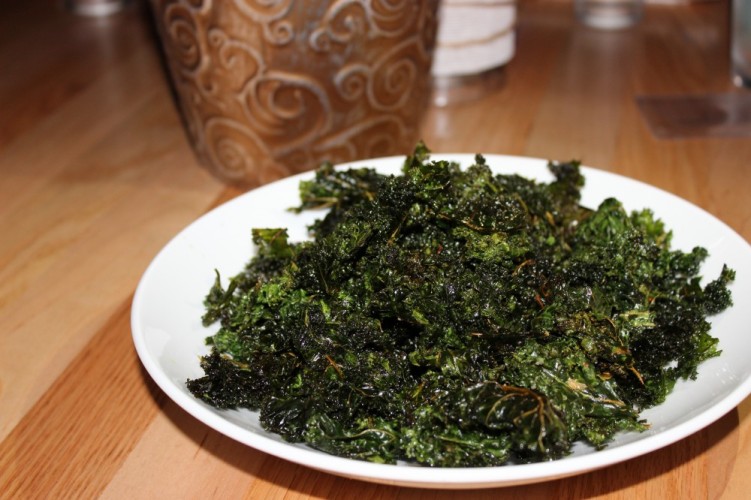 Following the kale chips was another yummy surprise. Instead of serving bread, Mussel Beach serves complimentary PARMESAN TRUFFLE FRIES. Yes, you heard right. Denise and I practically fell off our seats when we heard this. Thick cut potatoes sprinkled with lots of parmesan cheese and truffle salt — I'll take this option over bread anyday! Now that our bellies were nice and happy, it was time for the real show…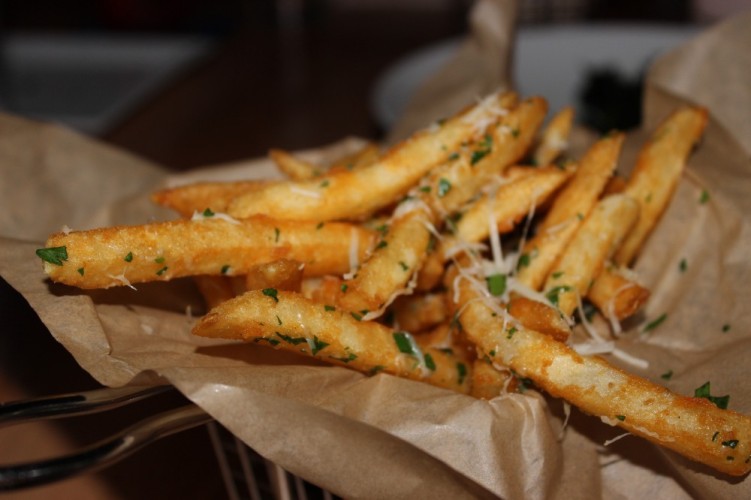 A parade of servers brought out plates of Jumbo Lump Crab Cake, Roasted Beet Salad, Old Bay Peel 'n Eat Shrimp, Pork Belly Lettuce Wraps, and Ahi Tuna Tacos. Although I did not try the lettuce wraps (obvi!), that was a-okay with me — there was plenty for me to eat. Every bite of food was better than the last. My favorite out of the four appetizers I had was the crab cake. Being from up north, it's rare to find crab cake that compares to the ones I love from home. A good crab cake has no filler — just all that delicious crab meat amped up with flavor. Mussel Beach does their crab cakes right. It came with a horseradish mustard and a ginger soy slaw that I also really enjoyed. The Asian influence of the slaw complemented the crab nicely. This is a dish I would get over and over again, and I'd happily suggest it to any of my northern friends who know good crab cakes — now that's saying something.
The ahi tuna tacos were a general favorite of everyone at the table. It came with beer battered avocado on the side which was heavenly! After watching this past season of The Great Food Truck Wars on Food Network, I've been dying to try some "fried avo" (if you watched the show, you know what I'm talking about) and now was my chance. YUM! The tacos also included radish, jalapeños, cabbage and a chipotle aioli all wrapped up in a crispy little shell.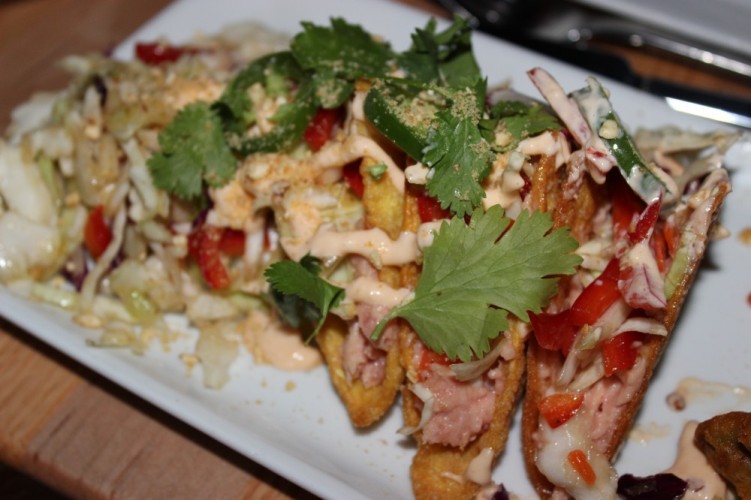 The roasted beet salad was beautifully presented — slices of red and yellow beets were arranged among mixed greens and crushed pistachios with a balsamic reduction drizzled over top. But the best part? The goat cheese fritter. I know it seems so redundant — beets and goat cheese. Every restaurant has a salad like this, but it's just such an amazing combination that no matter how many times I eat it, I never get bored.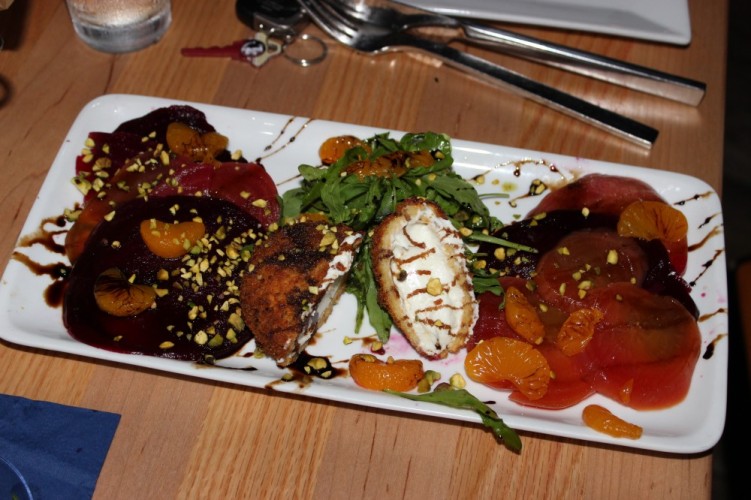 The Old Bay shrimp were good — Old Bay reminds me of home. It's a flavor I'll never tire of and always pairs especially well with shrimp. Peel 'n eat shrimp can get a little messy, but sometimes the messiest things are also the tastiest. The pork belly lettuce wraps got good reviews from the table. The wraps were full of crispy pork, pickled cucumbers, carrots and scallions and a ponzu sauce. I have to admit, they smelled awesome!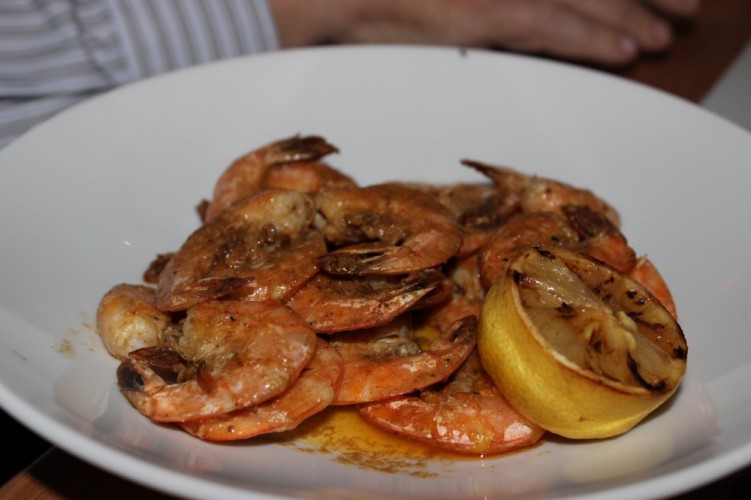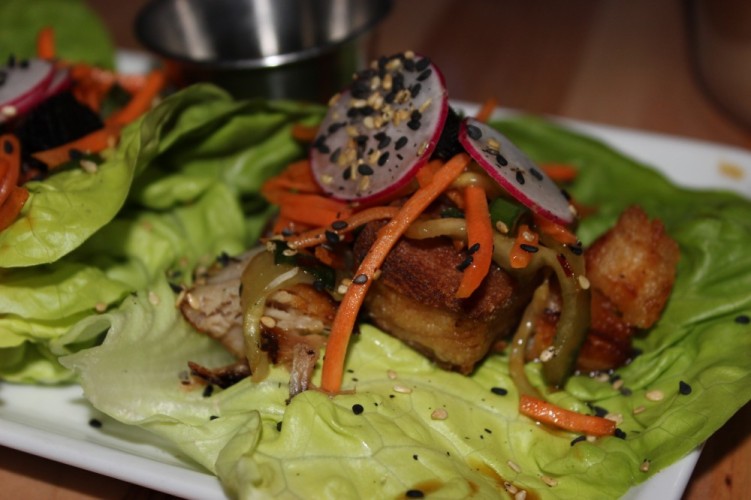 Round Two — Mussels! It would have been AMAZING to be able to try a few of each different kind of mussel, but that is a little impractical. Instead, five favorites were served in the restaurant's signature cast iron dutch ovens. Each dish comes with 1 lb of PEI mussels, to which you can add snow crab, calamari, shrimp, lobster, linguine, or 1/2 dozen clams if you so choose. So what did we get?
The Chowder — with smoked bacon, cream, potatoes and Middle Neck clams.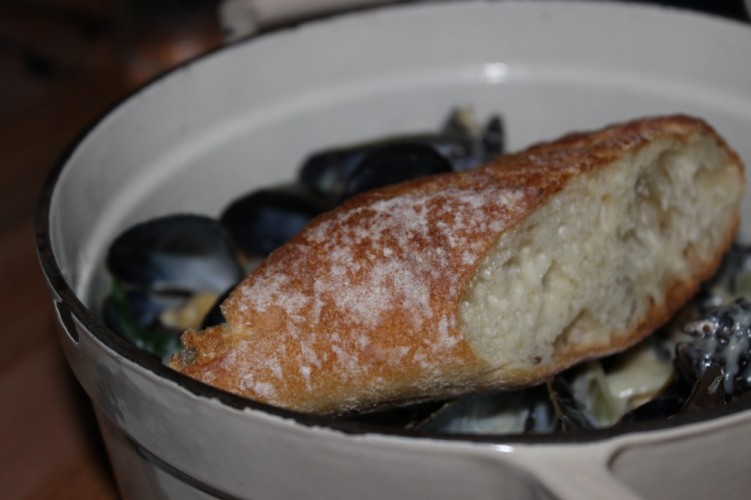 The French Onion — with caramelized onions, gruyere cheese and croutons.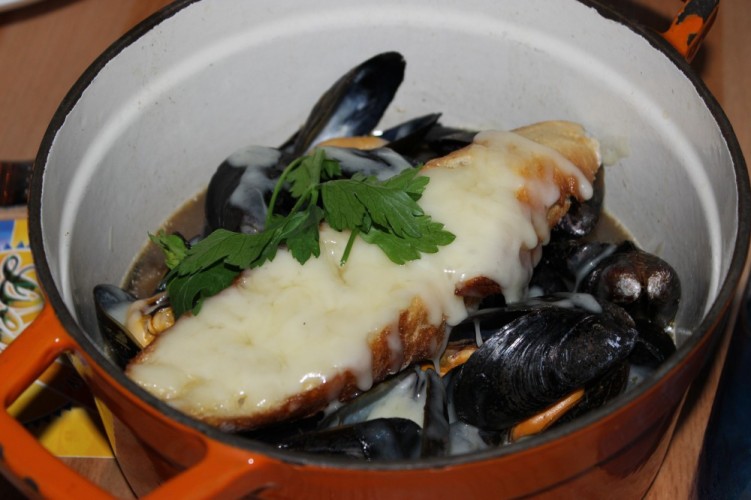 The Lobster Bisque — with Maine lobster, rich tomato creme and parsley.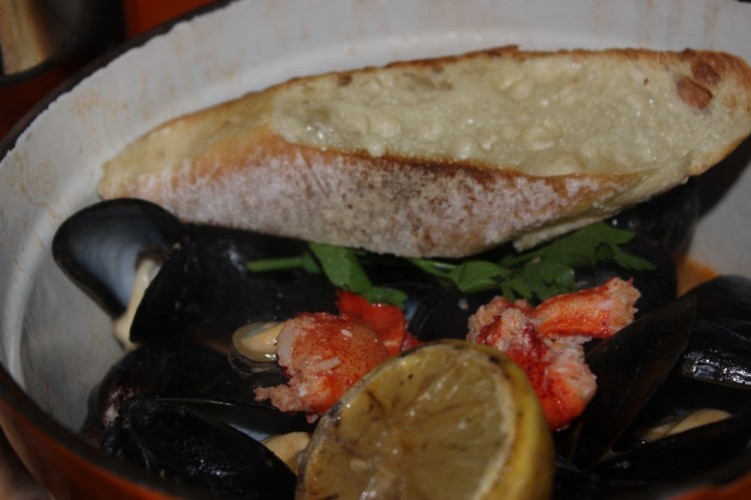 The Danish Blue — with roasted garlic cream, smoked bacon, blue cheese and scallions.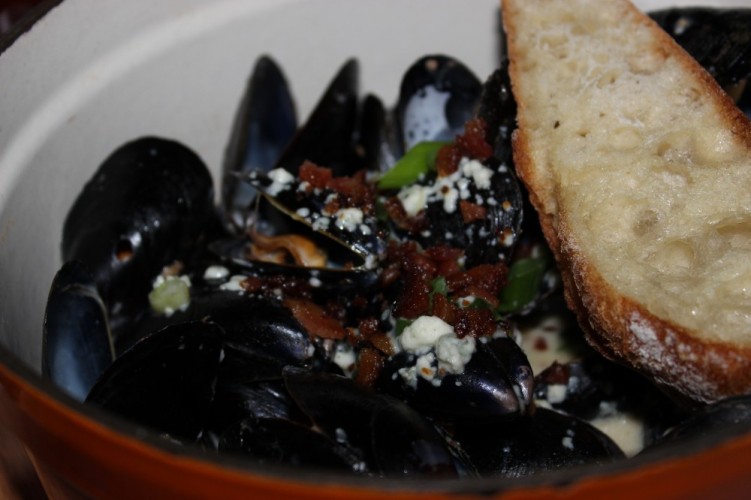 The Florentine — with spinach, shallots, roasted garlic, cream, parmesan and fennel.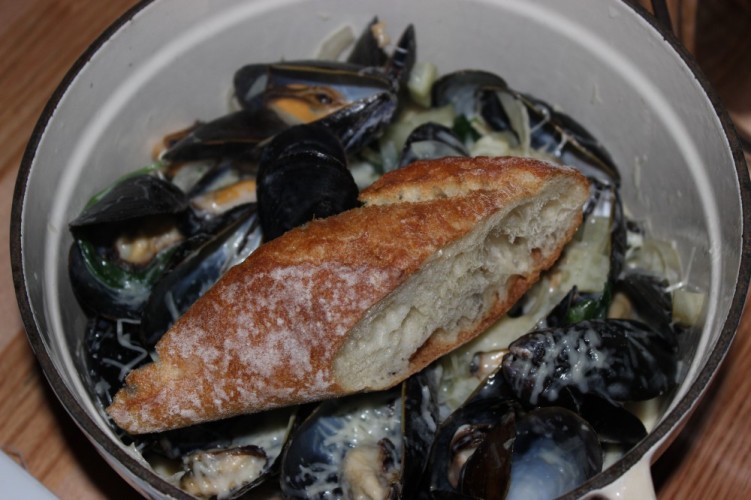 My favorite, by far, was the Florentine. Sautéed spinach and garlic swirled around the pot and I was blown away by the essence of fennel and parmesan with each bite. The French Onion was really good too — I mean, really, anything with caramelized onions and gruyere cheese has got to be good. The best part was the gruyere-smothered bread, especially after it absorbed all that broth. While I'm not one to pass up tasting a good lobster bisque, this dish less than thrilled me. I just didn't find anything too special about it. The mussels were topped with a couple pieces of lobster, but again — nothing too special compared to the other two that I really really enjoyed. I did actually steal a spoonful or two of the Chowder, careful to pick out any pieces of the bacon — I liked that this dish also included clams so I couldn't resist trying it! Although I love blue cheese and would have liked to try the Danish Blue too, I didn't even have a chance. Everyone else liked it so much that by the time I reached my spoon into the bowl, everything was gone! That's what I get for announcing I wouldn't be touching the bacon-y ones!
Are you ready for round three? Brace yourself — it's time for dessert!
There are four desserts to choose from on the Mussel Beach menu. But why choose when you can try all four?! After the mussels were cleared, dessert was definitely on everyones' mind — even though none of us had much room left. As a kid, I used to imagine that our stomachs were divided into compartments. One section each for breakfast, lunch and dinner, and then a completely different section was for dessert. So no matter how much other stuff you ate, there was always room for dessert. I was a smart kid.
Pretty soon our table looked like a 10-year-old's birthday party. Doughnuts and ice cream sandwiches! The crispy mini doughnuts are homemade and fried to order. These little balls are made with amaretto, coated in cinnamon and sugar and served with creme anglaise for dipping. A classic children's favorite, the ice cream sandwich, was made adult-friendly with a chocolate peanut butter whipped cream and tempura bananas.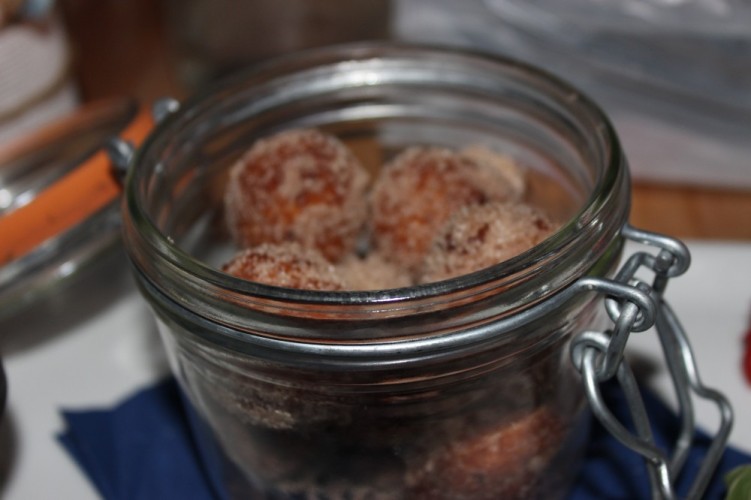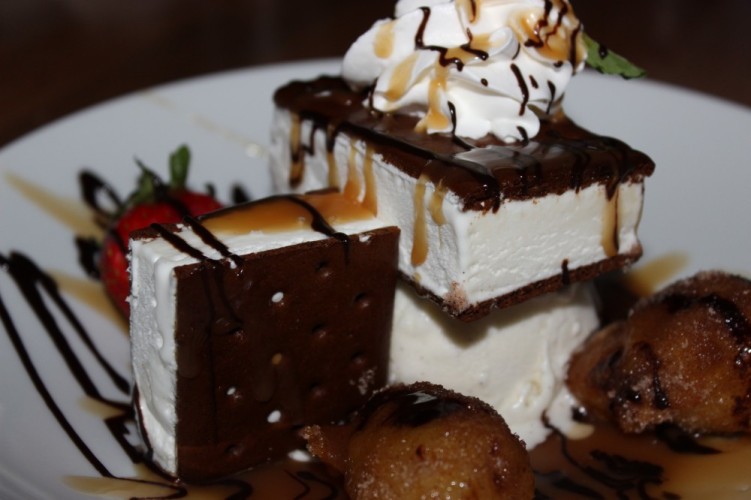 Then there was a little Crack Pie — an oat crusted pie with vanilla bean ice cream. This has the taste and texture of your standard blondie — soft, chewy, and extra sweet. We also had the Samoa Cheesecake — a play on the traditional Girl Scout Cookie with salted caramel, chocolate ganache and shredded coconut.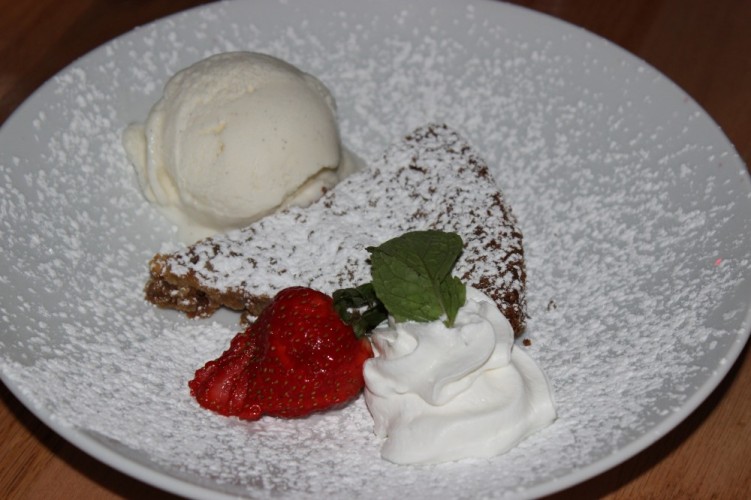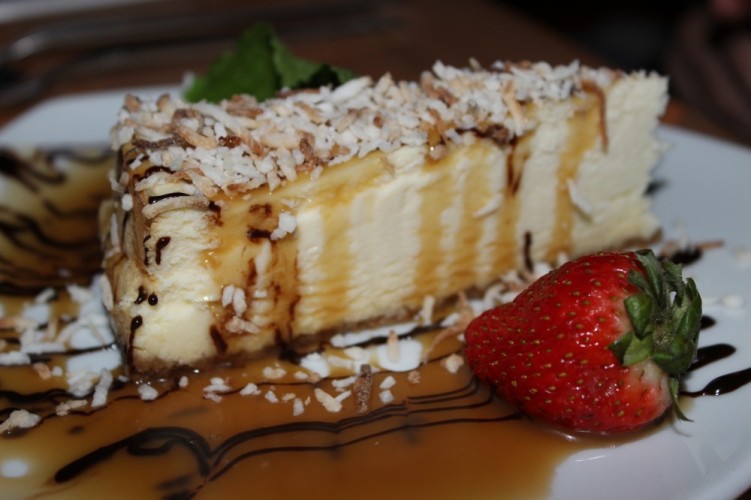 While every bite was just as sweet as the last and my tastebuds were singing, I have to say that my absolute favorite bite from dessert was the tempura banana. Banana can have a very overpowering flavor in a dessert, but the tempura batter mellowed it out a bit and it was just one hell of a dessert. And to think, it was merely "garnish" on a plate of ice cream sandwiches!
Mussel Beach is about more than just mussels — it's about quality food and even better service. I highly recommend it for seafood lovers. Mussel Beach is located at 501 E. Atlantic Avenue in Delray Beach.
Disclaimer: I was invited to dine as of guest of the restaurant. No other compensation was received for this review. As always, all opinions are 100% my own.