Sometime during the past year, mussels have become one of my top five favorite foods. I have no idea how it happened, because I honestly used to cringe at the thought of them. Somehow I finally got smart and realized what I had been missing out on all those years. I've had my share of delicious platefuls of mussels, but I've never seen them prepared the way they were at Mussel Beach in Delray.
The newest seafood restaurant to hit Atlantic Avenue is a mussel-lover's dream. With over 10 different preparations of mussels (plus whatever the specials are for the night), it's a wonder how one ever decides what to get. Variations<> include South of the Border with chipotle, chorizo, caramelized onions, squid and lime; Thai with coconut curry, lemongrass, ginger, garlic and jalapeños; and Drunken with shallots, garlic, fried onion, Stella Artois, cream and basil. One and a half pounds of fresh Prince Edward Island mussels are brought out in cute orange french ovens, filled to the brim. There are delicious seafood entrees, as well as a couple of chicken and beef options for those meat-lovers that get dragged along by their fish-frenzied friends.
The menu is rounded out with sandwiches and salads and a nice selection of appetizers and side dishes. Complimentary truffle fries start out the meal on the right foot.
Dinner at Mussel Beach was special in more ways than one. My family was visiting — Mom, Dad, Bec, and her BFF Carly again — and we were celebrating lots of special occasions: Mom and Dad's anniversary, Carly's birthday, my birthday, and my mom's birthday. See? I wasn't lying when I said March is always an insane month!
Another one of Bec's BFFs lives in Delray, so she and her family joined us for dinner too. Between the 10 of us, we probably ordered half of what's on the menu…and we loved every bit of it. The best part was when the waitress brought out three different desserts ON THE HOUSE for us to try. Birthdays are seriously the best. Not only was our waitress super awesome and patient (a big group can sometimes be overwhelming), but she makes a mean margarita, and had a very special 'Happy Birthday' sung to us table side by the restaurant's entertaining crooner. This guy was singing all my dad's favorite old-time hits.
And now, the food had by all of us…

My sister and I started with the Kung Pow Calamari…a definite "Pow" factor from the spicy Asian-inspired glaze, but the best part may have been the ramen-esque noodles. They were reminiscent of Lo Mein with more of a bite. Carly and my dad shared the Jumbo Lump Crab Cake, as did Wendy and Emily, and Heidi and her boyfriend shared the Clams Casino. My mom got the Caesar salad, which she shared with my dad.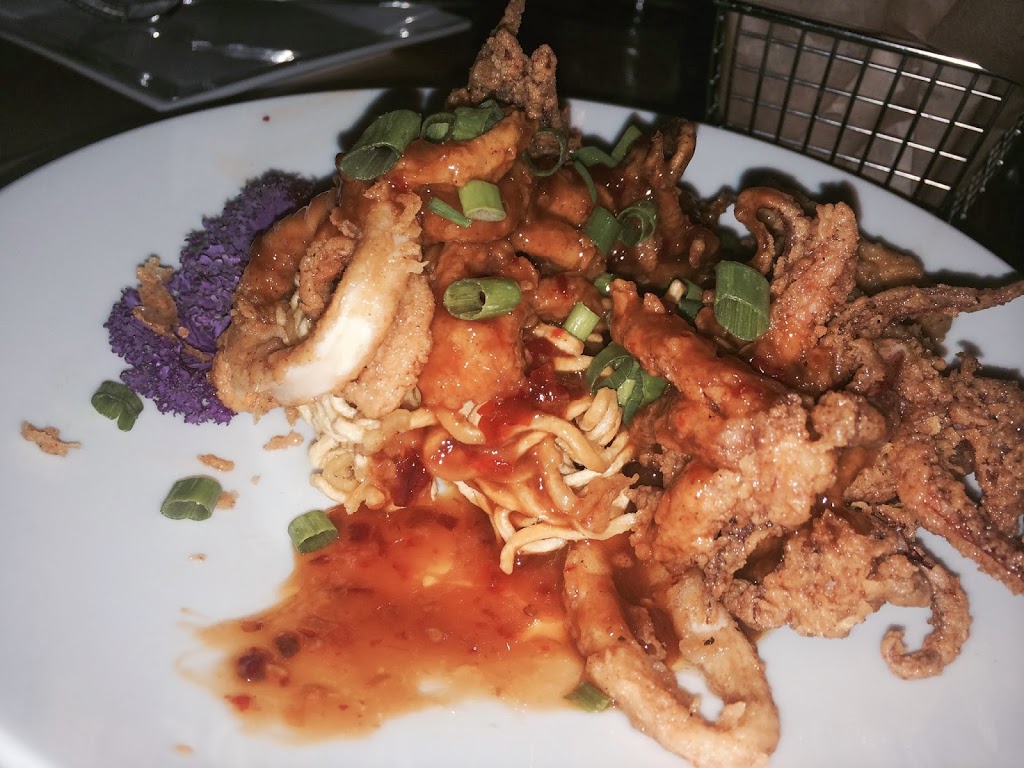 Sharing continued throughout the rest of the night. It really is the best way to eat out; that way you get to try more than one thing. I shared the Bruschetta Mussels with my mom; it was one of the night's specials, with tomatoes, caramelized onions, toasted crostini and a really flavorful broth. We also shared the Blackened Grouper with tropical salsa, Israeli cous cous and grilled asparagus.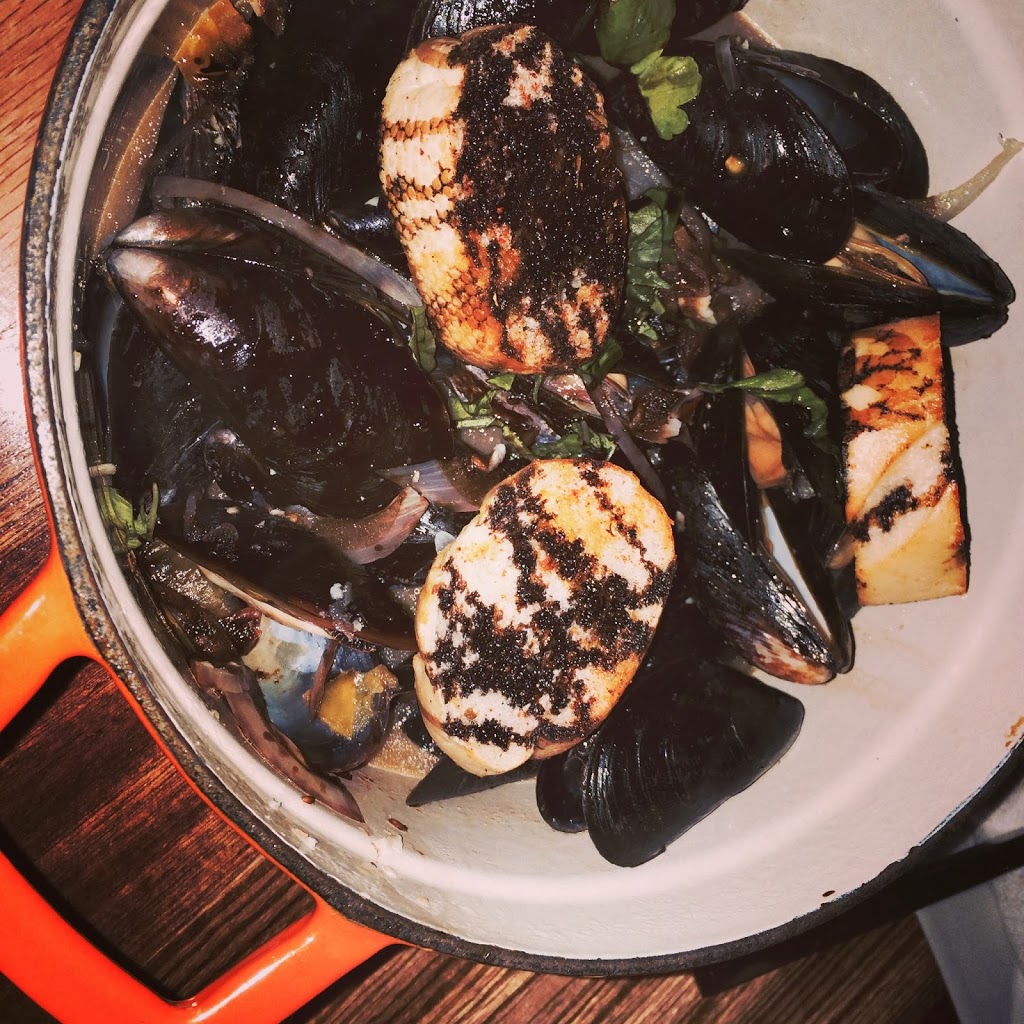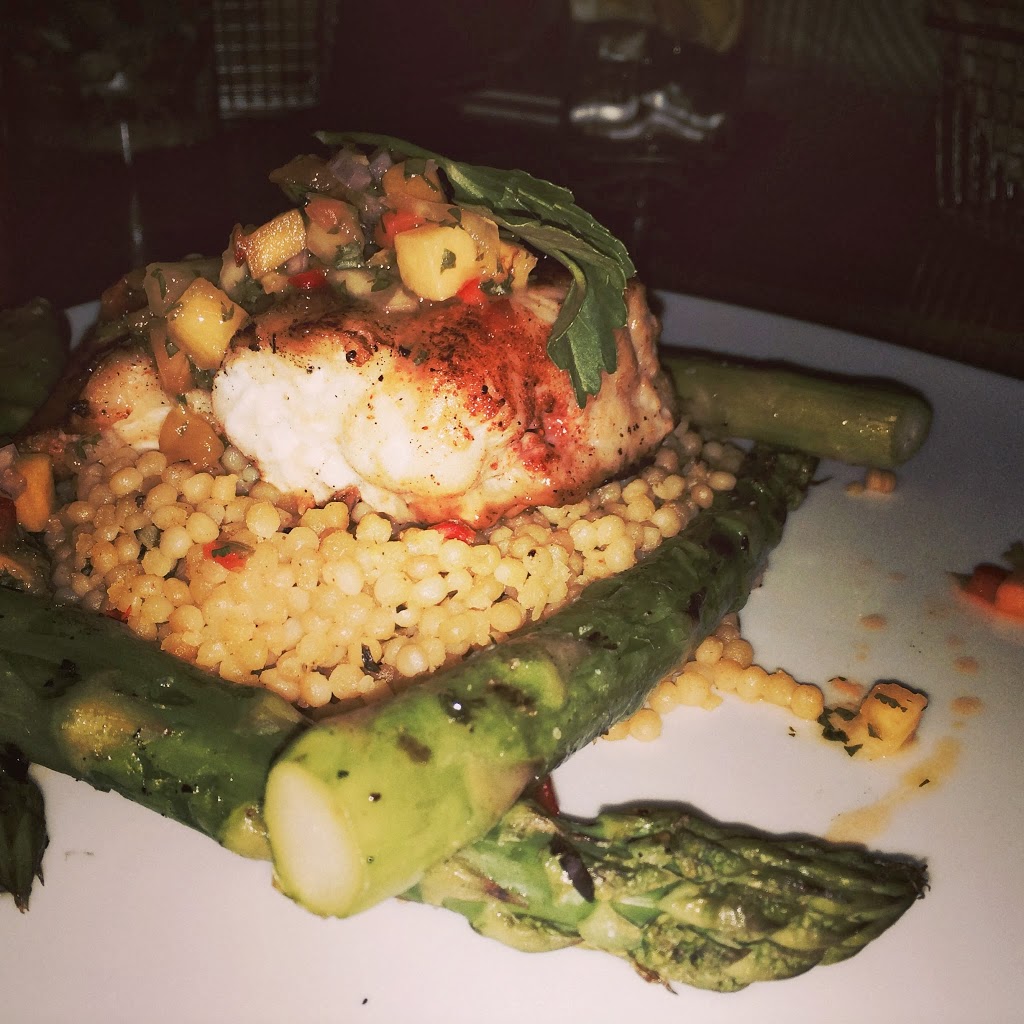 Bec got the Miso Salmon with bok choy and basmati rice and Carly had the Pretzel-Crusted Salmon with risotto and grilled asparagus. Heidi and my dad both got the burger, Heidi's boyfriend had the Lobster Bisque Mussels, Wendy and Emily had the Sea Scallops with risotto and spinach. I loved that the spears were jumbo sized…none of those skinny little sticks that don't always have much flavor. The risotto was perfectly creamy and definitely included more than simply parmesan cheese. I think I tasted notes of Gouda?! (I stole a few bites of Carly's). However they make it, it's insane and I must find out their secret…

But like I said, dessert was the highlight of the night. Out came two plates of the house speciality, homemade Amaretto and Cinnamon Doughnuts and a creme anglaise, Crack Pie (oatmeal pie with vanilla ice cream and whipped cream) and Dark Chocolate Mousse with strawberries and salted caramel.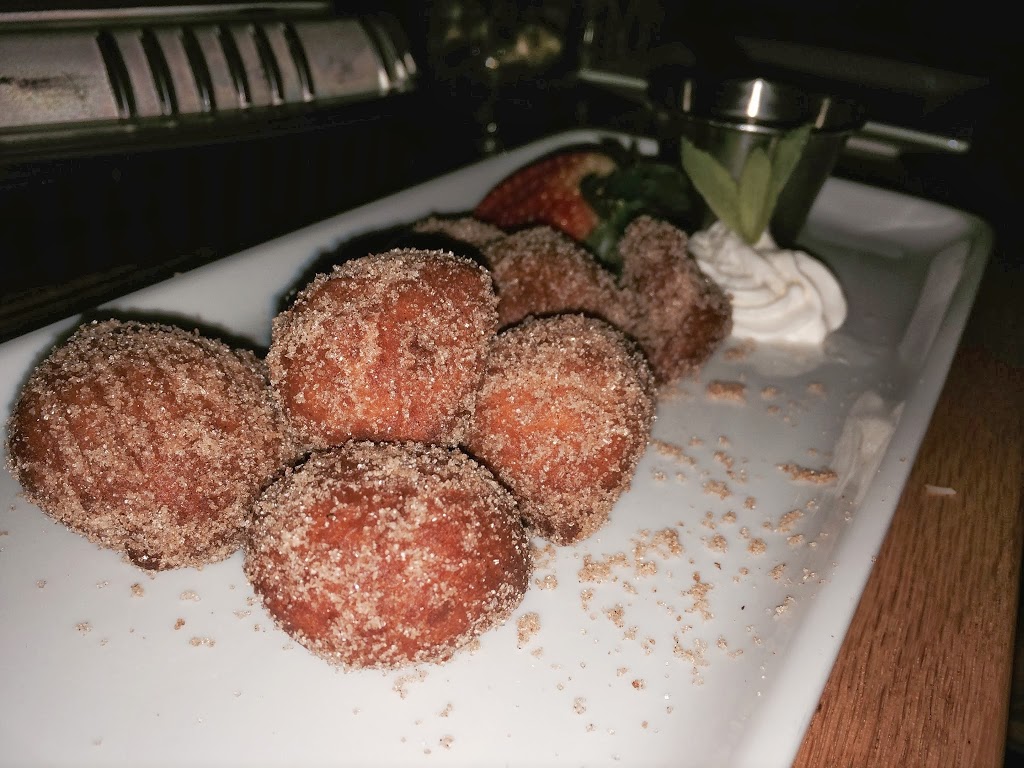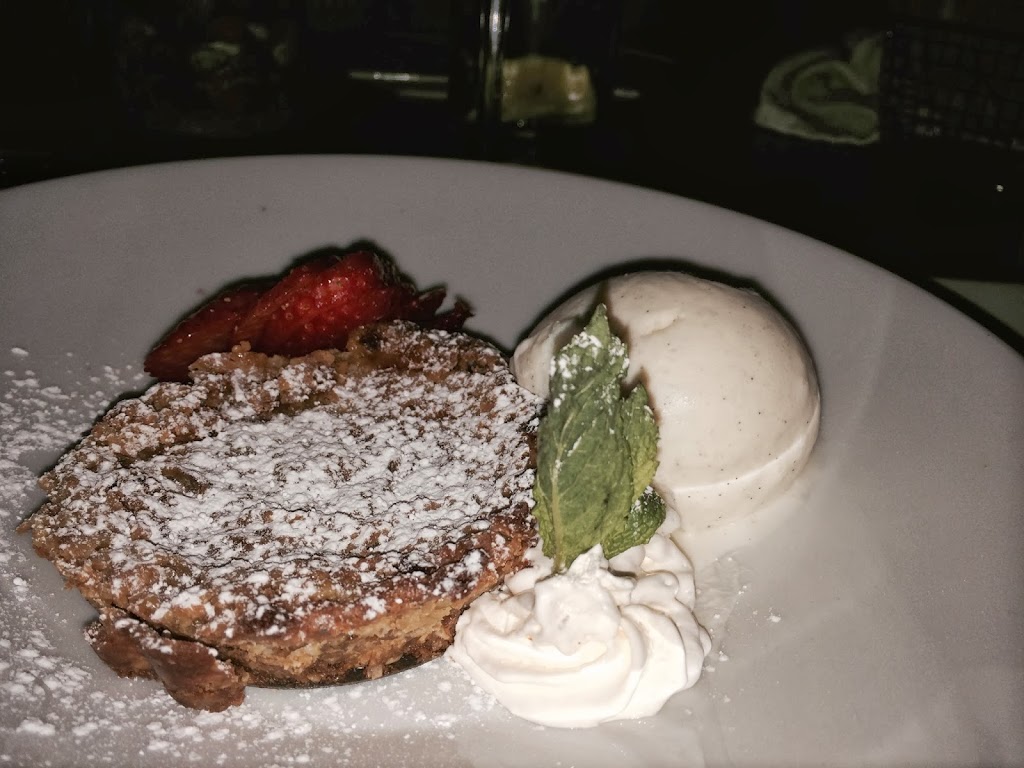 This mousse was over-the-top…so delicious and addicting. That sweet-salty combination reels me in every time; I could not stop going back for more. This would be my number one dessert recommendation for anyone who steps foot inside Mussel Beach.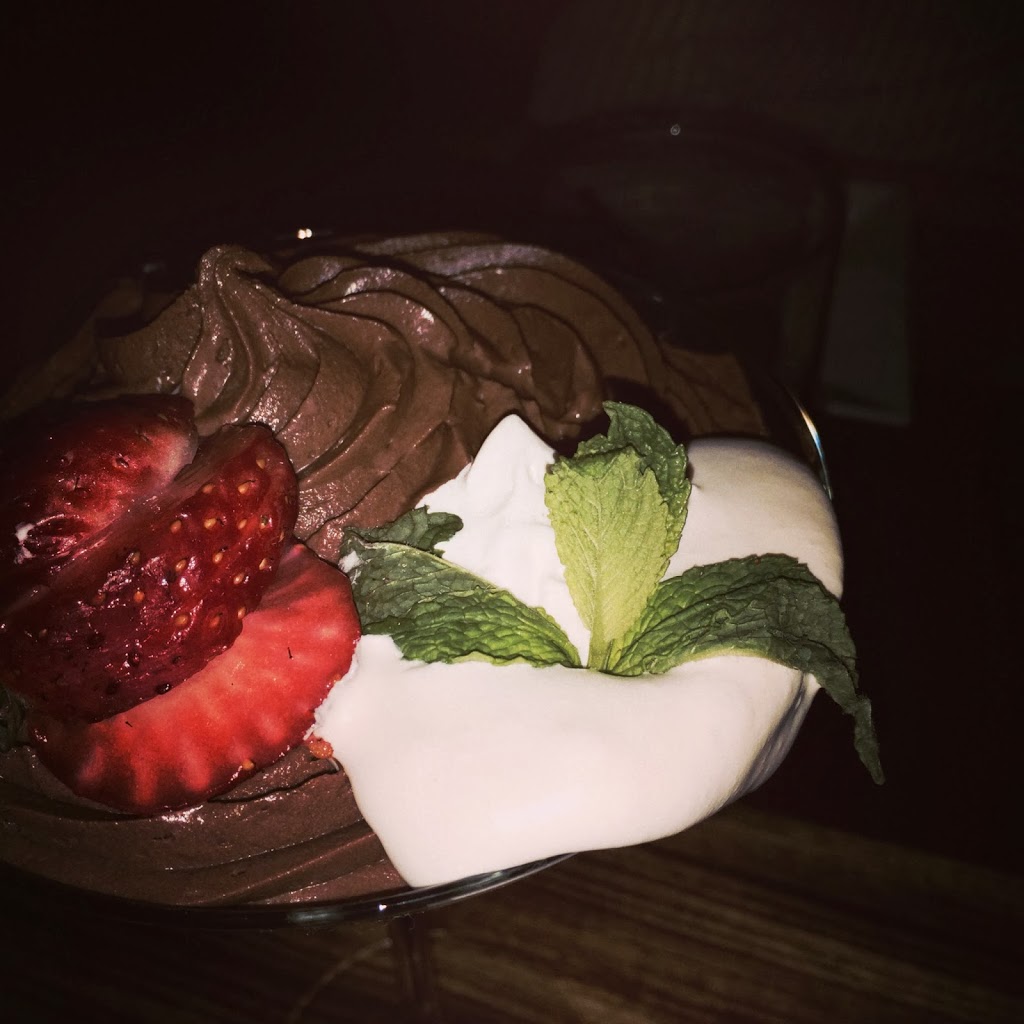 But seriously, you should check this place out. It's decorated beautifully inside, has a great bar area and a lively atmosphere. I'll be going back soon, that's for sure.